Jusuf Nurkic is a Bosnian basketball player in the famous American basketball league, the NBA. "The Bosnian Beast" currently plays as a center for the Portland Trail Blazers.
Nurkic, coming from a simple Bosnian middle-class family, definitely had not thought he would make it to the NBA in his early teens. However, his short but impressive professional career in Croatia helped him rapidly rise to the international arena.
Apart from league games, he represents his home nation, Bosnia and Herzegovina, in international tournaments.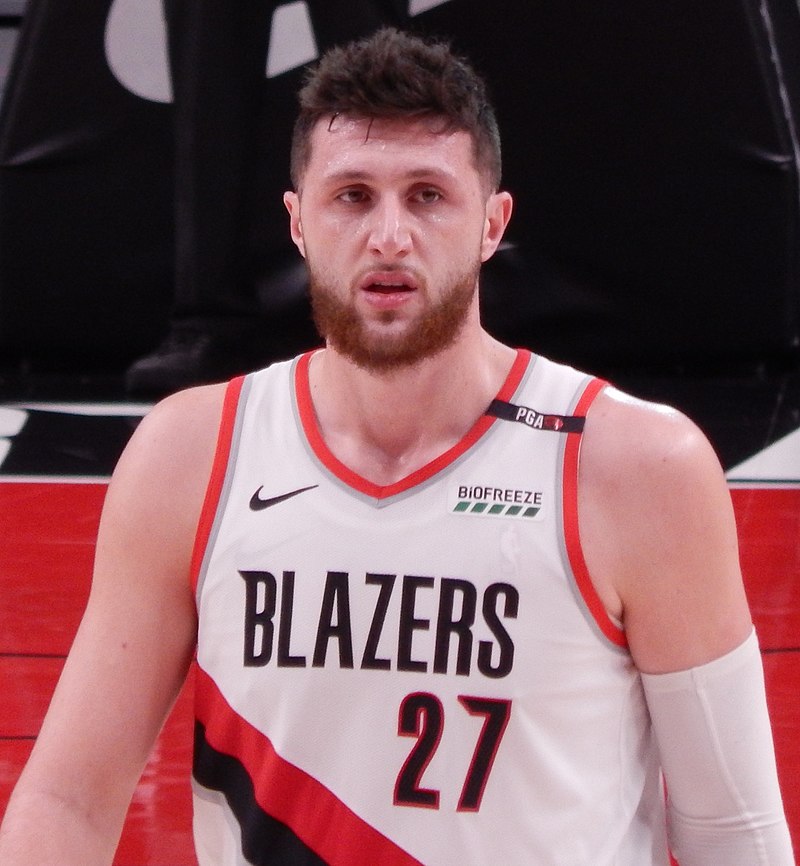 Even though he has a short professional career, Jusuf has gathered a lot of experience and learned various basketball techniques playing the sport in different foreign leagues.
The enormously tall player earned so much in the NBA from overseas. Though he has not won the NBA championship yet, he has successfully made his mark every season since 2014.
One of the finest European players in the NBA, Nurkic, is trending due to his transfer rumors. Various NBA clubs are after him, with the Raptors leading the chase. So let's see where he would end up!
Many people still do not know about his life before the NBA. We shall now discover more about him in detail in this article.
But, before proceeding any further, here are some quick facts about Jusuf Nurkic.
Quick Facts
Full Name
Jusuf Nurkic
Date of Birth
August 23, 1994
Birth Place
Zinivice, Bosnia, and Herzegovina
Nick Name
The Bosnian Beast, Juka
Religion
Islam
Nationality
Bosnian
Ethnicity
Not available
Zodiac Sign
Virgo
Age

29

years old
Height
2.11 m (6 feet 11 inches)
Weight
290 lb (132 kg)
Hair Color
Black
Eye Color
Dark brown
Build
Athletic
Father's Name
Hariz Nurkic
Mother's Name
Jasmina Nurkic
Siblings
A younger brother, Kenan Nurkic
Education
Not available
Marital Status
Unmarried
Sexual orientation
Straight
Girlfriend's Name
Emina Duric (engaged: 2021)
Kids
None
Profession
Professional basketball player
Food habit
Non-vegetarian
NBA Draft
2014
Position
center
League

Croatian HT Premier Liga (2012- 2014)
EuroLeague (2012- 2014)
National Basketball Association (2014- present)

Active Years
(2012–present)
Clubs He Played For

Cedevita Junior (2012- 2014)
KK Zadar (2013)
Denver Nuggets (2014- 2017)

Net Worth
$4 million
Currently Plays For
Portland Trail Blazers (2017- present)
Career Highlights & Awards

Croatian League Finals MVP (2014)
NBA All-Rookie Second Team (2015)
All-Croatian League Second Team (2014)

Social Media
Instagram, Twitter, Facebook
Merch of Trail Blazers
Notebook, Card, Shorts, Hoodie
Last Update

December, 2023
Early Life, Family & Initial Career
Early Life & Family
On August 23, 1994, Jusuf Nurkik was born in Zinivice, Bosnia, and Herzegovina, to Jasmine and Hariz Nurkic. Both his parents are practicing Muslims, and he grew up in a religious environment from a very young age.
His dad, Hariz, is a Police officer in Tuzla. Hariz has a massive frame and stands 7 feet 2 inches tall. As a young man, the player had the ambition to make a career in basketball but could not be successful.
Nurkic's mother, Jasmine, is a housewife. Moreover, he has a grandmother and a younger brother, Kenan, in the family.
Young Juka grew up in his hometown, Tuzla, and attended a local school. He had an average height and was quite fat, so he mostly watched tv shows as a kid. Unlike his Father, Nurkic had no interest in playing sports. However, he preferred watching football.
The story of how Nurkic entered the basketball field is a fascinating one. Enes Trnovcevic, a Bosnian sports agent, somehow learned about his Father in a magazine.
<<< Marco Belinelli Bio: Career & Net Worth >>>
Touched by senior Nurkic's story, he reached out to Hariz. As a result, Enes proposed taking his young son with him to provide better training to make him a basketball player.
Even though both Father and son initially hesitated, they eventually agreed.
Initial Career
Juka had a tough time playing basketball in his early days as he had no prior experience. However, he made some progress, and soon after, he was sent to Slovenia to play for the Zlatorog Lasko.
Nurkic played in Slovenia for many years and made himself a much better player. The kid who had not touched basketball at 14 established himself as one of the most promising prospects in Eastern Europe in just a few years.
In 2012, he participated in the Nike International Junior Tournament in Belgrade. He played over five games for the Ljubljana club, Union Olimpija, and impressed everyone there.
He averaged 18.8 points and 11.0 rebounds per game throughout that tournament.
Following the event, he left Zlatorog Lasko and signed with the Cedevita to play in the Croatian basketball league.
Jusuf Nurkic | Professional Career
European Leagues
Jusuf began his professional career in 2012. After leaving Lasko, he joined the Croatian club Cedevita to attend a few months of practice sessions. In October 2012, the club signed a contract with Nurkic.
However, he did not get much playtime in his rookie season. Considering that he mostly played extra time, he did not have good stats. Moreover, he appeared in 6 matches for the EuroLeague and could only manage to average 1.8 points per game.
Moving onto the second season, he played relatively more matches. As expected, he recorded outstanding numbers. He played around 28 matches for the club in Adriatic League, averaging 11.6 points per game.
In addition, he appeared in 15 games in HT Premier Liga, averaging 11.5 points per game.
Juka's professional career in Europe was brief and lasted only two years. In the meantime, he was loaned to KK Zader and played some matches for that club.
NBA Career
Denver Nuggets
Jusuf had already achieved international fame before he went for the NBA draft. However, on June 26, 2014, Chicago Bulls chose him in the first round of the draft as its 16th pick.
Surprisingly, the club traded him to another NBA club, Denver Nuggets, the same night. The Nuggets signed the contract with him on July 31. He debuted for the club against the Detroit Pistons, in which he scored five points and 7 rebounds.
Nurkic played 62 matches altogether for the Nuggets in his rookie season and finished with season-high 17 points against the Golden State Warriors. Moreover, he averaged 6.9 points and 6.2 rebounds per game this season.
On October 11, 2015, the club extended his contract for one more year. However, he remained out of court for nearly two months due to a tendon injury. He appeared in 32 matches in his second season, averaging 8.2 points and 5.5 rebounds per game.
Nurkic played as the club's starting center in initial matches in the 2016-17 season. He had a new career-high 23 points in their season's first match against the New Orleans Pelicans. He continued performing well in the remainder of the season.
However, he was replaced by Nikola Jokic and remained on the bench in the last matches of the season. Eventually, he requested the trade, to which the club initially hesitated.
Finally, he was traded to the Portland Trail Blazers on February 13, 2017.
Portland Trail Blazers
The Blazers entrusted him with more playtime, and he did his best for the club. He set numerous individual records and led his club to win big, especially in the first two and a half years.
In the 2017-18 season, he averaged 14.3 points and 9.0 rebounds per game. Then, moving on to the other season, he had even better stats. He averaged 15.6 points and 10.4 rebounds, playing 72 matches.
Sadly, he suffered a leg injury at the end of the 2018-19 season. Nurkic was expected to make his return by March of the 2019-20 season. However, he did not recover that soon and had to rest until July 31, 2020.
Nurkic posted 18 points, 9 rebounds, and 6 blocks against the Memphis Grizzlies in his first game of the season after a long injury. He played just 7 matches in the 2019-20 season.
He again suffered from a wrist injury at the beginning of 2021 and missed his games for about 2 months. However, he quickly returned and played 37 matches in the 2020-21 season.
While his transfer rumors are widespread in the media, the Bosnian is still playing for the Blazers in the 2021-22 season. In addition, it is said that Toronto Raptors are interested in signing him for a new season.
Apart from league games, the player has represented Bosnia and Herzegovina in various international tournaments, including FIBA Championships and Eurobasket.
<<< Earl Clark Bio: Career, Family & Net Worth >>>
Net Worth, Salary & Career Earnings
According to various sources, Jusuf Nurkic's net worth is estimated to be up to $4 million.
It has almost been a decade since Jusuf began his professional career. He makes a lot of money through league games. As of 2022, his annual salary is $12 million.
Nurkic had made an NBA debut from Denver Nuggets, signing a contract in 2014. The club had offered him $1.76 million for his rookie season alone. Likewise, the club increased his salary to around $1.85 million the following year.
Moreover, he has already accumulated around $54.5 million, playing about five years for the Blazers. The player earned approximately $60 million in his entire NBA career.
Unfortunately, there is no reliable information about his earnings during his career in the European leagues.
Awards & Achievements
Some of Nurkic's awards and accolades include:
Croatian League Finals MVP (2014)
NBA All-Rookie Second Team (2015)
All-Croatian League Second Team (2014)
Nominated for FIBA Europe Young Player of the Year Award (2014)
FIBA Europe Under-20 Championship Division B MVP (2014)
FIBA Europe Under-18 Championship Division B MVP (2012)
Jusuf Nurkic | Personal Life
Jusuf is in a relationship with his Bosnian girlfriend, Emina Duric. The duo got engaged in 2021. The Bosnian player proposed to her with an engagement ring on her birthday in the July of 2021.
Nurkic made his relationship public through an Insta post in which he had wished her a birthday along with a picture of them together where Emina is seen flaunting her ring.
Emina, just like her boyfriend, is from Tuzla. She graduated from the University of Tuzla and currently works as a pharmacist. She is also a Muslim.
Even though the couple resides in different countries due to their profession, they frequently see each other. In addition, Emina often visits the USA to attend his matches.
Age, Height & Weight
As of 2023, the Bosnian athlete is 29 years of age. He celebrates his birthday every July 27.
Talking about his build-up, Nurkic is athletic and stout. Moreover, he is very tall, stands at 2.11 meters (6 feet 11 inches), and weighs around 290 lb (132 kg).
He has a thick brown beard and dark brown eyes. Similarly, he has black-colored hair.
Jusuf Nurkic on Social Media
<<< Donte DiVincenzo Bio: NBA, Career, Injuries & Net Worth >>>
Frequently Asked Questions (FAQs)
Is Jusuf Nurkic good?
Yes, Yusuf Nurkic is good. He has already recovered from his injury endured in 2021. Moreover, he has already appeared in 51 games this season for the Blazers.
Is Jusuf Nurkic a free agent?
Yes, Jusuf Nurkic is a free agent. He is currently playing as a center for the Blazers. However, there are widespread transfer rumors concerning him, and this 2021-22 season might be his last NBA for his current team.