As of 2023, Kamaru Usman is ranked fourth in the Ultimate Fighting Championships (UFC). He has displayed his dominance in the business by winning 20 fights out of 22.
Usman currently competes in the welterweight division of the UFC. He was The Ultimate Fighter Fighter 21 tournament winner and former UFC Welterweight Champion.
Kamaru will fight against Leon Edwards at UFC 286, scheduled for March 18, 2023, at the O2 in London. He will be looking to avenge his defeat and claim the welterweight title.
Kamaru is now the face of UFC and has been in the highlights after marrying his girlfriend, Eleslie Dietzsch. Many people know how he fights and enjoys his best days in the UFC, but don't know his story.
What was his upbringing like? How did he enter the UFC? How did he get the nickname, The Nigerian Nightmare?
Please stick with us till the end of the article to find the answers to these questions.
Before that, Let's start with some quick facts.
Quick Facts
Full Name
Kamarudeen Usman
Date of Birth
May 11, 1987
Birth Place
Auchi, Nigeria
Nick Name
The Nigerian Nightmare
Religion
Muslim
Nationality
Nigerian and American
Ethnicity
Black
Zodiac Sign
Taurus
Age
36 Years Old
Height
6'0″/1.83 m/183 cm
Weight
77 kg/170 lb
Hair Color
Black
Eye Color
Brown
Build
Athletic
Father's Name
Mohammed Nasiru Usman
Mother's Name
Ms. Usman
Siblings
Two brothers, Kashetu and Mohammed Usman, and a younger sister
Education

James Bowle High School
William Penn University
University of Nebraska Kearney

Marital Status
Married
Wife
Eleslie Dietzsch
Kids
A Daughter, Samirah Usman
Profession
Mixed martial artist
Rank
Black belt in Brazilian Jiu-Jitsu
Active Years
2012-Present
Net Worth
$3 Million
Social Media
Instagram, Twitter
Merch
Trading Card
Last Update
November 2023
Early Years
Kamaru Usman, aka The Nigerian Nightmare, was born on May 11, 1987, in Auchi (Edo State), Nigeria.
He was born as the second child to his father, Mohammed Nasiru Usman, who served in the Nigerian army, and his mother, Ms. Usman, a housewife.
Usman grew up in Auchi, Nigeria, with his two brothers, Kashetu and Mohammed, Usman, and a younger sister, whose name is currently unknown.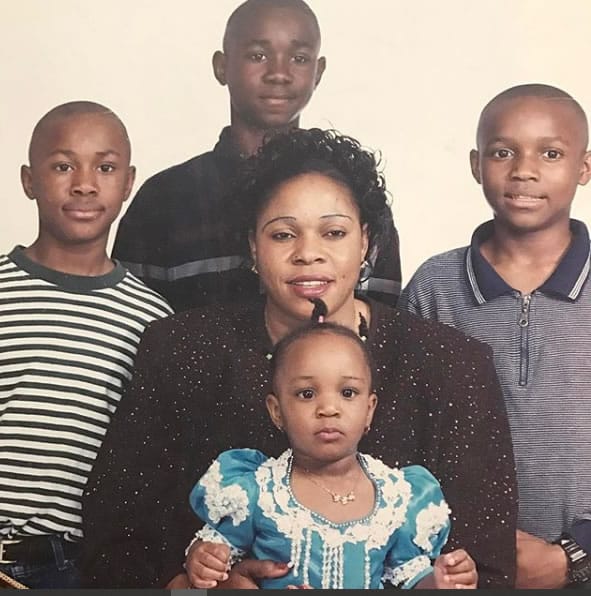 Usman was raised in a low-income family. He used to help his family in farming and walk for miles to fetch water.
When Usman was still a young child, his father moved to the US to pursue a career as a pharmacist. But it did not take long for Kamaru's father to bring his entire family to the States.
The family moved to the US when Kamaru was eight years old ( in 1995). He attended a local high school which made him adjust to the new environment and culture.
Initially, the MMA fighter did not understand the English language well and was often made fun of. But he joined ESL (English as Second Language) classes which helped him to improve his fluency.
Education
High School
Usman attended Bowie High School in Arlington, Texas, where he tried his hands on football. But sadly, he had to end his efforts following an injury.
Following that, Kamaru tried wrestling under the recommendation of the school's wrestling coach. The sport was fit for his physical attributes.
Kamaru was tall and bulky, but he repeatedly lost to a girl during the early days. But that did not stop the fighter from coming to exercise. Instead, it sparked a fire within him to improve his wrestling skills.
He got so good at wrestling that he held a 53-3 record at Bowie High School.
College
After completing high school, Usman attended William Penn University in Oskaloosa, Iowa. Later in 2007, he qualified for the National Association of Intercollegiate Athletics (NAIA).
But, he was unable to attend the tournament due to heavy rainfall. Most of his teammates and head coach left early for the game without him, which frustrated and influenced him to leave William Penn.
Kamaru transferred to the University of Nebraska, a public land-grant research university located in Lincoln, Nebraska. He earned several achievements in the new university, including the NCAA Division II All-American Honors.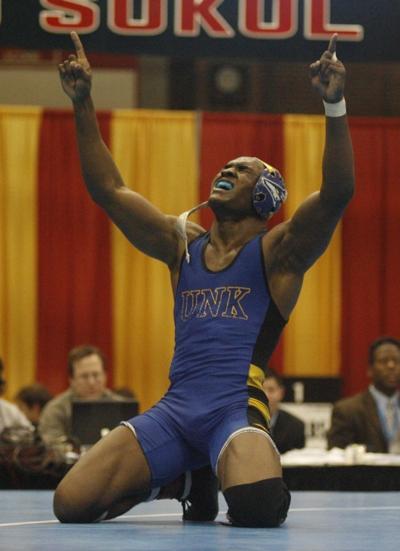 In 2008, Kamaru helped his university win its first overall team title. He became the NCAA Division II national champion at 174 pounds in 2010 and finished the season with 30 wins.
After seeing his impressive performance, Christian Okoye, a former National Football League athlete, gave Usman his nickname, "The Nigerian Nightmare."
Not only Kamaru but all of his siblings were into sports growing up. The oldest sibling, Kashetu, played college soccer for the University of South Carolina.
Likewise, the other sibling, Mohammed, was a football player at the University of Arizona. The youngest sibling played college volleyball for Tarleton University.
Career
Early Days Of His UFC Career
Usman was an incredible wrestler; he had the technique and the spirit but having all that did not pay the bills. Wrestling did not earn him much, and thus, he opted for MMA.
While Usman was training for the 2012 Olympics trials, he met Rashad Evans, a retired MMA fighter and UFC light heavyweight champion. Rashad was the one who informed Kamaru about the career opportunities at UFC.
Following that, Usman began his UFC career under the endorsement of Rashad. He nailed his first UFC fight, winning against David Glover at RFA 5 in Nebraska in November 2012.
Though his first fight proved successful, he did not win the second one. His second fight was against Jose Caceres and he defeated Usman via first-round submission at Championship Fighting Alliance 11.
His shot At The Title
Persistent and consistent, Usman, however, did not let the loss bring his morale down. He kept working out and continued training for future matches. Kamaru fought at regional promotions to fight in The Ultimate Fighter, also known as UFC fighter's breeding ground.
He did not lose any fights in The Ultimate Fighter, making him a fan favorite.
At the height of his career, Usman won a match against Hayde Hassan in July 2015, which earned him a six-figure contract in the UFC.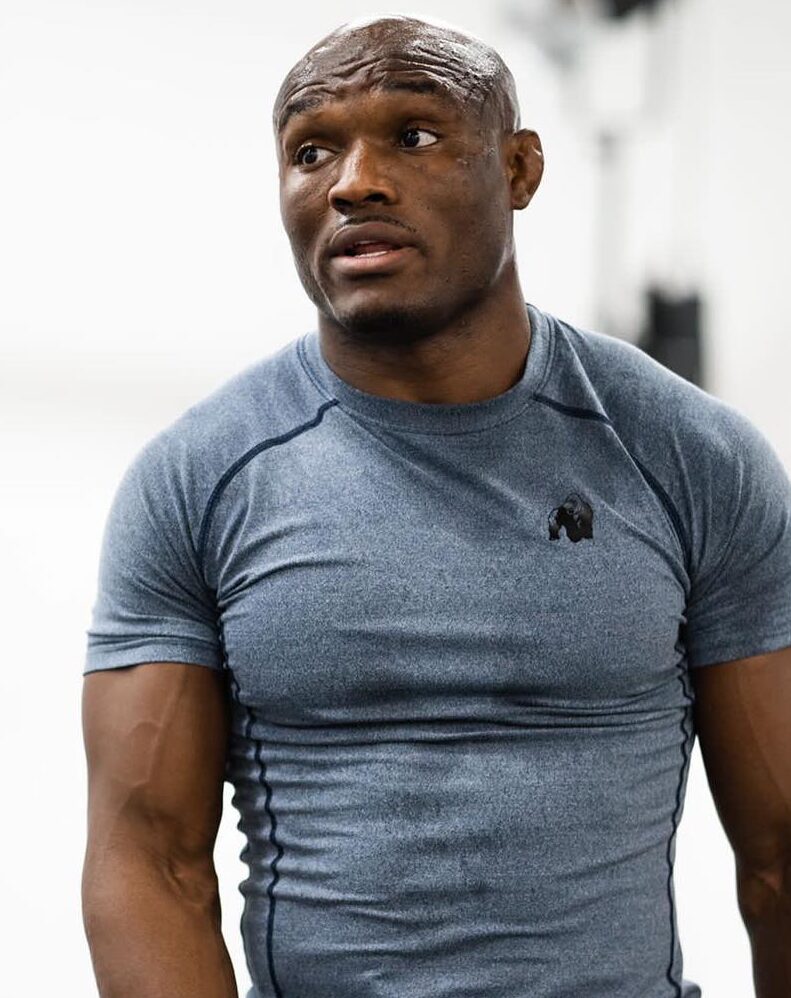 For the next three years, Usman dominated the UFC with his incredible instincts, powerful hits, and an undying hunger for more.
At the time, Tyron Woodly was holding the UFC Welterweight Championship, which was also one of the reasons Usman was on the prowl. He wanted to snatch the UFC Welterweight Championship from Tyron.
Finally, Usman got his long-awaited shot at the welterweight title against Tyron Woodly on March 2, 2019. His extreme thirst for victory won him the Welterweight Championship match via unanimous decision.
Kamaru became the new Welterweight Champion and the first Africa-born UFC Champion.
Kamaru Usman vs. Colby Covington
On December 14, 2019, Kamaru got his first match to defend his Welterweight Championship title after snatching it from Tyron.
Kamaru was set to fight against Colby Covington at UFC 245 as the night's main event. The match began, and as expected from the Nigerian Nightmare, he dominated the fight.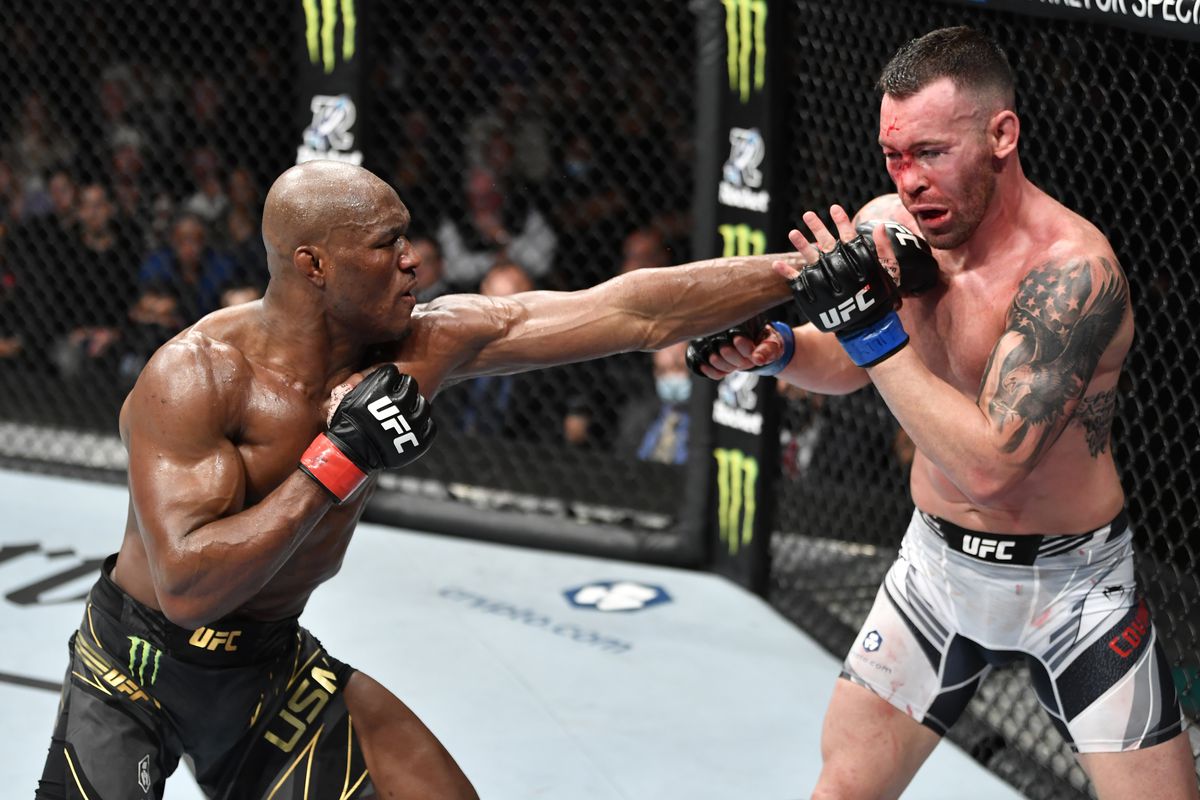 He did not let Colby out-match him except in the 4th round, where Colby had a slight edge over the Nigerian fighter. But that did not last long as Kamaru won the fight in the 4th minute of the 5th round.
He won the match via Technical Knockout. The match was beautiful and exciting. Thus, it was titled Fight of the Night. Both the fighters got bonuses for their fantastic performance.
Net Worth
Kamaru's net worth is estimated at $3 million in 2023, credited to his earnings from the UFC, being a UFC titleholder, and bonuses from the special events he fought in.
After he won the UFC 235 against Tyron Woodly, his salary was raised to $380,000. As of now, his annual salary is estimated to be $600,000.
The Nigerian Nightmare has won over $2 million fighting for the UFC and over $692,000 for his victory against Jorge Masvidal, the main event at UFC 261.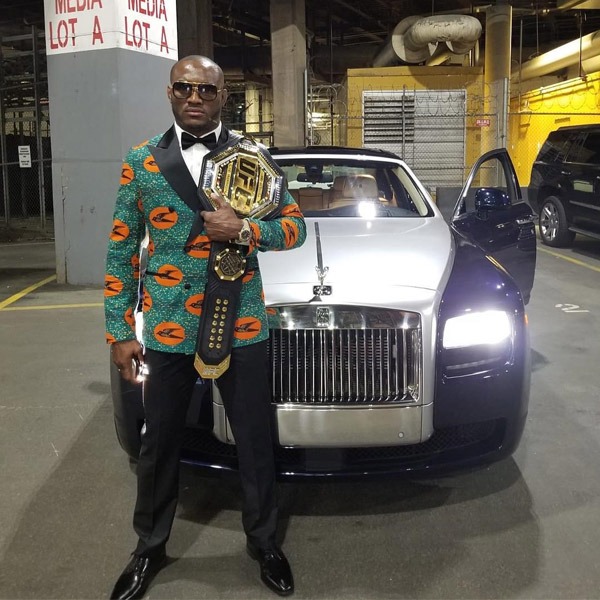 Besides his earnings from UFC, Kamaru earns quite a lot from endorsement deals with successful companies like Reebok and Trifecta.
Usman is a bit conservative regarding his personal life. Though he has never shown his home, he often shows off his impressive car collection that includes a Lamborghini Uru and a Rolls Royce Ghost.
The Lambo he has in his collection has a starting price of $210,000. Likewise, the Rolls Royce Ghost's retail price is around $250,000.
Besides exotic cars, he also owns a motorbike. Kamaru has a Harley Davidson, which is worth thousands of dollars. He has nicknamed the bike 'Sharmain'; it seems like he loves his vehicles.
Wife And Kids
Kumaru Usman got married to his Brazillian girlfriend, Eleslie Dietzsch, in 2016.
The pair has been married for a long time and was blessed with a baby girl in 2014. Thus, it is safe to assume they have been together since early 2010s.
The couple has named their daughter Samira Usman. Born in August of 2014, she is 9 years old as of 2023.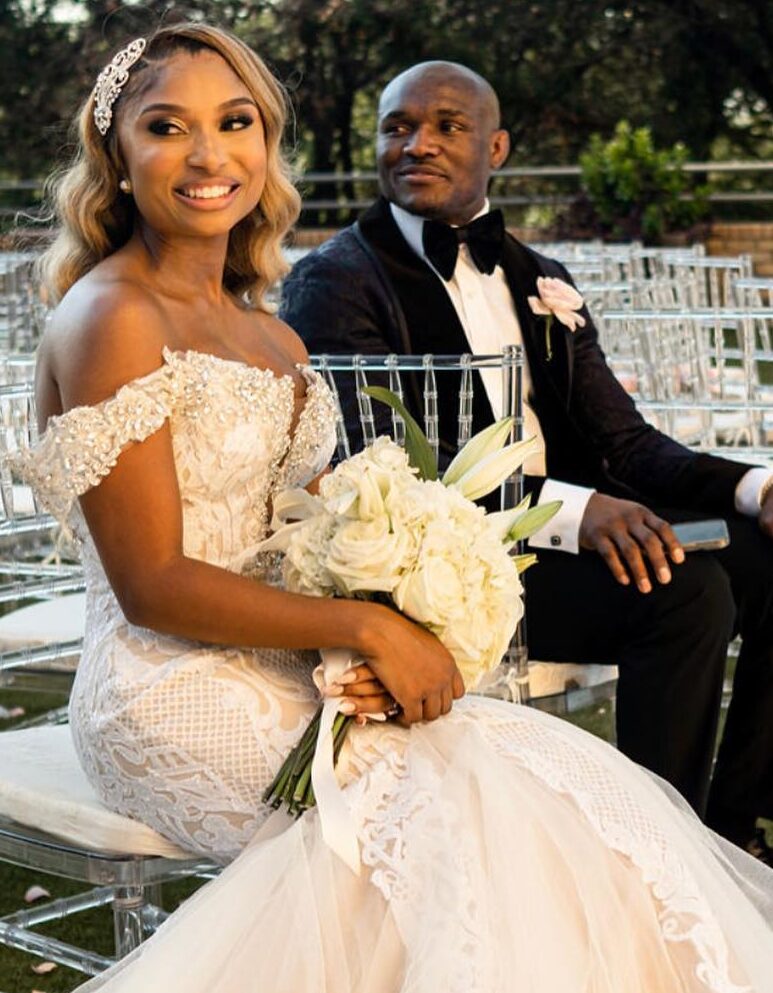 The duo has not opened up about their first date or how they met since they prefer to keep their personal life private. But, looking at their Instagram post, it seems like the couple has a blissful relationship.
Kamaru's girlfriend, Eleslie was born on November 22, 1986 to her parents, Jose Dietzsch and Eunice Dietzsch. She is of Brazilian descent and speaks Portuguese.
Kamaru Usman Vs Jorge Masvidal
Kamaru was defeated only twice in his entire UFC career, once at the start of his MMA career and the second was against Leon Edwards on August 21, 2022.
On April 24, 2021, Usman was set to fight against Jose Masvidal, and the fight was the main event of UFC 261.
After months of ongoing disputes, Kamaru won the fight, knocking out Masvidal by unanimous decision.
Usman was the dominant fighter in the match; his strike accuracy and wrestling proficiency were well above Masvidal's. Equipped with such mentality, strength, and ability, it did not take long for Usman to finish the match.
Kamaru Usman landed the winning blow in the second round, a beautiful right-hand punch that landed perfectly on Masvidal's face.
Trivia
Usman was nicknamed Marty during high school because the wrestling coach could not pronounce his name correctly.
Unlike most UFC fighters, Kamaru does not have a single tattoo on his body; he prefers to keep it clean. Usman is also an avid gamer; he enjoys playing video games while off the track.
Kamaru has a black belt in Jiu-Jitsu. Likewise, he is also a graduated folk-style wrestler and a former freestyle wrestler. He was trained by Jorge Santiago and Trevor Wittman.
In 2009, Kamaru's father, Mohammed Nasiru Usman, was arrested and charged with multiple counts of healthcare fraud. He was sentenced to 180 months or 15 years in prison, with a fine of 1.3 million US dollars.
Mohammed Usman, Kamaru's younger brother, is also on the same path as Kamaru, but he is in a different league, not the UFC.
Likewise, his older brother, Kashetu Usman, is a doctor of pharmacy. It turns out that soccer was not his cup of tea.
Social Media Presence
Although Kamaru prefers to keep his personal life private, he has a social media account for millions of his fans. Kamaru is active on Instagram and Twitter.
Instagram: 3.3 Million Followers
View this post on Instagram
Twitter: 943k Followers
Frequently Asked Questions (FAQs)
No. Kamaru did not want to fight Israel Adesanya as Isarel was like a role model to him. He also said that Israel Adesanya was the one who inspired him to accept the fight against Marvin Vettori.
Does Usman train with Khabib?
Yes, Usman trains with Khabib Nurmagomedov, the undefeated champ of the UFC, but this Usman is different. The one training under the great Khabib is Usman Nurmagomedov, a Russian fighter from Moscow, not Kamaru Usman.
How much does Kamaru Usman bench press?
At the peak of his physique, Usman could bench press over 360 lbs. and squat over 500 lbs. He does not do it anymore as he has changed his training.
Kamaru is now focusing on maintaining his strength and physique rather than building it.