Israel Adesanya is a New Zealand professional former boxer, mixed martial artist, and kickboxer with multiple championships. He is currently serving he currently competes in the Middleweight division in the UFC.
Israel Adesanya is a renowned mixed martial artist. He has successfully won millions of hearts via his capabilities.
He was an anime fanatic in his adolescent years and later took up Martial Arts to fight his bullies.
Israel Adesanya is a courageous man who conquers people through strength and talent. He is familiar with an art that portrays him uniquely.
After being inspired by the Muay Thai film Ong-Bak, Israel pursued kickboxing and went on to amass an amateur record of 32–0 before turning professional and fighting in China.
Adesanya started his boxing career professionally in November 2014. Later in December 2017, he signed a contract with the UFC.
He ranks number three in the UFC men's pound list as of September 29, 2020. Israel is one of the most skilled strikers in the globe of mixed martial arts.
As a mixed martial artist, he currently competes in the Middleweight division in the UFC, and as of 2022, he is ranked #1 in the UFC middleweight rankings and #6 in the UFC men's pound-for-pound rankings.
Let's get into the journey; he has set so far. Before we dive in, let's have a look at a few of the quick facts.
Quick Facts
Full Name
Israel Mobolaji Temitayo Odunayo Oluwafemi Owolabi Adesanya
Nick Name
Last Style Bender
Age
33 Years Old
Height
6'4″/1.93 m/193 cm
Weight
84kg/185lb
Horoscope
Caner-Leo Astrological Cusp
Date Of Birth
July 22, 1989
Birth Place
Lagos, Nigeria
Gender
Male
Sexual Orientation
Straight
Religion
Atheist
Nationality
Nigerian
Ethnicity
Nigerian
Hair Colour
Black
Eye Colour
Black
Skin Colour
Black
Marital Status
Unmarried
Relationship Status
Single
Kids
None
Father's Name
Oluwafemi
Mother's Name
Taiwo
Siblings
5; Names Aren't Public
High School
Rotorua Boys' High School
University
Drop Out
Profession
Mixed Martial Artist
Active From
2010
Rank In Welterweight Kickboxing
Third Or #3
Team
Ultimate Fighting Championship (UFC) Team
Total Kickboxing Record
80
Total MMA Record
25
Trainer

Eugene Bareman: Head Coach
Andrei Păuleț: Wrestling

Net Worth
$2 million Approx
Social Media
Instagram, Facebook, Twitter
Merch
Canvas, Poster
Last Update
June, 2023
Early Life
Israel Adesanya was born in Lagos, Nigeria, on July 22, 1989. He is the eldest of all five kids. His dad, Oluwafemi, is an accountant and his mother, Taiwo, is a nurse.
He went to Chrisland School, Opebi, and registered in Taekwondo school club until his mother dismissed him due to a severe injury. He went to Ghana with his entire family for 10 months in 1999.
Still, due to his peers wanting their kids to get a well-known higher education, he lived in Rotorua, New Zealand, at age 10 and went to Rotorua Boys' High School.
Israel was not keen on any sports in high school; instead, he was into Japanese anime like; Naruto and many more.
He was densely bullied throughout high school and considered the bullying he endured to be his choice to seek martial arts next time.
Israel began training in kickboxing after being inspired by the Muay Thai film Ong-Bak at 18. He gathers an unskilled kickboxing record of 32–0 before leaving and fighting in China.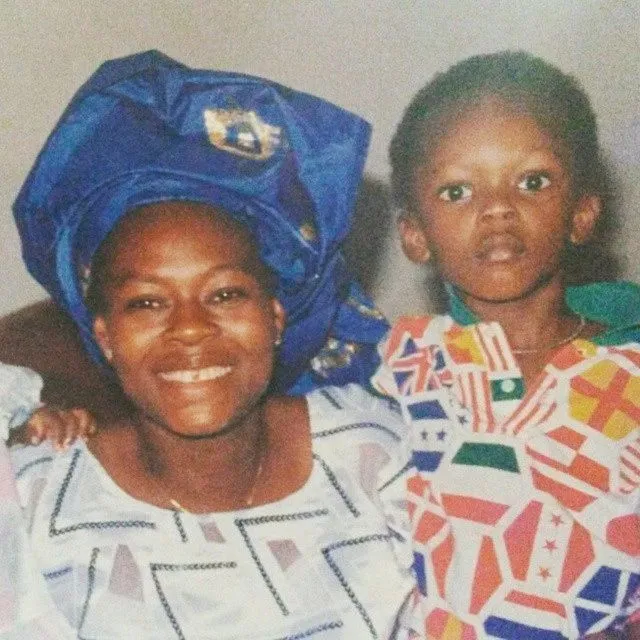 Israel went to Auckland in New Zealand and started practicing MMA under Eugene Bareman at City Kickboxing, with a few competitors, Dan Hooker, Kai Kara-France, and Alexander Volkanovski, at the age of 21.
He leads in bout under the Romanian New Zealand Andrei Păuleț. Israel is multilingual.
Not to mention, Israel can speak several languages. He can talk to Yoruba, Nigerian Pidgin, and English languages.
Israel has an unbeaten history as the past Glory middleweight contender, victor and sovereign in the ring, two-time cruiserweight, and heavyweight champ in kickboxing.
Career
Early Career
Israel got the first fight of his seven-fight winning streak against Tim Antonio in May 2010.
He also won his next six fights, consecutively including his fight with Wu Lin Feng. His leading streak got him a spot in the 2014 Kunlun Fight 80 kg (176 lb.) tournament, held while Kunlun Fight 2.
He fell in the semifinal match against Simon Marcus by an extra round split judgment. Israel later did his Glory at Glory 15 when he battled Filip Verlinden.
Verlinden got the bout by popular choice. They made a rematch at Glory of Heroes 3, and two years later, Israel won by the majority.
King In the Ring tournaments
Israel took part in the king in the Ring Cruiserweights II match. During the quarterfinal, he defeated Slava Alexeichik by a unanimous decision.
During the semifinal, he defeated Pati Afoa by knockout and got the match with Jamie Eades' smash. Six months after, he participated in the 2015 Cruiserweights III match.
He made professional knockouts of Kim Loudon and Mark Timms into the quarterfinal and semifinal rounds, each getting the fight for the next time with Pati Afoa's first-round smash.
Going up in mass, Israel also participated in 2015 The Heavyweights III.
He won Nase Foai by TKO during the quarterfinal and Dan Roberts by KO during the semifinal. Later he wins the final after defeating Jamie Eades.
Glory Middleweight Contender Match
Israel would get five of his next six fights and win over Yousri Belgaroui and Bogdan Stoica. Later, he got defeated by ultimate GLORY Middleweight victor Alex Pereira.
Israel took part in the 2016 Glory Middleweight Contender Tournament, where he beat Robert Thomas unanimously in the semifinals and got the match with a split result winning over Yousri Belgaroui.
He faced Jason Wilnis for the Glory Middleweight Championship at Glory 37 in Los Angeles. Wilnis end up with a controversial win over Adesanya.
With his transitioning to mixed martial arts, his last kickboxing bout was a match rescheduled with Alex Pereira at Glory of Heroes 7.
Pereira won by knockout, leaving Israel with a short left hook in the third round.
Boxing Career
Super 8 Boxing Tournament: Cruiserweight II
Israel rose his professional boxing career in November 2014 against two-time Australian victor Daniel Ammann.
He got one of two wildcards to enter the opening of the cruiserweight Super 8 Boxing match.
He faced a questionable failure via collective judgment after he seemed to have outpointed Ammann during the quarterfinals.
Israel again got into the Super 8 Tournament in May 2015, held at Horncastle Arena in Christchurch.
It was the other cruiserweight series, with the winner getting NZD 25,000 and a new car.
He won his first fight in opposition to fellow New Zealander Asher Derbyshire and his second against Lance Bryant. In the final, he defeated Brian Minto.
Super 8 Boxing Tournament | Cruiserweight III
Israel competed in the 2015 Super 8 Cruiserweight Tournament, as well.
He won his semifinal match against Zane Hopman and backed the cruiserweight crown with a majority victory against Lance Bryant in the final.
Mixed Martial Arts Career
Israel made his expert première in 2012 with a TKO by defeating James Griffiths.
He got his next TKO victory against John Vake before getting a two-year hiatus via mixed martial arts.
In August 2015, Israel turned to MMA when he won the fight facing Song Kenan by TKO.
He went on to garner an unbeaten 8-0 record, often competing in the Oceanian and Chinese circuits.
He got the AFC Middleweight Championship at Australia Fighting Championship 20 with a first-round TKO over Melvin Guillard throughout this period.
Likewise, he also got the Hex Fight Series Middleweight championship with a first-round KO against Stuart Dare.
Ultimate Fighting Championship
It was said that Israel had approved a deal with the UFC somewhere around December 2017.
He made his première next to Rob Wilkinson at UFC 221 on February 11, 2018. He made the match via technical knockout in the next round.
On April 14, 2018, Israel's won his next fight against Marvin Vettori at UFC on Fox 29 by split judgment.
On July 6, 2018, Israel won his second Performance of the Night award against Brad Tavares at The Ultimate Fighter 27 Finale.
Israel got against Derek Brunson by a specific knockout in round one on November 3, 2018, at UFC 230. Through this match, he earned the Performance of the Night award for a third consecutive time.
Originally supposed to work as the co-main event, Israel met past UFC Middleweight champ Anderson Silva, on February 10, 2019, in UFC 234. This battle got both rivals the fight of the Night award.
UFC Middleweight Championship
Israel won against Kelvin Gastelum for the interim UFC Middleweight Championship on April 13, 2019, in the UFC 236.
The Stylebender stood against Robert Whittaker in a title united fight on October 6, 2019, titling UFC 243 for UFC Middleweight Championship.
Israel won the bout by knockout in the second round. This victory got him his fourth Performance of the Night award.
Israel retained his title for the first time against three-time UFC title challenger Yoel Romero on March 7, 2020, at UFC 248.
Many supporters and scholars felt frustrated due to both fighters' low action, which resulted in a primarily dull fight in which neither opponent could pass any meaningful attack.
In his other title defense, Israel faced fellow fighter Paulo Costa, on September 27, 2020, at UFC 253.
He got the bout by a professional knockout in the next round. This victory gave him his fifth Performance of the Night award.
On March 6, 2021, at UFC 259, Israel was required to move up a weight class and faced a pro player, Jan Błachowicz, for the UFC Light Heavyweight Championship.
On Nov 12, 2022, Israel had his first loss via technical knockout in the fifth round for the sixth would-be consecutive win at UFC281 against Alex Pereira.
Israel Adesanya | Criticisms
The president of UFC, Dana White, regularly mentioned the Israel Adesanya vs. Paulo Costa match as the "Fight of the Year" in every fight press conference before the big fight.
But, fight supporters saw a very mediocre show as the Stylebender utterly ruled Costa and pulled up a second-round stoppage win to hand Costa his loss.
With this win, Israel Adesanya has established himself as one of the most prominent mixed martial artists.
In the post-fight press conference, Dana White stated that it was a "Domination of the Year" for the unbeaten and indisputable king of the Middleweight division.
Paulo Costa Was Missing At UFC 253
Israel has gained so much regard for his high-level counterstriking that even the most ardent strikers are reluctant to take the fight head-on against Israel Adesanya.
Later back-to-back choice victories, Israel got himself to blame for requiring solid knockout power.
Next, Gastelum put up an improbable show next to Israel in five rounds of war; boxers began thinking about how using the bout to Israel Adesanya sway do the jest.
However, Israel shook the world as he got renowned as the first opponent to KO Robert Whittaker within the octagon.
Shortly after, Israel's remarkable courage and his counter-punching displayed a brand.
Amidst the stoppage success of Paulo Costa, Israel remains to show why he is right on top with Anderson Silva's likes at the UFC Middleweight analysis.
Israel Adesanya alighted a cruel left hook to knock Whittaker frost to match the UFC Middleweight Champion back at UFC 243. The opponent paid the price for pushing upon Israel.
In his initial title stand upon "Soldier of God" Yoel Romero, Israel saw himself as a fighter who needed to counter-punch, pointing to a lackluster execution from both the contestants.
Romero's plan may have been saving potential; Israel wants to hit his leads and often depends on his counter-punching into a fatal striker.
Continued…
Something similar occurred while Israel Adesanya vs. Paulo Costa, wherever Costa did not fight his standard form.
Also, Dana White proclaimed the bout "ominous" in the post-fight press circuit and felt that he did not know why Paulo Costa fought the way he met the next Israel Adesanya.
Paulo Costa was supposed to come to heavy, stress Israel, exchange strikes, and land a crushing punch to grab a stoppage win.
Yet, after all such things were said and done, Israel Adesanya compelled Paulo Costa, all the while giving him the first failure of his MMA career.
Inside the initial session, UFC analysts could applaud Paulo Costa's endurance upon a technical striker like Israel Adesanya.
The Stylebender directed distance cleverly and was able to munch on the lead leg of Paulo Costa, giving him settled him going into the second step.
Yet there's an exchange to be made that Paulo Costa may have been staring at bringing the bout to Israel in the later rounds and was keeping his punches to save strength; Costa led to land only 12 strikes in the entire span of the attack.
UFC president, Dana White, said that Costa could only steer a "hit" as The Stylebender defeated the most dangerous striker in the UFC.
Further
There's cause to trust that Paulo Costa left to match Israel's pace and accuracy. Costa also got taken away in the theatrics, frequently calling out Israel to the octagon's core.
Moreover, Costa did not return as he has even next to the likes of Yoel Romero.
Paulo Costa has proved with opponents who would opt to get a few punches to give any in the switch during the more extensive part.
Yet, next to someone like Israel Adesanya, it isn't necessary. Israel doesn't look to swap except when required.
The ultimate round upon Kelvin Gastelum, where he hit the past interim contender aside, pulled up an exciting public choice victory.
Costa's hesitation in swapping punches could have a lot to do with Israel's reliability as a counter striker and his strength to pick his leads, as seen in his bout next Robert Whittaker.
Israel Adesanya is large and has hard power in his hands which gave him an advantage over his foes.
Israel kept Costa from the striking way and met in with strikes whenever he sought to improve.
Amidst sustained injury on his lead leg, Israel told the game's entire step upon a stress fighter like Paulo Costa.
It was eerie to see Costa not take the bout to the pen, although he was getting a massive victory next to Yoel Romero in his latest episode.
Be that as it may, Israel won the psychic war against Paulo Costa and was directed to ensure a stoppage success upon an unbeaten champion.
Final Thing
It was assumed that Costa could try to take the boat to the area, with several fight fans demanding that Costa start fighting in the first round to put Israel on the back foot.
Amidst Henry Cejudo crossing to Brazil to teach and support Paulo Costa, the Brazilian lost to mix his game with a sharp striker like Israel.
Following all the drama encompassing BJJ, it was shocking to see Paulo Costa not go for the take-down even once and get connected in a trash-talk while frequently asking Israel Adesanya to come to the center of the octagon.
Israel was ready to abuse Paulo Costa's game plan and manage the speed of the bout.
He was ready to pick his shots against one of the most dangerous strikers in the UFC and pull up a stoppage triumph upon a fighter who has done next Yoel Romero's likes Uriah Hall and Johnny Hendricks and nevermore once strayed off from his form.
Paulo Costa forever led the bout head-on, fit for a slug-fest even upon the likes of Romero.
When Paulo Costa seemed calm in the initial round, it wasn't the right choice to completely replace his combat form in a big matchup versus Israel Adesanya for the UFC Middleweight Championship.
Israel Adesanya | Personal Life
Before taking up fighting, Adesanya always faced dance contests over New Zealand. He highlighted his love for dancing in a choreographed strike at UFC 243.
He is a fan of anime and wants to start an anime production company after retiring from fighting.
His nickname, "The Last Stylebender," refers to Avatar: The Last Airbender, an anime-influenced cartoon series.
Israel has the form of one of the show's central characters, Toph Beifong, tattooed on his forearm. He has endorsed the 2020 New Zealand cannabis referendum.
Moreover, Adesanya shifted to become the first mixed martial arts champion to sign a Puma sponsorship deal in September 2020.
Israel Adesanya | Net Worth, Bonus & Endorsement Deals
While he debuted at UFC 221 upon Rob Wilkinson, Israel was on a deal that got him $50k show capital with a win premium of $50k. This is large for someone debuting in the group.
Making your sham and win salary distinctly is a hostile point in combat sports, but it's hard to adjust anything else without enough force.
That night in Australia, Israel ended Wilkinson in the next round, getting the match and winning premium and getting the Night premium's Performance, saving him an extra $50k.
With the money he made from his Reebok aid, Israel made an astounding $153k for his first UFC bout.
In his other fight with Marvin Vettori, Israel's deal went from $50k/$50k to $53k/$53k.
Sadly, he didn't get a bonus that evening. According to The Sports Daily, Israel had career earnings of $2,928,500.
In the meantime, Israel Adesanya portrays brand endorsement deals with ENGAGE and Peak Milk. Likewise, he also has partnered with the viral Call of Duty.
Israel has his signature line of t-shirts, hoodies, and accessories with ENGAGE. Additionally, he is also the brand ambassador of Stake.Com.
Furthermore
It means he made $106k. His next bout was the prominent game spot, and just like it did in the bout earlier, his show and win capital raised by $3k each, now at $56k/$56k.
Once again, he got the Performance of The Night, making him $162k that evening.
He was leaping ahead a few rounds when he encountered Kelvin Gastelum at UFC 236 for the interim Middleweight championship in the 2019 Fight of the Year.
Israel Adesanya had fought his way up to a $350k flat fee, eliminating his win bonus. With the $50k Fight of the Night bonus, he took back $400k that night.
It's not strange that he was given a bonus after closed doors, as Dana White usually did when competitors faced like he did that evening.
In his bout at UFC 253 with Paulo Costa, Israel was confirmed as a hefty $600k.
On top of that, his Reebok support money is now at the official level for winners, $40k.
Usually, with his dismantling of the Brazillian, he got $50k for having the Performance of the Night, adding almost $700k.
Israel Adesanya | Quotes
"If you want to beat me, you should have done it yesterday because every single day, I'm getting better."
"I draw much inspiration from cartoon characters because they're more real than most people."
"I just speak facts, no shade. But if the shoe fits, lace them up."
Social Media Presence
Israel Adesanya is quite active on social media. You can follow him via these links.
Instagram: 4.1 million followers (@stylebender)
Facebook: 1 million followers (@thelaststylebender)
Twitter: 766.2k followers (@stylebender)
View this post on Instagram
On November 2022, Israel went to the "Hotones" powered by the "First We Feast" show, where he ate chicken wings with seven levels of spicy sauces while conversing with the show host, Sean Evan.
The Popularity Graph
The search graph of Israel is on high level due to his online presence as he keep appearing in shows as a guest too.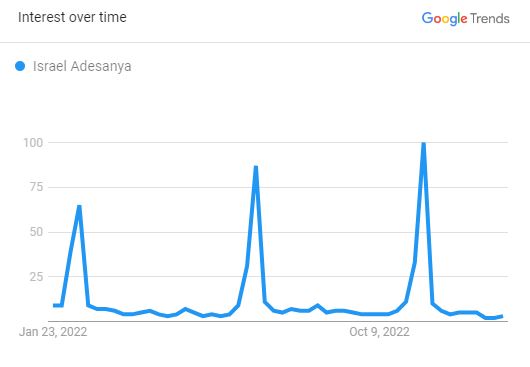 The graph illustrates the last 12 months search and progress in the search rate.
Frequently Asked Questions (FAQs)
How do you pronounce Israel Adesanya?
Israel Adesanya is pronounced as iz·rayl a·duh·sa·nyuh.
Where does Israel Adesanya currently live?
Israel Adesanya currently lives in Auckland, New Zealand, with his family.
What does Israel Adesanya's fighting style include?
Israel Adesanya's fighting style includes kickboxing and boxing.
What is Israel Adesanya's loss record?
In Boxing his record (5-1), Kickboxing his record (75-5), MMA (23-2).
How many tattoos does Israel Adesanya have?
Israel Adesanya is reported to have at least 7 tattoos inked on his body.
Who knocked out Israel Adesanya?
Alex Pereira knocked Israel Adesanya out while fighting in Glory of Heroes 7 in 2017.
What song did Israel Adesanya walk out to UFC 263?
Israel Adesanya walked out to the song "Somewhere I Belong" by Linkin Park to UFC 263.
How many fights has Israel Adesanya lost so far?
The Stylebender has fought in 80 known kickboxing bouts, garnering a record of 75 triumphs and five losses to date.
Which car does Israel Adesanya drive? Does he have a house?
Is Israel Adesanya southpaw?
In his knockout over Whittaker, Israel usually closed up with bizarre striking exchanges; while he competed in his usual standard position, he regularly ended discussions in a southpaw position.