Kara Henderson is not only the owner of a lovely smile, but she also possesses fluency, accuracy, and solid concentration on hosting as an anchor reporter.
Kara gracefully used her anchoring skills to provide pre-and-post game reports, in-depth interviews, and side reports on the NFL Network.
NFL Network was the last company she had been associated with as a reporter and anchor.
Interestingly, Her craze for taking interviews during Superbowl has been highly appreciated by fellow sports media personalities and Henderson's colleagues.
Interestingly, Kara has made her impression as a sports media personality. However, she has low rates of social media appearances and involvement.
We will know more about her professional and personal life in this article.
Quick Facts about Kara Henderson
Full Name
Kara Henderson(Kara Henderson Snead)
Birth Date
June 27, 1973
Birth Place
Massachusetts, United States of America
Religion
Undefined
Nationality
American
Ethnicity
N/A
Education
Duke University
Horoscope
Cancer
Father's Name
N/A
Mother's Name
N/A
Age
50 years old
Height
5feet 8 inches (approx)
Weight
59kg
Body Build
Slim
Hair Color
Brown
Marital Status
Twice, No info about the first Husband

Second Husband Les Snead (m.2012)

Children
Tate(son with Les Snead)

Step-daughter-Cannon

Step-son Logan

Profession
Sportscaster and Anchor
Net Worth
$1 million (approx)
Salary
N/A
Currently Works At
N/A
Affiliations
NFL Network, CNN, ABC News, and Fox Sports
Active Since
1998
Retirement
September 9, 2012
Social Media
Twitter, Wikipedia
Merch
Paperback
Last Update
November, 2023
Early life Parents & Education
Kara Henderson was born in Massachusetts, raised in Georgia, and has lived everywhere from New York to London. Yet, she has not been vulnerable and open about her early life.
She has not made any public announcements regarding her parents. However, she says that her childhood has been spent in a simple American way.
Likewise, Her parents taught her compassion and care. As a result, she was an enthusiastic and active child during her childhood.
These qualities of little Kara led to sowing the seeds of interest and inclination towards sports. She also had the aim of being a sportsperson.
Talking about her education, Kara has received Cum Laude (with distinction concerning university degrees and diplomas) from Duke University. She majored in Political Science.
Vital Body Stats
Body measurements of Kara Henderson are not being provided; however, she has a slim build. Her body weighs 59 kg.
Her height is approximately 5 feet 8 inches(as per some sites). Moreover, She has a beautiful smiling face.
Professional Life and Career
Early Professional life
Kara Henderson served as a sports anchor and reporter for FOX Sports New England. She assisted in launching several regional sports shows, including New England Sports Tonight and The Regional Sports Report.
Initially, Henderson set her journalism career as an intern in the London bureau at NBC News.
Henderson later worked as a production assistant at ESPN, an executive producer of Good Morning America, and a production assistant in the ABC News special events unit.
Kara's contribution to NESN
Kara confidently worked as the beat reporter for the Boston Red Sox. In addition, she holds the extraordinary experience of being an exceptional anchor and reporter for New England Sports Network (NESN.)
In 1998, while at NESN, Henderson hosted Front Row, a nightly sports magazine program where she worked as a reporter and feature producer.
She also got nominated for a 1999 New England Emmy Award for the Front Row, which she hosted while running the Boston Marathon.
She served as a reporter for the Red Sox and Bruins pre-game shows, Red Sox Digest, and Bruins Digest.
Kara's career in the early 2000s
Kara Henderson has worked as a sports anchor for CNN Headline News since May 2002. Since joining CNN, Henderson had covered Super Bowl XXXVII, Kentucky Derby 129, and the 2002 MLB Playoffs for Headline News.
She co-anchored the CNN network's popular and signature nightly sports news program, 'Sports Tonight'.
Workaholic Henderson also hosted and reported Sporting life, the network's magazine program. She also reported from the network's 2001 NFL (National Football League) playoffs.
She gave her 3 professional years, i.e., 2000-2003, for the CNN Network.
A career at NFL Network after CNN
In the progressing year, Henderson got associated with NFL Network. Again, Henderson gracefully provided pre-and-post game reports, in-depth interviews, and side reports.
They were for shows like Around the League, NFL GameDay Morning, NFL Total Access, and NFL GameDay.
The NFL Total Access had a segment called Open Locker Room. Henderson would chat with the league players about the day's hot topics in the Open Locker Room segment.
Henderson provided-site on-site reports for both NFL.com and NFL Network to cover Thursday Night Football in the 2010 season.
Retirement
Sadly, Kara Henderson chose to retire from her job of being a kick-ass and strictly professional anchor and reporter to experience happiness in her family life.
March 2012 was the last time; she was seen on sets of NFL Network. Then, on September 9, 2012, she confirmed her early retirement (without more explanation) via Twitter.
Also, Henderson was invited as a special guest in Steve Savant's show, Fisher's show. In this Show, she publicly announced her retirement.
From this very time, Kara's colleagues started missing professional chats. As a result, Amber Theoharis has replaced Henderson in NFL Access.
Kara and Les together at a show
Kara Henderson and her husband Les Snead appeared in Bernie Nicholas Show on 101 ESPN in 2013.
They expressed their struggle on having a healthy and fully functioning the household after especially tough losses of Los Rams, to which Les is the General Manager.
Here, Kara stated that working with her husband is different from her previous work as an anchor to prepare for before and after interviews.
Also, Working for the Rams had made her emotionally invested in the football game. Henderson said she was living the hard knocks as she got along with the then Superbowl season.
Kara on The Rich Eisen Show (on the telephone)
In 2014, in a telephone interview on The Rich Eisen Show, Henderson questioned the sports media personality for being aggressive on twitter athletes if they could not do so in real life.
Here, Henderson talked her heart out. She shared her experience of seeing her ten-year-old son getting scared in the stands when a vulgar and drunk fan was yelling and cursing.
She claimed that this act was a loss of civility, and it is hard to watch the football game with the family in such an environment.
"Reporters who are snarky on Twitter athletes and coaches drive me crazy. Don't tweet something which you cannot say to somebody's face. We follow you (reporters) because you are a professional, and your tweets should be about the report of the game you are at rather than your sense of humor." – Kara Henderson.
Appearance in Podcast and Radio
In 2019, she also appeared in The Broadcast Podcast hosted by Ricky Hollywood and Emma VP. She suggested being a new mom, optimistic, and confident, women need to have a respectful and happy life.
Here, Kara Henderson witnessed the audition to become the official Rams sideline reporter.
On April 1, 2014, Kara Henderson appeared on "The John Carney Show." from 1 to 3 p.m. On Tuesdays to Thursdays on KTRS radio St Louis.
Kara loves learning about the amazing food, music, history, and culture of St. Louis from Carney. Carney tries to learn enough about sports not to embarrass himself in front of Kara.
Kara Henderson Personal life | Husband and Children
Also, She is an expert in keeping secrets. Thus, no one knows much about her first marriage. She had gotten married two times till that date. Kara has a son named Tate from her previous marriage to Dale Voorhes Haver.
In September 2011, she got separated from Haver. After dating for a couple of months, in October 2012, she married Les Snead, the general manager of the Los Angeles Rams of NFL Network.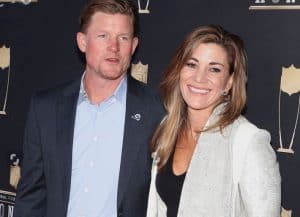 Both Les and Kara admit that their type of craziness and the astonishing craze for the sports, especially American Football, had actually contributed to forming the love bonds.
She is also addressed as Kara Henderson Snead. Les and Kara live happily in Clayton, in the USA, with their children.
Kara and her Children
Former reporter Henderson is also stepmother to Les's children, Cannon (daughter) and Logan Snead (son), from their previous marriage with Liz Snead.
The couple is still together. They often attend functions and events together.
Kara Henderson chose to retire from her job to get happiness in her family life. She was a kick-ass and strictly professional anchor and reporter.
After retirement, Kara lives her life to attain the best of motherhood and a happy relationship.
At present, she helps her husband in his General Managerial work. Whenever she makes appearances in any podcast, she describes her life with her family.
Kara Henderson's Net Worth
Being a well-known Sportscaster and Anchor, Kara has accumulated a huge sum of money in a short period of time. However, most of their income of Henderson comes from her professional career.
Kara Henderson's net worth is around 1 million US dollars.
Her husband, Les Snead's current net worth, is under review, but he is believed to have a net worth of a couple of million dollars.
At present, both Kara and her husband are living a luxurious life. Both are hardworking in their professional career, leading them to live comfortable life.
Net Worth of Kara Henderson in Different Currencies
Let's have a look at Kara Henderson's net worth in different currencies, including the Euro and Pound.
Currency
Net Worth
Euro
€

885,400

Pound Sterling
£

756,465

Australian Dollar
A$

1,404,731

Canadian Dollar
C$

1,294,580

Indian Rupee
₹

75,801,500

BitCoin
฿

22
Social Media Presence
Kara Henderson seems to keep her social media account as professional as possible. She is not on other sites like Facebook, and Instagram.
Henderson-Snead is active on Twitter. She has been sharing memes relating to her present life and the presidential election atmosphere in recent times.
Henderson is also featured on Wikipedia. But some details are sometimes over the top. Kara has expressed her dissatisfaction with such details and facts.
However, she is grateful to have a Wikipedia page dedicated to her.
Twitter -18.1k followers(@KHS)
Wikipedia– Kara Henderson
Some FAQs
Is Kara Henderson Lesbian?
No, Kara is not Lesbian.
What is Kara doing at the Present?
Kara is not doing any job and giving all her time to her family.
Why Kara Retired from her Broadcasting Career?
Kara wanted to raise her son, so she left her broadcasting career.
Did Kara Work in Johnson Lancaster?
No, she has not worked in the Johnson Lancaster Association yet.
Does Kara Reside in Dallas?
She does not reside in Dallas.