Katy Kellner is an American fitness enthusiast, personal trainer, and former teacher who gained popularity after getting engaged to a professional NFL player, Shannon Sharpe.
Have you ever heard this line: Money and fame are very irrelevant and problematic?
The statement holds true for Shannon Sharpe, who apparently couldn't protect his relationship with Katy Kellner.
No amount of money and fame can buy you your true love. Also, the thing about love is sweet and happens instantly, whether one chooses or not.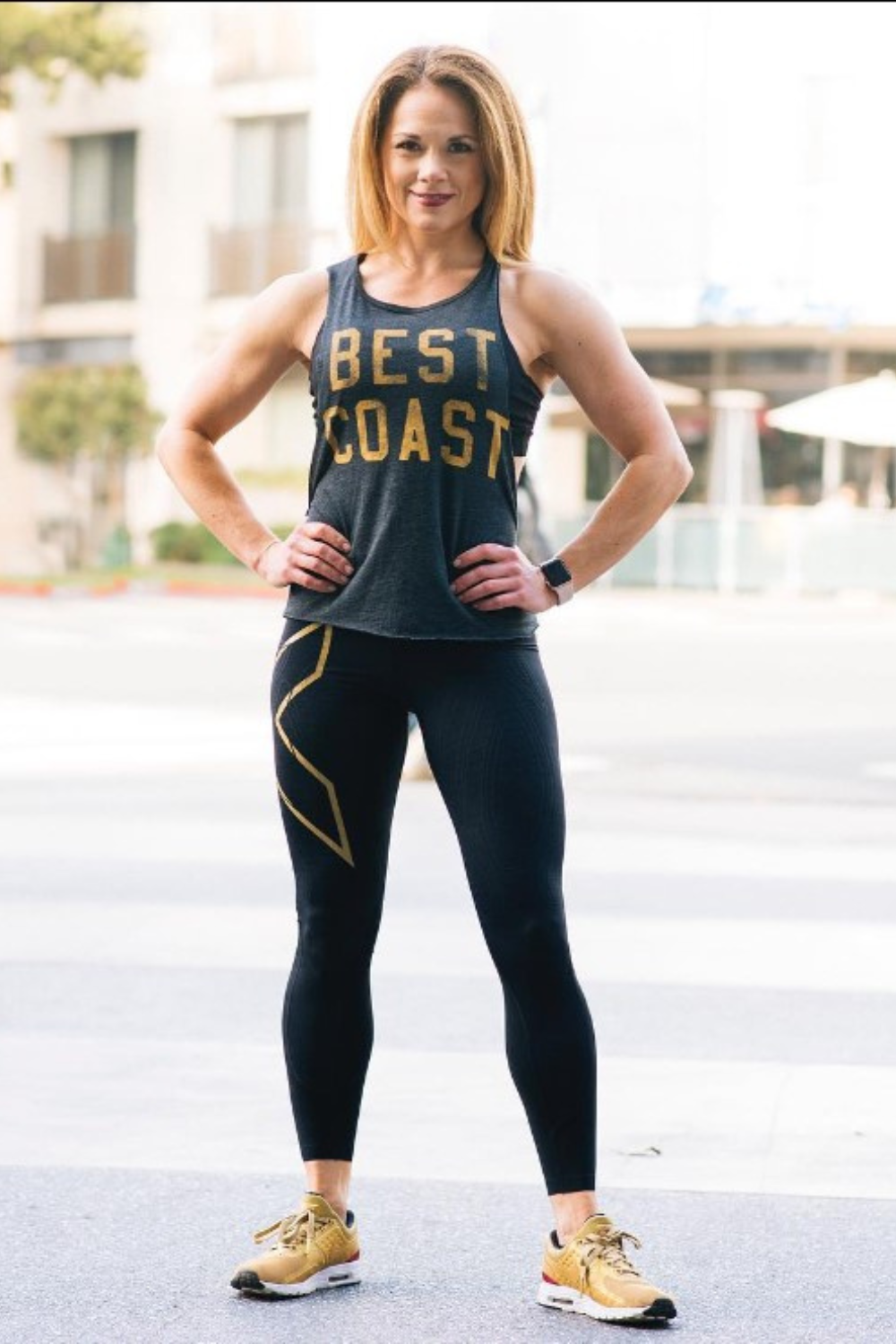 Similarly, when that love turns sour, we wish we never took a chance in the first place.
We are not here to talk about Shannon's life but about his once-upon-a-time fiancee, Katy. Despite being inseparable initially, the couple saw life differently and decided to part ways.
Although the sudden breakup impacted Sharpe's fame, Kellner definitely benefited from her short-lived fame and love life.
She is currently married to Luis Castillo, and the duo, along with her son, Jaden, recently visited Katy's parents in South Carolina in August 2022.
This article discusses the controversial yet beautiful Katy, her life, her relationship, and her current status!
Katy Kellner | Quick Facts
| | |
| --- | --- |
| Full Name | Katy Kellner |
| Age | 42 Years Old |
| Birth year | 1981 |
| Height | 5'6″/1.67 m/167 cm |
| Weight | 56.6 kg/125 lb. |
| Birthplace | The United States of America |
| Horoscope | Unknown |
| Nationality | American |
| Ethnicity | Caucasian |
| Profession | Educationist; Fitness Instructor |
| Relationship Status | Married |
| Husband | Luis Castillo |
| Boyfriend | Marlon Byrd (Former); Shannon Sharpe (Former) |
| Son | Jaden Charles Byrd (December 7, 2018) |
| Education | Elmhurst College; Troy University |
| Profession | Educationist; Fitness Instructor |
| Salary | N/A |
| Net worth | $1 Million |
| Social Media | Instagram |
| Last Update | February 2023 |
Katy Kellner Bio | Early Life, Education & Ethnicity
Katy Kellner, regardless of her fame, is like a ghost among people. Hence, we cannot inform you about her exact birthdate, her parents, any possible siblings, or her early life.
It is quite evident that she is an American. In fact, we can corroborate her nationality through her educational details.
It is surprising how out of all the things, the internet knows her educational background. Moving on, the American attended Elmhurst College to obtain a degree in Arts.
Later, she enrolled at Troy University, where the famous Caucasian graduated with a Master's Degree in Instructional Technology.
Thereafter, the American went on to pursue a career as a local school teacher.
Katy Kellner | Age, Height, & Body Measurements
The beautiful Katy Kellner was born in 1981, making her 42 years old as of 2023.
Since Kellner has not disclosed her precise birthdate, there are no evident means to predict her horoscope.
On the other hand, Kellner doesn't show any signs of aging, probably because of a healthy routine.
To illustrate, the educationist is a fitness instructor. As a result, it is obvious to have a perfectly sound body.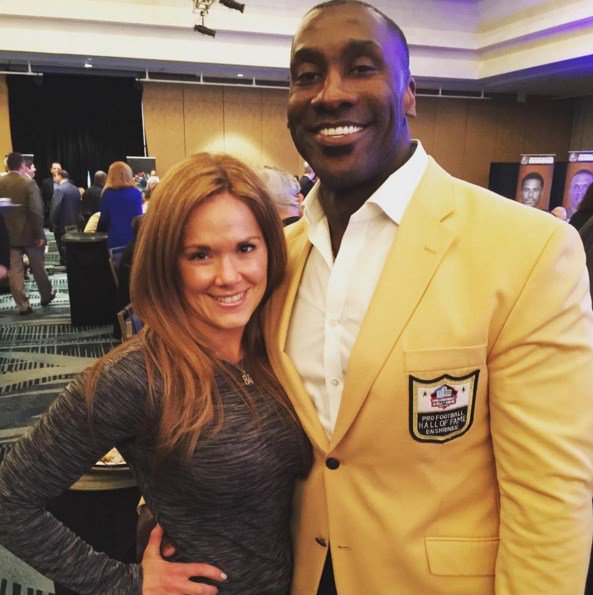 Moreover, with the pictures taken with Shannon, Kellner looked to be quite a match with her husky then-fiancee.
Kellner possesses an athletic body with curves in all the right places. This goes to show why Sharper caught the notice of the beautiful fitness guru.
Most importantly, Katy's distinctive aspect is her brunette-gingerish hair, mesomorphic build, and square facial structure.
Katy Kellner | Career
Katy immediately started her career as a teacher at Fulton County Public School after completing her Master's degree from Troy University. She taught for nine years to the students of Fulton County.
What's more fascinating about this is that, before being engaged to Shannon, Katy was an ordinary woman enjoying her role as an educator. She would bring food to the table and survive on a teacher's salary.
While there is nothing wrong with the profession, it came as quite a shocking revelation to the public how Kellner and Sharpe could have crossed paths without having any connections to their different occupations.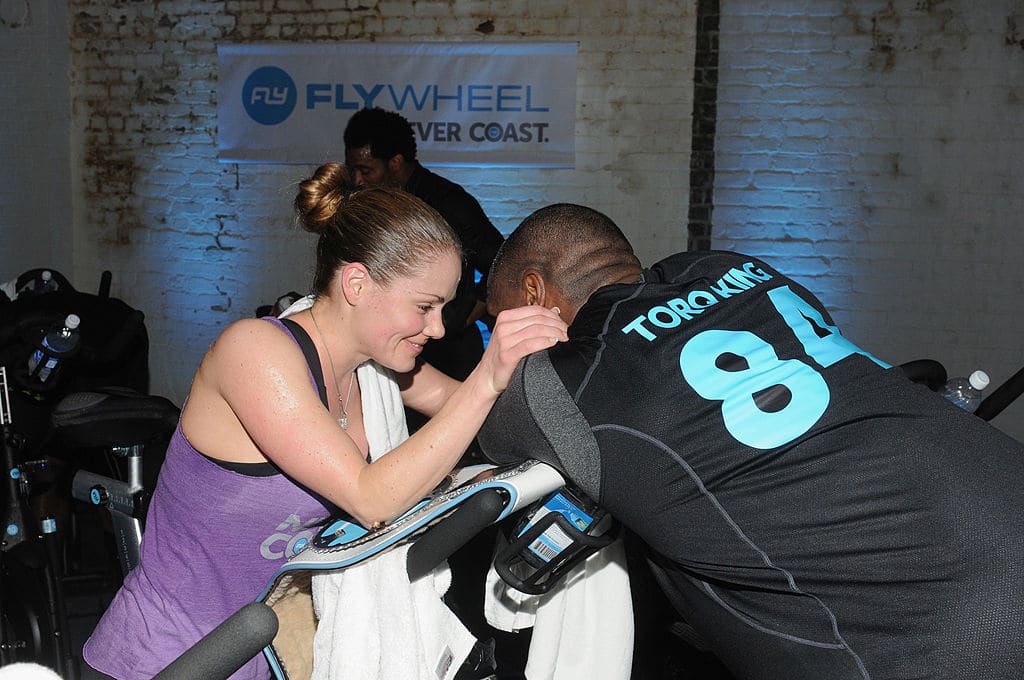 Similarly, Katy is a fitness enthusiast, and the American ventured into the world of bodybuilding and evoked this as her lifestyle.
Her career as a fitness expert definitely benefited her in the long term.
In other words, Kellner has worked as a regional director and was also a part-time instructor at Flywheel Sports.
Furthermore, her role doesn't end there. At one point in time, a particular cycle bar, Flywheel, employed her as a Regional Manager. She has also worked at the Thousand Oaks Gym in California.
Katy Kellner | Net Worth & Income
According to some reliable sources, it has come to our notice that Katy accrued a staggering net worth of $1 million in the recent decade.
In like manner, being a fitness advisor and amassing such a sum is commendable indeed.
As per the money.usnews.com website, a primary school teacher pockets around $46k as a median annual salary, with the best being $75k.
After moving to her bodybuilding sector, Kellner reportedly received considerably higher wages.
As America is a country where gym culture blooms every year, the number of gym-goers also increases. Taking the charges into account per person, the owner can foresee a high revenue every year. Hence, Kellner can pocket a hefty sum in a year alone.
Katy's Thousand Oaks Gym charges $1.5 a day for a basic membership and $2 for the All-Access Membership, and the average per person totals about $547.5.
She also worked as regional manager of Flywheel at Avalon, which might have also contributed to her net worth.
Katy Kellner | Fiancee, Personal life & Relationships
To begin with, the American fitness expert came into prominence with her engagement to the famous former NFL Denver Broncos tight end Shannon Sharpe.
Shannon is regarded as one of the greatest tight ends of all time. He is also a former analyst for CBS Sports.
Sharpe has co-hosted "Skip and Shannon: Undisputed" on Fox Sports 1 alongside Skip Bayless since 2016.
Moving on, Shannon and Katy first met at the gym. As every love story goes, the two struck an instant fondness for each other.
After going on a few dates, the two reportedly engaged in 2016. Thereafter, the couple always traveled together at events, parties, or other gatherings.
However, all love stories don't meet their happy endings; some end quickly, whereas others plummet to the ground.
In a shocking revelation, Katy was carrying someone else's baby, and naturally, Sharpe severed ties with his partner.
Further
Concurrently, in a now-deleted Instagram post, Kellner revealed the father's identity, and it was none other than the co-owner of Thousand Oaks, Marlon Byrd.
Initially, everyone thought that Shannon was the baby's dad. But that photo shared by Katy shocked everyone.
Marlon and Katy welcomed their son Jaden Charles Byrd on December 7, 2018. Sadly, the couple got separated after some time.
Currently, Katy is happily engaged to her new boyfriend, Luis Castillo. On January 10, 2021, Kellner uploaded a picture with Luis showing her ring on her Instagram handle.
The caption on that post was, " Forever 01.07.2021 will go down as one of the best days of my life. Can't wait to become Mrs. Castillo! I love you".
Katy and Luis reportedly tied the knot in July 2021. Luis took his Instagram to declare his wedding with his best friend and believes that he had done something good as he got to marry her.
Amid many controversies and past relationships, Katy is currently living a happy life with her son and boyfriend. Luis also adores and maintains a good relationship with Jaden.
As per the information, Luis is a policeman and also plays soccer.
Katy Kellner | Social Media Presence
Katy Kellner is quite active on her Instagram. She often posts her routine workouts and fitness tips on the platform.
She also posts pictures of her son and her family.
Instagram: 13.4k followers
View this post on Instagram
Katy Kellner | FAQs
Is Katy Kellner single?
Katy Kellner got engaged to her boyfriend, Luis Castillo, on January 7, 2021.
Does Katy Kellner have a child?
In early 2018 Katy Kellner got pregnant with her business partner Marlon Bryd's child. She has a son named Jaden Charles Byrd from her relationship with Marlon Byrd.
Are Katy and Shannon still together?
No, Katy Kellner and Shannon Sharpe are not together anymore. Katy and Shannon broke up in 2018.
Is Katy Kellner the owner of Thousand Oaks Gym?
According to sources, Katy Kellner co-founded the Thousand Oaks Gym with Marlon Byrd.