To gain deeper insights and details regarding the pre-game and post-game aspects of the match, reporters play a crucial role.
Reporters gather as much information as possible from the players and managers. One such current popular reporter is Kayla Burton.
Due to her skills and ongoing popularity, fans are eager to learn more about Kayla Burton, including her ethnicity, religion, and origin.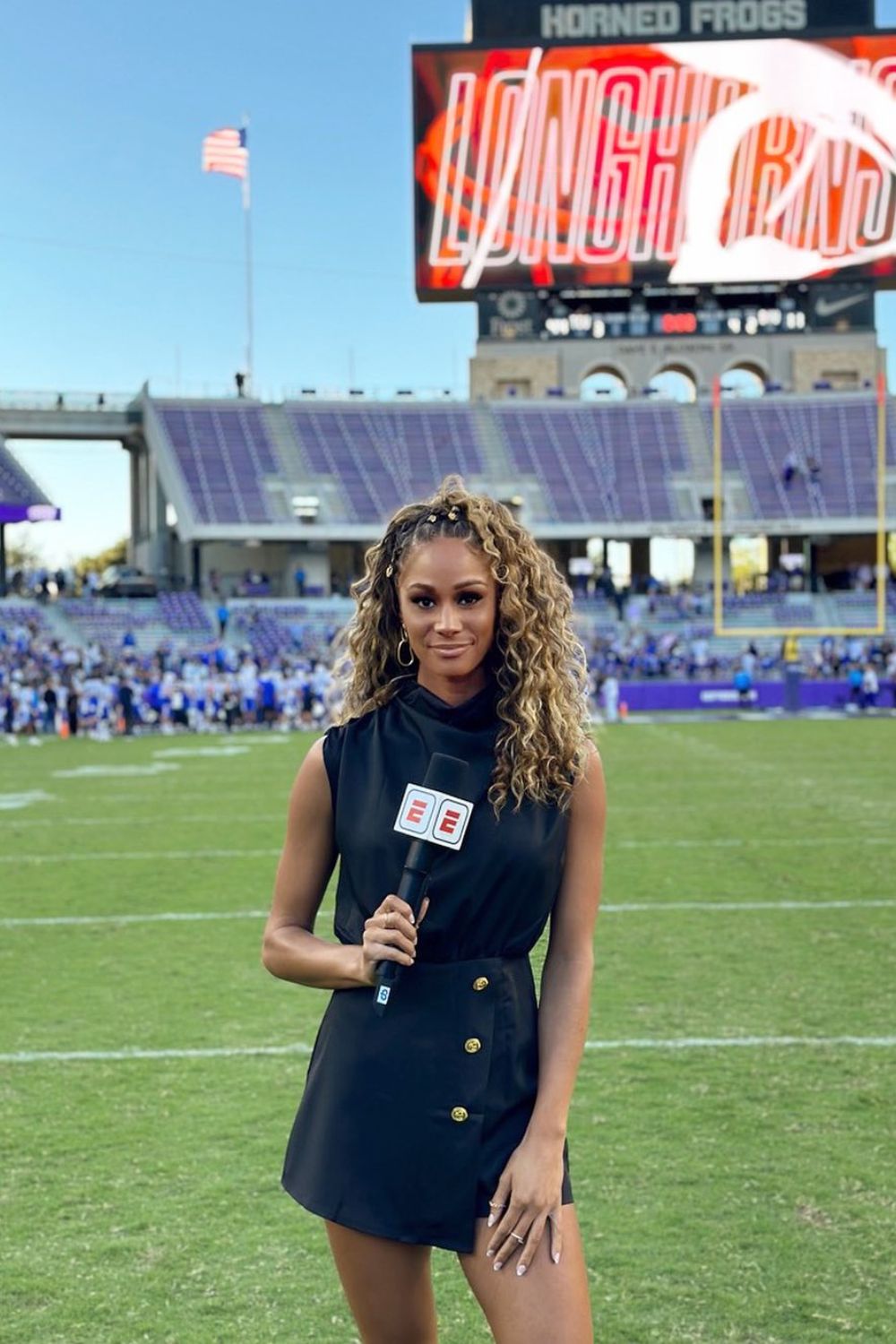 Kayla Burton, born June 15, 1995, is a prominent ESPN host and reporter with a strong journalism background.
Her career includes roles as a head basketball coach at the Rivers School, a sports reporter for the Celtics Late Night Show, and a sports reporter for the ACC Network in Syracuse, New York, where she covered various sports events.
In August 2019, she joined WGGB, ABC40/ FOX6 as a reporter and content producer.
She joined NFL Media as a reporter and content producer in October 2021 and has been working for them ever since.
Burton is passionate about sports and storytelling, connecting with people and sharing their stories with the world.
Furthermore, she is the daughter of Steve Burton, WBZ-TV's veteran TV personality and sports director. Similarly, her uncle, Paul Burton, reports for WBZ-TV News.
What Is The Ethnicity Of Kayla Burton?
Born into a world where ethnicity and culture are intertwined, she was questioned about her own heritage throughout her upbringing.
During her time at Lehigh, Burton grappled with questions about her identity, reflecting on her mixed-racial heritage and the challenge of navigating between different social circles.
She recalled the inner struggle of defining herself as either white, Black, or a combination of both and how she had to think about her interactions with friends from different backgrounds.
It was as if she inhabited two separate worlds, yet she was determined to find a way to be authentically herself, transcending the boundaries of racial categorization.
While pursuing her journalism career, Burton also acknowledged the value of minoring in Africana Studies, which provided her with a deeper understanding of her own cultural heritage.
She emphasized that this educational experience was not only a personal journey but also equipped her to educate her colleagues and peers, particularly in matters related to race and culture.
As a news reporter who's biracial, Burton is taking advantage of her platform outside of athletics and doing great things amidst racial injustice and inequalities in the country.
Her Religion
Moreover, Kayla believes in Christianity, as evident from her Twitter bio. This deep-rooted spirituality likely gives her the strength and guidance to navigate the challenging conversations and moments in her life.
In a world marked by racial injustice, Kayla Burton's journey embodies the power of open conversations and education, not just within her own family but in society at large.
She embraces her biracial identity, paving the way for others to engage in meaningful dialogues and work towards a more inclusive and equitable world.
Kayla's life is a testament to the transformative potential of embracing one's heritage, faith and the opportunity to foster understanding and progress in adversity.