Matt Eberflus and his wife, Kelly Eberflus, have been married for several decades. Together, they have welcomed two daughters into their family.
While Matt serves as the head coach in the NFL, he coaches dance to his daughters at home.
Born on May 17, 1970, Matt Eberflus serves as the head coach for the Chicago Bears of the National Football League (NFL).
After graduating from Whitmer High School in 1988, he played collegiate football for the Toledo Rockets. Eberflus then spent the first nine years of his coaching career at his alma mater, the University of Toledo, working in various positions.
He then served as the defensive coordinator at the University of Missouri before transitioning to the NFL by joining the Cleveland Browns.
Furthermore, the Ohio-born coach had stints with the Dallas Cowboys from 2011 to 2017 and the Indianapolis Colts from 2018 to 2021.
Moreover, he was inducted into Toledo's Athletic Hall of Fame in 2004.
Matt Eberflus Wife, Kelly Eberflus
The 53-year-old Matt Eberflus is happily married to his wife, Kelly Eberflus.
The love story between Kelly and Matt began during their time as students at the University of Toledo.
Their relationship blossomed quickly, evolving from their initial meeting to a period of dating to eventually exchanging wedding vows.
Kelly, a supportive and understanding partner, stands by him in every significant decision he makes.
Her familial background is deeply rooted in football, with her father being a college footballer and high school coach and her grandfather being an NFL player and coach.
Growing up immersed in the sport, Kelly developed a passion for football at a young age.
Beyond her role as a dedicated wife and mother, Kelly is also a compassionate individual who co-founded the GP Made foundation alongside her husband and others.
This organization is committed to aiding individuals with disabilities and cancer, as well as providing assistance to those in need.
Parents Of Two Kids
The couple has two lovely daughters, Grace and Giada, who share a five-year age gap. Both girls are competitive dancers, currently undergoing training to pursue careers as professional dancers.
In his coaching role, Matt is known for being fiery, intense, and a disciplinarian. However, as a father, he is described as calm, easygoing, and a peacemaker.
Giada remarks, "People think he's very stern because he's a coach, but he's really not." Grace adds, "We see him on the field on TV, and we don't know that guy. I'm like, 'Is that my dad?'"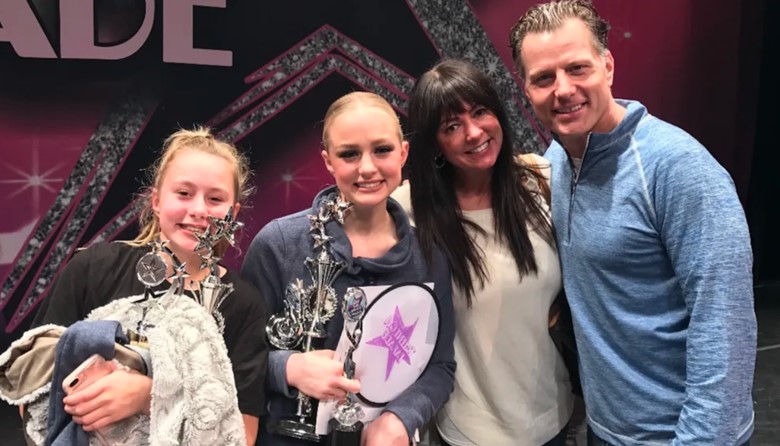 Despite his football expertise, he actively coaches his daughters in competitive dance. Over the years, Eberflus has developed an appreciation for the dance.
Both Grace and Giada have competed at the pre-professional level. In 2022, Grace graduated from Chapman University in California with a degree in dance and a minor in language and literacy.