Kelly Paul Oubre Jr. is a prominent American professional basketball player who plays as shooting guard for the Charlotte Hornets of the National Basketball Association (NBA).
In his junior year at George Bush High School in Texas, he began playing high school basketball before transferring to Findlay Prep in Nevada.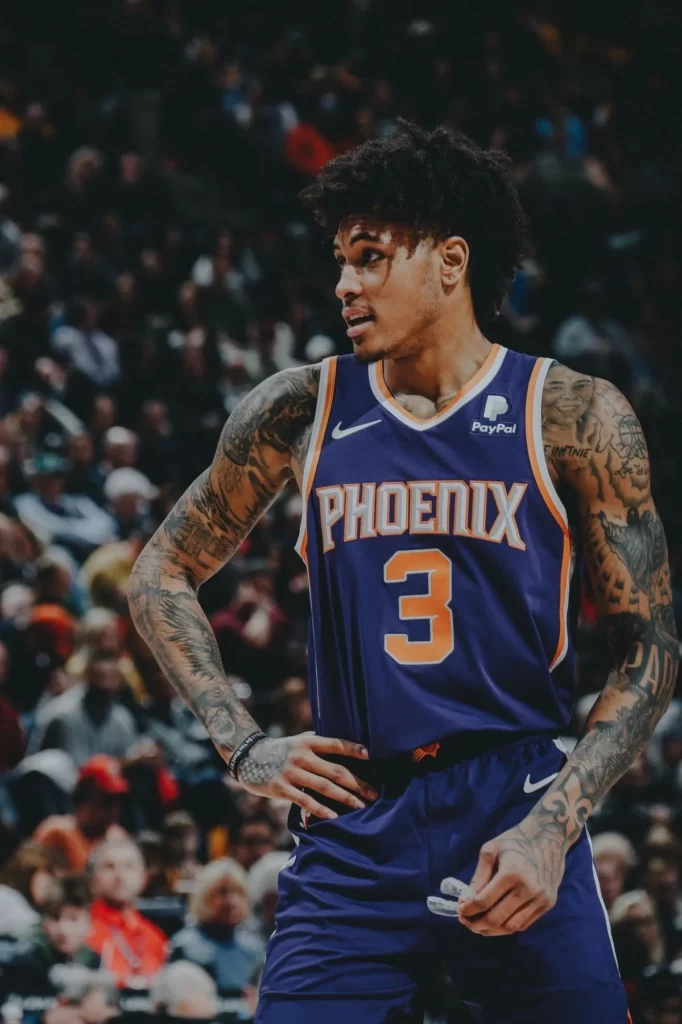 Similarly, Oubre played a college basketball season (2014 – 2015) for the University of Kansas (Kansas Jayhawks) and later declared for the 2015 NBA Draft and got selected by the Atlanta Hawks in the first round.
After the draft, his professional NBA career started when he was traded to the Washington Wizards by the Hawks. Since then, the player has also played for the Phoenix Suns and Golden State Warriors.
Quick Facts:
Full Name

Kelly Paul Oubre Jr.

Known As

Kelly Oubre Jr.

Nickname

Wave Papi / Tsunami Papi

Date of Birth

December 9, 1995

Zodiac

Sagittarius

Birthplace

New Orleans, Louisiana

Nationality

American

Ethnicity

All-American

Religion

Christian

Father's Name

Kelly Oubre Sr.

Mother's Name

Tonya Coleman (formerly Oubre)

Siblings
Sister: Amber Coleman
Brother: Gared Washington
Age
27 years old
Listed Height

6'6″ (1.98 m)

Wingspan

2.2 m

Weight

87 kg

Eye Color

Hazel Brown

Hair Color

Black

Build

Athletic

Tattoos

Yes

Profession

American Basketball Player

Sexual Orientation

Straight

Relationship Status

Engaged with Shylynnitaa Gibson

Children

A son

Education

Edward Hynes Elementary School (now Hynes Charter School)
George Bush High School (Fort Bend, Texas)
Findlay Prep (Henderson, Nevada)
University of Kansas

Active Since

2015-Present

NBA Draft

2015 / Round: 1 / 15th Overall Pick by Atlanta Hawks

Teams

Charlotte Hornets 2021-Present
Golden State Warriors 2020-2021
Phoenix Suns 2018-2020
Washington Wizards 2015-1018

Current Team

Charlotte Hornets

Experience

8th Season

Jersey Number (Recent)

12

Position

Small forward / Shooting guard

Endorsements

Converse

Achievements

Big 12 All-Freshman Team (2014-15)
All-big 12 Honorable Mention (2015)
McDonald's All-American (2014)
First-team Parade All-American (2014)

Networth

$8 – $10 Million approx.

League

NBA

Merch

Notebook

Social Media

Twitter

,

Instagram

Last Update
March 2023
Early Life, Family & Education:
Oubre was born as the second child to Kelly Oubre Sr. and Tonya Coleman on December 9, 1995, in New Orleans, Louisiana.
Oubre grew up with two siblings, a sister named Amber Coleman and a brother named Gared Washington.
His father, Kelly Oubre Sr., is the Founder and CEO of Beast Developmental, specializing in the individual player, team, and parental consulting business.
The Oubre family lived in a public housing project before moving to the Eastover section of New Orleans. Unfortunately, the family faced Hurricane Katrina in 2005, which forced them to move to Richmond, Texas.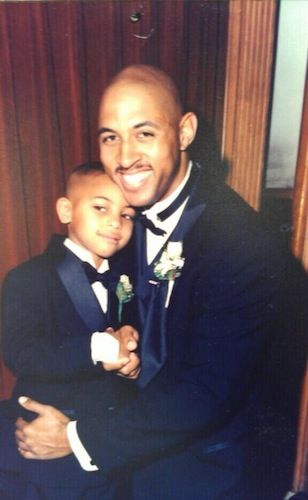 Since his childhood, Jr. Oubre had a keen interest in basketball and played for the Three Milne Boys Home (now known as New Orleans Recreation Development Commission) basketball team.
Oubre attended the Edward Hynes Elementary School, now known as Hynes Charter School. Before transferring to Findlay Prep for his senior year, he moved to Texas and attended the George Bush High School, Texas.
After graduating high school from Findlay Prep in Henderson, Nevada, he decided to join the University of Kansas but never completed college. He played for the Kansas Jayhawks in the 2014-15 season during his freshman year before entering the NBA Draft.
He has been engaged to an Instagram model, Shylynn Gibson, since 2020. They recently had a baby boy, and the mother shared a photo of their son on Instagram. They took some time before they made the news of their first child public.
Kelly Oubre Jr. |
Career:
Oubre started playing basketball in his childhood. While in elementary school, he played for Three Milne Boys Home, which is now known as New Orleans Recreation Development Commission.
Kelly started playing high school basketball in his junior year at George Bush High School and later went on to play at Findlay Prep in his senior year. He was selected on the Parade All-American First Team and the USA TODAY's All-USA First Team while in high school.
Kelly got into the University of Kansas and played for the Kansas Jayhawks. He played 36 games at Kansas, where he was one of the best players on the team and the entire season.
Gerald Henderson Sr. is a former American NBA player but is still remembered on the court for his excellent game mastery and techniques. Continuing reading!
Moreover, the basketball star helped the Jayhawks achieve the 2014-15 Big 12 regular-season title. He also helped lead the team into the third round of the 2015 NCAA Tournament.
Likewise, Kelly made it to the All-Big 12 Honorable Mention list and the Big 12 All-Rookie Team while in college. He then announced that he was entering the 2015 NBA Draft after his freshman year at the university.
Professional Career:
Oubre has played a total of 471 games in the NBA regular season. He has an average of 12.05 points per game while playing for 25.3 minutes.
The Atlanta Hawks selected Oubre in his first-ever NBA Draft and then traded his draft rights with the Washington Wizards. Wave Papi was the 15th overall pick in the 2015 NBA Draft.
Kelly got suspended for the fourth game of the Wizards' second-round playoff series against the Boston Celtics. Wave Papi was ejected from the game for shoving Boston's Kelly Olynyk in the third game.
In his debut game for the Phoenix Suns against the Boston Celtics, he scored 13 points, pushing the team towards a 111-103 win. On March 21, 2019, he was ruled out with a thumb injury for the rest of the season.
On July 16, 2019, he signed a 2-year contract extension with the Suns. He suffered a right knee injury on February 25, 2020, which led to his ruling out. On March 3, 2020, Oubre underwent successful arthroscopic surgery.
The Suns again traded Oubre to the Golden State Warriors. He played 55 matches for the Warriors starting 50 of the matches. He scored 15.44 points per game while staying on the court for 30.7 minutes.
Oubre signed a 2-year contract with the Charlotte Hornets on August 7, 2021. He made his debut for the team scoring 14 points, leading them into a 123-122 victory against the Indiana Pacers.
Kelly Oubre Jr. |
Injury:
Unfortunately, Oubre has suffered multiple injuries during his career. He has suffered from knee injuries, wrist injuries, a foot injury, a groin injury, and some concussions.
However, he suffered two knee injuries at different times, which were fairly serious. He suffered a knee injury, which took him out of the game for almost a month.
Similarly, in the 2019-20 season, he suffered another knee injury while playing for the Phoenix Suns, forcing him to leave the game for the rest of the NBA season. He later had an operation and was again able to play the game.
Kelly Oubre Jr. |
Surviving Katrina:
Oubre's family survived Hurricane Katrina in 2005 and moved to Richmond, Texas. Kelly was just nine years old at the time.
The night before the eye of the storm, his family decided to get out of New Orleans. Kelly mentioned in an interview that he remembers sitting in traffic for about eight hours during the evacuation process. The family drove to Houston that night.
Later, the family checked on their old house and found out that the flooding never touched it. However, Oubre's father decided to stay in Houston to provide Kelly with a better environment to grow and develop.
Kelly Oubre Jr. |
Relationships:
The basketball star is currently dating Shylyn. They got engaged in 2020 and recently welcomed home a baby boy. Shylyn is an Instagram model. He describes Shylyn as his wife-to-be.
He allegedly cheated on Shylyn before their engagement with two other Instagram models named Celina Powell and her friend Aliza. It is said that he invited them to a hotel room he had booked in Phoenix.
However, it seems that he has made amends and he got engaged with Shylyn after the controversy.
Previously, the player was in a relationship with Jasmine Sanders in 2019. Jasmine is a model and fashion influencer of German-American origin. They broke up after a short fling due to their ambitious careers.
He has also dated Makena Spooner LeDuff. He filed a lawsuit against her alleging that she tried to extort him for $3 million. This was the second time he had filed a suit against Makena.
Kelly Oubre Jr. |
Controversies:
Kelly was fined $25,000 for kicking a ball into the stands during a playoff game against his first team, Atlanta Hawks. Since then, he has been respectful towards the game and has not committed such demeanors again.
Once, he wore a jacket that had "F–k You" stitched into the back, which dragged him into some obvious controversy. He wore the coat in a game against the Cleveland Cavaliers.
He has also been dragged into controversies for allegedly cheating on his girlfriend with two Instagram models.
The NBA player for the Milwaukee Bucks, George Hill has a net worth of $30 million. Find out more about the athlete's life happenings!
Kelly Oubre Jr. |
Physical Features:
Kelly Oubre was born under the astrological sign of Sagittarius on December 9, 1995.
He has an athletic build and a height of 6 feet and 6 inches, and his listed weight is 87 kg (191.8 lbs). Moreover, the basketball star has hazel brown eyes and dark brown hair.
Oubre has ears and nose pierced and has tattoos inked all over his body.
Kelly Oubre Jr. |
Income and Net Worth:
The net worth of Kelly Oubre Jr. is estimated to be around $8-$10 million; however, the Hornets star has not officially revealed his net worth yet.
He has been earning millions of dollars every year for some time now. It isn't clear if he has invested his earnings or has spent most of it like almost all other players.
He hinted through a tweet that he aims to be a billionaire. He also has a merchandise store named Dope$oul.
Similarly, he has also invested in blockchain technologies like NFT and cryptocurrencies, which he made public through his posts on different social media.
Oubre signed a 2-year contract with the Charlotte Hornets for a whooping sum of $24.6 million. His average salary for the period is 12 million USD.
Before the agreement with Charlotte Hornets, he had a 2-year contract with the Phoenix Suns for $30 million with an average salary of $15 million.
He was retained for a year with a $1 million contract by the Golden State Warriors after his 4-year contract worth $9.2 million ended in 2018.
Kelly also signed a multi-year endorsement contract with Converse in 2018. This also adds up to his massive fortune.
Kelly Oubre Jr. |
Awards and Recognitions:
Despite being an excellent player, he has not been blessed with many awards or recognitions. However, seeing his game, we can confirm that it won't be the case in a few years.
Some of the worthy mentions are as follows:
Big All-Rookie Team
All-Big 12 Honorable Mention List
McDonald's All-American Team

Parade All-American First Team

USA TODAY's All-USA First Team
Social media presence:
Derrick Jones is an American professional basketball player for the National Basketball Association's Chicago Bulls (NBA). Read more about his life before fame, net worth and more!
Frequently Asked Questions:
Who is the Tsunami Papi?
Tsunami Papi / Wave Papi is Kelly Oubre Jr's nickname.
Is Kelly Oubre a black belt?
Yes, Kelly Oubre plays martial arts and has a black belt in TaeKwonDo.
Is Kelly Oubre left-handed?
Yes, Kelly Oubre is left-handed, and he is 1 of the 5 left-handed shooters in Phoenix Suns' history to score 1000 points in a season.