Kenny Pickett, an American football quarterback plays for Pittsburgh Steelers since they picked him in the 2022 NFL Draft. Pickett's athletic agility & strength comes from his family with a sports background; both his parents were college athletes.
The Oakhurst, New Jersey-born is an alum of the University of Pittsburgh where he won the 2021 Johnny Unitas Golden Arm Award.
In his extra year of eligibility with the Panthers in 2021, due to COVID-19 shortened season in 2020, Kenny made a college career-high 42 touchdowns & rushed 4,319 yards.
With his four-year NFL rookie contract with the Steelers, Kenny Pickett is committed until the 2025-26 season. Moreover, the deal offers him an option for the 2026 season.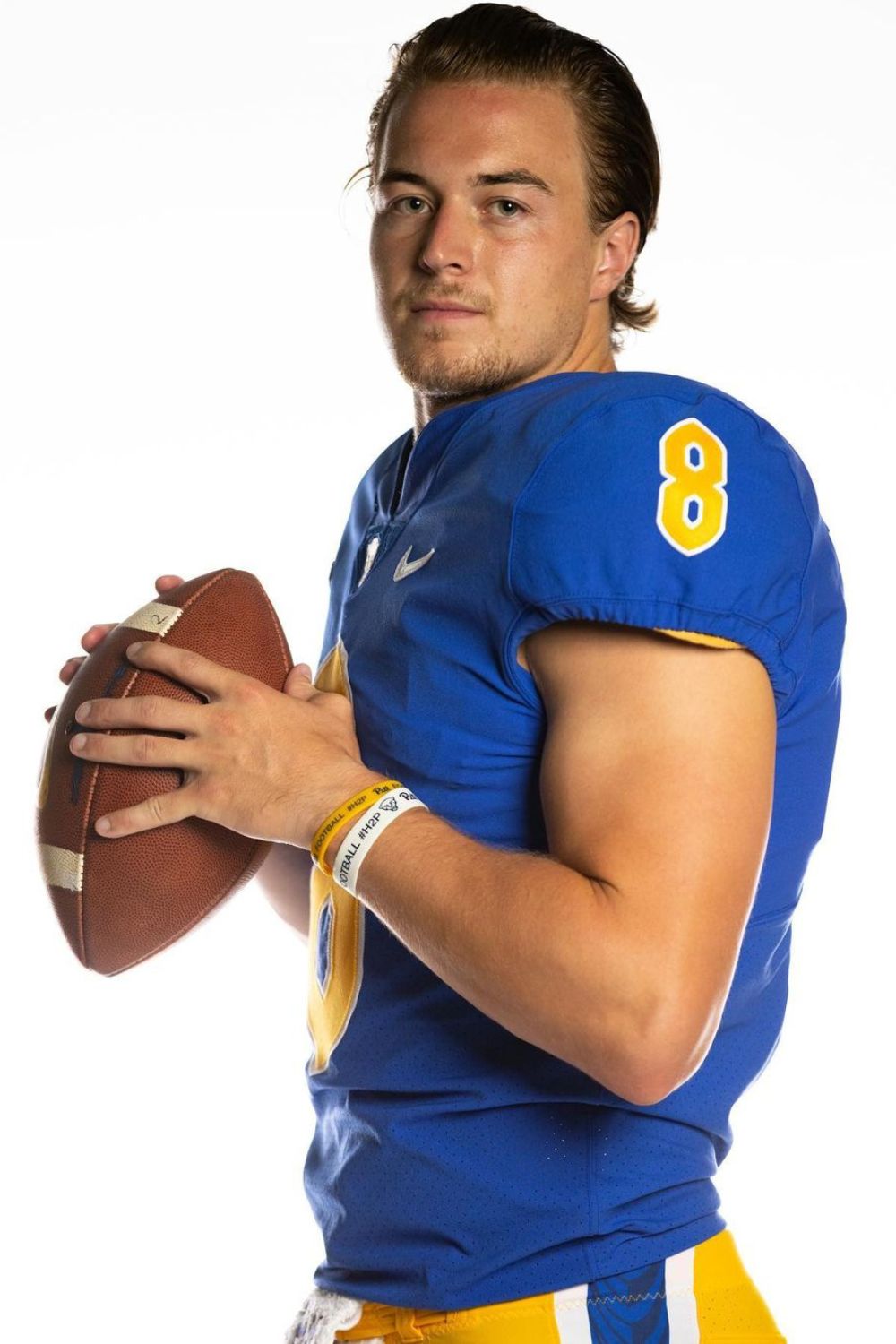 No wonder, his enthusiasm & impressive gameplay has gained him massive followers on social media.
Along with NFL success, the Pittsburgh quarterback enjoys a blissful relationship with his girlfriend-turned-fiance Amy Paternoster. They got engaged in January 2022.
Probably, you have a lot of queries about the NFL player Kenny Pickett's family, net worth, & family. Quench your thirst by reading the full article!
Quick Facts
Full Name
Kenneth Shane Pickett
Birth Date
June 6, 1998
Birth Place
Ocean Township, New Jersey
Age
25 Years Old
Height
6 feet 3 inches/ 1.91 m/ 191 cm
Weight
220 lbs (100 kg)
Religion
Christian
Nationality
American
Ethnicity
White
Education

Ocean Township High School
University of Pittsburgh

Zodiac
Gemini
Father's Name
Ken Pickett
Mother's Name
Kasey Pickett
Siblings
Alex Pickett (Sister)
Hair Color
Brunet
Eye Color
Amber
Build
Athlete
Marital Status
Unmarried
Girlfriend
Amy Paternoster
Profession
NFL Player
NFL Draft
2022/ Round: 1/ Pick: 20
Position
Quarterback
Team
Pittsburgh Steelers (2022- present)
Career Highlights & Awards

Johnny Unitas Golden Arm Award (2021)
Senior CLASS Award (2021)
ACC Offensive Player of the Year (2021)
ACC Male Athlete of the Year (2022)
First-team All-American (2021)

Net Worth
$2 Million
Social Media
Instagram, Twitter
Merch
Trading Card, Signed Helmet
Last Update

November 2023
Kenny Pickett | Parents & More On Family
Pickett was born on June 6, 1998, in Oakhurst, New Jersey, to Ken Pickett and Kasey Pickett. Both of his parents were college athletes.
The NFL star's mother Kasey played soccer at Kutztown University, while his father played college football at Shippensburg University (1989-91). The 1988 graduate of Ocean Township High School was inducted into the Shippensburg Hall of Fame in 2012.
Currently, Kenny Pickett's father works as an executive director for the Estee Lauder Companies, in its North America Supply Chain based in Bristol, Pennsylvania.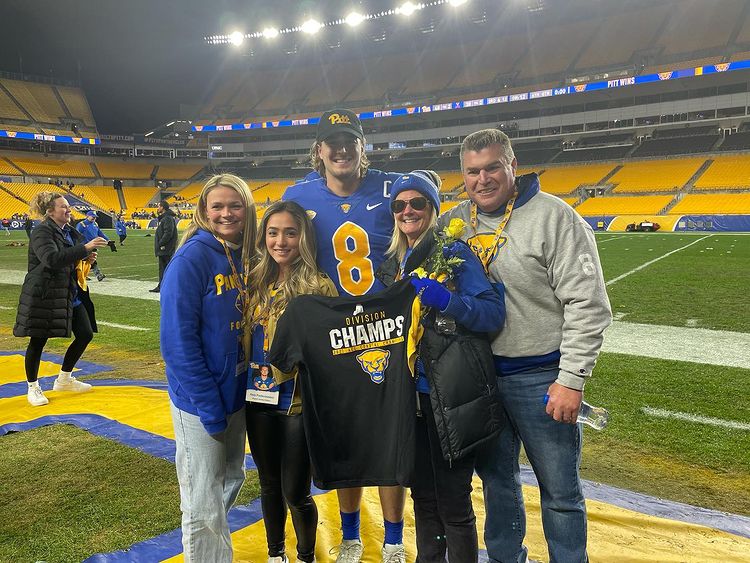 The American football quarterback has a sister named Alex Pickett, who also played soccer like their mother.
Alex, a four-year varsity letterman at Ocean Township High School, enrolled at East Stroudsburg University in 2015 & played there until 2018.
She led the Warriors to four consecutive NCAA Tournament appearances & finished her collegiate soccer with 31 goals & 19 assists through 89 games. Currently, Alex Pickett works as an assistant coach at Seton Hill.
There is no denying that the sporting family background propelled Kenny to NFL success.
Age, Height & Body Measurement
The NFL quarterback Kenny Pickett is 25 years old. His zodiac sign is Gemini & people of this sign are said to be perceptive, analytical, and funny.
Pickett with a height of 1.91 m has a masculine body build & has a charming look- thanks to his amber eyes & dark brown hair.
According to his pre-draft measurement, his arm span is 0.78 m while his hand span measures 0.22 m.
Which College Did Kenny Pickett Go To?
While playing football for Ocean Township High School, Pickett passed 4,670 yards with 43 touchdowns along with 17 rushing touchdowns (873 rushing yards).
Considered a three-star prospect ranking #21 in New Jersey, Kenny initially committed to Temple University for college football.
But later, he chose to attend the University of Pittsburgh & enrolled on January 11, 2017.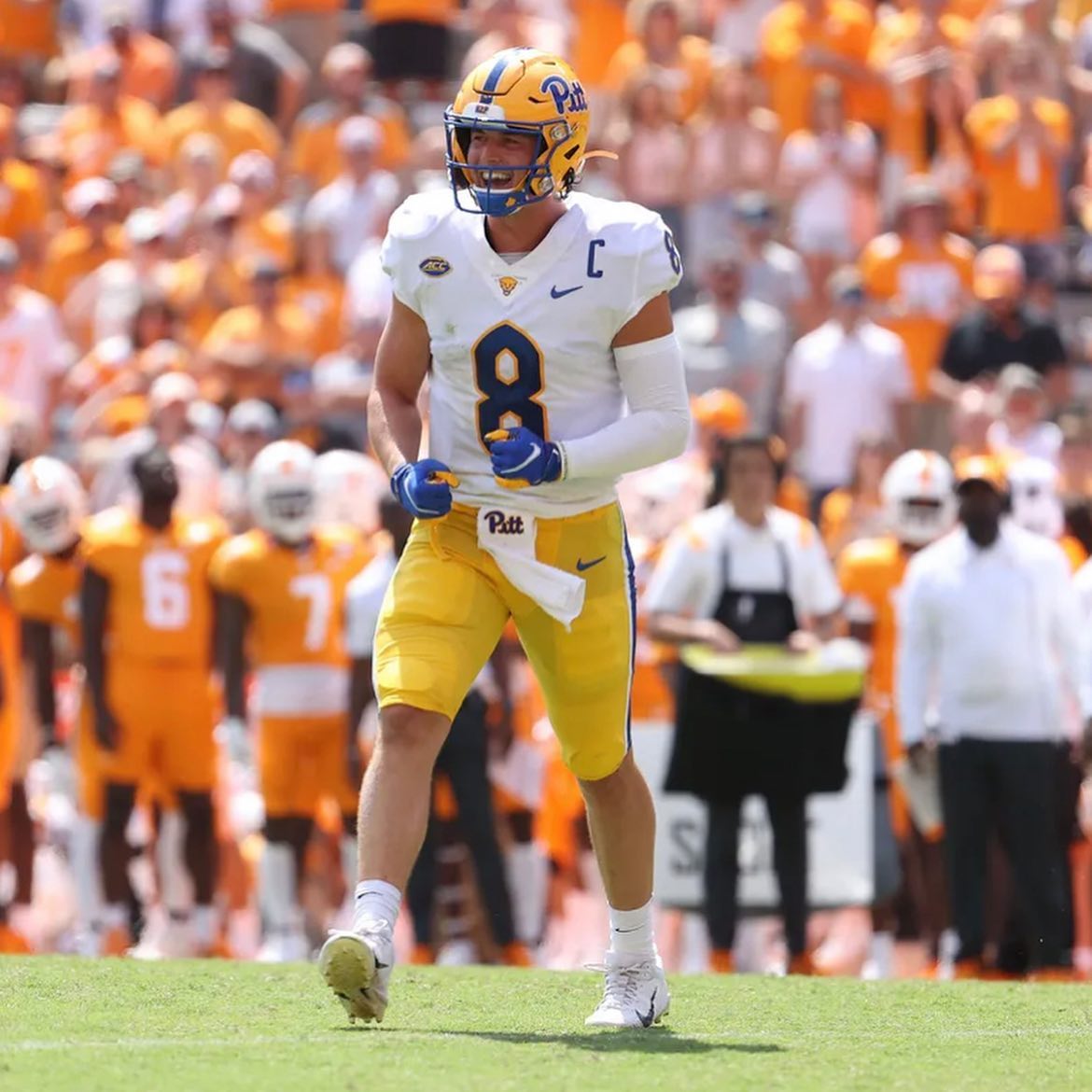 With the Pittsburgh Panthers, Pickett won the 2019 Quick Lane Bowl as a junior. After the football season in his senior year (2020) was shortened due to COVID-19, as per NCAA rules, the athletes got an extra year of eligibility.
In 2021, he led the Panthers to the ACC Championship victory, concluding the season with his college career-high 4,319 passing yards & 42 passing touchdowns on 497 attempts.
Kenny graduated with a Bachelor's degree in Marketing.
By the time, he went for the NFL draft, he was pursuing his master's degree at the Joseph M. Katz Graduate School of Business.
NFL Career Of Kenny Pickett
In the 2022 NFL Draft, Kenny became the first-round (20th overall) pick of the Pittsburgh Steelers. The top-round first-five picks in that NFL draft were Travon Walker, Aidan Hutchinson, Derek Stingley Jr., Ahmad Gardner & Kayvon Thibodeaux.
After an impressive training camp, he was the backup quarterback for the Steelers behind starter Mitchell Trubisky, under head coach Mike Tomlin.
Kenny Pickett made his NFL debut on October 2, 2022, as a substitute in a Week 4 loss against NY Jets.
In the Week 5 game against Buffalo Bills on October 9, he got his first start as quarterback & completed 34 passes (out of 51) for 327 yards and an interception.
With the game-winning touchdowns, against the Raiders (in Week 16) & against the Ravens (in Week 17), Kenny became the first rookie QB with two straight games to throw a game-winning touchdown- in the final minute of the game conclusion.
Pickett finished the 2022-23 regular season with 12 starts (out of 13 games) with 2,404 passing yards for 7 touchdowns, and 237 rushing yards with 3 rushing touchdowns.
Net Worth & Salary | Details On Contract
A big thanks to his NFL career, Kenny Pickett owns an estimated net worth of $2 million as of November 2023.
Aside from NFL contracts, he sums up a considerable amount from his endorsement deal with Ready Nutrition.
Pickett signed a four-year rookie contract worth $14 million with the Steelers on June 23, 2022. The deal includes a signing bonus of $7.4 million & an option for the 2026 season.
According to Spotrac, Kenny Pickett's base salary in the 2022-23 season is $705,000 & also has a signing bonus of $1.85 million, totaling the annual earnings to $2.5 million.
For the 2023-24, 2024-25 & 2025-26 seasons, his salary will be $1.34 million, 1.98 million & $2.62 million respectively, with each year's signing bonus of $1.85 million.
The Steelers' top-three players with the highest salary caps for the 2022 season are T.J. Watt ($24.36 million), Cameron Heyward ($17.4 million) & Minkah Fitzpatrick ($8.1 million).
Kenny Pickett | Girlfriend & Relationship
The Steelers quarterback is currently in a relationship with his college-time girlfriend Amy Paternoster.
They began sharing each other pictures on social media in April 2021, but the detail of their dating story is under wraps.
The two are now engaged & are planning for the wedding.
The couple confirmed their engagement via an Instagram post on January 24, 2022, and even recalled the proposal moment's one-year anniversary in 2023.
According to Kenny's Instagram post of August 2, 2022, the duo is planning to marry on June 24, 2023, hinted with the caption "6/24/2023" followed by a heart emoji.
As reported, Pickett's lover Amy is a former Division I soccer player who played for the Princeton Tigers at Princeton University; she graduated May 31, 2022, with BA in Economics.
Amy Paternoster was born on February 14, 2000, to James Paternoster and Barbara Paternoster.
According to her LinkedIn profile, she works as an associate at PNC Riverarch Capital (Sept. 2022- now). Formerly, she was an intern at Goldman Sachs (June 2021- Sept. 2022) and an apprenticeship at Citi (2019-2022).
Social Media
The majority of Kenny's social media posts are about football, himself, and his family. He appears to engage with his admirers by often hinting at his everyday life happenings on social media.
His Instagram account @kennypickett8 has more than 323K followers. Pickett joined Twitter (@kennypickett10) in April 2013, where his followers are over 105K as of this writing.
FAQs
How many siblings does Kenny Pickett have?
Pickett is one of two children to Ken & Kasey Pickett. He has a sister named Alex Pickett who played soccer & now works as an assistant coach for the women's football team at Seton Hill School.
Is Kenny Pickett injured?
Throughout his football career, Kenny has suffered many injuries. While at college, he injured his shoulder in 2019 & his left ankle in 2020. In his NFL rookie season (2022 season), Pickett suffered a concussion in a Week 6 game against the Buccaneers. Then again in Week 14 game against Ravens, he had another concussion & was out for a week before returning in Week 16 against Ravens.
How fast is Kenny Pickett?
Speaking about Pickett's speed, in the 2022 combine, he ran the official 40-yard dash in 4.73 seconds.