A coach shapes the structure and outlook of the game. If it were not for Mike Tomlin, Pittsburgh Steelers would not have succeeded like they do today.
Tomlin is the first Pittsburgh Steelers coach who has not lost a single season.
Mike Tomlin, an American football coach, has served as the head coach for Pittsburgh Steelers of the National Football League (NFL) since 2007.
He is the tenth African-American Coach in NFL history and the first one to have worked with the Steelers.
He worked as a defensive assistant for a few teams before taking the head coach position at Steelers.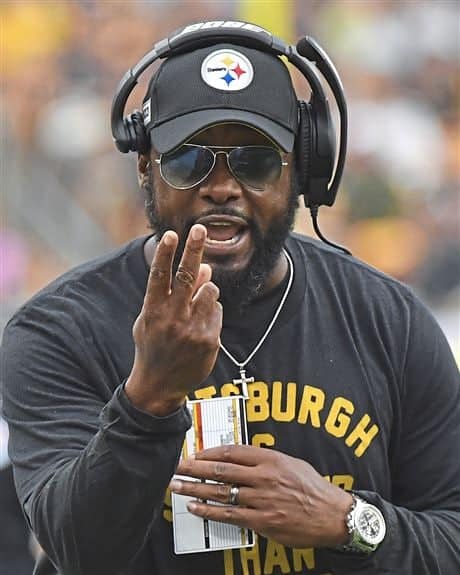 Under his leadership, the Steelers have blossomed into one of the strongest NFL teams. Not to mention, the coach assisted the Pittsburgh team to a Super Bowl Championship in 2008.
The compassion and dedication he shows through his players are remarkable. He is considered one of the greatest leaders and coaches in the Steeler's franchise.
Today, we will be talking about Mike Tomlin without excluding anything worth mentioning that has ever happened in his personal and professional life. Let's get started!
Quick Facts
Full name

Michael Pettaway Tomlin

Birthdate

March 15, 1972

Birthplace

Hampton, Virginia, United States

Religion

Not Known

Nationality

American

Horoscope

Virgo

Father's name

Ed Tomlin

Mother's name

Julia Tomlin

Stepfather

Leslie Copeland

Siblings

A brother

Education

Denbigh High School in Newport News, Virginia

College of William and Mary in Virginia

Brother's name

Eddie Tomlin

Age
51 Years Old
Eye color

Dark Brown

Hair color

Brown

Marital Status

Married

Spouse

Kiya Winston

Children

Two sons and a daughter

Children's Name

Michael Dean Tomlin

Mason Tomlin

Harlyn Quinn Tomlin

Profession

Head Coach for the Pittsburgh Steelers of NFL

Before Head Coach (with NFL)

Position Coach for the Tampa Bay Buccaneers of NFL

Defensive Coordinator for the Minnesota Vikings of NFL

Coaching Career Outside NFL

Wide receiver coach at Virginia Military Institute

Graduate Assistant at the University of Memphis

Defensive back coach at the University of Tennessee

Defensive back and wide receiver coach at the Arkansas State University

As a Defensive back coach at the University of Cincinnati

Awards and Honors

Super Bowl champion (XLIII)

Motorola Coach of the Year in 2008

Dapper Dan Sportsman of the Year in 2008

Youngest head coach to have won the Super Bowl (XLIII)

Super Bowl champion (XXXVII) – As an assistant coach:

Net worth

Around $30 million

Social Media Handles

Twitter

, Instagram
Merch
Autographed Football
Last Update
November, 2023
Mike Tomlin | Early Life and Family
Mike Tomlin was born on March 15, 1972, in Hampton, Virginia, United States. He was born to Ed Tomlin and Julia Tomlin.
He has an elder brother, Eddie Tomlin, who is three and a half years older than Mike.
Mike is not the only person in the family to have associations with football. His father, Ed Tomlin, played football at the Hampton Institute in the 1960s.
The Baltimore Colts drafted Ed. He was also associated with the Montreal Alouettes in the Canadian Football League (CFL).
However, Ed Tomlin died in January 2012 due to a heart attack in Ocala, Florida. Ed was 63 at the time of his demise.
But Mike hardly knew his birth father. His parents divorced when he was too young. He was raised by his mother and stepfather, Leslie Copeland. Mike's mother married Leslie when he was six years old.
You might be interested in reading: Brent Venables – Football, Coaching, Family, & Hardships.
Education
Mike graduated from Denbigh High School in Newport News, Virginia, in 1990.
He then got admitted to the College of William and Mary in Virginia. He was associated with the Kappa Alpha Psi fraternity while in college.
Tomlin became the second-team All-Yankee Conference selection in 1994 as a wide receiver.
Mike Tomlin | Early Coaching Career
When He Just Begun (With Colleges)
Tomlin could have pursued football professionally, but he chose not to. The last time he was seen competing in a football match was in college.
He started his coaching career with the Virginia Military Institute (VMI) in 1995. He served as the wide receiver coach at VMI under head coach Bill Stewart.
Mike then got admitted to the University of Memphis for the 1996 season. He started working with the defensive backs and special teams with them.
He then had a brief stint with the University of Tennessee. Arkansas State University hired him next. He served in the position of defensive back in the 1997 and 1998 seasons.
He was then hired as defensive backs coach by the University of Cincinnati.
You might be interested in reading: Seth Greenberg Bio: Coaching Career, Virginia Techs, Family, & Wiki.
National Football League
Positions coach
The Tampa Bay Buccaneers hired Tomlin as the defensive backs coach in 2001. He had to learn the Tampa 2 defense first to use it in later coaching jobs.
The Tampa Bay Buccaneers led the NFL in total defense in the 2002 and 2005 seasons.
The defense never got worse than sixth overall, while Tomlin worked with them.
Defensive Coordinator
The Vikings' head coach Brad Childress selected Tomlin to be his defensive coordinator in 2006.
The Vikings had two players older than Tomlin. Moreover, Viking's safety Darren Sharper was Tomlin's teammate at William and Mary.
The 2006 Vikings ended with the NFL's eighth-best overall defense. However, they had the unusual distinction of finishing as the worst-ranked defense against the pass and the top-ranked defense against the run.
Mike Tomlin | Coaching Career as a Head Coach
Tomlin got selected for the interview for the vacant head coaching position with the Pittsburgh Steelers.
He only had a year of experience as a defensive coordinator then. The Pittsburgh Steelers hired him on January 27, 2007.
He was the sixteenth head coach for the Steelers. Similarly, he was their first African-American head coach.
He was the tenth American head coach to have worked with the NFL.
Bill Cowher served as Steeler's head coach before Tomlin. He retired after serving 15 years for the team.
The terms of Mike Tomlin's contract were not released. But it was reported that a four-year deal worth $2.5 million per year, with an option for a fifth year, was signed.
More
Tomlin is the Steeler's third consecutive head coach to have won his first game. Moreover, he is the first coach in Steeler's history to have won his first game against the rival Cleveland Browns.
Tomlin did not retain many of his predecessor's assistants. Dick LeBeau still worked as the defensive coordinator despite his opposing defensive philosophy than Tomlin.
Tomlin believed that the move would keep the team's chemistry with the players.
The Steelers were the top-ranked defense in the NFL in Tomlin's first season as head coach. He led the team to the 2007 AFC North Division championship with a 10–6 record in his first season.
Tomlin started his career with a 15–7 record in regular-season play. He set the Steelers record for most victories after winning 22 games in his first two seasons as head coach.
Moreover, he became the first head coach at Steelers to have won division titles in his first two seasons.
He then became the youngest NFL head coach to have led his team to a Super Bowl with the Steeler's victory over the Baltimore Ravens in the 2008 AFC Championship Game.
Similarly, he was the third African-American to mentor a team to the Super Bowl. Chicago's Coach Lovie Smith and Indianapolis's Coach Tony Dungy, the two opposing coaches in Super Bowl XLI, were joined by Mike.
And Then
Tomlin then became the head coach to have the highest win percentage of 68.8% in Steelers history after two seasons. The team had a record of 22-10 at that time.
Tomlin became the 2008 Motorola NFL Coach of the Year on January 29, 2009.
He then became the youngest head coach to have won the Super Bowl on February 1, 2009, with Steeler's victory over the Arizona Cardinals in Super Bowl XLIII. Tomlin was 36 years old at that time.
The record was set earlier by Jon Gruden at the age of 39 with the Tampa Bay Buccaneers. Tomlin had his ties with this victory because he served as the defensive backs coach under Gruden at the time of victory.
He then signed a three-year contract extension with the Steelers on July 13, 2010, Tomlin.
The Steelers had a 12-4 record in the 2010 season under Tomlin's mentorship. He then led the team to the Super Bowl for the second time in three years.
However, they faced a 31-25 loss in the Super Bowl XLV to the Green Bay Packers.
Sterling Sharpe Bio: Career, Family, Injury, Net Worth & Wiki
Other than That
Tomlin then won his 50th game on November 13, 2011, as the Steelers head coach. It was a 24–17 victory over the Cincinnati Bengals.
Tomlin was the fourth head coach to have reached this milestone out of sixteen head coaches.
He then received a three-year contract extension through the 2016 season on July 24, 2012, Tomlin. However, the financial terms were not disclosed.
The Steelers then finished 8–8 in the 2012–2013 season. The team had quite a hard time with injuries to QB Ben Roethlisberger.
Moreover, they struggled with the offensive line and adjusting to the system of new offensive coordinator Todd Haley.
The Steelers then failed to make the playoffs for the second time under Tomlin's mentorship.
Bill Belichick Bio – Early Life, Coaching Career & Net Worth
Mike Tomlin | Coaching Record And Stats
Year
Regular season
Postseason
Won
Lost
Ties
Win %
Finish
Won
Lost
Win %
Total
145
78
1
.650
–
8
8
.500
Mike Tomlin | Controversy
The Pittsburgh Steelers faced the Baltimore Ravens on November 28, 2013, in a primetime Thanksgiving Day game with major playoff implications.
Tomlin got into a controversy at that game when a video replay showed him possibly interfering with a kick return.
Steelers had trailed 13–7 in the third quarter, and then Tomlin stood just off the field along the visiting team's sideline.
Baltimore Raven's Jacoby Jones then broke free on a kickoff return for a potential game-breaking touchdown. Tomlin's back approached the play. He appeared to glance over his shoulder and then place his foot briefly onto the field.
He then jumped out of the way, which caused Jones to flip inside, where he was tackled.
Verdict
Many Baltimore Ravens' players claimed Tomlin had real intentions to interfere with Jones.
If the officials agreed to the point, Ravens would have received a touchdown based on the unfair act.
However, the officials did not call any penalty for interference or standing in the white border area.
The mass had divided thoughts about whether Tomlin did it intentionally or not. Moreover, he was widely criticized in the media.
Tomlin gave statements on his defense, stating he had just wandered too close to the field while he watched the play on the stadium's Jumbotron.
He called it a mistake that coaches often commit.
The league then announced that it would investigate the issue. A heavy fine and forfeited draft pick might have followed if the charges proved to be true.
Penalty
The NFL then charged Tomlin with a fine of $100,000 on December 4, 2013.
They gave a hint that the Steelers might get stripped of one or more draft picks because his actions interfered with the play on the field.
The fine of $100,000 is the second-highest to have been paid by a coach in NFL history.
Further, it is tied for the highest fine for a coach who does not also hold the general manager's powers.
Then-Minnesota Vikings head coach Mike Tice was later charged with a $100,000 fine in 2005 for scalping with the Super Bowl tickets.
You can watch an overview of Tomlin's biography on the official website of Pittsburgh Steelers.
Gene Keady Bio: Wife, Hall of Fame, Net Worth, Coaching Career Wiki>>
Highlights And Achievements
XLIII Super Bowl champion with Pittsburgh Steelers
XXXVII Super Bowl champion with Tampa Bay Buccaneers
2008 Motorola Coach of the Year
2008 Dapper Dan Sportsman of the Year
Youngest head coach to win the Super Bowl XLIII
Mike Tomlin | Wife and Children
Tomlin is married to Kiya Winston. Kiya is a fashion designer and apparel manufacturer.
The couple has three children together, Michael Dean Tomlin, Mason Tomlin, and Harlyn Quinn Tomlin.
Mike Tomlin | Net Worth and Salary
Tomlin earns good money from his coaching career. He has a very successful career with the Pittsburgh Steelers.
Mike Tomlin's net worth is estimated to be around $16 million.
He is expected to earn a salary of a whopping $6 million annually. Tomlin lives a decent life with his family.
On April 20, 2021, the Steelers' head coach signed a three-year extension contract. Although the contract's financial details are kept private, we can expect it to be in eight-figures.
Best Quotes By Mike
We don't live in our fears. We live in our hopes.
Excuses are tools of the incompetent.
Hungry is a word that I've been analyzing here of late. It's not hunger that drives me. It's not hunger that needs to drive our football team. Hunger and thirst are things that can be quenched. We have to be a driven group, and we have to seek greatness.
If our team doesn't face enough adversity early on in a season, I create it. Nothing builds a team like adversity.
I'll tolerate you until I can replace you.
People aren't very good listeners, by nature. Part of being a good communicator is recognizing and understanding that and trying to make the complex simple. I try to capture a concept, an idea, or a moment in a few words. If they remember it, job done.
I tend to attack the challenges that are right in front of me, the ones that I have today.
The good teams, the dominant teams, aren't necessarily dominant in stadiums, but they are dominant largely in moments when they do what's required to get out of stadiums with victories.
Mike Tomlin | Social Media Presence
You can find Mike Tomlin on the following platforms:
The Steeler's coach is mostly active on his Twitter handle rather than his Instagram account. He even has 396.5 thousand followers on Twitter and tweets quite frequently.
Tomlin mostly shares NFL-related news, events, and highlights through his social media platforms.
Mike Tomlin | FAQs
Who is Mike Tomlin's agent?
The head coach's agent is Brian Levy, who represents many other NFL players and coaches.
What is Mike Tomlin's tenure with the Pittsburgh Steelers?
Mike has worked with the Steelers for 13 seasons now. He joined them on January 27, 2007. Recently, the coach signed a contract to remain with the team through 2024.
Why is there a Mike Tomlin obituary?
The obituary does not belong to the NFL coach. The obituary is for Michael Allen Tomlin, who was born in 1948.