Rosemary Guerilas and Dacius Joseph are the parents of the Detroit Lions safety Kerby Joseph. Kerby's parents have shown unwavering support throughout his life, which fostered Kerby to chase success.
The Joseph family has nine members. Besides Kerby, Rosemary and Dacius are proud parents to six children.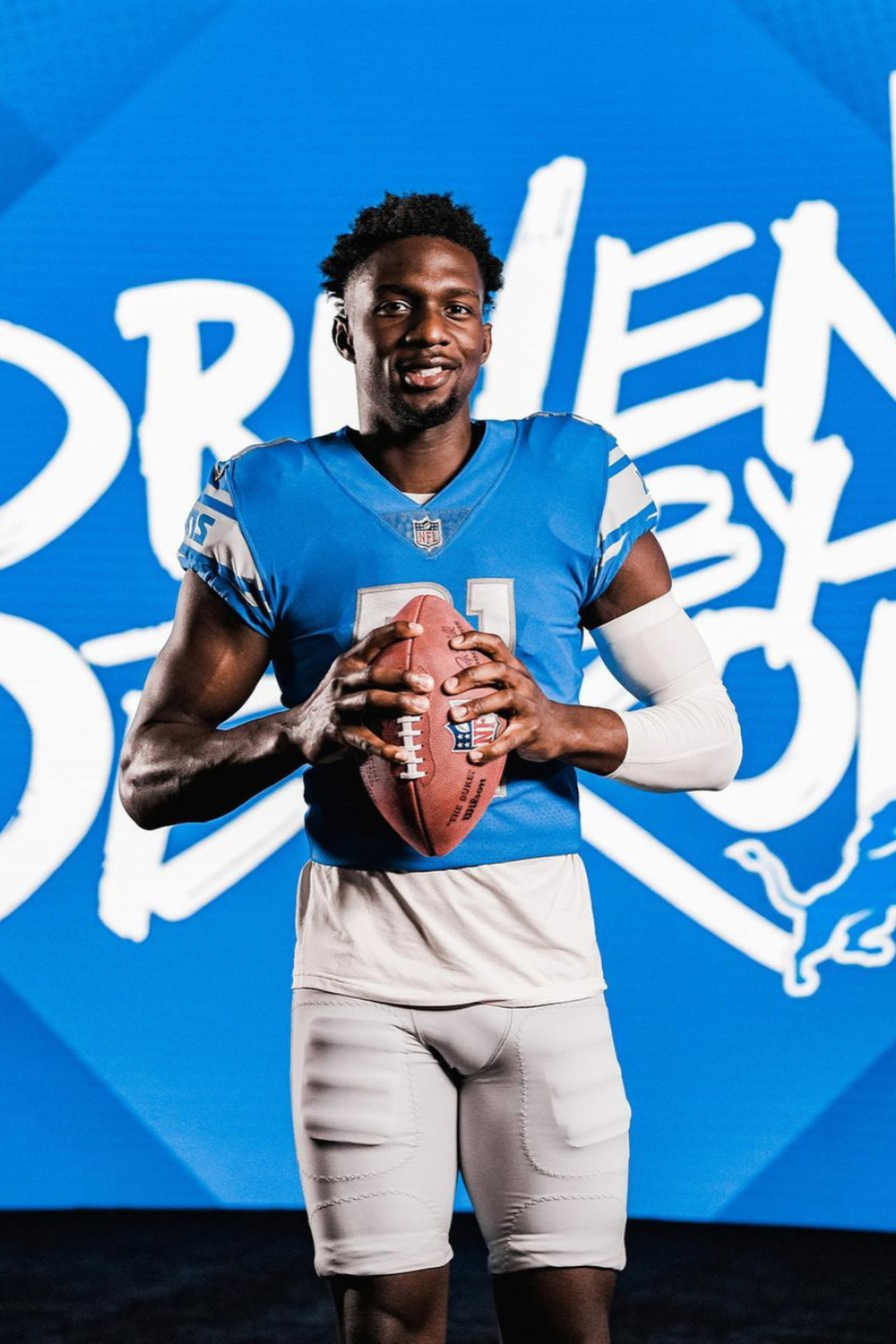 Kerby Joesph is a professional American football player who competes as a safety for the Detroit Lions of the NFL.
Born and bred in Florida, he went to Jones High School, where he was rated a three-star recruit. Offers from Mississippi State, Syracuse, South Florida, and Florida Atlantic came to his doorstep, but he committed to Illinois.
Following this, he was named a starter only in his junior year. He was named first-team-All-Big Ten Conference in 2021, and at the end of the season, he decided to enter the NFL Draft.
Moreover, he was also shortlisted for an invitation and got a chance to play in the 2022 Senior Bowl. Joseph was drafted in the 3rd round of the 2022 NFL Draft by the Detroit Lions.
Kerby Joseph Parents: Rosemary Guerilas & Dacius Joseph
Kerby Joseph was born to his parents, Rosemary Guerilas and Darius Joseph, on November 14, 2000, in Orlando, Florida. The Josephs are a family of nine, including six other siblings alongside Kerby.
The American football safety's parents have been steadfast sources of support throughout his career, playing a crucial role in their son's success.
Despite being the parents of a renowned athlete, Kerby's parents avoid the media and maintain their distance from the paparazzi's crosshair.
Despite this, we've come to know that Joseph's family roots back to Haiti. Both of his parents were born and raised in Haiti.
However, Rosemary and Dacius met each other and married after immigrating to Florida.
Kerby has a very supportive parents. When he was selected in the NFL Draft, his father expressed his joy with the media, saying,
"I feel very great. He go to NFL. Since he was a little boy, he told me he wanted to go play football."
After his son was picked by the Lions, the father even changed his allegiance to the Detroit Lions.
In an interview with Orlando Sentinel, he added, "I was always Miami Dolphins, but now it's no Dolphins. It's Detroit Lions."
Prove Them Wrong, Prove Me Right
"Prove them wrong, prove me right" is the mantra that the Lions defensive back Kerby Joseph follows.
Kerby had a breakout season as a rookie with four interceptions.
Similarly, this season is looking too different. The Lions upset the Chiefs in a 21-20 thriller in the opening game of the 2023 NFL season.
Kerby played a pivotal role in the team's win, accumulating three tackles.
He says, "I keep the same mindset to go hard. I go hard every time."
Frequently Asked Questions:
Who are Kerby Joseph Parents?
NFL star Kerby Joseph was born to his parents, Rosemary Guerilas & Dacius Joseph. They are very supportive of his career.