Kerri Walsh is a world-renowned name in sports history, and her birth name is Kerri Lee Walsh Jennings.
Kerri is one of the world's best and decorated beach volleyball players who have set many records. She is also the winner of three Olympic gold medals and one Olympic bronze medal.
Likewise, Kerrie is the leader in two different categories in beach volleyball: career victories and career wins as of 2016.
She has started playing volleyball at the young age of 10, and Kerri belongs to a sports family.
Misty May-Treanor was the previous partner of Kerri in beach volleyball, and both have set many records.
Walsh Jennings and colleague Misty May-Treanor were the gold medalists at the 2004, 2008, and 2012 Summer Olympics.
They have won the FIVB Beach Volleyball World Championships in 2003, 2005, and 2007; therefore, they have been known as the best ocean-side volleyball team ever.
Quick Facts | Kerri Walsh Jennings:
| | |
| --- | --- |
| Full Name | Kerri Lee Walsh Jennings |
| Common Name | Kerri Walsh Jennings |
| Nick Name | Six Feet of Sunshine |
| Birthdate | August 15, 1978 |
| Age | 45 years old |
| Zodiac Sign | Leo |
| Ethnicity | White |
| Mother's Name | Margery Lee |
| Father's Name | Timothy Joseph Walsh |
| Siblings | 3 |
| Birthplace | Santa Clara, California |
| Home Town | Saratoga, California |
| Citizenship | American |
| Residence | Manhattan Beach |
| Religion | Christian |
| School | Archbishop Mitty High School |
| College | Stanford University |
| Education | B.A. in American studies. |
| Height | 6'2″ (188 cm) |
| Weight | 157 lb (71 kg) |
| Eye Color | Blue |
| Hair Color | Blonde |
| Sexual Orientation | Straight |
| Martial Status | Married |
| Partner | Casey Jennings |
| Marriage Year | 2005 |
| Children | 3 |
| Name of Children | Joseph Michael Jennings, Sundance Thomas Jennings, and Scout Margery Jennings |
| Profession | Beach Volleyball Player |
| Current Volley-Ball Partner | Brooke Sweat |
| Previous Volley-Ball Partners | Misty May-Treanor, April Ross |
| Olympics Wins | 3 golds, 1 bronze |
| Current-Status | Active |
| Net Worth | $6 million |
| Hobbies | Travel, Reading |
| Social Media | Facebook ,Twitter, Instagram |
| Favorite Place | London |
| Last-Update | November, 2023 |
Physical Appearance | Kerri Walsh Jennings:
Kerri has an athletic build physics, which is a huge compliment for her in the volleyball game.
Volleyball is that game in which height matters the most, and Kerri is fortunate because she is a tall person of 188 cm.
Likewise, Kerri is ripped, and she has a six-pack which means she is powerful and has good strength, which is needed in volleyball.
Besides being an outstanding player, Kerri is also a pretty lady with blonde hair and a pair of mesmerizing blue eyes.
Kerri weighs around 157 lbs, and she has a strenuous training routine to be fit and healthy to perform well in her games.
Follow the link if you are interested to read the article about Conchita Martinez.
Early Life | Kerri Walsh Jennings:
Kerri Walsh Jennings was born in Santa Clara, California, United States, to Timothy Joseph Walsh (father) and Margery Lee (mother).
Kerri's dad played small-league baseball; likewise, her mom was twice the Most Valuable Player in volleyball at Santa Clara University.
Similarly, she has three siblings; KC Walsh (sister), Kelli Walsh (sister), and Marte Walsh (brother).
Kerri Walsh Jennings gained her schooling education in the Santa Clara area where she was born. After her school, Kerri's family moved to San Jose, and she started her higher schooling there in Silicon Valley.
Kerri studied at the Archbishop Mitty High School by competing in the basketball and volleyball groups. Her school team, along with her lead, played the three state championships in volleyball in 1993-94-95.
Kerri also played basketball in her high school, leading her team to the state championship in 1995.
Walsh was named Gatorade National High School Volleyball Player of the Year in 1996, whenever the honor first was given.
While in secondary school, she went up against her future beach volleyball partner, Misty May-Treanor.
College Years
Kerri went to Stanford University on a volleyball grant, and she was chosen as the first-team All-American four years straight.
Kerri is the second player throughout the entire existence of university volleyball to be picked in the first group each of the four years of her university career.
While studying at Stanford Walsh's Uni volleyball team's winning rate was 90%, posting a 122-11 record.
In 1996 Jennings was awarded as the MVP of the Final Four; likewise, Kerri was awarded as Co-National player of the year in 1999.
Additionally, she was the primary player in PAC-10 history to record more than 1,500 kills, 1,200 digs, and 500 blocks.
Walsh is viewed as one of the most amazing all-around players in university volleyball history. Kerri passed out from the University of Stanford in 2001 with a B.A. in American studies.
Professional Journey of Kerri Walsh
Kerri Walsh is an outstanding player, and she has played beach volleyball on the U.S. AVP Tour and globally on the FIVB World Tour.
Kerri played with accomplice Misty May-Treanor for most of her vocation, shaping the best beach pairings in AVP history. May and Walsh framed an association on the beachfront circuit in 2001, completing the season with the number five positioning in the world.
Likewise, in 2002 the group arrived at the number one position with their dedication and good team effort. They proceeded with their predominance game in 2003, winning each of the eight competitions they entered.
They won the world championship also where they won the game against defending world champion Brazil in the final.
In 2008 May-Treanor and Walsh stretched out a series of wins to 112 matches. To that point, they had won 19 straight titles.
Kerri collaborated with new partner April Ross after the retirement of Misty May-Treanor in 2012.
Kerri became the most successful female player after breaking the record for most success by a female volleyball player when she won the FIVB Grand Slam in Xiamen, China.
After Grand Slam success Kerri got the 113th title of her career, breaking the record held by Treanor.
Kerri and Ross won 21-14, 17-21, 15-12 over the Brazilian pair of Taiana Lima and Talita Da Rocha Antunes. Significantly, it was the American's third title in five occasions since working together.
World Tours
Kerri and Ross won every three matches held by the FIVB beach volleyball world tour at the California Grand Slam in Long Beach.
Walsh and Ross played against the team of Germany and became winners in straight sets (21-17, 21-16) in the semifinal round in 2016.
In the finals, Kerri and Ross got victory over the Spanish team in straight sets (21-16, 21-16) and won the gold medal.
In 2017, Walsh declared she was not resigning another agreement with AVP because of conflicts with the association. Likewise, Ross re-endorsed with the AVP, so Ross and Walsh-Jennings finished their partnerships.
Later Kerri started the partnership with Nicole Branagh, with whom she played previously in 2010.
In October 2018, Walsh reported she would join forces with Brooke Sweat to meet all requirements for the Tokyo Games in 2020.
Similarly, the pair will contend with meeting all requirements for the 2020 games until June 2020.
Olympics Journey
Kerri Walsh has a fantastic career, and she has won 3 gold and 1 bronze in her entire Olympic career.
Sydney 2000:
Kerri Jennings played in the 2000 Summer Olympics as a contrary hitter on the U.S. ladies' indoor group, acquiring a fourth-place finish.
Walsh missed a few of her first games due to a bogus charge of being positive on a drug test.
Athens 2004:
In the Olympics of Athens, Kerri has done an outstanding job, and probably it was her one of the best career's wins.
In the 2004 Summer Olympics, Walsh and May-Treanor bagged the gold medal in every seven Olympic matches without losing a single game.
Beijing 2008:
On August 21, 2008, Kerri and May-Treanor once again became Olympic gold medalists when they got victory over the Chinese group in the last match.
However, Unluckily, Kerri and May got second place due to home rule, and the Chinese team got first.
London 2012:
Walsh and May-Treanor contended together once and for all in the 2012 Summer Olympics in London.
After first and second-round successes, the team has a record of 32 Olympic wins without a single loss.
They won the match against Austria in the set of three, in which Austria won one set and two by Kerri and May with the scores; 17-21; 21-8; 15-10.
The pair confronted China in the semifinals, where they got victory over Xue Chen and Zhang Xi to arrive at the finals.
Kerri and May played outstanding games against Jen Kessy and April Ross from the USA team and won the gold decoration.
Follow the link to read the article about Michele Tafoya.
The triumph set Walsh as one of a handful of the competitors to have won the gold medal in three sequential Olympics.
Rio De Janeiro 2016:
Kerri Jennings cooperated with April Ross in the Olympic Games of 2016 in Rio de Janeiro.
In two hard-battled sets, the pair arrived at the semifinals, where they lost to Brazils Agatha Bednarczuk and Barbara Seixas.
Walsh-Jennings and Ross played the game against the top-most leading team of Brazil for the bronze medal match, and they won the match.
After winning the bronze medal, Kerri became the most honorable and decorated beach volleyball player in Olympic history.
Personal Life | Kerri Walsh Jennings:
Kerri has a beautiful life as an Olympic gold medalist, wife, and caring mother. Kerri and Casey initially met back in 2001 during the early periods of their professional volleyball professions.
Likewise, Casey is also the best U.S. men's beach volleyball player and has a big name and fame in the sports field.
The pair wedded three years after the fact in 2004. That significant year, Kerri won her first Olympic gold award in the Athens Games.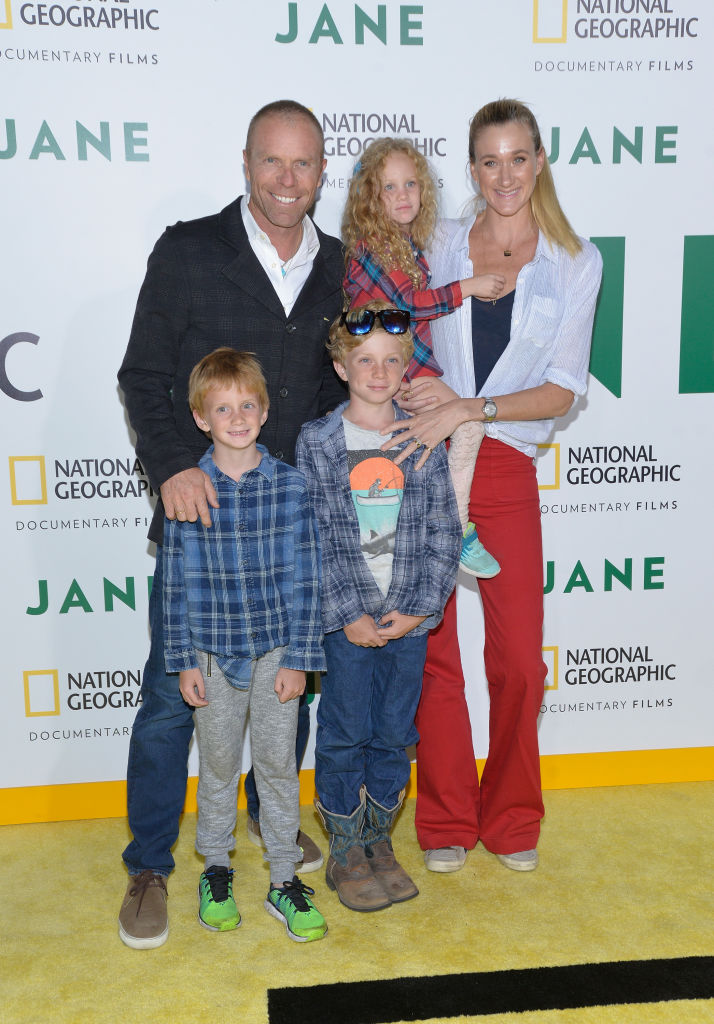 Casey and Kerri have three children together, two sons and one daughter named Joseph Michael Jennings, Sundance Thomas Jennings, and daughter Scout Margery.
Joseph Michael Jennings was born in May 2009, Sundance Thomas in May 2010, and daughter Scout was born in April 2013.
Similarly, the couple and their three children live a lavish life in their Manhattan beach mansion.
Media Appearance | Kerri Walsh Jennings:
Kerri Walsh Jennings had a small presence in a scene of CSI: Miami alongside other Volleyball players in February 2006. She has a weekly one-hour public broadcast every Sunday on Sirius Satellite Radios Faction 28 station.
Likewise, Walsh shows up in the Game Show Network T.V. program Extreme Dodgeball.
She was an individual from the Detroit Spoilers who lost every one of the ten games they played.
Kerri likewise showed up close by her volleyball accomplice Misty May-Treanor on the show Shaq Vs. in August 2009.
Walsh showed up in the ESPN Magazine Body Issue, with pictures that were taken before and afterward giving birth to her third youngster.
Walsh then, at that point, showed up in the twelfth period of Hells Kitchen, where she gave the group challenge champ a private volleyball illustration.
In 2015, Walsh Jennings and her better half showed up on Celebrity Wife Swap's television show.
Likewise, in that wife swap show, Kerri was traded places with Tami Roman from the T.V. program Basketball Wives.
Endorsements | Kerri Walsh Jennings:
Kerri's cheerful and bright character makes her the well-known decision for brand endorsements deals. But, then again, her athletic appearance makes her cherished by sports brands.
Kerri has worked with many reputed and big brands of the world like; Speedo, Gatorade drinks, Bolle, McDonald's.
Likewise, some more brands are; Kinesiology Therapeutic Tape, Oakley shades, Visa and Wilson, Halls Fruit Breezers, thus considerably more.
In some cases, endorsements deals promote brands in unique style. Likewise, Kerri had gotten a fake tattoo of Gatorade and Halls Fruit Breezerts for promotion purposes.
Additionally, in 2015 Walsh marked a contract with Jaybird, which is an electronic game brand.
Charitable Works | Kerri Walsh Jennings:
In 2004, Kerri established her charitable establishment, "Chase the stars," with a desire to work on the existence of kids.
Kerri's foundation accomplices with the Good tidings Foundations", supporting children's expressions, training, and sports in less privileged communities.
The two establishments together have fabricated five sand volleyball courts at schools all through California.
Click on the link if you are interested to read the article about Samantha Bricio.
Other than that, she is making a valiant effort to help grow the fate of volleyball, the junior sports player, through the different projects coordinated by p1440.
In 2019, she made a kind gift of $25,000 to starlings volleyball, the USA, in organization with the Dicks outdoor supplies establishment.
Significantly, the association helps in danger young ladies through the path of volleyball. Kerri has additionally made financial gifts to associations like Colorado Springs Foundation.
Social Media | Kerri Walsh Jennings:
Kerri is widely prevalent among her fans all around the globe, and she has social media handles to connect with her fans.
Net Worth | Kerri Walsh Jennings:
Kerri is a professional beach volleyball player, and she has earned a good fortune in her career, estimated at around $6 million.
Most of her earnings came from endorsements, bonuses, investments, and salary, though the salary of a beach volleyball player is less than others.
In any case, Kerry is one of the fortunate rare sorts of people who have figured out how to acquire millions by being in their prime. In 2016, her total prize cash was accounted for to be $2,542,635.
It is assessed that she procures somewhat more than $1 million every year. The numbers might shift in different years.
Awards & Achievements | Kerri Walsh Jennings:
AVP Best Offensive Player
AVP Most Valuable Player
FIVB Best Blocker
AVP Crocs Cup Champion
FIVB Best Hitter
FIVB Sportsperson
FAQs | Kerri Walsh Jennings:
Does Kerri play in the 2021 Tokyo Olympics?
Kerri Walsh is one of the most dominating and experienced players in beach volleyball. Unfortunately, Walsh didn't play in the 2021 Tokyo Olympics because she lost in the qualifying round.
Where does Kerri live?
The Walsh family resides in the manhattan ocean side region in a house they purchased in 2017. The house is two-story with five-room, five restrooms, and an inside space of 3,600 sq feet.
The couple purchased the house for $2.6 million. They got the house before development was finished and tweaked it dependent on their necessities.