Keyonte George has no biological brother or sister. But the Utah Jazz player has two step-siblings, which he previously mentioned in an interview.
The first-round pick of the 2023 Draft, Keyonte George, grew up in Lewisville, Texas, and was raised singlehandedly by his mother, Kristen. Many NBA fans also believed for a while that Keyonte had a blood relation with the former NBA player Devean George, but that was only a false rumor.
The past and present of the NBA have no relation and probably have never crossed paths. Since his retirement in 2010, Devean George has been working in real estate development and is currently working on a $19 million project.
On the other hand, the 20-year-old Jazz's guard is set to play against Indiana Pacers despite initial reports of a foot problem. He has quickly become a fan favorite, but Jazz's head coach, Will Hardy, and Utah's front office want the talented youngster to grow steadily rather than putting too much on his plate.
Keyonte George Brother: How Many Siblings Does The Utah Jazz Player Have?
Keyonte George, the Baylor University graduate, has no biological brother. In fact, George doesn't have any blood-related siblings.
In an interview with the Prospective Insight, George shared he had two step-siblings, a step-brother and a step-sister. George said both his step-siblings are little and said it was fun to have them around and hang out with them.
The basketball player's parents live separately, with George living with his mother, Kristen. But he shares a good relationship with his dad, Jason, despite the divorce.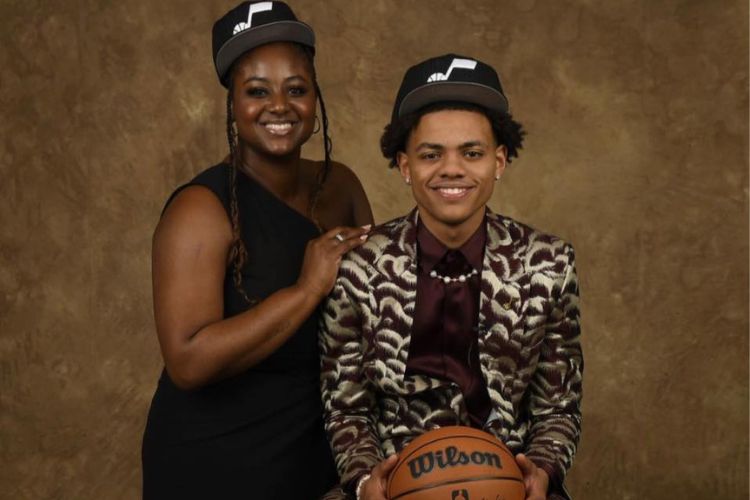 Kristen graduated from Paul Quinn College with a degree in business administration in 2008. She joined Nationstar Mortgage as a Mortgage Professional the same year she graduated and worked there for six years.
She then joined Stearns Lending and worked there for two years before moving on to work with Optimal Blue in 2017. Kristen currently works with Caliber Home Loans as a Product Development Manager.
A supportive mother, Kristen, was tasked to take her son to his basketball practices. When Keyonte was asked what he would do if one day he woke up with a fortune in his bank account, the Jazz player had a sweet reply.
Keyonte said the first thing he would do is buy his mom a house. Then he would probably buy himself a nice car, preferably G-Wagon, his favorite brand. Kristen is available on Facebook and has shared several photographs with her son.
Is Keyonte George Related To Devean George?
The former NBA player Devean George has no relation with the current NBA player Keyonte George. A few NBA fans thought maybe the two athletes were cousins, but they are one of many cases of athletes sharing the same last name.
Born and raised in Minneapolis, Minnesota, Devean George grew up alongside two brothers, Eddie Jr and Chafe George. His parents, Eddie and Carol, worked multiple jobs so they could send their kids to private schools.
Eddie Sr worked at a construction firm as a truck driver, and Carol operated a beauty salon. George played 11 years in the NBA and won three Championship rings in his first three years at the Lakers.
After retiring from the NBA, George focused his attention on real estate development. He began to tackle the housing problem in his hometown in North Minneapolis. Last year, he proposed a $19 million modular-home factory for North Loop.
The real estate developer and entrepreneur is married to Patricia George, with whom he shares three kids-Daylen, Logan, and Julian. On his Instagram handle, Devean has shared a few pictures with his boys but is rarely active on social media.