Khvicha Kvaratskhelia, often referred to as Kvara, is a highly talented Georgian professional soccer player.
Born on February 12, 2001, he excels as a left winger and currently represents Serie A club Napoli, as well as the Georgia national team.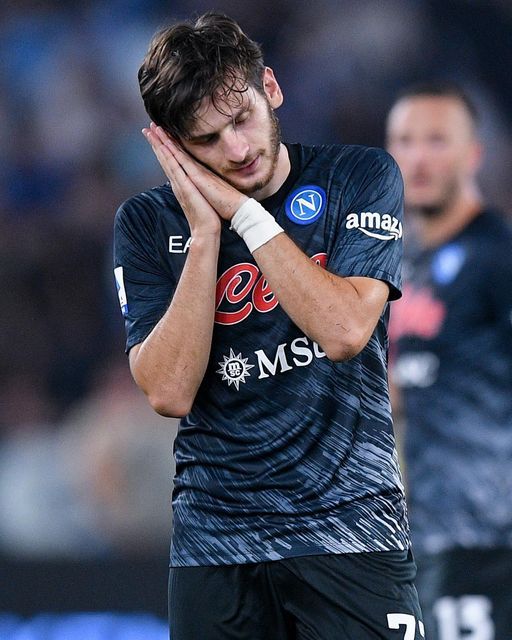 Recognized as one of the finest young players globally, Kvara is renowned for his exceptional flair, impressive dribbling skills, and remarkable playmaking abilities.
His contributions on the field have garnered significant attention, solidifying his reputation as a rising star in the world of soccer.
Early Life & Girlfriend
Khvicha Kvaratskhelia began his senior career at Dinamo Tbilisi, making five appearances and scoring his first goal.
He received the Aleksandre Chivadze golden medal in 2017 and a silver medal in 2018 for his performances in Georgia's youth teams.
Kvaratskhelia left Dinamo Tbilisi due to a contract dispute and joined Rustavi. He garnered interest from Bayern Munich and was named among the best young players worldwide by The Guardian.
He joined Lokomotiv Moscow on loan in 2019 and made his debut in the Russian Premier League.
After his loan expired, he left Lokomotiv Moscow, disappointing the manager, who considered him highly talented.
In terms of his personal life, Khvicha Kvaratskhelia is currently in a relationship with Nitsa Tavadze.
While not much information is available about Tavadze due to her limited social media presence, it is evident that the couple shares a close bond.
Kvaratskhelia, on the other hand, openly expresses his affection for Nitsa on his Instagram account, frequently sharing pictures of them together.
Their public displays of love demonstrate the strength of their relationship and the happiness they find in each other's company.
Family & Nickname
Khvicha Kvaratskhelia, the son of former soccer player Badri Kvaratskhelia, comes from a family with a strong football background.
He has two brothers, and his younger sibling Tornike (born in 2010), is also involved in the sport.
Kvaratskhelia has earned the nickname "Kvaradona," drawing comparisons to the Napoli player Diego Maradona due to their similar dribbling styles.
This association highlights Kvaratskhelia's exceptional skills and ability to mesmerize opponents with his agile and creative style of play.
Net Worth
Khvicha Kvaratskhelia's net worth as of 2023 is $5 million. His salary is around £1.5 million a year, as reported.
Before his move to Napoli, Kvaratskhelia had an outstanding season that greatly contributed to his rise in salary and net worth.
His market value experienced a substantial surge, increasing from 15 million euros to an impressive 85 million euros within a year and a half.
Religion
There are no sources available to claim his religious path. The player has not openly talked about it in public as, well.
However, from his social media activities, it seems clear that he is a Christian. He celebrated the last Christmas Day.