Minnesota Vikings' trusty quarterback, Kirk Cousins, has a net worth of $70 million. He signed a 1 year/$35m contract extension with the Vikings, including a $25 million signing bonus, on March 13, 2022.
Kirk Cousins is a professional football quarterback drafted in the NFL by Washington Redskins as a backup to fellow rookie Robert Griffin III in 2012.
Also called 'Captain Kirk' by fans, Kirk was named one of the '100 Greatest NFL Players' in 2019 and 'Forbes Celebrity 100' in 2020.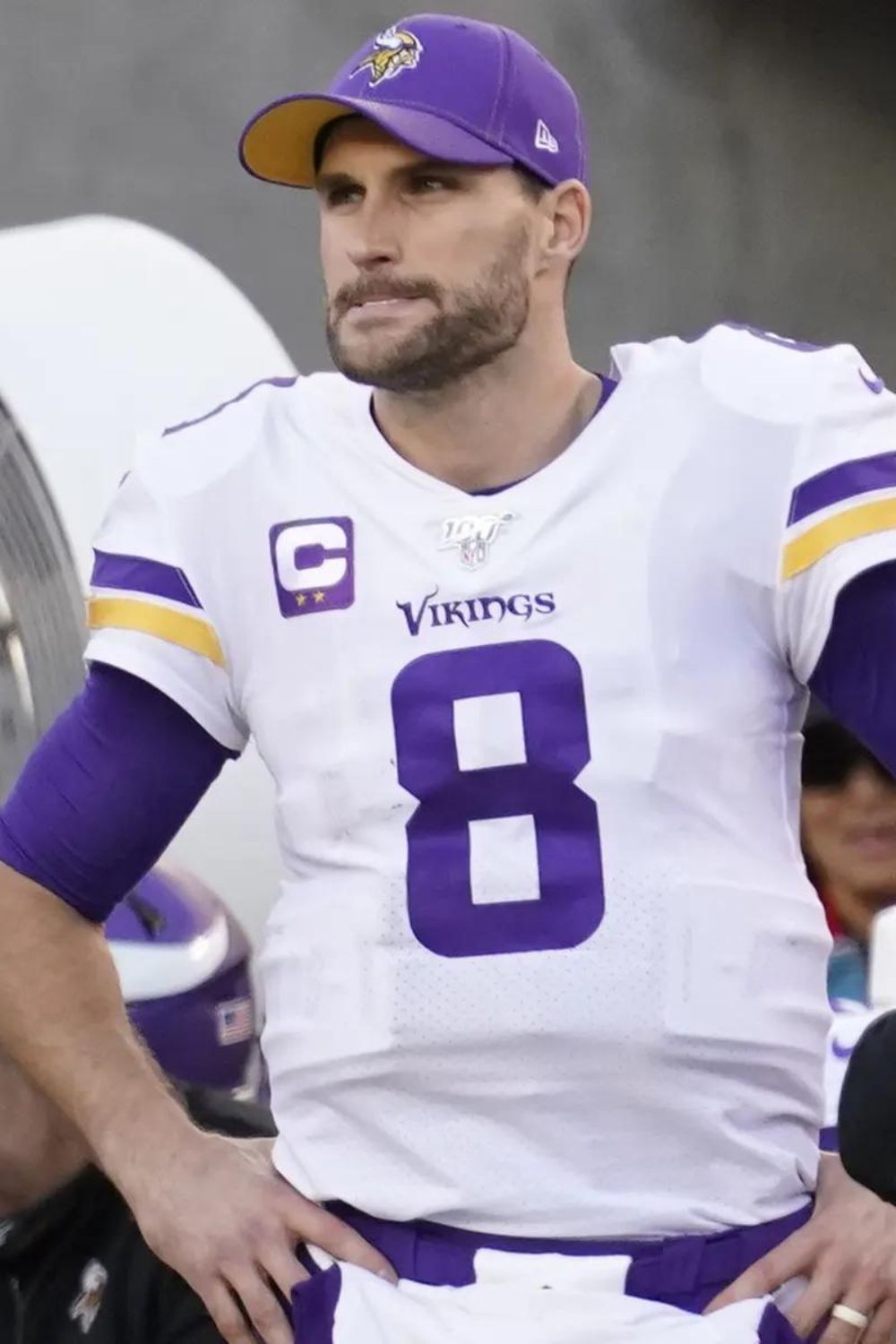 Kirk is one of the rare NFL players who have scored more than 3000 passing attempts.
Moreover, Kirk is two-timed Pro Bowl winner, one-time NFL Completion Percentage winner, Outback Bowl Champion, and one-time Second-team All Bag Ten champion.
Besides, Kirk is ranked #6 in the highest-earning NFL player list. This is a huge upgrade for someone who dreamt of making it big in the NFL.
Similarly, Kirk was the 102nd overall pick in the fourth round by the Washington Redskins in the 2012 NFL draft. However, he is currently playing for Minnesota Vikings.
No wonder Kirk has made millions from his successful career. So how did Cousins earn this money, and how does he spend his money? Let's figure it out in this article.
Kirk Cousins | Quick Facts
Name
Kirk Daniel Cousins
Birthplace

Barrington, Illinois, United States
Birthdate
August 19, 1988
Age
34 years old
Nationality

American

Ethnicity

White
Religion

Catholic

Father's Name
Don Cousins
Mother's Name
Ann Mary cousins
Siblings

Kyle Cousins
Karalyne Cousins
Education

Holland Christian High School
Michigan State University

Profession
Professional Football Quarterback

Nickname
Captain Kirk
Height
6'3″/1.91 m/ 191cm
Weight

92 kg/202 lb.
Body Type
Athletic

Position
Quarterback
Stats
Passing Attempts- 4,637
Completions- 3,094
Body Measurements

Chest- 43 inches
Biceps- 17 inches
Waist- 34 inches
Shoe Size
11 (US)
World's Richest Athlete (2020)
#9
Affiliation
NFL
Hair Color
Brown
Eye Color
Blue
NFL Draft
2012
Zodiac Sign
Leo
Net worth

$70 Million
Achievement
Two times Pro Bowl
Second-team All-big Ten
Outback Bowl Champion

Position

Quarterback

Current Team
Minnesota Vikings
Jersey Number

8
Salary
$40 Million
Passing Ratings

97.7
Endorsements

Bose, Nike
Sexual Orientation

Straight

Marital status
Married
Wife
Julie Hampton
Children
Copper Cousins
Turner Cousins
Merch
T-shirt, Hoodies, Autographed NFL Mini Helmets
Social Media

Twitter, Instagram
Last Update
February, 2023
Kirk Cousins | Net Worth, Income & Salary
For someone who has a hefty net worth of $70 million, Kirk earns the majority of it through his contracts and deals.
Kirk initially signed a four-year contract with Redskins which was worth $2,572,688. Similarly, after the contract expired in 2015, he again signed a three-year contract with Redskins.
Likewise, in 2018, Kirk signed a three years contract with the Vikings worth $84 million.
Besides, the Vikings gave Kirk $3 million as a signing bonus and a whopping $28 million every year as a base salary.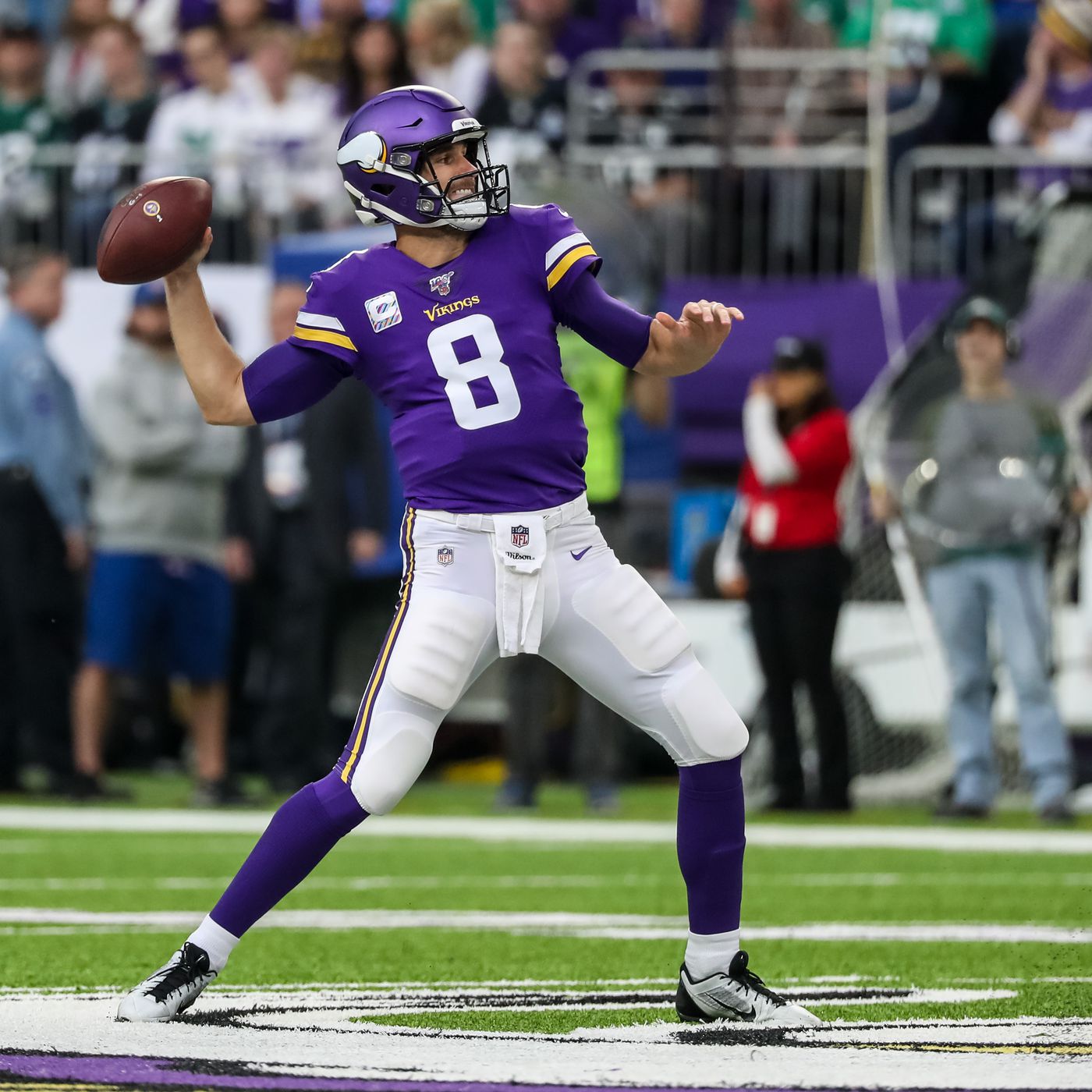 It is estimated that Cousins has earned around $202 million in his 11 seasons in NFL since 2012. And this is just his earnings from NFL. Additionally, Kirk earns extra millions from his brand deals and endorsements.
Moreover, till now, Kirk has earned $500,000 from his Super Bowl Win. Moreover, Kirk has made $2 million from his Super Bowl, Top Eight Points Scored, and Super Bowl MVP wins.
In 2022, he signed a year contract extension worth $35 million, including a $25,000,000 signing bonus, $35,000,000 guaranteed.
However, in 2023, Kirk will earn a base salary of $10 million, a $6,250,000 signing bonus, and a $20 million roster bonus, while carrying a cap hit of $36,250,000 and a dead cap value of $48,750,000.
Kirk Cousins | House And Cars
House
Undoubtedly, Kirk earns millions, but you would be amazed to know that Kirk doesn't like to spend money on unnecessary things. Instead, he lives like a college kid to save money.
However, this young man has garnered some beautiful houses in different places. Talking about Kirk's house, he has a three-story home on Lake Michigan beach.
Likewise, this home has four bedrooms, two fireplaces, and a nursery attached to the master bedroom. For those curious, Cousins paid $10 million for this house in 2017.
Before this house, Kirk lived in Ashburn, Virginia. Similarly, this mansion is located on the beach of Michigan, which is his perfect summer getaway house for athletes.
Likewise, this house has three bedrooms with four and a half bathrooms. This is a gorgeous house that is fully decorated with wood.
Nonetheless, in 2017, this house was listed for $515,000, and shortly after five days, it was listed as "under contract."
Cars
Even though Kirk spends his money carefully, he has also made some lavish addition to his assets. The NFL quarterback curr has a car collection that is estimated to be $5 million.
Likewise, Cousins has more than six luxury cars, not to mention all of these cars are from prominent brands.
GMC Yukon
GMC Yukon is the very first car in Kirk's collection. Likewise, this car is one of the simplest cars he owns.
However, he still uses this car while traveling with his wife or family or visiting them.
Mercedez Benz C Class
Kirk bought this car in 2014, keeping the decency and also the sports car edge in mind.
Mostly, Cousins uses this car to make an appearance for brand endorsement deals.
Alfa Rameo Tuttottanta Pininfarina
For $2 million, Alfa Rameo is one of the most expensive cars globally. Kirk bought this car in 2014, and he still uses this car on special occasions.
Ferrari F12 Berlinetta Mansory La Reveluzione
Similarly, Kirk bought this supercar in 2014 and paid a whopping amount of $1,575,996.
Conversion Van
This is the oldest model of car Kirk owns, and Kirk loves this van very much. More so, as it belonged to Kirk's late grandmother's car, which he bought from her.
Since this car carries emotional sentiments for him, Kirk still uses this van.
Kirk Cousins | Endorsements
Most of Kirk's income comes from salary and contract. No doubt, NFL pays him enough to live a lavish life. But being a top player in NFL comes with profitable endorsement opportunities that are hard to turn down.
Some of his biggest endorsement deals are with Bose and Nike. However, Kirk also endorses some other small brands as well.
Nonetheless, Kirk Cousins earned a whopping amount of $29.8 million from brand deals and endorsements.
Similarly, as per various sources, it has been found that Kirk earns at least $2 million a year from his brand deals and endorsements. Besides, Cousins also earns by selling his merch and other products.
In the age of social media, a brand value of a person depends on their social media engagement, and so does Kirk.
Kirk Cousins | Lifestyle And Vacations
Kirk barely gets any time to go out on tour besides his crazy and hectic schedule of practice and games.
Nevertheless, the Vikings' quarterback has been far and in various places around the globe in his international games.
Kirk and his wife, Julie Hampton, like to take time from their busy lives to travel with their two children.
Since they have become parents, they both have become more caring and responsible.
Besides, Kirk spends time with his family when Kirk is not out playing.
Similarly, when Kirk was young, his lifestyle was no secret to fans; he didn't party and was always by himself.
Still, Kirk has always been a humble, kind-hearted, and down-to-earth person.
Nonetheless, Kirk comes from simple family background. Even though he has earned so much name and fame, he still manages to live a simple life far from controversies.
Here We Have Listed The Top 20 Richest Athletes In The World >>
Kirk Cousins | Charities
Not only is Kirk Cousins a good football quarterback, but he also is a good human being. Nonetheless, he helps every person in need as much as he can.
When the fight against racism was on the rise in America in 2020, Kirk and his father showed their strong opinions and views regarding the topic.
However, Kirk has always been very opinionated and does not fear expressing his views, even in some serious matters.
In a lengthy Twitter thread, this young and humble star tweeted that his heart breaks every time he sees this kind of unethical behavior towards any other human being.
He further adds that Kirk being a white man, may not understand the consequences of racism, but he feels that racism must end for good.
Apart from that, Kirk is also active in various other charitable activities. Likewise, Kirk has recently inaugurated his foundation, Julie & Kirk Cousins Foundation, so he can help as many people as he can. 'Helping Others Do More' is the foundation's motto.
So far, this foundation has provided gifts to sixty families (parents) experiencing homelessness to choose a holiday gift for their children.
Kirk Cousins | Career
Looking back at his life, Kirk Cousins was born on August 19, 1988, in Barrington, Illinois, United States. Similarly, he was born to Don Cousins (father) and Mary Ann Cousins (mother).
Nonetheless, Cousins was always interested in football, let's say, from a very early age. Besides, Kirk also broke his ankle in his junior year while playing football.
However, to make an impression on recruiting colleges, Kirk was forced to attend camps.
Kirk was an amazing player during his college days. He was dedicated and focused and knew what he wanted to do in life.
However, Kirk's life changed after he was selected by Redskins in the 2012 NFL draft. Since then, there has not been looking back for Cousins.
In 2016, Cousins was declared an unrestricted free agent. However, no other teams in NFL could sign him because Redskins used a non-exclusive franchise year tag on him. Similarly, this was a one-year, $20 million contract.
Undoubtedly, Kirk has made various records and deserves all the success he enjoys now because Kirk has worked hard for it. Cousins is one of the best players in the history of the NFL.
Minnesota Vikings signed Kirk on March 13, 2018, on a 3-year contract worth $84 million. Since then, he has been with the team signing multiple contract extensions.
Kirk Cousins | Social Media Presence
Kirk is active on Instagram and Twitter. Furthermore, he shares his opinions and even endorses some products from his social media handle. He can be found using the handles @kirkcousins on Instagram, @Kirk Cousins on Facebook, and @KirkCousins8 on Twitter.
However, if you want to know more about Kirk or the Minnesota Vikings, you can subscribe to their YouTube channel, where existing videos are uploaded daily.
Instagram: 429k followers
View this post on Instagram
Twitter: 316.5k followers
Facebook: 174k followers
Kirk Cousins | Popularity
The NFL is a popular sport in the USA, and the players are equally popular. Kirk Cousins fall on the list of one of the most popular NFL players.
The above graph shows the fluctuating popularity of Kirk over a year in the United States of America.
Some Facts About Kirk Cousins
Kirk has never thrown more than two touchdowns in the week one game, and Kirk's performance is considered average compared to the rest of his performance.
While Kirk was proposing to Julie after one and a half years of being in a relationship, he took the permission of Congressmen of his district to use the speaker's balcony. Hence, Kirk proposed to Julie most spectacularly.
Similarly, Kirk is a leader; he is extremely vocal, opinionated, and has a strong character. Hence, he was given the name Kirk Captain by keeping his personality in mind.
Quotes
"I constantly want to be learning, growing, and better understanding things. And see where that takes us."
"What impact are you making, not only today but for eternity? What impact are you making to leave a legacy?"
"To have a platform to make a difference ultimately, which is what I want to do with my life, we've got to win football games. When you're highly paid, and you're losing, no one really cares what you have to say."
Kirk Cousins | FAQs
Was Kirk's father a pastor?
Yes, Kirk Cousins' father was a Pastor at the Discovery Church. This is the reason why Kirk is extremely religious.
Do Kirk Cousins sing?
Yes, he does. While growing up, he was always into singing and music, and Kirk was even part of the choir in various events.
Here Is A List Of 8 Strong Advocates Of LGBTQ Community In Sports >>