42 years old Kirk Hinrich won many hearts during his tenure at the USA national basketball team. The 2003 NBA drafted Hinrich is best known for his tenacious defensive skills in the Guard position.
Kirk spent 14 years playing professional basketball. He played for the Chicago bulls from 2003-2010 and from 2012-2016. Before playing professionally, he proved himself as a child and teenage player.
He got into US national basketball team in July 2006 and has represented his country in many international competitions.
Kirk, now retired, lives in his hometown in Sioux Falls, SD, and works as a coach in a basketball academy. He has a beautiful family with 4 children.
In this article, we will get into details about this wonderful player's personal life and career. Before we begin, here is a collection of amazing quick facts about him:
Kirk Hinrich | Quick Facts
| | |
| --- | --- |
| Full Name | Kirk James Hinrich |
| Common Name | Kirk Hinrich |
| Nick Name | Captain Kirk |
| Birthdate | January 2, 1981 |
| Age | 42 years old |
| Zodiac Sign | Capricorn |
| Mother's Name | Nancy Hinrich |
| Father's Name | Jim Hinrich |
| Siblings | N/A |
| Birthplace | Sioux City, Iowa, USA |
| Nationality | American |
| Residence | Sioux Falls, South Dakota, USA |
| Religion | Christianity |
| Ethnicity | White |
| School | Sioux City West High School |
| College | The University of Kansas |
| Education | Communication |
| Height | 6'4 (193 cm) |
| Weight | 190 pounds (86 kg) |
| Eye Colour | Brown |
| Hair Colour | Brown |
| Shoe Size | N/A |
| Martial Status | Married |
| Partner | Jill Fisher (Married in 2007) |
| Children | Three daughters; Kenzie, Kyla, and Kenley & a son, Kolton |
| Profession | Former Professional Basketball Player |
| Draft in | 2003 |
| Position | Guard |
| Jersey | 12 |
| National Team | USA national men's basketball team |
| International Achievements | Bronze (FIBA world championships, 2007) |
| Status | Retired |
| Current Profession | Basketball Coach |
| Affiliated with | Chicago Bulls, Sanford Power |
| Favorite Sports | Basketball, Football |
| Hobbies | Football, Coaching |
| Social Media | Not Active |
| Merch | Basketball Cards |
| Last-Update | November 2023 |
Kirk Hinrich | Childhood
On January 2, 1981, Kirk was born in Sioux City, Iowa, USA. Kirk James Hinrich is the son of Jim and Nancy Hinrich. There is no information about his siblings and other members of the family.
The saying goes, "Morning shows the day, as childhood shows the man." Similarly, Kirk also showed his athletic prowess in his early childhood days.
His father, Jim, was a former player and coach himself. He was on the Briar Cliff college basketball team and later coached for Sioux city west high school.
Kirk caught the interest in basketball from his father and got excellent tutoring. Jim knew other fantastic players and coaches who all were somewhere a part of Kirk's childhood mentor. Ray Nacke, Jim's old coach, later taught Kirk as well.
All the excellent mentoring created a strong base for him to grow as a superb player later on.
However, basketball was not the only sport that interested the kid Kirk. He was also interested in football and basketball. Interestingly, he has formerly played as a quarterback and a pitcher.
Kirk Hinrich | Early Career
Kirk studied in the same school where his father worked as a coach. Being the coach's son was comfortable but also stressful at times.
West High won 82 matches during his final four years and lost only nine. In his senior year, he helped his school win the Iowa State Championship. He had all-time highest points, steals, and assists in West High by the time of graduation.
The next challenge was choosing the right college that would sharpen his skills even better. Kirk had initially wanted to attend Iowa State, but due to some reason, he finalized on the University of Kansas.
As a fresher playing for the Kansas Jayhawks, Kirk played 34 games, scoring 5.5 points per game. The player subsequently won the Clyde Lovellette Most Improved Player Award.
Kirk Hinrich | Career
He began his professional career in 2003 after he was selected as the seventh overall pick by the Chicago Bulls in the 2003 NBA Draft. Despite suffering from an acute viral infection just before his first season, he showed a great start to his professional career.
He was named to the NBA's 2004 all-rookie first team as the Bull's starting point guard. Eventually, Kirk was awarded MVP of the Bulls during the 2003-04 season.
Kirk was traded to Washington Wizards in July 2010. During this season, he was suggested he should wear glasses during gameplay, or else he could lose his eyesight.
The athlete was traded to Atlanta Hawks in February 2011. He had to miss many games due to shoulder surgery and ended up having career lows in points per game.
You might also be interested in Jared Dudley, an American professional basketball coach and former player who works as an assistant coach for the NBA's Dallas Mavericks at present.
Kirk returned to the Bulls in 2012 on a two-year contract. However, due to various injuries, there were fluctuations in his gameplay. Chicago Bulls offered him $5.6 million to sign another two-year contract with him in 2014.
In 2016, he was traded to Atlanta Hawks.
International Career
Hinrich got into US national basketball team in July 2006 and got a chance to compete in the 2008 summer Olympics in Beijing.
He was one among the 12 players to compete in the 2006 FIBA world championship in Japan, where team USA ended up with a bronze medal. However, he dropped out of the national team in 2007, citing personal reasons.
Due to that, he missed the upcoming FIBA Americas Championship as well. It was reported that Kirk had decided to focus on his wedding. Hinrich later dropped out of the Olympics, too, because his wife was expecting a baby.
Retirement
Kirk ended his career in 2016 with the Atlanta Hawks. In the end, he has a career average of 10.9 points and 4.9 assists per game.
He moved to South Dakota with his family and started working as a lead basketball specialist for Sanford Power, a basketball academy.
Kirk Hinrich | Height & Body
With a well-built body and sharp facial features, Kirk is one of the most handsome players Bulls have ever had.
Kirk has a height of 193 cm (6 feet 4 inches) and a weight of 86 kgs. Though it is a commendable height, some might argue that it is not great for a professional basketball player.
When he was actively playing, his training routine consisted of doing a lot of weight, running, and speed work. Alongside workouts, he also practiced basketball every day. Even as a retired player, he continues to work out and stay fit.
Kirk Hinrich | Personal Life
We have barely heard any rumors about Kirk and his relationships from the past except about Jill Fisher, his wife.
As far as we know about them, they have known each other since high school and have been dating since 1997. Jill hails from the same town as him, and the Sioux City Journal has also written about their relationship before.
Just like Kirk, Jill is also an athlete. She was a state champion long jumper for Bishop Beelan highs school in Sioux City.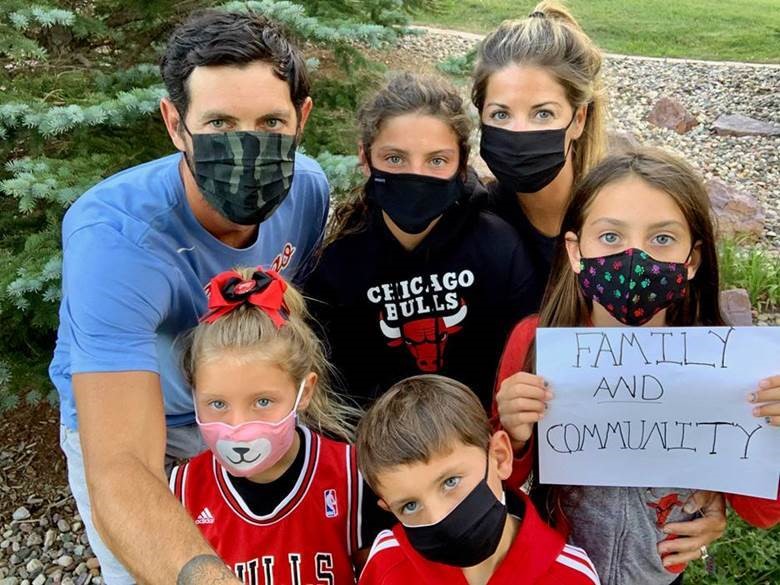 The duo got engaged in 2006 and married on July 7, 2007. They were mature adults and were ready to build a family together by then. So, in 2008 they had their first child, a daughter named Kenzie.
In September 2011, another daughter followed, who was named Kyla. On September 12, 2014, Jill gave birth to twins, a boy named Kolton and a girl named Kinley.
So within a few years of marriage, they built a huge family with 4 kids. Jill has left her athletic life behind as a full-time mom.
Kirk Hinrich | Social Media
You might be eager to follow your favorite star on social media and get regular updates about his life. The sad news is that Kirk barely uses social media. However, there are a lot of fan pages dedicated to our favorite basketball players.
You might want to read about Kevin Martin, an American basketball player who spent 12 seasons in the NBA with five different clubs.
Kirk Hinrich | Net Worth and Charity
The former NBA player Kirk has a net worth of $30 million.
In 2007, Hinrich bought a mansion in Bannockburn for $4.4 million. The nine-bedroom french country-style estate spans an area of 9,270 square feet.
The mansion also included features like eight full baths, three half-baths, an in-home office, a large mudroom, four fireplaces, a six-car garage, a four-season porch with a grill, a master suite with an expertise room and a sauna, a card room, and a dance studio.
This exquisite mansion was listed to be sold in 2018 for around 40% less than the original price.
The kind-hearted sportsperson is well known for his efforts to give back to society. Kirk and his wife Jill have connected themselves with a lot of charity work. Kirk organized a charity golf tournament intending to help special needs kids. It is called Camp high hopes.
FAQs
Is Kirk Hinrich retired?
After a long and fulfilling career of 14 years, Kirk Hinrich has retired from his professional NBA career. He resides in Sioux Falls and works as a coach in a Basketball Academy.
Does Kirk Hinrich have twins?
Yes, Kirk Hinrich and his wife have a twin daughter and a son. They also have two older daughters.
You might also be interested in Joe Alexander, an American-Israeli NBA player. In this write, you will get to learn about his injuries, career & leagues.