When you think of some of the more notable bench warmers in NBA history, one of the first names that come to mind is Jared Dudley of the Los Angeles Lakers.
Jared Dudley is an American professional basketball coach and former player who currently works as an assistant coach for the NBA's Dallas Mavericks. He was a forward for the Boston College Eagles in college.
Dudley has 14 years of experience, the majority of which he spent playing a significant role and contributing, most notably with the Phoenix Suns.
Few people get to see Jared Dudley's impact on his team because the Los Angeles Lakers eleventh man doesn't get on the court very often. Behind the scenes, however, he takes pride in holding everything together—or the league.
During his time with the Lakers, he earned an NBA Championship ring. People put you on a pedestal no matter what role you play on a team when you come home with a ring. He will always be known as Jared Dudley, NBA Champion.
Quick Facts
Full Name
Jared Anthony Dudley
Known as
Jared Dudley
Nickname
Junkyard Dog
Birth Date
July 10, 1985
Birth Place
San Diego, California
Residence
Not Available
Religion
Christianity
Nationality
American
Ethnicity
Not Available
Education
Horizon (San Diego, California) and Boston College (2003–2007)
Zodiac Sign
Cancer
Father's Name
Anthony Dudley
Mother's Name
Melinda Schall
Siblings
Milan Dudley
Age
37 years old
Height
6 feet 6 inches
Weight
237 lb (108 kg)
Eye Color
Brown
Hair Color
Bald
Body type
Athletic
Profession
Basketball Player
Marital Status
Married
Wife

Christina Dudley

Children

Jaylin and Justus

Active since
2007 – 2021
Last team played
Dallas Mavericks
Achievements

NBA champion (2020)
Consensus second-team All-American (2007)
ACC Player of the Year (2007)
First-team All-ACC (2007)
Second-team All-ACC (2006)

Endorsements
Not Available
Net Worth
$25 million
NBA Draft Pick
2007 / Round: 1 / Pick: 22nd overall
Position
Small forward and Power forward
League
NBA
Merch
Notebook
Social Media
Instagram, Twitter
Last Update
May 2023
College Career
Dudley was a member of the Boston College Eagles during his college years. He got the nickname "Junkyard Dog" for his toughness and nose for the ball during the 2004–05 season.
On November 29, 2006, he scored 30 points against Michigan State.
Jared's career-high in points is 36, which he scored against Villanova during his sophomore season on January 19, 2005. The athlete averaged 19 points and three assists per game during his senior year.
After his senior year, Dudley was named ACC Player of the Year and a second-team All-American.
Go through Miles Bridges: Career, Net Worth & Controversy>>
Age, Height & Weight
Jared Anthony Dudley, the 37 years old basketball player, was born on July 10, 1985, in San Diego, California, USA.
In terms of physical appearance, Jared has a well-kept body and appears to be quite athletic. The athlete maintains his physical fitness by eating well and going to the gym daily.
In addition, the former professional basketball player stands 6 feet 6 inches tall and weighs approximately 108 kg.
Jared was born under the astrological sign of Cancer. Sapiens born under the Cancer sign have a hard time forgiving others when they betray or break their trust. They will snap at any time.
Don't miss out; Will Cherry: Career, Injury & Mother>>
Jared Dudley: NBA Draft
The Charlotte Bobcats selected Dudley 22nd overall in the NBA Draft on June 28, 2007.
Dudley entered the Bobcats' regular playing rotation shortly after the 2007 draft and made his first start on November 24, 2007, against Boston, scoring 11 points and grabbing nine rebounds.
Jared established himself as a key member of the Bobcats' rotation, frequently starting during his time with the team.
He finished the 2007–08 season with an average of 5.8 point per game. He was also the team's power forward during his rookie season with the Bobcats before transitioning to a small forward in his second season with them.
In 2008, Dudley appeared in 20 games for the Bobcats before being traded to the Phoenix Suns. In those 20 games, he averaged 5.4 points, a career-low.
Professional Career
On December 18, 2008, Dudley was traded to the Suns. Dudley was traded to the Washington Wizards on July 9, 2015, for a protected future second-round pick.
He was ruled out for three to four months on July 21 after undergoing surgery to repair a herniated disk. Due to the Washingtons' lack of size at that position, Dudley spent much of the 2015–16 season as the team's power forward.
Jared signed a one-year contract with the Los Angeles Lakers for $2.6 million on July 7, 2019.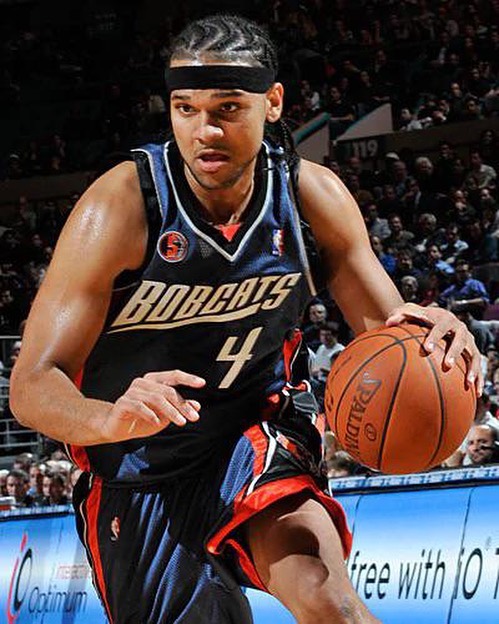 He had a season-high five assists in a 122–136 loss to the Sacramento Kings on August 13, 2020. The athlete was ejected from a game against the Orlando Magic on December 11 after an on-court brawl involving players from both teams.
He had a season-high three points and two rebounds in a 127–91 win over the Minnesota Timberwolves on December 27.
On February 24, 2021, he matched this total with four rebounds and an assist in an 89–114 loss to the Utah Jazz. Dudley had a season-high two assists in a 120–123 loss to the Sacramento Kings on March 3.
Strength & Weakness
Dudley has always played the same role. He is the ideal player to come off the bench and provide a spark for both his teammates and the fans.
Jared has also proven to be a reliable three-point shooter. He has shot 39% from the three-point range in his NBA career. He is one of the NBA's most underappreciated shooters.
Another thing that has kept Dudley in the league for so long, and several teams want to have him on their roster, is his ability to bring a team together.
Jared is a great locker room player who is well-liked by his teammates regardless of where he plays.
Dudley's weaknesses are his rebounding, playmaking, and defense. With a height of 6'6″, he has been undersized as a small forward and power forward.
Retirement
Jared Dudley's 14-year NBA career ended abruptly when the Lakers informed him that he would not be returning for the 2021-22 season after only two years with the team.
Dudley was "disappointed" that he wouldn't be able to compete with LeBron James, Anthony Davis, and newcomer Russell Westbrook.
However, his influence on the Lakers extended far beyond his on-court performance. Despite his role at the back end of the bench, Dudley was a crucial voice in the locker room and guided the Lakers as one of the team's leaders.
He was instrumental in bringing Russell Westbrook to the Lakers, and his impact on the team was evident when he and LeBron James were photographed at a farewell dinner with Kyle Kuzma after he was traded.
Coaching
After 14 successful seasons in the NBA, Jared transitioned to the next stage of his career as an assistant coach for the Dallas Mavericks.
This is Dudley's first season as coach after retiring from the NBA in August 2021. On the Mavericks, Dudley joined head coach Jason Kidd's coaching staff.
Kidd previously served as Dudley's head coach with the Milwaukee Bucks and as an assistant coach with the Los Angeles Lakers.
Dudley joined a team with whom he had a good rapport. The Mavericks are the Western Conference's fifth set, and they are riding the success of Luka Doncic.
Because he recently retired from the league, his perspective differs from that of most assistant coaches. He was still playing in the Lakers' playoffs less than a year ago.
Dudley has played against the majority of the players he coaches. On the court, he is aware of their strengths and weaknesses. The Mavericks can benefit from Dudley's familiarity with the league's players.
The conclusion of his career prepared him for the next chapter of his basketball career. He was destined to be an NBA coach, and he made the most of his first chance with the Mavericks.
He understands what it takes to win a championship, which he did with the Lakers in 2020. Dudley is a coach to keep an eye on in the future.
Connection With Fans
Jared searches his mentions for people requesting tickets and gives them away for free.
It's common sense for a public figure not to check his mentions at this point – online, emboldened fans tend to rag on players.
However, Dudley's mentions are littered with requests from people all over the country, pleading for a ticket for their children, anniversaries, ailing fathers or grandfathers, or the opportunity to attend an NBA game in person for the first time. He reads all of them.
When he was in his second pro season in Phoenix more than a decade ago, players had the option of donating money for a section bearing their name.
While it's an effective and widely replicated way for players to assist fans who might otherwise be unable to attend games in person, Dudley found it a little impersonal.
Jared gave Denver tickets to a fan who claimed to have played at Boston College during a back-to-back road trip (Dudley played for the Eagles).
He also gave another fan ticket so that his 81-year-old grandfather could attend. Dudley estimated spending nearly $20,000 a year on his tickets.
Family
Jared is the son of engineer Anthony Dudley, who earned his degree at UC Irvine, and Melinda Schall. Unfortunately, Jared's parents divorced in the early marital years.
Melinda Dudley had a significant influence on her youngest son's life.
She has been a single mother since Jared was two years old, and she has devoted all of her time and energy to her boys, first Milan, who is six years older than Jared and an air traffic controller, and then to her sports-crazed youngest son.
Melinda, who grew up as a tomboy, quickly decided to help her son achieve his basketball dream by serving SportsCenter with breakfast and dinner.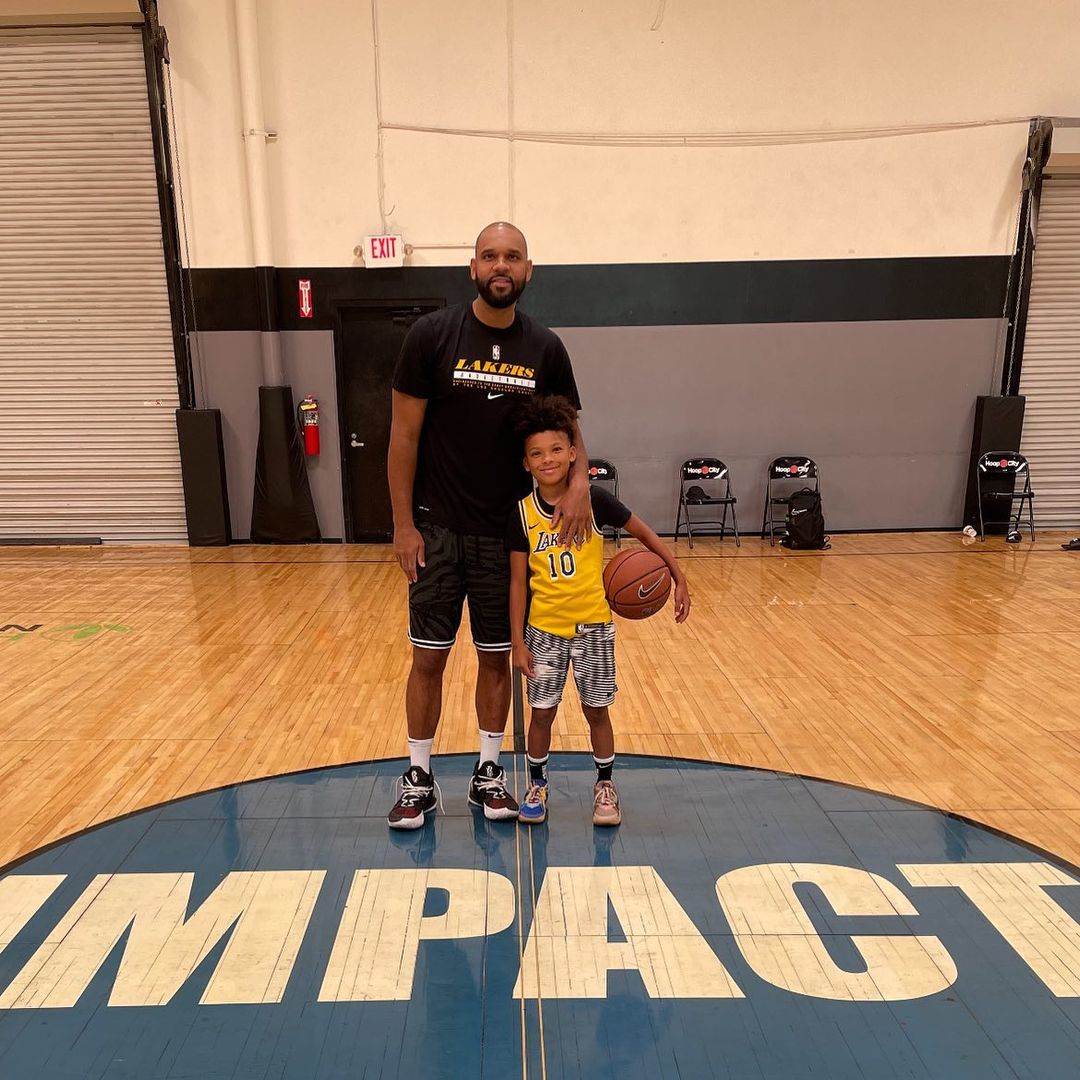 Jared would meet Melinda at her office after her 9-to-5 job at a law firm in Solana Beach, and the two would fight rush-hour traffic into San Diego for basketball practices.
Melinda sat in her car, trying to get an hour of sleep while Jared was sweating and diving for loose balls.
Then it was back to the house for tutoring, dinner, and more sports on TV. She did it again the next day. Her friends and family noticed her dedication and encouraged Melinda to take care of herself.
Wife
Jared is a married man. He married his girlfriend turned wife Christina Dudley. Prior to their marriage, the couple was involved in a romantic relationship.
Furthermore, there are no records of his past affairs or girlfriend. There are also no rumors about divorce or extramarital affairs.
The couple isn't particularly forthcoming about the specifics of their relationship, but it appears that they have a solid marriage.
In 2015, Christina Dudley took part in a Family to a Family shopping event at the Monumental Sports & Entertainment Foundation. At the time, several players' better halves also attended the event.
Family-to-Family is a Wizards initiative that began 19 years ago to bring holiday cheer to underserved and deserving families in the Washington, D.C. metropolitan area.
Christina's two children, Jaylin and Justus, keep her busy in addition to the challenges of being an NBA wag. Though little is known about Christina, it is safe to say she is a supportive and proud NBA fan.
Bond With LeBron James
When you have a player like LeBron, it's difficult to keep him in check without upsetting him. However, Dudley ensures that every team member is held accountable for their mistakes.
For the past two seasons, playing with AD and LeBron allowed Jared to form bonds with the two stars and openly communicate with them.
Jared explained how the connection outside of the court allowed him to share all of his thoughts, no matter how harsh they were, without fear of hurting someone's feelings.
That kind of bench influence is vastly underappreciated, as LeBron, AD, and the rest of the Lakers players can always count on Dudley to provide them with insight into the game from a different perspective and all the advice they require.
It may not appear to be much, but you can't expect the team's young players to tell LeBron what he needs to do.
As a result, all championship teams will have at least one experienced veteran who is credible and ready to keep the team in check to have the best chance of winning a championship.
They might get mocked on social media, but if they help their team win, it doesn't matter.
Net Worth
As of 2022, Jared Dudley's net worth is estimated to be more than $25 million, primarily from his successful NBA career. During his 12 seasons in the association, the athlete has amassed $56,363,760.
Jared Dudley was in contract with the Brooklyn Nets for three years and $30,000,000, with $30,000,000 guaranteed and an annual average salary of $10,000,000.
Dudley earned a base salary of $9,530,000 in 2018-19, with a cap hit of $9,530,000 and a dead cap value of $9,530,000.
House
Jared owns a 6,115-square-foot Paradise Valley home he purchased for $2,300,000. In 2014, he listed his San Diego home for rent at $9,900 per month.
The 2001 Fairbanks Highlands Estates home blends Mediterranean and ranch styles on more than an acre and includes a 6,000-square-foot primary residence, a guest house, a pool, and an outdoor cabana.
According to public records, he listed the house for sale in April 2014 with an asking price of $2.775 million. In 2013, Dudley paid $2.45 million for the property.
You might like to read about; Shelden Williams: Career, Net Worth & More>>
Social Media Presence
Dudley is one of the few active players on social media, chiming in a few times per day to thousands of followers and not afraid to get into social media beef.
Dudley joined Twitter in July 2009 and has since shaped it into a tool for scrolling through fans and selecting those to whom he wants to give tickets.
Below is the link to his social media accounts;
Instagram– 178k followers
Twitter– 366.3k followers
FAQs
How many dunks does Jared Dudley have?
In his NBA career, Jared Dudley has never missed a dunk. He has the most dunks without a miss among active players, going 36-for-36.
When did Jared Dudley tear his MCL?
According to Shams Charania of The Athletic, Dudley was diagnosed with a torn right MCL in March 2021. The veteran considered his treatment options, but the injury kept him out of the game for an extended period of time.