Michael Jordon's legacy, from court to culture & now a billionaire, is a story of passion & success. The six times NBA champion has a net worth of $2.2 billion as of this writing, making him the second-richest athlete in the world.
He was born in Brooklyn, New York, and attended the University of North Carolina and started playing as a freshman in coach Dean Smith's team-oriented system.
From there, Jordan earned the "ACC Freshman of the Year" after he averaged 13.4 ppg on 53.4% shooting.
In the 1982 NCAA Championship against Georgetown, MJ made a game-winning jump shot. This shot was responsible for a significant turning point in his basketball career.
Jordon owns the Charlotte Hornets, a professional basketball team, and 23XI Racing in the NASCAR Cup Series.
On February 17, 2023, Michael donated $10 million to Make-A-Wish Foundation on his 60th birthday.
This article will cover Michael Jordan's lifestyle, charity works, donations, net worth, and more insight into his career.
But first, let us look at the quick facts below.
Quick Facts
Full Name
Michael Jeffrey Jordan
Birth Date
17 February 1963
Birth Place
Brooklyn, New York, USA
Nicknames
Air Jordan, MJ
Nationality
American
Education
University Of North Carolina
Horoscope
Aquarius
Father's Name
James R. Jordan, Sr.
Mother's Name
Deloris Jordan
Siblings
Larry Jordan, James R. Jordan Jr., Deloris Jordan, & Roslyn Jordan
Age
60 Years Old
Height
6'6″/1.98 m/198 cm
Weight
216 lb/98 Kg
Shoe Size
13
Profession
Entrepreneur, Spokesperson & Basketball Player (Retired)
Net Worth
$2.2 Billion
Married
Two Times
Spouse
Children

Jeffery (Nov. 18, 1988)
Marcus (Dec. 24, 1990)
Jasmine (Dec. 7, 1992)
Victoria & Ysabel (Identical Twin) (Feb. 9, 2014)

Brand
Upper Deck Victory, Nike & MJ's Steak House
Merch
Funko Pop, Basketball Cards, Gold Card, Signed Merch
Last Update
May 2023
Net Worth & Income
As of this writing, the legendary basketball player Michael Jordan has a net worth of $2.2 billion. With the changes in stock prices, his net worth fluctuates quite often.
It makes him the second-richest athlete-turned-businessman after Vince McMahon, the executive chairman of WWE, who has a $2.9 billion fortune.
Contrary to popular belief, Jordan's billionaire tag was from his NBA career, his riches came through his savvy business ideas.
In fact, from his 15 NBA seasons, the retired basketball player made only $93.62 million.
Business Ventures
We all know about Air Jordan, an endeavor between Jordan and Nike that changed how people perceived sneakers. Jordan's brand contributes to the lion's share of Michael's wealth.
Regarding his other business investments, Jordan also owns the Charlotte Hornets of the NBA.
According to Forbes, in 2020, Michael earned $1.8 billion (pre-tax) from collaborating with Nike, Hanes, Coca-Cola, McDonald's, Gatorade, etc.
Among these, Nike is Jordan's most significant income source. He received a $256 million payout after Jordan Brand made $5.1 billion in 2022.
In addition, several NBA players still use Nike's Air Jordan XXXIV basketball shoes.
In March 2015, his net worth was $1.5 billion. This value further increased to $1.8 billion by March 2019.
During the COVID-19 pandemic, he was rumored to lose around $500 million due to GameStop.
In 2006 Michael Jordan bought a minority stake in the NBA's Charlotte Bobcats and paid $175 million to buy out BET founder Robert Johnson's majority stake in 2010.
Michael owned 80% of the team with this transaction, and later in 2014, increased it to under 90%, which valued the franchise at $500 million.
Net Worth Of Michael Jordan In Different Currencies
Also, have a look into Michael Jordan's net worth in different currencies:
| | |
| --- | --- |
| Currency | Net Worth |
| Euro | €1,839,320,000 |
| Pound Sterling | £1,618,800,000 |
| Australian Dollar | A$2,980,100,000 |
| Canadian Dollar | C$2,706,810,000 |
| Indian Rupee | ₹164,311,000,000 |
| BitCoin | ฿69979.16 |
House & Mansions
Jordan believes in long-term investment and owns a few of the mansions and estates in the posh areas of America.
He owns 5 houses in various states in America. These locations include two in North Carolina, one in Florida, one in Illinois, and one in Utah.
North Carolina Property
MJ's bought the lakefront home in North Carolina in 2013 for $2.8 million. The property on a golf course community consists of six bedrooms on 12,300 square feet.
Another bizarrely expensive property in North Carolina is the whole 7th floor of the luxurious Trust Condos on Tryon Street.
He purchased two units & combined them into one for $3.15 million in December 2010. It is equipped with an outdoor kitchen, a 360-degree view of the city, and an upscale in-house restaurant and lounge.
Chicago Mansion Still Fails To Lure A Buyer
An extravagant property of Michael Jordan in Chicago often goes by the "unsellable mansion" as it has failed to find a buyer ever after more than a decade into the market.
The retired basketball star's 56,000 sq ft house with nine bedrooms & 15 full bathrooms was placed on the market for $29 million in 2012. And even after a price cut to $14.9 million now, it's still in search of buyers.
In October 2019, his hillside 9,574-square-foot residence in Park City, Utah, came into the market with an asking price of $7.5 million. Further into the property's sales is not out.
The 5 bedrooms & 7.5 bathrooms had cost him $7.9 million when buying in 2007.
Cars
Fasten your seat belts and prepare for the adrenaline rush by the thrilling world of the greatest athletes' brewing car collections featuring Michael Jordan's epic assemblage.
This superstar has a collection of luxurious vehicles, from expensive vintage cars to the latest models.
C4 Corvettes Collection
Michael's favorite is the C4 Corvettes collection, which is classy and elegant. He owns Chevrolet Corvette C4 and Chevrolet Corvette ZRA 40th Anniversary Edition.
Next, the basketball player drives the 993- generation Porshe 993 Turbo S, an elite sports car.
The car is painted bright red and has AIR engraved on the license plate, which represents his skill, brand, and nickname.
Bugatti Type 57S Atlantic
In addition, the super player also owns a Bugatti Type 57S Atlantic, which is also considered the "Mona Lisa" of automobiles.
Only four of them were produced between 1936 to 1938 and were sold for $30 million each. Also, the features of this expensive car come with 170-plus horsepower and 120 mph.
Big Boys & His Big Toys
Besides this, his other car collection includes Toyota Land Cruiser J80, Ferrari 512TR, Mercedes W140 S600 Coupé, Aston Martin DB7 Volante, and Bentley Continental GT.
The collection does not end there; his garage is filled with Cadillac XLR-V, McLaren-Mercedes SLR 722, Bugatti Veyron Sang Noir, and 23XI Racing Toyota.
Lifestyle & Vacations
As Andrew Carnegie said, today's wise young man or wage earner invests his money in real estate.
In the same manner, Jordon invested his money in real estate. He also owns Gulfstream G550, a private jet, and a private yacht with several cabins and a basketball court.
His security team reportedly costs about $1000 per hour to keep him safe.
Jordan spends much of his fortune on golf and gambling. He went to the Dominican Republic for a holiday break, where he stayed in the Punta Cana area in a luxurious resort.
Other than this, there are many exotic destinations where he visited.
Charity Works
The NBA player is one of the main contributors to several organizations. In total, there are about 15 foundations that Jordan supports.
These organizations are Boys & Girls Clubs of America, Buoniconti Fund To Cure Paralysis, Cats Care, CharitaBulls, Jackie Robinson Foundation, James R. Jordan Foundation, Kids Wish Network, and LIVESTRONG, to name a few.
In addition to this, he has associations with other non-profit organizations like Make-A-Wish Foundation, Nevada Cancer Institute, Opportunity Village, Special Olympics, St. Jude Children's Research Hospital, The Miami Project, and United Negro College Fund.
Make-A-Wish Foundation
Jordan is also the Chief Wish Ambassador of the Make-A-Wish foundation. He has been contributing to this organization since 1989.
Since then, he has been a vital inspiration to everyone worldwide. The star has donated $5 million and above.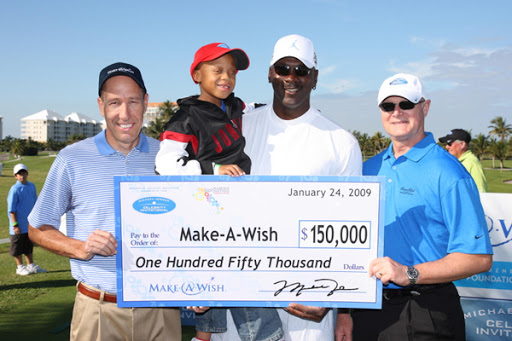 The CEO of the foundation, Richard Davis, said,
"Supporters like Michael Jordan are essential in helping Make-A-Wish continue to grant life-changing wishes to children with critical illnesses."
They also thanked the NBA star for his commitment.
"We are grateful to Jordan's commitment to wish-granting and providing the resources needed to grant more wishes."
In addition to these contributions, Jordan has also hosted an annual charity golf event calling upon celebrities like Wayne Gretzky, Michael Phelps, Chevy Chase, and many others.
The profit money was used for foundations including Make-A-Wish, Cats Care, Keep Memory Alive, etc.
On February 17, 2023, Michael Jordan made a hefty $10 million donation to Make-A-Wish on his 60th birthday.
Covid -19 Charity
During the Covid-19 pandemic, many billionaires, activists, and philanthropists extended their helping hands to hospitals and needy people.
Like the others, Michael has also provided some help to the people of North Carolina. He donated $7.2 million to develop two family clinics in Charlotte.
According to sources from Novant Health, Jordan's clinics have managed to care for 4,000 patients during this ongoing crisis. Moreover, it has also provided 1,000 COVID-19 vaccinations.
Movies
Jordan also played in the film as a star in the 1996 movie "Space Jam." The movie contains mixed live-action of Jordan and the animated cartoon legends from "Looney Tunes."
Other movies, short movies, and documentaries include "The Last Dance (2020)," "Michael Jackson: Jam," "Micheal Jordan to the Max," etc.
Likewise, Jordan also played in the TV series "NBA Hardwood Classics."
Other Investments
Jordan is also funding other marketplaces like Muzik (a headphone brand), Sportradar (a Switzerland-based sports data provider), axiomatic, and Gigster (a marketplace for freelance tech talent).
Jordan launched a super premium tequila brand, Cincoro, with fellow NBA owners; Jeanie Buss (Laker), Wes Edens & Emilia Fazzalari (Bucks), and Wyc Grousbeck (Celtics) in 2019.
Jordan's yearly income from endorsements is about $40 million. This includes his deal as a brand spokesman and his appearance in several commercials.
With Jordan as spokesman for Nike, the brand has also sponsored college sports programs in North Carolina, Marquette, Georgetown, etc.
Additionally, many books have been written by Jordan. The books mainly focus on his basketball career, life, and worldview.
Some of them are "Rare Air: Michael on Michael," "I Can't Accept Not Trying: Michael Jordan on the Pursuit of Excellence," "Driven from Within," and "For the Love of the Game: My Story."
Memorabilia
Michael's "Last Dance" shoes are up for the 2023 auction and are estimated to be sold for $2-$4 million.
The sneakers are worn by the Chicago Bulls icon in Game 2 of the 1998 NBA Finals.
After Jordan sank the final free throw in Game 2 of the 1998 NBA Finals, he handed his signed red-and-black Air Jordan 13s in the locker room to a ball boy.
Even last year, in September 2022, a Chicago Bulls jersey Jordan wore during his appearance in the 1998 NBA Finals sold for a whopping $10.1 million.
The jersey got 20 bids, setting the new record for the most expensive and game-worn sports memorabilia.
Career
Michael's basketball career started after he joined the Chicago bulls in 1984 as a third overall pick. Soon, he earned the title "NBA Rookie of the Year" and was picked for the All-Star Game.
With Jordan in their team and his guidance, the Bulls won their first NBA championship by defeating the Los Angeles Lakers.
He even played for the US Olympic basketball team and received gold medals two times (1984 & 1992).
Later, he joined the Washington Wizards in 2000 as a part-owner after his second farewell from his career. He continued playing for the Wizards for two seasons before retiring in 2003.
Trivia
Michael is an aquaphobic due to the trauma he held through his childhood experiences, where at the age of eleven, he drowned at baseball camp.
Jordan's steakhouse in Grand Central Station Terminal in NYC was opened in 1998 but was roughly closed in 2018.
Awarded the Presidential Medal of Freedom by former President Barack Obama in 2016.
Quotes
"Always turn a negative situation into a positive situation."
"Some people want it to happen; some wish it would happen; others make it happen."
"Talent wins games, but teamwork and intelligence win championships."
Search Graph
The GOAT, Michael Jordon, is known by the sneaker-heads for his signature sneakers, "Air Jordan."
Which increases his fan following worldwide in areas other than sports too.
Frequently Asked Questions (FAQs)
Which is Michael Jordan's favorite sneaker?
The NBA's best player's favorite sneaker was Air Jordan 11. During the '96 season, he was mostly seen wearing only that sneaker.
Did Michael Jordan play in the 1996 Olympics?
No, Michael Jordan didn't play in the 1996 Olympics.
How many Olympic gold medals does Michael Jordan have?
In his professional career, Michael Jordan won two Olympic gold medals (1994 & 1992).
How much does a Michael Jordan jersey cost?
Michael Jordan jersey cost between $400k-$500k. His "The Last Dance" jersey fetched $10.1 m in the 2022 Auction.
What is the rarest Michael Jordan basketball card?
Michael Jordan's rarest basketball cards are the 1985 Prism Jewel Michael Jordan Basketball Card Sticker and 1997 Metal Universe Michael Jordan Precious Metal Gems.
Did Michael Jordan ever win Defensive Player of the Year?
Michael Jordan was named Defensive Player of the Year in 1988, averaging 35 ppg.
What is Michael Jordan's signature dunk?
Rock the Cradle is the signature dunk of Michael Jordan.
How many minutes did Michael Jordan play in the flu game?
Michael Jordan played for 44 minutes in the flu game.
What is Michael Jordan's hand size?
Michael Jordan has a hand length of 9.75 inches and a span of 11.375 inches.
What was Michael Jordan's vertical jump?
Michael Jordan was named "His Airness in NBA history" with the highest of 48 inches vertical jump.
How many 60-point games did Michael Jordan have?
Michael Jordan recorded five 60 points in games in his professional basketball career.