Kristaps Porzingis is a Latvian basketball player for the National Basketball Association's Washington Wizards (NBA).
Porzingis, born in Liepaja, began his professional career in 2012 with Euro League side Sevilla. The player swiftly progressed through the team's younger ranks to become the senior team's protagonist by 2013.
He went on to win the EuroCup Basketball Rising Star title in 2015, making him the youngest recipient of the honor at the age of 18.
The next summer, Kristaps declared for the NBA draft, and the New York Knicks picked him fourth overall.
Kristaps emerged as the team's star in New York, but he was moved to the Dallas Mavericks in 2019 amid issues with the front staff.
He remained a standout in Dallas, but injuries hampered him during his time. As a result, Kristaps was moved to the Washington Wizards in 2022.
In this write, we have summed up all the information about the NBA superstar Kristaps Porzingis. So, read the article to the end.
Before that, here are some informative, quick facts about the player.
Quick Facts
Full Name
Kristaps Porziņģis
Birth Date
2 August 1995
Birth Place
Liepāja, Latvia
Nick Name
The Unicorn
Religion
Christianity
Nationality
Latvian
Ethnicity
Latvian
Playing Career
2012 – present
Zodiac
Leo
Chinese Zodiac
Pig
Father's Name
Tlis Porziņgis
Mother's Name
Ingrda Porzingis
Siblings
Janis Porziņgis
Age
28 years old
Height
7 feet 3 inches
Weight
109 kg
NBA Debut
2015
Tattoos
No
Food Habits
Non-vegetarian
NBA Draft
Round: 1, Pick: 4th overall of 2015
Hair Color
Light Brown
Eye Color
Brown
Career Highlights and Awards

2018 NBA All-Star
2016 NBA All-Rookie First Team

Build
Athletic
Children
None
Girlfriend
Laura Vizla
Jersey Number
6
Position
Power forward, Center
Profession
Basketball player
League
NBA
Net Worth
$6 Million
Salary
$31,650,600
Social Media
Instagram, Twitter
Merch
Funko Pop, Notebook
Last Update
November 2023
Family
Kristaps was born to basketball parents. His father, Tlis, competed semi-professionally before becoming a bus driver.
Likewise, his mother, Ingrda, formerly played for the Latvian women's young national basketball team.
Similarly, Kristaps's elder brother, Janis, also played professionally and Mrti, who is almost fifteen years older than his younger sibling, was a passionate player as well.
Janis Porzingis competed in one game at the European second-tier EuroCup level, the same level in Europe that Kristaps subsequently played at.
Moreover, he spent more than ten years playing European professional club basketball in several national leagues, including the Italian League.
Janis is well-known for mentoring his younger brother both on and off the court, and he frequently calls him after games for Cajasol Sevilla in Spain.
Kristaps discussed the connection in an interview,
"We'd go through the specifics. We all watched the movie together. He's always putting pressure on me to work hard. We basically spend a lot of time together and always speak about basketball…"
The older Porzingis assisted Kristaps in training and working out at the gym throughout the summer in preparation for an international competition in 2012.
Here is the list of the top 15 Most points in NBA History. Check out if there is your favorite NBA player mentioned.
Kristaps Porzingis: Early Life
Porziis began playing basketball at six, following in his parents' footsteps. When he was 12, his elder brother, Janis, who was a professional soccer player in Europe, would accompany him to offseason training sessions.
He competed in youth leagues with BK Liepjas Lauvas, the most well-known team in his birthplace of Liepaja, until he was 15 years old. Around this time, a Latvian agency forwarded a film of him to teams in Spain and Italy.
Baloncesto Sevilla, a club with a professional team participating in Spain's Liga ACB, contacted Porziis for a tryout in 2010 in an attempt to lure international talent for its youth squads.
At the time, Kristaps was 6 ft 8 in (2.03 m) tall and weighed 157 lb (71 kg). Kristaps recalled the incident and stated,
"I came here with my brother for two or three days, but it was quite hot, and I couldn't play well as a result. Nonetheless, I got and signed a deal in the summer of 2010."
Porziis had anemia, which means he had fewer red blood cells. This resulted in weariness, shortness of breath, and an inability to exercise.
Despite this, he progressively overcame the ailment and enhanced his game. In addition to his physical issues, Kristaps struggled to learn the language in Seville. This made him hesitant to return after his initial tryout.
The player struggled to connect with the coaching staff and his teammates during his first season on the junior squad, and he was frequently tired owing to his condition.
Kristaps Porzingis: Amateur Years
Kristaps made his debut for the young squad on January 4, 2012, against a team from Barcelona, scoring 12 points and grabbing 10 rebounds.
The opposing team was headed by Alexander Zhigulin, who would later enter and then withdraw from the 2015 NBA draft.
Sevilla, on the other hand, was trounced, 56–75. This game was played as part of the Ciutat de L'Hospitalet competition, which preceded the Nike International Junior Tournament (NIJT).
On 5 January, he set a personal high with 16 points on the Spars Sarajevo young squad, assisting Sevilla to an 8-point victory against their opponents.
The player ended the tournament with a 9.2 point, 4.8 rebounds, and 2.6 block average. In early 2013, he played for the Sevilla junior squad again in the same event.
Likewise, on January 4, he had 15 points and 6 rebounds against Union Olimpija.
Additionally, on January 6, he scored 24 points and collected 11 rebounds in the team's tournament finale against Real Madrid's young squad. The player also drained five three-pointers.
Kristaps was more productive in his second season, averaging 16.6 points, 8.4 rebounds, and 2.6 blocks while shooting .481 from the three-point range. This was his final season in Sevilla's youth categories.
Kristaps Porzingis: Professional Career
Kristaps Porzingis was acquired by Dallas on July 31, 2019, in a blockbuster seven-player trade with New York.
In 243 games (242 starts), the player averaged 18.4 points, 7.6 rebounds, 1.4 assists, 2.0 blocks, and 31.2 minutes per game for New York and Dallas.
Kristaps was the fourth overall choice in the 2015 NBA Draft by New York after starting his career with Spain's Cajasol Seville.
In 2015-16, he was selected to the NBA All-Rookie First Team with the Knicks. The player also finished second in voting for the Kia NBA Rookie of the Year Award behind Minnesota's Karl-Anthony Towns.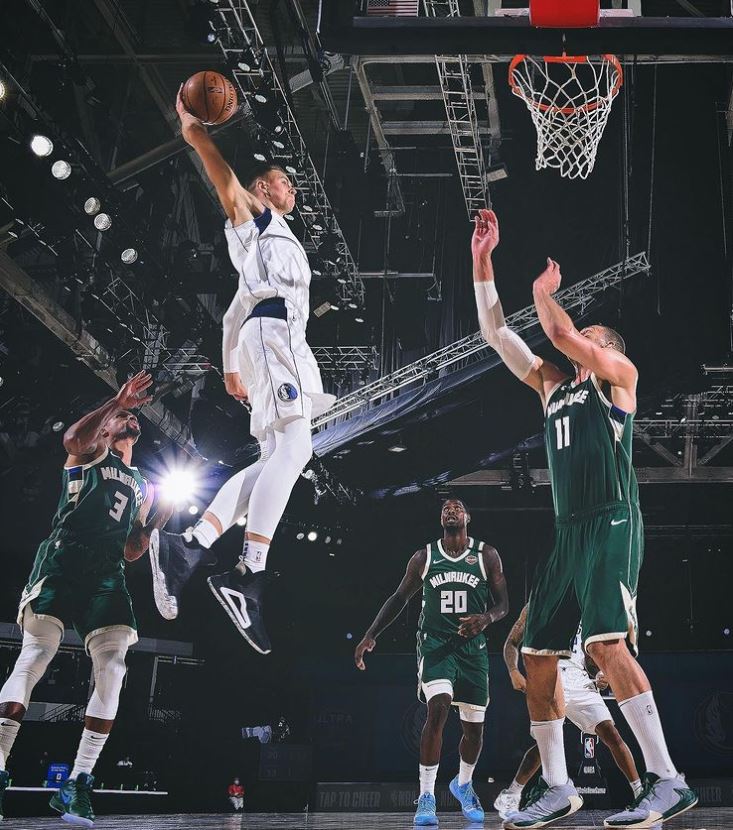 Kristaps is one of three players in NBA history, aged 22 or under, to hit 100-plus 3-pointers and block 100-plus shots in a season as a 21-year-old in 2016-17.
In 2018, he was nominated for an All-Star. However, Kristaps could not play due to injuries.
Player of the Week
Kristaps has been named Player of the Week twice in his career. The first time was in the Eastern Conference POW, from October 30 to November 5, 2017.
Likewise, the second time was in the Western Conference POW, from February 24 to March 1, 2020.
The Latvian player became the NBA's fastest player with 400-plus 3-pointers made and 400-plus blocks in 2019-20.
Moreover, he was also one of just five players in league history to have at least 4,000 points, 1,500 rebounds, 400 3-pointers made, and 400 blocks before 25.
The other players to achieve the feat are LeBron James, Towns, Kevin Durant, and Tracy McGrady.
Likewise, Kristaps has recorded the only two games in NBA history with at least 35 points, 10 rebounds, five blocks, and five 3-pointers.
Awards
2018 NBA All-Star
2016 NBA All-Rookie First Team
2017 NBA All-Star Weekend Skills Challenge
2015 EuroCup Rising Star (2015)
2014, 2015 2× ACB All-Young Players Team
Kristaps Porzingis: Girlfriend
The NBA player is currently dating Laura Vizla. The two aren't married yet. However, they are deeply in love with each other.
Both of them do not hesitate to share their pictures with each other on social media.
The player made their relationship public on September 25, 2021, by posting a picture on Instagram with a red heart emoji.
Kristaps Porzingis: Languages
Apart from being a great player, Kristaps is also known for his ability to speak many languages.
The player was able to speak Spanish much more fluently after two seasons in Spain and nearly two years in Seville.
Moreover, Kristaps is so trilingual, speaking three languages, including English.
"He speaks fantastic English," an NBA executive remarked, "and I don't see it being that tough of a transition off the court."
Did Kristaps Porzingis play for the National Team?
Kristaps was a member of Latvia's young squad and was named to the FIBA Europe Under-18 Championship All-Tournament Team in 2013.
The player represented Latvia in EuroBasket 2017 and averaged 23.6 points per game (third), 5.9 rebounds per game (ninth), and 1.9 blocks per game (ranked first).
Latvia was knocked out of the tournament in the quarterfinals by eventual winner Slovenia, losing 97–103.
Despite foul problems throughout the game, Kristaps produced a tournament-high 34 points against Slovenia.
Similarly, Kristaps scored 16 of his 34 points in the fourth quarter, helping Latvia trim Slovenia's 13-point advantage to two points with two minutes remaining.
Jonathon Simmons is an American basketball player who now plays for the Santa Cruz Warriors, His net worth is $1 million. Read more..
Player Profile
Kristaps has been compared to Dirk Nowitzki since the two were both developed in Europe before entering the NBA.
Both Porziis and Nowitzki are seven-foot-plus guys who can play anywhere on the front line and shoot from outside.
Similarly, Kevin Durant labeled Porzingis a basketball "unicorn" during his first season due to his uncommon mix of abilities.
The player was averaging 19 shot attempts per game for the Knicks in January 2018.
Kristaps Porzingis: Rape Allegation
It was disclosed in March 2019 that a lady accused Kristaps of raping her at the Sky building in February 2018, only hours after he tore his ACL.
According to authorities, the lady waited more than a year to come forward because she discussed receiving a $68,000 payment from Porziis in exchange for remaining silent.
However, Roland G. Riopelle, Kristaps' attorney, publicly refuted the accusation, saying he had already reported the matter to federal authorities owing to the "accuser's exorbitant demands."
Age, Body Measurements and More
Kristaps is one of the NBA's tallest active players, at 7 ft 3 in (2.21 m), and plays both power forward and center. Likewise, the player weighs 109kg.
Unfortunately, Kristaps' other body measurements are unknown.
The player exercises regularly to maintain his athletic lifestyle. Moreover, Kristaps looks appealing with his light brown hair and brown eyes.
Kristaps' zodiac sign is Leo.
Why is Kristaps Porzingis called the Unicorn?
The term 'Unicorn' refers to a nickname given to Kristaps Porzingis by Kevin Durant years ago when he was initially catching the attention of the NBA as a never-before-seen talent.
The nickname was given because Kristaps can hit threes and make plays off the dribble while still doing typical big man stuff like blocking shots and operating in the post.
Wes Unseld Jr., the head coach, and forward Kyle Kuzma also agreed with Kristaps being a unicorn, a word that has long been a great distillation of everything he symbolizes on the basketball court.
Unseld Jr. said, "It's quite unique. I'm not shocked he's been dubbed the 'Unicorn.' He's a one-of-a-kind". He further added, "Guys like that don't just appear out of nowhere."
Likewise, Kuzma elaborated, "I mean, there aren't many 7-foot-3 men that can shoot threes. One exists. There's a reason he's known as the 'Unicorn.'"
Kristaps didn't always enjoy the nickname "Unicorn." However, the player now embraces it and strives to play like one on the court.
Social Media
Instagram: 1.5 Million Followers (As of April 2022)
Twitter: 375.7k Followers (As of April 2022)
Kristaps Porzingis: Net Worth
Kristaps Porzingis is estimated to have a net worth of $6 million, according to sources. The Latvian player's salary and different endorsements account for most of his net worth.
Furthermore, Porzingis inked a 5-year, $158,253,000 contract with the Dallas Mavericks, with $158,253,000 guaranteed and an annual average salary of $31,650,600.
Porzingis will make a basic salary of $31,650,600 in 2021-22, with a cap hit of $31,650,600 and a dead cap value of $31,650,600.
Moreover, Kristaps also inked a shoe deal with Adidas in October 2016, the most lucrative agreement for a European player. He switched to Adidas after spending his debut season with Nike.
FAQs
Apart from basketball, what else interests Kristaps?
Kristaps is a football enthusiast who cheers for his native team, FK Liepaja, as well as Real Madrid and his former club, Sevilla.
Likewise, the player also enjoys Counter-Strike: Global Offensive, which he plays daily.
Did Kristaps have another brother?
Kristaps' parents disclosed in a 2017 E:60 documentary on his life that they had another son, Toms, born four years before Kristaps and died at the age of 14 months.
"It seemed like a bulldozer had run over my life," said Kristaps' mother recalling what happened.