Kyle Larson sister, Andrea Larson, previously worked for Kyle Larson Open Wheel. Andrea is the only sibling of the NASCAR driver and is four years older than him.
The graduates of Elk Grove High School, the sibling duo of Kyle and Andra, share a tight bond. The older sister on her social media handles is always seen rooting for her brother.
Before stating anything else, on her Instagram bio, Andrea has written aunt of Owen, Audrey, and Cooper, the three kids of Kyle and his wife, Katelyn.
The 30 years old Larson won his third NASCAR All-Star Race on Sunday night in front of the roaring 30,000 fans at North Wilkesboro Speedway. He came ahead of Bubba Wallace and Tyler Reddick in the event with prize money of $1 million.
Kyle Larson Sister: Andrea Larson
Kyle Larson's older sister, Andrea Larson, belonged to the world of motorsports. She wasn't a driver but managed the account of one such company.
Born in 1988, Andrea is four years older than her little brother. The two Larson siblings were raised in California by parents Janet and Mike Larson.
From 2018 to 2020, Andrea was the account manager of the Kyle Larson Open Wheel. An Elk Grove High School graduate, Andrea has previously worked at Young's Motorsports LLC as a public relations specialist.
Andrea then went on to work for Spire Sports and Entertainment as an account manager before working for her brother.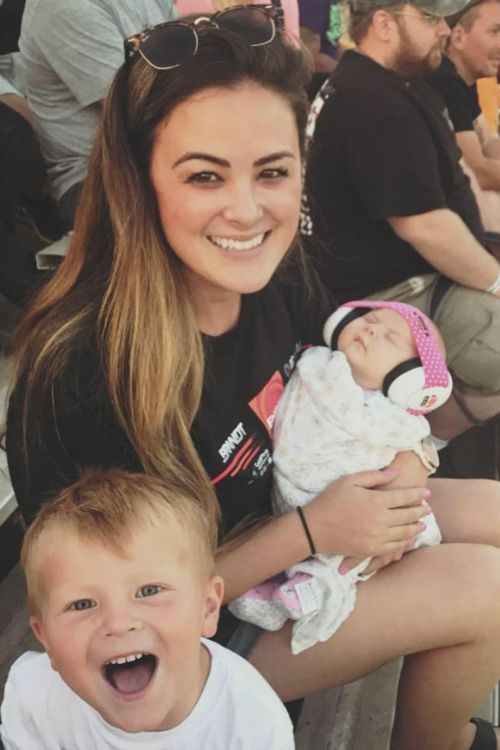 Currently, Andrea works for the World of Outlaws Sprint Car Team, a dirt track racing series.
Andrea is one of the consistent presences at her brother's races. When she is not able to attend the races, Andrea supports her brother from her Twitter handle.
Right after Kyle's victory at the NASCAR All-Star Race, Andrea tweeted about his first-place finish with a series of emojis. She also makes sure to regularly shares videos of her brother's winning races on her feed.
Previously, on her brother's 26th birthday, Andrea shared a sweet post with a couple of throwback photos. She wrote, "You have been my favorite sibling for 26 years – Happy birthday."
Kyle Larson Parents: Mike And Janet Larson
Kyle Larson's parents, Mike and Janet Larson, didn't have a racing background, but thankfully, their neighbors did.
It was after seeing their neighbors go to go-karting races that Larsons' interest in racing was piqued. It was then the seven years old Kyle began his racing journey.
Mike and Janet Larson are a biracial couple. Mike is Caucasian, and Janet is Japanese-American. The couple tied the knot in 1985 and went on to experience parenthood twice.
The NASCAR dream began in 1999 when the father-son duo bought their neighbor's go-kart. Now 34 years later, Kyle Larson is the biggest name in the NASCAR.
In the first episode of the FloRacing YouTube series, DIRT, Mike Larson recounted the childhood stories of the driver. Mike said Kyle was only 10 or 11 when he said he would make it to NASCAR. He truly spoke his dream into existence.
Kyle's mother, Janet Larson's family, had it difficult during World War II. Her parents were placed in an internment camp in Tule Lake, California.
The NASCAR driver has previously said he doesn't know much about his Japanese roots and doesn't feel like talking about it.
In 2014, on his Twitter handle, Kyle shared a photo of how his mother had recorded every day of his life on the calendar. Janet did it until Kyle was 13 years old.
The couple, Mike and Janet, have been pictured in various races of their son throughout the years. Not coming from a family with a racing background certainly fuels Kyle to achieve even more in his career.