Larry Csonka, the former professional football player, was married to his wife, Pamela Csonka, for twenty years before they separated in 1987.
During their marriage, they had two sons named Paul and Doug. However, both of their sons have chosen to lead private lives and have stayed away from their father's public lifestyle.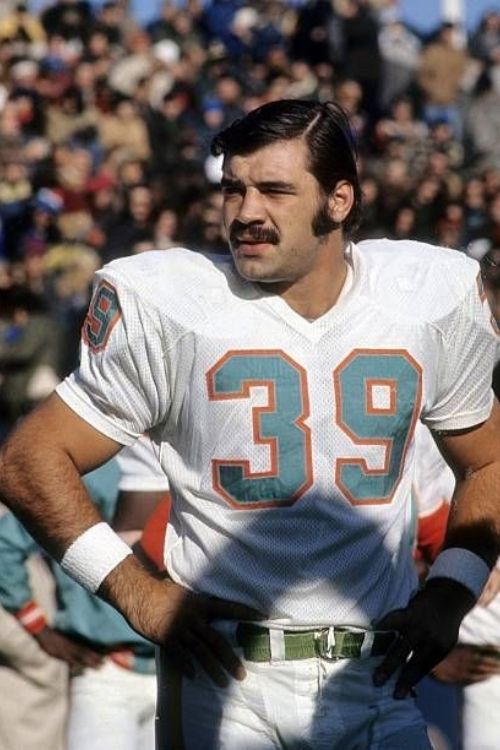 Larry Richard Csonka is an American former professional football fullback who played in the National Football League (NFL).
Csonka is widely recognized as one of the greatest running backs in the history of the sport.
Born and raised in the Akron suburb of Stow, Ohio, Larry began his football career at Stow High School as the starting fullback on the 1963 Stow Bulldogs squad.
After high school, Larry chose Syracuse University, and in his first year at Syracuse, he played as a middle linebacker.
During his time at Syracuse, Csonka set numerous school rushing records, surpassing the achievements of legendary players like Ernie Davis, Jim Nance, Floyd Little, and Jim Brown.
Over three seasons at Syracuse, Larry received recognition as the Most Valuable Player in the East–West Shrine Game, the Hula Bowl, and the College All-Star Game.
His outstanding college football career earned him a place in the College Football Hall of Fame in 1989.
Larry Csonka Wife
Is He Married Right Now?
Larry Csonka, now 76 years old, has been leading a single life and embracing retirement. He spends his time indulging in his hobbies, such as fishing, and cherishing moments with his friends.
Previously, Larry was married to Pamela Csonka, his high school sweetheart. During his final two years at Syracuse, Larry even lived off-campus with Pam Conley.
Their marriage began with a beautiful wedding in 1967, and they welcomed two sons, Doug and Paul.
Despite being content together, they eventually decided to part ways for personal reasons.
After almost two decades of marriage, they officially got divorced in 1987. Since then, Larry has chosen to remain unmarried and dedicated his focus to his children and his career.
Larry Csonka Daughter
Certainly, Larry's family situation is quite complicated. He has a daughter named Lori Michelle Holmes, but she wasn't born to Larry and Pamela.
Back in 1974, Larry helped a couple conceive, They even agreed that Csonka wouldn't be involved with raising the child.
He didn't really connect with Lori until 2000, when she reached out to him with a letter. In his book, Larry expressed regret for the tough times Lori faced during her childhood.
Their relationship has improved since then, and now Larry sometimes visits Lori and her family, showing that they have a good bond as father and daughter.
Larry's Sons Paul and Doug Stays Away From Public's Eye
Larry's sons have chosen to live private lives, avoiding the public attention that comes with their father's fame. Doug lives in Titusville, Florida, leading a happy life with his wife, Lisa Avery.
On the other hand, Paul opted for a different path – he joined the Coast Guard and served on Kodiak Island, Alaska, for a period of time.