Making headlines in media even before being born is not impossible, is what Zhuri Nova James has proved to us. The youngest member of the 'James Crew' has been the talk of the town ever since she was born.
Zhuri is the daughter of the famous LA Laker superstar LeBron James and Savannah Brinson.
She is the youngest among the three children in the James family adored by many and would not be wrong to assume as father's favored.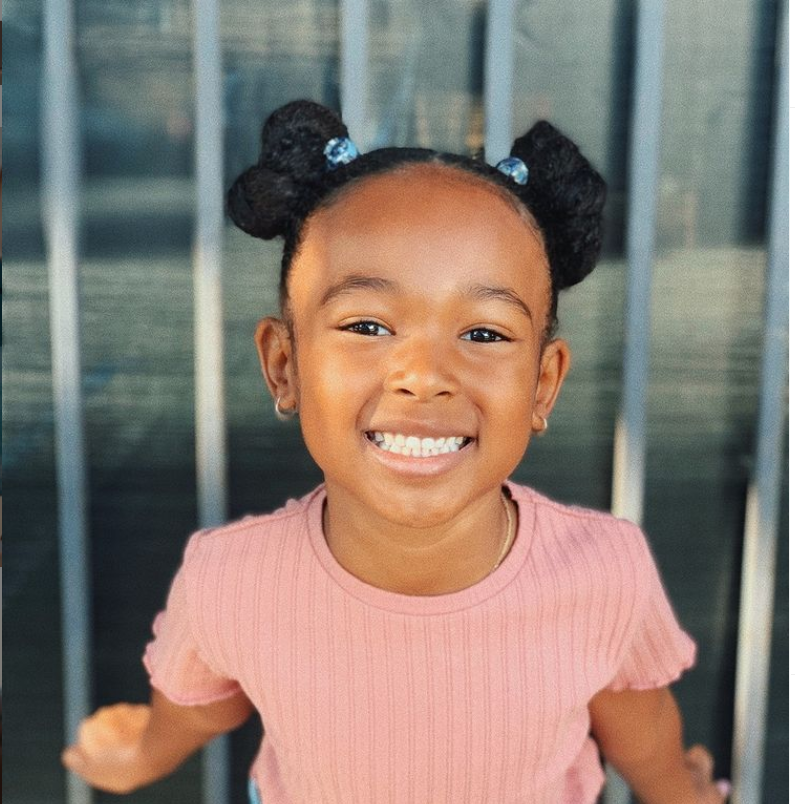 This young girl is not only a celebrity child but a celebrity herself. From a model to a host, to a dancer and a Youtuber, you name it, and she is it.
Before digging deeper, let's have a quick fact-check on her life, family, net worth, age, and social media.
Quick Facts:
Full Name
Zhuri Nova James
Birthday
22 October 2014
Birthplace
Cleveland, Ohio, USA
Age
8
Nationality
American
Religion
Christianity
Ethnicity
African-American
Net worth
$1 million
Horoscope
Libra
Hair color
Black
Eye color
Black
Lucky number
3
Father's name
LeBron Raymone James
Net worth
$850 million
Mother's name
Savannah Brinson
Net worth
$50 million
Siblings
Bronny James (brother)
Bryce James (brother)
Education
Sierra Canyon School, Chatsworth, Los Angeles
Social Media
Merch
LeBron James Apparel
Last Update
January, 2023
Zhuri Nova James | Family and Education
Being born into a family of basketball royalty, the media turned the spotlight to her right from the get-go. Zhuri made her entrance to the world just one week before her father's season opener against New York Knicks when he was playing for Cleveland Cavalier.
This celebrity child was born on 22nd October 2014, adding tremendous joy to the family of four. She is being brought up and raised in Cleveland, Ohio, USA.
Father LeBron James and mother Savannah Brinson, brothers Bronny James and Bryce James, and grandmother Gloria James warmly welcomed her to the family with much exhilaration and celebration.
Like all other LA brought up and raised celebrity children, Zhuri attends Sierra Canyon School in Chatsworth, Los Angeles. It is a private, coeducational day school. Together with her two brothers, she attends the school.
Other celebrity children attending the same school include the Combs twins, Dwyane Wade's son-Zaire Wade, and Carmelo Anthony's son-Kiyan Anthony.
Zhuri Nova James | Age, Height, and Appearance
Leaning more towards her mother's genetic composition, 8 years young Zhuri greatly resembles her mother, Savannah Brinson.
From the black luscious curly hair to the mesmerizing black eyes like her mother's, Zhuri is constantly growing and glowing.
By flashing her cute smile and spreading positivity, this 8 year old has surely become one of the cutest and most genuine celebrity kids.
LeBron James Daughter | Career
You would probably think, what can a 8 year old child should be doing other than studying at school, right? But, guess what studying is not the only thing Zhuri is interested in.
Along with school, she is really active on youtube, posting several endearing and engaging videos with her family.
Her youtube channel, All Things Zhuri, has gained around 208K subscribers in over a year and has around eleven videos. Way to go, Zhuri!
Officially, she is too young to be having a professional career. Still, one thing is for sure that there won't be any lack of opportunities for her ever-growing personality. She has not only set foot on youtube but has also been working as a model for a campaign.
Like her father, mother, and grandmother, activists and philanthropists, Zhuri has also started actively participating in the campaign from this young age.
Recently she has been working as a model for Disney Princess Collection by Janie and Jack, inspired by various Disney princesses such as Cinderella, Ariel, Tiana, and Belle.
This campaign is like adding a modern twist on classic fairytale fashion. It is all about kids across the globe sharing their acts of kindness as embodied by the characters of different iconic Disney princesses by using the hashtag #UltimatePrincessCelebration.
Looks like goodwill and compassion run in their blood.
LeBron James Daughter | Lifestyle and Networth
As Zhuri is the daughter of the 4 times MVP winner of the NBA, LeBron James, her childhood life is lavishing. As a result, she has all the privileges in the world available to her.
With a jaw-dropping net worth of about $850 million, LeBron James ranks 5th in the world's highest-paid athletes per Forbes.
While her mother, Savannah, who owns a furniture brand, established mentorship programs, and is also an interior designer, has accumulated a net worth of around $50 million.
The combined wealth of her parents is more than enough for living an opulent lifestyle. But that's not all Zhuri has her own way of earning income.
Adding to her parent's assets, Zhuri earns from youtube and sometimes by modeling. Little James's net worth is estimated to be around $1 million, which is way more than sufficient for a 8 year old.
LeBron James Daughter | Family Moments
Altogether called the 'James Crew,' the family seems to be a tight-knit group as they always seem to have fun, whether on social media where they show off their dance moves or enjoy LeBron's famous Taco Tuesdays.
So, let's have a brief look at Zhuri's family and her relationships with her parents and siblings.
Father's favorite
The Los Angeles Lakers power forward, LeBron Raymone James Sr., is one of the world's best basketball players. He has not only excelled in basketball but has also made his career out of movies, endorsements, and show business.
He struggled a lot during his childhood, so he is more involved in philanthropic and activist pursuits now that he has abundant wealth.
Along with his family members, the NBA star opened up a charitable organization, the LeBron James Family Foundation, which works to develop his hometown of Akron.
Without an ounce of doubt, Zhuri is surely a daddy's girl. It would be impossible not to love her, for she is such an adorable little one.
You can see that love especially oozing out of LeBron as he constantly brags and shows her off either on his social media or at his games.
On her sixth birthday, LeBron gave her a mini-mansion built in the yard in front of the main house as a gift. The house has a complete interior with a kitchen, small dining, a sitting area with a couch, and tile floors.
The love between father and daughter is unparalleled. They spend time together bulking up at the gym or making youtube videos doing various father-daughter bonding activities such as cooking, baking, and making TikTok videos.
Mother's main
Savannah Brinson is an entrepreneur and a philanthropist like her husband. She also has an athletic side as she was formerly a softball player and a cheerleader while in high school.
Back in 2018, she launched her own furniture line with American Signature called Home Court.
She is also the founder of a mentorship program called 'Women of Our Future,' which provides one-on-one counseling and support focusing on 9th and 10th-grade girls.
Savannah is not only a mother but also a best friend to Zhuri. Similar in appearance and character, these two females make an inseparable team.
From making various dance videos on TikTok to trying various hairstyles on each other, this mom-daughter team is undoubtedly the melanin queen duo.
Sibling's Supreme
When you are the youngest family member, you're bound to be more loved and cared for by everyone. Likewise, Zhuri also has two elder brothers who are constantly looking out after her.
Following in his father's footsteps LeBron Raymone James Jr. (Bronny James), who is currently 18 years old, is also a basketball player.
It would not be wrong to term him as future LeBron Jr. because of how good he is in his gameplay. Bronny is standing at the 24th position in the USA ranking by ESPN, like father like son.
Similarly, the middle child Bryce James, 15 years old, is also pursuing basketball like his brother and father. He is, for sure, a young elite athlete.
The showstopper siblings are all loving and doting to achieve higher goals and fulfill their ambitions. Joining their family is a french bulldog puppy called Indigo, who also happens to be Zhuri's jogging partner.
Although all the family members are busy doing their own chores, they never forget to have fun and spend time with each other. This shows how besotted they are, united by the unbreakable bond of family.
LeBron James Daughter | Social Media presence
Expose to media from an early age, Zhuri does not shy away from the camera and spotlight; instead, she uses it to empower herself and others.
But, unfortunately, she is deemed too young to handle all her matters, so her parents mostly control her social media.
Instagram – @allthingszhuri (393K followers )
Facebook – All Things Zhuri (7.8K followers )
Youtube – All Things Zhuri (208K subscribers)
Zhuri Nova James | FAQs
What does 'Zhuri Nova' mean?
Zhuri is an African name derived from the word 'Zuri,' which has Swahili roots. The name Zhuri means beautiful, while Nova stands for new in Latin.
So, the name fits perfectly as she is the beautiful new addition to the family, being the first girl child.
What is Zhuri James' sun sign?
Zhuri belongs to the kindest and the rational zodiac of all, Libra. Her sun sign lies in Libra by cutting Scorpio and Libra by just a day. Her personality matches exactly with her zodiac as she has an easy grace and charm that is enviable.
What contents are in her youtube videos?
Being a multi-talented person is an asset in creating content for youtube.
In the same way, Zhuri's youtube videos are diverse; sometimes, she teaches us mindfulness through yoga, whereas sometimes, she takes us on a BTS trip as a host of the show.
Mostly, her videos revolve around her and her family having fun while baking or making origami or trying makeovers, and much more. With almost 11 videos in a year, she has gained around 208K subscribers.