Every single soul knows who the legendary player LeBron James is. However, how many know his other half, Savannah Brinson? Now, don't go like, "Yes, the treeless plain, we had to study for geography!"
Well, jokes apart, let me dive into Savannah Brinson's life, where she is more than the player's wife.
Highly recognized as the NBA superstar's wife, Savannah Brinson is a lady of class and a genuine personality.
In her own right, Mrs. James established herself as a queen, and as of today, she is a philanthropist, entrepreneur, interior designer, and businesswoman.
Apart from it, Brinson is the one to create stuff at home and maintain the house. As a mother, spouse, and independent lady, she attracts every household's eye, inspiring them to be the same.
Apparently, she is also the vice president of the LeBron James Family Foundation.
"You should never have a fear of doing what you really aspire to do or what you are passionate about. You can prioritize and keep your balance."
-Savannah Brinson
Quick Facts:
Full Name
Savannah Racheal Brinson (James)
Date of Birth
August 27, 1986
Birth Place
Akron, Ohio, United States
Nick Name
None
Religion
Christianity
Nationality
American
Ethnicity
African-American
Zodiac Sign
Virgo
Age
36 years old
Height
5 feet 7 inches (1.7 m)
Weight
55 Kg (121 lbs)
Hair Color
Brown
Eye Color
Black
Body Measurements
34-26-35 inches
Father's Name
J.K Brinson
Mother's Name
Jennifer Brinson
Siblings
4 older paternal half-siblings: sisters Deidre and Shannon, brothers Eric and Jerrold
Education
Buchtel High School
Marital Status
Married
Spouse
LeBron James
Kids
LeBron Raymone (Bronny) James Jr., Bryce Maximus James, and Zhuri Nova James
Profession
Philanthropist, Entrepreneur, Interior designer, and Businesswoman
Junior Days
Cheerleader and softball player
Affiliations
Vice President of the LeBron James Family Foundation
Owner of "Home Court" furniture line
Programs
'I Promise,' 'Women of Our Future
Net Worth
$50 million
Social Media
Instagram, Twitter
Last Update
November 2022
Savannah Brinson | Early life, Family Background & Education
Savannah Racheal Brinson, shortly, Savannah Brinson was born on August 27, 1986, to her parents Jennifer Brinson and J.K Brinson.
Moreover, she is the youngest among the five children and was born under Virgo's sun sign in Akron, Ohio, United States.
To illustrate, Savannah means "treeless plain," which is a Taino name. When I say 'Taino,' it refers to the language of the Caribbeans' indigenous inhabitants.
As unique as her name is, so is her last name. Brinson is an Old French which is based on the old English name Brim.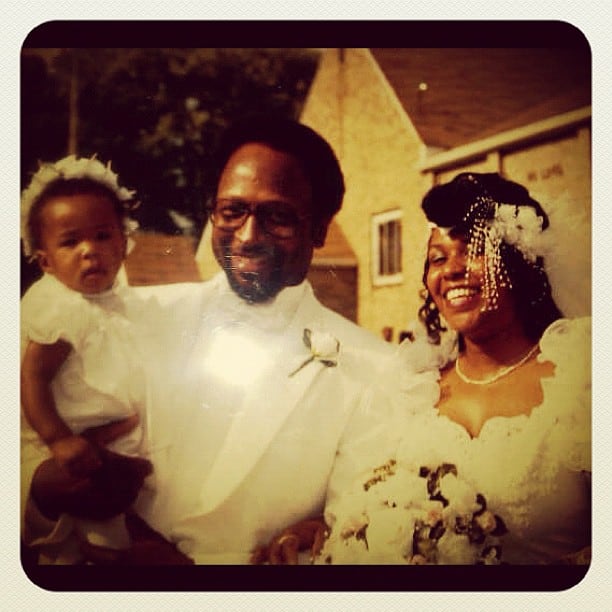 As we talk about her parents, Mr. Brinson is a former employee of the U.S. Department of Veterans Affairs and a businessman. At the same time, Mrs. Brinson is a homemaker.
How tall is Savannah Brinson? Age, Height & Body Measurements
Savannah Brinson stands at 5 feet 7 inches (1.7 m) while weighing 55 Kg (121 lbs). She is a gorgeous lady whose body depicts the measurements 34-26-35 inches.
Equally important, Brinson is a fitness freak and is often seen working out with her spouse. She maintains a bra cup size of 33 C.
Additionally, her curvaceous body is all thanks to her sweaty workout every day. Alongside the workout, she is a healthy eater and has also opened a shop called 'The Juice Spot' in Miami.
When we talk about her diet, some of the few foods she munches quickly are organic cold-pressed juices, superfood smoothies, Acai, and Oatmeal bowls.
Moreover, this beautiful lady is 36 years old at the moment. She was born on August 27, 1986, under the star sign of Virgo.
What does Savannah Brinson do for a living? Career
Often eyed as LeBron Jame's wife, Savannah Brinson is an accomplished woman herself.
At present, she stands as a successful interior designer, which she first commenced in 2010 after signing with the furniture company American Signature.
Moreover, Brinson was always passionate about furniture and decorations. Thus, after the deal, she launched her own line of furniture named 'Home Court' which motto stands as "for a different reason and purpose."
"I designed every piece (of furniture) for a different reason and purpose, so I love each one."
-Savannah Brinson
To go into detail for her brand, it also focuses on children-friendly desks and benches. Apart from it, she has her own line of healthy eats, 'The Juice Spot,' which was first started in 2013 located in Miami.
However, due to her struggling phase and lack of time for it, she closed that line in 2016 when they shifted to Cleveland.
How did Savannah Brinson meet LeBron James? Love Life
Savannah Brinson attended Buchtel High School, where she was a cheerleader and a softball player. During her high school days, she met LeBron James for the first time.
Back then, Brinson was 16 years old, a year younger than James. The duo weren't the students of the same school.
In fact, they were the rivalry high school as James was in St. Vincent-St. Mary High School. During that time, LeBron James was a rising star in basketball, and Savannah had no idea who he was.
After the game, James Asked her out, and she agreed to it. After a few phone calls, they first went out for their date at an Outback Steakhouse.
Additionally, a year into and James was in the NBA, and Brinson was pregnant with their first child.
As she recalls, she had thought he wouldn't be more than a hometown hero; thus, all these stardom were at once for her.
"It's not going to slow me down, and it's not going to slow you down. We're going to keep doing what we have to do."
-LeBron James
When the news of her first pregnancy hit, she was terrified about the next step; however, James was the gentleman to comfort her.
Even though she became the backlash center, the duo was loyal and stronger than ever.
Proposal and Children
After they welcomed their first child (LeBron Raymone (Bronny) James Jr.), the duo had their second on June 14, 2007.
They named their second child Bryce Maximus James. With the bonding stronger than ever, James proposed to her during the New Year's Eve party on December 31, 2011.
In the meantime, he had his 27th birthday, and they had already dated each other for nine years.
It is rare enough to see high school sweethearts married for the rest of the life; however, Brinson's was exceptional to have such a magical bond.
The duo exchanged their vows on September 14, 2013, and later welcomed their third baby Zhuri Nova James on October 22, 2014.
Wedding
The duo first got engaged in January 2012 at the Shelborne hotel in South Beach, as pals Wade, and Union.
After nearly a year, they exchanged their vows in front of 200 people at the Grand Del Mar hotel in San Diego, California.
Their lavish wedding was planned by the New York-based wedding planner, Marcy Blum.
As their wedding took place, many notable figures such as fellow NBA star Dwyane Wade, his actress love Gabrielle Union, Jay Z, singer Neyo, Chris Bosh, Carmelo Anthony, and wife La La Shane Battier, Beyonce, and Norris Cole attended it.
Altogether their wedding lasted for three days, which included a reception and "Welcome BBQ."
Savannah Brinson was seen in a stunning strapless white wedding dress with a low-cut back while her hair was in a bun for the special day.
Similarly, for entertainment, Beyonce flew from Brazil to perform "Crazy in Love" alongside Jay-Z.
After bands and all came the brunch with cocktails and ballroom. Additionally, Oprah Winfrey also made a speech for the bride and the Groom.
Savannah Brinson's Spouse | LeBron James
LeBron Raymone James Sr. is an American professional basketball player in the National Basketball Association (NBA).
James is one of the greatest NBA history players after Micheal Jordan, who currently features the Los Angeles Lakers.
Additionally, LeBron James is the only NBA history player to win the NBA championships with three franchises as Finals MVP.
To date, the athlete has appeared for teams like Miami Heat and Cleveland Cavaliers after being drafted professionally in 2003.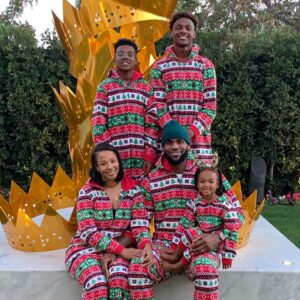 He is an accomplished athlete in fame and wealth through his impressive gameplay and numerous endorsement contracts.
Some of his brand endorsements include Nike, Coca-Cola, Beats By Dre, Blaze Pizza, and 2K Sports.
Most important, he is an activist for a cause. He fights for racial equality, for better education to improve the lives of African-American people.
Savannah Brinson's First Child | Bronny James
Savannah Brinson is the lady of the house who is responsible for creating a home. To support James with his games, she takes care of everything required, and now, she had created another NBA star.
Her first child LeBron Raymone (Bronny) James Jr., was born on October 6, 2004. Currently, he followed his father's footsteps, and with the guidance of his mother, he is now a basketball player.
As a student of Sierra Canyon School, Bronny James has significantly showcased his skills at the top.
Being just a high schooler, he has garnered the attention of many and has established himself for many colleges.
Savannah Brinson & LeBron James
All in all, Brinson shares a passionate relationship with her husband, LeBron James. The couple has been loyal without any rumors about any one of them.
"No book that can tell you about parenthood. Even your mom, your dad, your grandparents—they can give you pointers, but you have to go along that path on your own because every kid is different; every situation is different. Savvanah is the boss of the household; she's the rule-setter."
-LeBron James quotes
"James is truly a king to his queen, if you will. He treats me with so much respect — I mean, it's hard not to love him. He's a really, really humble guy for everything that he has and everything that he's done."
-Savannah Brinson quotes
What is Savannah Brinson's net worth? Net Worth and Income
As of 2022, Savannah Brinson is reported to have a net worth of $50 million from her own furniture brands, mentorship programs, and interior designing.
Besides being an entrepreneur, she is also a community activist, and her foremost program was the 'I PROMISE' Makeover campaign in 2013.
In detail, the program was a prom dress drive in Miami that sponsored the prom dresses and accessories to 50 underprivileged senior girls.
Following it in 2016, Brinson worked on 'Women of Our Future' as her new mentorship program.
This very program was launched in her alma mater Akron's Buchtel High School, which aided academic support to young women in the neighborhood.
Furthermore, it was also encouraging women for higher education and its importance.
Apparently, she also raised nearly $100,000 during the annual celebration of the Women's Endowment Fund of Akron Community Foundation, 'For Women, Forever.'
The program was targeted to help women and girls in Summit County. Additionally, he is a supporter of Girl Listen's charity, which helps teenage girls with pregnancy and drug abuse.
Currently, she is the Vice President of the LeBron James Family Foundation.
Social Media Presence:
Although Savannah Brinson is the target of constant paparazzi, she is quite a private person. When stardom came to rise in the beginning, many controversies surrounded her.
Consequently, people went crazy, stating her to marry James for fame, and was bought to negative attention.
However, no matter the circumstances, Brinson stood as she always was, true to herself, in her own private life.
Even today, she doesn't soak into media for long, as she keeps herself away from the spotlight.
Subsequently, Brinson's foremost photoshoot and interview only came in mid-2010.
Some FAQs:
What nationality is Savannah James?
Savannah James is American by nationality and belongs to mixed ethnicity (African-American).
Does LeBron James' wife have a job?
Savannah James, the wife of LeBron James, is Entrepreneur, interior designer, and community activist by profession.
What high school did Savannah James go to?
Savannah James attended St. Vincent-St. Mary High School.
What method does Savannah James use for Zhuri James' hair?
Savannah James delivered an adorable and informative tutorial on how to style natural hair on Zhuri James's YouTube channel "All Things Zhuri.
In that video, she demonstrated several styles that she would normally create with Zhuri's long and thick hair.
Likewise, James also disclosed that she uses the LCO method, which stands for leave-in conditioner, cream, and oil method, to protect Zhuri's hair.