Carmelo Kyam Anthony is an American NBA player and holds the position of small/Power forward of the Los Angeles Lakers.
Anthony is one of the most popular players in the league. He was drafted in NBA by the Denver Nuggets in 2003.
With being active in the game for almost two decades, Anthony has achieved a lot in his career. Sure the awards and achievements are all the results of his hard work and dedication.
According to Forbes magazine, Anthony ranks among the top paid players in the NBA.
There is a lot to know about the player's early life, family, education, and others, so keep reading the article to dwell more into his life.
Let's look over some facts and information about Anthony.
Quick Facts
Full Name
Carmelo Kyam Anthony
Birth Date
May 29, 1984
Birth Place
Brooklyn, New York
Age

38 years old

Known As
Carmelo Anthony
Religion
Christian
Nationality
American
Education

Oak Hill Academy
Townson Catholic
Syracuse University

Horoscope
Gemini
Father's Name
Carmelo Iriarte
Mother's Name
Mary Anthony
Siblings
4
Height
6'7″ (2.01 m)
Weight
238 lb (108 kg)
Build
Athletic
Shoe Size
15 US
Hair Color
Black
Eye Color
Dark brown
League
NBA
Active Years
2003-present
Marital Status
Divorced
Spouse
Alani Nicole "La La" Anthony
Children
Kiyan Carmelo Anthony
Profession
Basketball Player
Position
Small/Power forward
Currently Playing For
Los Angeles Lakers
Net Worth
$120 Million
Salary
$28 million
NBA Draft
2003 Round: 1 / Pick: 3rd overall
Awards and achievements

2002- McDonald's All-American and First-team Parade All-American
2003- USBWA National Freshman of the Year, Consensus second-team All-American and NCAA champion
2003- NCAA Final Four Most Outstanding Player
10 times NBA ALL-STAR
2 Times ALL-NBA Second Team
4 Times ALL-NBA Third Team
2004- NBA All-Rookie First Team
2013- NBA scoring champion
NBA 75th Anniversary Team
2times USA Basketball Male Athlete of the Year
2021-NBA Social Justice Champion Award

Social Media
Instagram, Twitter
Merch
Cards
Last Update

April 2023
Carmelo Anthony: Early Life, Family & Education
On May 29, 1984, Anthony was born in Brooklyn, New York, US. He inherits both the Spanish and African legacy from his parents. His father, Carmelo Iriarte, was from Puerto Rico and had roots in Spanish and Venezuela ancestry, and his mother, Mary Anthony, was an African-American.
Anthony has four siblings, Wilford, Daphne, Michelle, and Robert, and he is the youngest of them all.
Carmelo lost his father due to cancer while he was only two years old. After that, the family moved to Baltimore.
The family relocated to Maryland. But at that time, drug and criminal activities were also very high. In addition, Anthony's mother was the single breadwinner of the house, so she was very concerned for her children's future.
Because of the societal activities and the family's financial condition, Anthony had a very tough childhood. As a result, the athlete could not enjoy his childhood days as other normal children and was always conscious of finances and family problems.
His mother used to work all day as a housekeeper. He has experienced all the hardships along with his mother.
His mother was strict with him and his siblings as the pressure was on her shoulders to raise them well and protect them from the activities in society.
Despite all the hardships and struggles, Anthony found solace in playing basketball. He was active in the game from his childhood days.
Education
Anthony went to the Towson Catholic High School and spent his first three years there.
After completing a junior year, he transferred to Oak Hill Academy, Virginia.
His grade was not so good in the junior year, so the senior year's change was to upgrade his studies and basketball skills as Oak Hill Academy is known for the strict academic standard and producing top basketball players.
Anthony met with
Lebron James
in his high school years and played together. The friendship of the two great basketball players goes back up to their teen years.
For his college studies, Anthony joined Syracuse University. He played college basketball in the university and was recognized as one of the best players on the team.
Carmelo Anthony: Body Measurements
Anthony has very good physiques while being in his thirties now. He has been able to maintain an athletic figure for years now.
The basketball player has an amazing height of 6 ft 7 in (2.01 m) and weighs around 238 lb (108 kg). He keeps up with a healthy diet and sticks to workouts to maintain a healthy body.
Tattoos
As many basketball players are inclined towards body arts and tattoos, Anthony is no stranger to the concept. He likes the body arts and has both his hands covered in tattoos.
Anthony has 28 tattoos carved on his body, and each one has a specific meaning to it. He is often seen flaunting his tattoos by posing with his shirt off.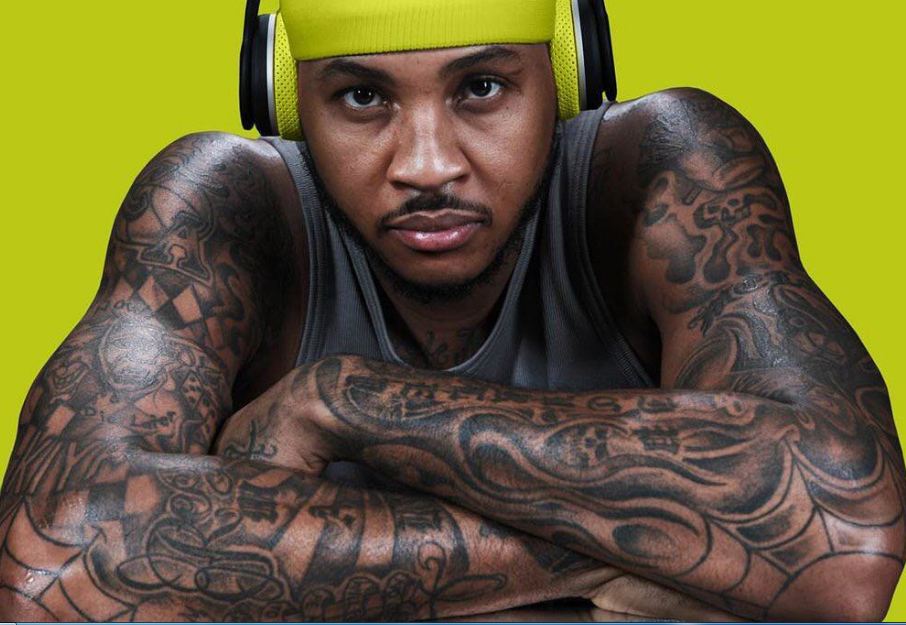 Anthony is among the basketball players with the highest tattoos carved on the body. The tattoos have different meanings; some are motivational words, whereas some are related to his love for basketball as they are related to the game.
He also has a Puerto Rican tattoo on his right hand to honor his father's heritage.
Carmelo Anthony: Career
High School Career
Anthony went to the Towson Catholic High School and spent his first three years there.
He was very active as the basketball player of the high school team and soon received the award of Baltimore Sun's Metro Player of the Year and Baltimore Catholic League Player of the Year.
After completing a junior year, Anthony transferred to Oak Hill Academy, Virginia. In his junior year, Anthony participated in the Adidas Big Time Tournament as a prime member of the team.
Anthony was a crucial part of the basketball team in high school as the team won the Les Schwab Invitational, and he was the MVP. In addition, he gained the Nike Academy National Invitational.
Anthony got the entry to the Parade First-Team ALL-American and the USA Today ALL-USA First Team because of his excellent gameplay in the high school team.
In 2002 Anthony participated in the McDonald's All-American Game and the Sprite Slam Jam dunk, and he won both competitions. The officials selected him as the highest-ranking high school senior in the HoopScoop.
Read about Kostas Antetokounmpo: Career, Family & Net Worth
College Career
After graduating from high school, Anthony joined Syracuse University for his college studies.
Anthony won the NCAA tournament with his college basketball team in junior year. He was selected as MVP in the tournament by the officials.
Because of his outstanding performance, Anthony earned titles like NCAA Freshman of the Year and Big East Conference Freshman of the Year. In addition, he was selected in the Big East All-Rookie Team and the All-Big East First Team.
NBA
Anthony was drafted in NBA by the Denver Nuggets in 2003. He was very popular as a rookie as he earned titles like NBA Rookie of the Year, Rookie of the Month and was selected in the NBA All-Rookie First Team.
Anthony ranked the third-youngest player in NBA to earn 2000 points, and he achieved this in his sophomore year in NBA. In 2005, he was the MVP of the ALL-Star game.
In the 2005-2006 season, Anthony was selected in the ALL-NBA Third Team. He also extended his contract with the Nuggets for 5 years with $80 million.
In 2007, Anthony was a starter to his second successive All-star game. Next year he won his first-ever playoff series. Again in 2010, Anthony was placed as a starter in the ALL-Stargame.
Anthony was exchanged to New York Knicks in 2011. In the first season with the team, he proved his worth as he got selected in the ALL-NBA Third Team.
He proved himself as an outstanding player during the seasons, and as a result, in 2013, he became the NBA scoring champion and entered the ALL-NBA Second Team twice.
In 2014, Anthony marked another milestone in his career as the third-youngest player in NBA to score 19,000 points. In the following year, he once again entered the NBA ALL-Star game.
Again in 2018, Anthony played in the NBA ALL-Star game, which was his tenth time already.
After the Rift with Knicks
In September 2017, Anthony was exchanged to the Oklahoma City Thunder following his rift with the official of the Knicks.
Anthony was on the team for a year and made great points in the seasons. He made 25,000 points, making him rank 21st in the NBA for the achievement.
In 2018, Anthony was exchanged to the Atlanta Hawks, but he was soon released from the contract.
Anthony joined Houston Rockets in August 2018, and the contract was for a year. In January 2019, he was exchanged to the Chicago Bulls. Anthony was released after a month.
Then, Anthony joined Portland Trail Blazers on November 19, 2019, with a year contract. However, he extended the contract for another year in November 2020.
Anthony played for the Blazers for two years with excellent performance, and he received the Kareem Abdul Jabbar Social Justice Champion Award in 2021.
On August 6, 2021, Anthony joined the Los Angeles Lakers. He has shown his worth throughout the season with the Lakers and proven his worth as a legendary player time and again.
Also, read Jerrelle Benimon: NBA, Net Worth & More!
National Career
Anthony was in the USA Olympics team in the 2006 FIBA World Championship and won a bronze medal.
He entered the FIBA World Championship All-Tournament Team due to his excellent performance. Anthony earned the title of Basketball Male Athlete of the Year of the USA.
Anthony was also part of the 2007 FIBA Americas Championship and earned the title of second-highest goal scorer.
In the 2008 Olympics, Anthony was part of Team USA and won the Gold medal. The winning streak continued at the 2012 Olympics as Team USA retained the medal.
Team USA again won the gold medal in the 2016 Olympics, and Anthony was part of the team. He became the first basketball player to win three Olympics gold medals, and because of that, Anthony is the USA basketball's most decorated Olympian.
Carmelo Anthony: Net Worth
The net worth of Anthony is around $120 million. The earnings are from the contracts with the clubs throughout his basketball career and many other endorsements. He endorses Nike and Panini.
His salary is $28 million, making him one of the highest-paid basketball players in the NBA.
Carmelo Anthony: Ex-Wife & Kid
Anthony was married to his long-time girlfriend, Alani "La La" Vazquez. The couple goes way back to 2004 when they got engaged.
They had a joyous life as fiances and started their journey together as parents. After three years of engagement, the couple had their son, Kiyan, in 2007. Anthony tied the knot with Alani in 2010.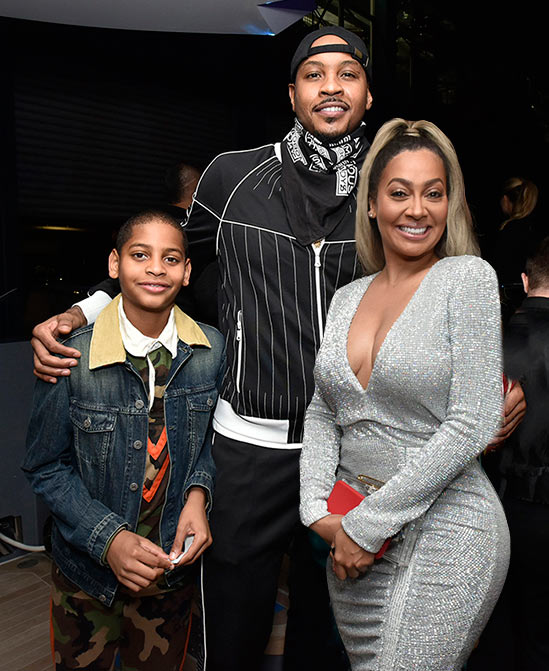 In 2016, there was news of the couple being separated for a while. The couple reunited in December 2018.
In 2021, Alani filed for divorce. Soon after the divorce news, there were rumors that Anthony had twins with another woman, but the player's close source denied it.
Social Media Presence
Anthony has verified Instagram and Twitter accounts.
Anthony is active on social media platforms where he shares glimpses of his personal and professional life.
You may also like Kevon Looney's Bio: Injury, Career & Net Worth
Frequently Asked Questions (FAQs)
Is Anthony still married?
Anthony was married to Alani "La La" Vazquez previously. But his wife has filed for divorce, so he is divorced now.
How many children does Anthony have?
Anthony has one son, Kiyan Carmelo Anthony. There was a rumor of him having twins with another lady, but a close source later denied it.