If you're an NFL fan and a fellow ESPN lover, Lee Corso is not an unfamiliar name for you.
Corso is an American sports broadcaster and an analyst for ESPN's weekly program College GameDay since its initiation in 1987 and a former football head coach.
He is quite famous for his comic antics, his mascot headgear picks, and his catchphrase, "Not so fast, my friend."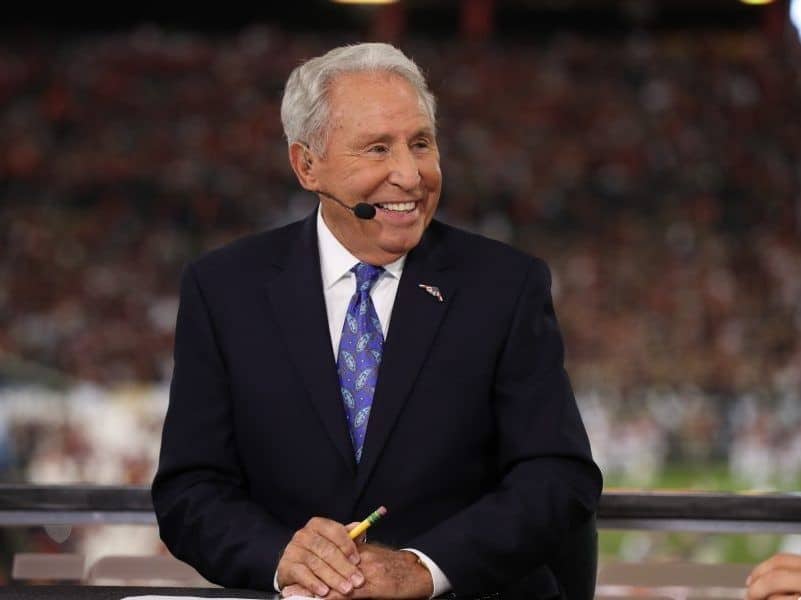 One of the most dedicated broadcasters is still going strong at 87 and is the only original contributor to the show.
Not to mention, the former footballer has worked at ESPN for over 30 years now and shows no interest in retiring any time soon.
ESPN even signed Corso to a multi-year deal in 2017 to remain on College GameDay, stating that they couldn't imagine the show without him and are lucky enough to call him their own.
Back in his teens as a quarterback, baseball team Brooklyn Dodgers offered the former jersey number 20 to play for them.
Instead, he decided to go to college and play football instead of at Florida State University.
Let's take a profound look at the legendary college coach and the host of the Eight-time Emmy award-winning show's education, career, life, and family.
Before that, here are some quick facts.
Quick Facts:
| | |
| --- | --- |
| Full Name | Lee Corso |
| Birth Date | August 7, 1935 |
| Birth Place | Lake Mary, Florida |
| Nick Name | Sunshine Scooter |
| Religion | Christian |
| Nationality | American |
| Ethnicity | Mixed |
| Horoscope | Leo |
| Father's Name | Alessandro Corso |
| Mother's Name | Irma Corso |
| Siblings | None |
| Age | 87 Years Old |
| Height | Not Available |
| Weight | Not Available |
| Shoe Size | Not Available |
| Hair Color | Black |
| Eye Color | Brown |
| Body Measurement | Not Available |
| Build | Not Available |
| Married | Yes |
| Girlfriend | No |
| Children | Four |
| Profession | Commentator, Coach |
| Position | Sports Analyst |
| Net Worth | $12 million |
| Affiliation | ESPN |
| Former | Head Football Coach |
| Social media | None |
| Merch | Autograph, Football Cards |
| Last Update | September, 2022 |
Lee Corso | Early Life, Family, And Education
Corso is the son of Alessandro Corso and Irma Corso, who are Italian immigrants. His father left Italy at the age of 15.
Moreover, the former head coach's parents weren't much educated, so they worked small jobs. Alessandro laid terrazzo flooring while Irma worked in school cafeterias.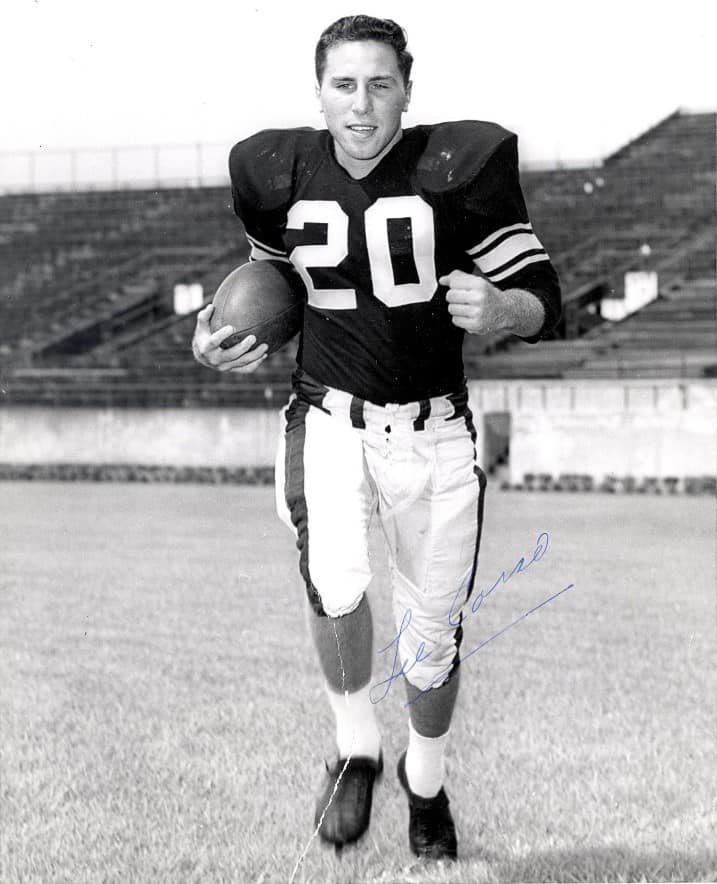 The former quarterback was born in Maryland, Florida, on August 7, 1935. Furthermore, he graduated high school from Miami Jackson Senior High.
Likewise, after completing high school, Lee attended Florida State University and graduated with a degree in physical education. Later on, he also earned a degree in Administration and Supervision.
Lee Corso | Playing, Coaching, And Broadcasting Career
Playing Career
The former head coach served as a quarterback for Miami Jackson and subsequently went on to play football for Florida State University.
On top of that, he also played baseball, but he was always more interested in football. Subsequently, he rejected the Brooklyn Dodgers baseball team's $5000 reward for joining them.
The sports analyst was called "Sunshine Scooter" by his team for his incredible speed on the football field.
Furthermore, Lee held the record for the highest interceptions, i.e., 14, for two decades as a defensive player.
Coaching Career
Early Career As An Assistant Coach
The broadcaster started his coaching career as an assistant coach to his former Florida State University coach Tommy Nugent.
Encouraged by his coach, Corso recruited Darryl Hill, a person of color, and convinced him to play for the Maryland Terrapins.
Hill went on to become the first African American player to play in Atlantic Coast Conference. Likewise, he went on to set two records that stand to this day.
Coaching Career In Louisville
Lee went on to coach for the Navy in 1966. Shortly after that, he was offered the head coach job for Louisville in 1969.
The former footballer coached the Louisville Cardinals, where he also coached his ESPN colleague Tom Jackson.
The former Miami Jackson took the Cardinals to their second-ever bowl game in 1970 and eventually left to join Indiana with a winning record. Louisville ranked 18th in the final AP poll.
Coaching Career in Indiana
Indiana hired Corso in the year 1972. The Italian American ended up leading the Indiana Hoosiers to win two seasons, 1979 and 1980.
With a record of 7-4, the Hoosiers attended the 1979 Holiday Bowl, where they won against the previously undefeated Brigham Young Cougars.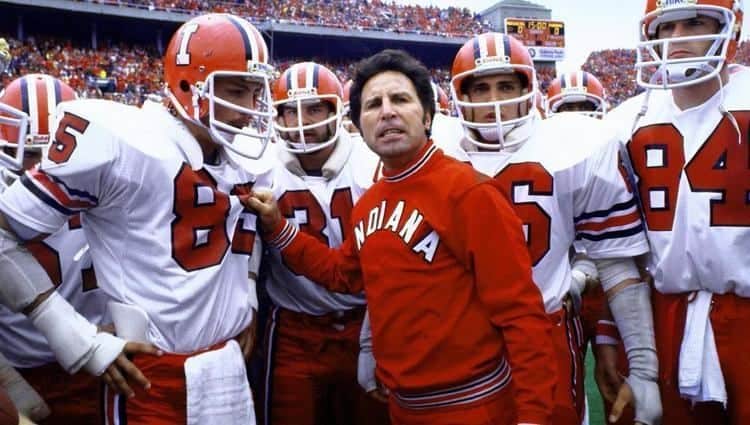 Indiana's triumph earned them a 16th spot in the United Press International (UPI) poll. Since 1967, this was their first Top-20 rank.
Indiana scored a touchdown in the first quarter of the 1976 season against Ohio, which was the first time the Hoosiers led Buckeyes in a game in 25 years.
Corso even called a timeout to take a team picture with the scoreboard showing 7-6 in the background.
His entire record in over ten years in Indiana was 41-68-2. Overall, the former Miami Jackson player had an outstanding career with Indiana.
Coaching Career in Northern Illinois and USFL
From there on, he went on to coach the Illinois Huskies at the Northern Illinois University. Additionally, he became the 16th head coach of the college.
However, he coached the Huskies for a single season and could not give them a remarkable season as Louisville and Indiana.
Shortly after that, he started coaching professionally for the first time in the United States Football League (USFL) with the Orlando Renegades in 1985.
However, in 1986 the league was postponed and eventually canceled.
Further, Lee compiled a coaching record of 5 wins and 13 losses in his coaching career with the Orlando Renegades.
Also, Check Out Fellow ESPN Broadcaster: <<Joe Tessitore Boxing, Wife, Son, ESPN, Net Worth>>
Achievements and Awards
In 2010, the father of four was honored with National College Football Awards Association's Contributions to College Football Award for his tremendous contribution to college football.
Moreover, he has accomplished two Missouri Valley conferences (MVCs) in the years 1970 and 1972.
Broadcasting Career And Others
ESPN hired the former head coach to serve as a sports analyst in their weekly program called College GameDay in 1987.
As of today, he has worked as a host in the show since its initiation. The show gathered a lot of appreciation and love from fans all around the world.
Lee is very well-known for his comic antics with his co-hosts Desmond Howard, Rece Davis, and Kirk Herbstreit.
In like manner, he is equally famous for his catchphrase with a pencil in his hand saying, "Not so fast, my friend," usually aimed towards his co-host Kirk's predictions.
If you know the sportscaster well, there is no way you don't know about the mascot headgear prediction.
From August until January, Corso weekly wears the mascot headgear of the team he predicts is going to win.
Furthermore, he made an annual appearance with Kirk Herbstreit and Brad Nessler in EA sport's NCAA football titles.
Because of his headgear prediction's increasing demand and popularity, he started the 2006 edition with it.
Lee Corso | Net Worth, Salary & Charity
Net Worth And Salary
Lee is one of the oldest and most successful sports analysts in the sports world. Notably, he has served ESPN for over 30 years and continues to do so to date.
Despite not having an exact estimation of his salary, the average ESPN analyst earns about $54,000. His net worth is around $12 million as of 2020.
On top of that, he also works as Director of Business Development for Dixon Ticonderoga in the offseason.
The company manufactures art and writing supplies, including the No. 2 pencil that he holds in College GameDay almost all the time.
Charity
The sports analyst works for a charity that raises money to fight against pediatric cancer in children called Coaches Curing Kid's Cancer. Lee is the honorary chairman of the charity.
You Might Also Like To Read The Coach Turned Broadcaster: <<Jimmy Johnson Bio: Net Worth, Height, Hall Of Fame, Wife>>
Lee Corso | Wife, Kids and Grandkids
Corso and his wife, Betsy Corso, have been husband and wife for over six decades now.
Sadly, there is not much information out there, but reportedly the two were either high school or college sweethearts.
The duo married in 1957 and sixty years later, they are still happily married.
The pair have four kids and ten grandchildren altogether. However, the broadcaster has kept his children and wife's life out of the spotlight and is private about his family.
Stroke, Health, and Life
On May 16 of 2009, at 73, Corso suffered a stroke at his Florida home. The former coach had to be kept in the Intensive Care Unit (ICU) for three days.
Even after that, he stayed in the hospital for a week before discharge. As a result of the stroke, he was partially paralyzed on the right side, which led to prolonged rehabilitation.
On top of that, he couldn't speak for a month, and his cognitive functions, such as thinking, reasoning, problem-solving, learning, etc., were severely affected and slowed.
Nevertheless, the stroke couldn't keep him from his beloved job, and he hosted the 2009 season of College GameDay.
Slowly but surely, his speech eventually recovered with therapy and rehabilitation; however, there are few noticeable differences.
Since then, he rehearses all the scripts and appearances on the show to deliver appropriately.
The talented analyst seems to be doing relatively better these days while working in ESPN. He seems to be having fun more than ever.
Nature And Legacy
Corso is a very dedicated and grateful person who is also hardworking and persistent on TV as much as he was as coaching.
Furthermore, "Sunshine Scooter" is one of the best defensive backs the Florida State University and the sports world offer.
The former athlete's dire love and respect for the game are why he's still among us and working.
Despite some setbacks in his career and health, he still loves the game dearly and much enough to fight against all the odds to be a part of the sports world.
The former head coach didn't even let his stroke be a reason to stop doing what he does. Moreover, he is very popular among fans, media, and co-workers.
Famous Quotes
Coaching's not a job; it's a privilege.
In life, passion is the secret to success.
The bigger, stronger, faster, and meaner my players are, the better I coach.
The true test of a person's character is how they treat the people in life that they don't need.
If you lose, you better at least be entertaining while you do it, or people will turn you off.
Lee Corso | Retirement Issue
The man is already in his mid-late 80s and still absolutely energetic on the screen.
He has the potential, charm, and magic to pull it off. However, a lot of people desperately want to see Corso retiring.
It might have aroused because of concern towards the old man's health or hunger to see a new face lightening the show.
Everyone is well aware of the Covid-19 pandemic, and ESPN took a wise decision thereby. They chose to keep Corso at home because of his age and possible health threats.
People are of the opinion that ESPN should give continuity to their decision by keeping Corso at home even after this pandemic gets normal.
Lee Corso | On Spotlight
Corso was spotted saying "Ah Fuck it" in an episode of College GameDay. The audience loved Corso's free attitude and lack of hesitation.
However, ESPN did not take it well. Corso was made to apologize for the blunder. He said,
"Earlier today on College GameDay, I used an expletive I shouldn't have. I apologize and promise it won't happen again".
Some FAQs:
Has Lee Corso had a stroke?
The former athlete suffered a stroke more than 11 years ago on May 16, 2009, severely affecting his speaking abilities and cognitive function.
How accurate is Lee Corso?
Lee Corso is very accurate in predicting games by now. He has done over 300 mascot headgear picks, and almost 200 of them have proven correct.
Is Lee Corso still on game day?
Yes, Lee Corso is still on College GameDay as of 2020 and doesn't plan to retire or leave any time soon.
What is Lee Corso's deal with the pencil?
Lee Corso is of the habit of holding a Number 2 Dixon-Ticonderoga pencil. He is often spotted with it while he educates reporters.
Who didn't let Lee Corso wear the headgear?
Auburn school didn't allow Lee Corso to put on the sports headgear. During one of the interviews, Lee Corso mentioned about it, saying,
"Auburn is the only school in America that will not let me put on the headgear. They have some kind of rule that you have got to be a special kind of human being to wear this guy's headgear."