Leilani Mitchell's journey to becoming a professional basketball player in the United States and Australia has been remarkable. Dennis Mitchell and Ellie Majid's one and only daughter, Leilani Mitchell, were born in Richland on June 15, 1985.
Mitchell is a professional basketball player for the Washington Mystics of the Women's National Basketball Association (WNBA). The WNBA player is a dual citizen of the United States and Australia.
Likewise, Mitchell became the first WNBA player to earn the Most Improved Player Award twice in 2010 and 2019.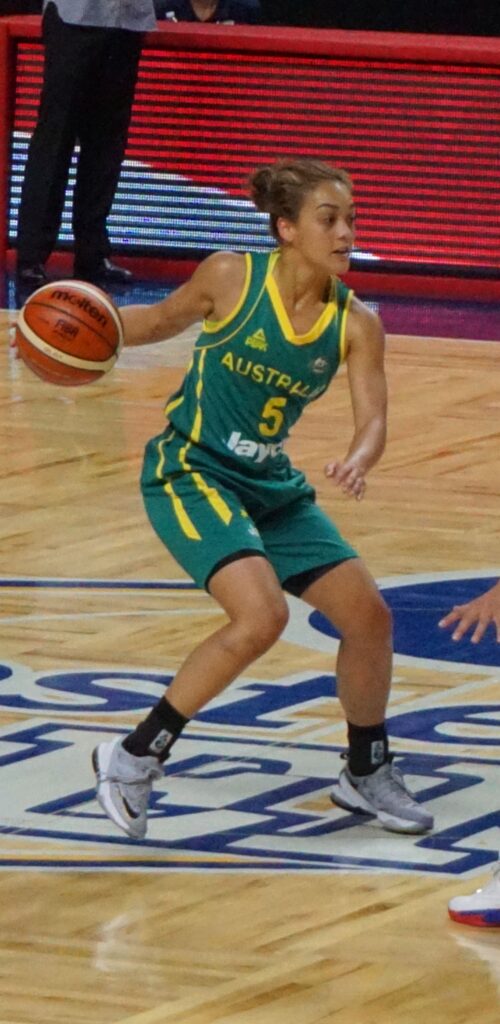 However, Mitchell is one of the most well-known basketball players globally, with her own story of struggle and accomplishment in the sport.
But there are lots of things to know about her story that we will disclose.
As we go on to the quick facts, we'll look at some fascinating facts about her through these articles.
Leilani Mitchell: Quick Facts
Full Name
Leilani Mitchell
Nick Name
Lei
Age

38

Birthdate
June 15, 1985
Birthplace
Richard, Washington, United States
Residence
Australia
Mother
Eleanor Majid
Father
Dennis Mitchell
Siblings
Five brothers (Tyler, Troy, Travis, Reggie, and Robbie)
Nationality
American / Australian
Religion
N/A
Married
Mikaela Dombkins
Children
1
Height
5'5″ (1.65 m)
Weight
138 lb (63 kg)
High School
Kennewick High School
College

Idaho (2003–2006)
Utah (2007–2008)

Profession
Basketball player
Position
Point guard
League
WNBA
Profession
Basketball player
Playing Career
2008–present
Turned Pro
2010
High rank
N/A
Status
Basketball player
Last Match
2021
Net Worth
$750 thousand
Social Media
Twitter, Instagram
Merch
Trading Card
Last Update

September, 2023
Leilani Mitchell: Early Life and Family
Leilani Mitchell is the only daughter of Dennis Mitchell and Eleanor Majid and was born in Richland, Washington. Her mother is from Australia, while her father is from the United States. Tyler, Troy, Travis, Reggie, and Robbie are her five brothers.
Mitchell's American father, Dennis Mitchell, was a well-known international athlete who competed in the 1992 Summer Olympics and earned a gold medal in the 4 x 100 meters relay race.
She went to Kennewick High School, which is located in Kennewick, Washington. Mitchell was chosen first-team all-state and all-conference at Kennewick High School as a junior and senior.
Similarly, Lei was named Player of the Year in the Big Nine Conference as a senior. She also guided her school to four straight state championship games.
Her mother passed away in 2009 from cancer.
WNBA's Jacki Gemelos retires from professional Basketball. – Story of her inspirational journey to WNBA >>
Leilani Mitchell: Career
Leilani Mitchell started playing basketball in her high school in Kennewick, Washington and was a basketball player at the University of Idaho. During her final year, though, she transferred to the University of Utah.
In her junior year, Mitchell ascended to national prominence, earning outstanding experience. Her name was mentioned in All-America honors from the Associated Press and the Women's Basketball Coaches Association of America in 2005–06.
Mitchell became one of the 11 finalists for the Nancy Lieberman Award, which is presented to the best point guard in the country.
Likewise, with 118 steals, she set a school record, and her 178 assists ranked fourth on the Idaho single-season history. In addition, her 168 free throws put her in third place on the school's list.
Leilani Mitchell: Professional Career
Leilani Mitchell started her professional career debut on June 6, 2008. Lei was selected in the second round of the 2008 WNBA Draft by the Phoenix Mercury, replacing Loree Moore, who was injured.
However, during the 2008 preseason, she was traded to the New York Liberty.
Career-best Points Range
In a win over the Houston Comets, Mitchell began her career as a professional basketball player by debuting in 2008, scoring a team-high 18 points on a perfect 6–6 shooting night, including 3–3 from three-point range.
She had a breakthrough year in the WNBA in 2010 and became the regular starting point guard for the season after Liberty dismissed Moore in the postseason.
Mitchell assists per game by scoring average high points 9.3 and 3.8 per game.
Likewise, she had 14 games with points 10-plus and leads the team in a three-point field-goal percentage (48.6). Her first 20-point performance game was against the Tulsa Shock.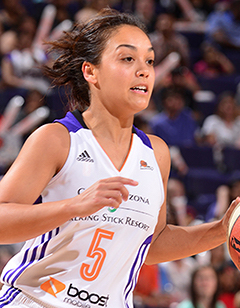 She was named the WNBA's Most Improved Player in 2010. Her career-best achieved score was 24 points, succeeding over the Minnesota Lynx on September 2, 2011.
Career-best Points Range
On August 7, 2014, Mitchell was being released by the New York Liberty. In February 2015, she joined the Phoenix Mercury. On June 12, 2015, the point guard set a career-high with 25 points against the Indiana Fever.
Mitchell joined with the Washington Mystics in 2016 and appeared in 10 games before returning to the Mercury in the year 2017.
Mercury was waiving her on May 23, 2019, and again resigned on June 5, 2019, where she scored 18 points and a career-high 11 assists for the first double-double of her professional career.
Mitchell recorded a professional career-high 28 points and set a WNBA one of the best with 8 three-pointers in a single match on July 30, 2019, against the Washington Mystics.
Likewise, she set another career-best score with 29 points against her previous team, the New York Liberty, on August 27.
Mitchell closed the season 2019 by scoring averaged double figures in points which was the first time in her basketball career as the Mercury ended 15–19 and were seeded eighth in the league.
In 2019, Mitchell received the WNBA Most Improved Player Award for the second time. She was the only player in the NBA or WNBA to receive an award twice.
Mitchell signed a free-agent contract with the Mystics in February 2020 and achieved her second career double on September 4, 2020, with 20 points and a career-high 12 assists.
Nina Earl Bio: WNBA, Twins, Russell & Salary >>
Leilani Mitchell: International Career
During the WNBA off-season, Leilani Mitchell has played for ASPTT Arras in the Ligue Féminine de Basketball (LFB), a French professional league. She was selected to the LFB 1st Team and earned the Import Player of the Year Award in 2009–10.
Mitchell was a member of the Croatian League's KK Novi Zagreb in 2012–2013. She has been a member of the Women's National Basketball League (WNBL) since 2013.
Mitchell has been a member of Australia's national team, the 'Opals,' since the 2014 World Championships, where they won bronze.
During the 2016 Summer Olympics, she was a member of Australia's senior team, where they were eliminated in the quarterfinals.
Leilani Mitchell: Personal Life & Wife
Mitchell is an openly lesbian whose marital status is unmarried but engaged to her fiancé Mikaela Dombkins.
She is an Australian model, fashion designer, and basketball player who has participated in League several times.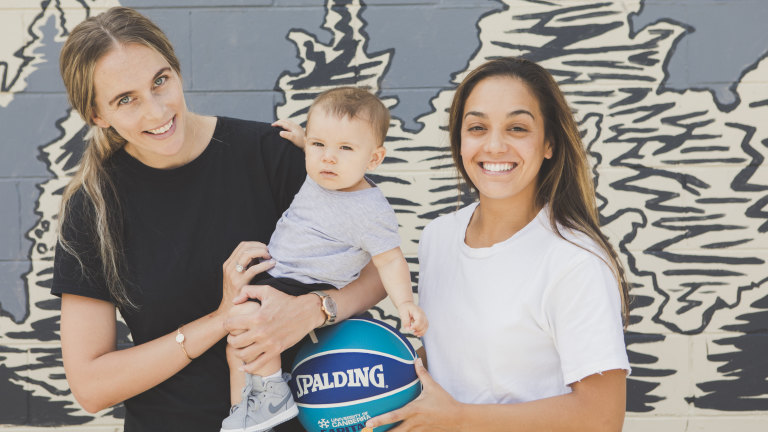 They have a son named Kash Maxwell, who was born on July 24, 2018. She often brings her child during her matches and spends most of her time with him.
Both the couple enjoys a happy marital life and have a wonderful and successful career in their own field.
Leilani Mitchell: Net Worth, Earning, and Salary
Mitchell's net worth is estimated to be $750 thousand, indicating a strong financial portfolio. She is presently committed to a two-year, $195,410 agreement with the Phoenix Mercury.
Her yearly league pay is estimated to be $96,757, while the highest-paid player of the same team, DeWanna Bonner, received $117,500 in 2019.
Mitchell's expected income/salary is to be $98,654 in 2020. Her crossover contract pays her between $60,000 and $70,000 each year.
Besides her salary and league payments, she has several endorsements deals with a variety of brand companies.
Awards and Achievements
2× WNBA Most Improved Player (2010, 2019)
WNBL Grand Final Most Valuable Player (2017)
2× WNBL champion (2017, 2019)
3× WNBL All-Star Five (2014, 2016, 2017)
Current Status
Leilani Mitchell is currently associated with the Phoenix Mercury as a point guard of the Women's National Basketball Association. With her outstanding passing ability as the point guard, she earned the first WNBL MVP award.
Similarly, Mitchell had a season-long average of 15.7 points and 5.2 assists while shooting 42 percent from outside the mark for the Flyers. She is now a member of the WNBA's Washington Mystics.
With the Olympics approaching, Mystics guard Leilani Mitchell is on a roll after a sluggish start.
At the start of the season 2021, Mitchell of the Washington Mystics was in a funk as they could not perform and had gone scoreless in her first two games. After four starts and six points, she was moved to the bench.
Glory Johnson Bio: WNBA, Kids, Wife & Net Worth >>
Leilani Mitchell: FAQs
Is Leilani Mitchell Filipino?
No, Leilani Mitchell is not from the Philippines. Lei is a dual citizen of Australia and the United States of America.
What ethnicity is Leilani Mitchell?
Leilani Mitchell is half-American and half-Australian, as her father is from the United States and her mother is from Australia.
What team does Leilani Mitchell play for?
Leilani Mitchell plays for Washington Mystics as a point guard representing Australia.