Lewis Lamont Brinson, known as Lewis Brinson, is an American professional baseball outfielder currently a free agent. Previously, Brinson played for MLB teams like Milwaukee Brewers, Miami Berlins, and San Fransico Giants.
A young boy from South Florida, Brinson dreamed of playing professional baseball from an early age. He was a bright child who always wanted to play baseball for the Florida Marlins.
Brinson appears to be making the most of his September 2022 auditioning with the Giants.
He crushed the third home run against Giants' 6-3 loss to the Dodgers at Dodgers stadium, displaying the enormous power that previously ranked him among baseball's top prospects.
There is much more to learn about the player's personal and professional life. So, please stick to the article to know everything about him in detail.
Now let us look into some quick facts about him.
Lewis Brinson | Quick Facts
Full Name
Lewis Lamont Brinson
Birth Date
May 8, 1994
Birth Place
Fort Lauderdale, Florida
Age

29 Years Old

Nickname
Sweet Lew
Religion
Christian
Nationality
American
Education
Coral Springs High School

University of Florida

Horoscope
Taurus
Father's Name
Lewis Brinson Jr.
Mother's Name
Susie Brinson
Height
6'2″/1.9 m/190 cm
Weight
96 kg/211 lbs
Build
Athletic
Hair Color
Black
Eye Color
Light Brown
League
Major League Baseball
Playing Career
2012-present
Marital Status
Married
Spouse
Noelle Marissa Brinson
Profession
Baseball Player
Position
Outfielder
Currently Playing for
Free Agent
Net Worth
$1 million- $5 million
Salary
$700,000
MLB Draft
2012
Social Media
Instagram
Merch
Miami Marlins Card, Bat, Bewers Card
Last Update

June, 2023
Lewis Brinson | Age, Height & Weight
Lewis Brinson is 29 years old. His zodiac sign is Taurus, and as the sign's characteristics, he is trustworthy and dependable, which can be seen in his game.
Brinson has an incredible height of 6'2″/1.9 m and weighs 96 kg/211 lbs. He is known for his strength and ability and has a prominent body structure and athletically toned muscles.
It is essential to maintain a healthy weight and lifestyle for a sportsperson to play for an extended period. Brinson is aware of this and has maintained a balanced diet and lifestyle.
Lewis Brinson | Career
Brinson played baseball since high school at Coral Springs High School. Because of his Outstanding outfield skills, Brinson was selected by the Texas Rangers in the 2012 MLB draft.
Brinson made his debut with the Arizona League Rangers, hitting.283/.345/.523 and recording 7 home runs over 237 at-bats in 54 games.
In 2013, Brinson played for the Hickory Crawdads, a Class A South Atlantic League, and had great matches. He started his 2014 with Hickory before promoting being promoted to Myrtle Beach Pelicans.
In 2015, Brinson signed with the High Desert Mavericks, a Class A Advanced California League. Soon, the officials promoted him to the Frisco RoughRiders of the Double-A Texas League and Round Rock Express of the Triple-A Pacific Coast League during the season.
Brinson played in 100 games in the season and hit 20 home runs. After the end of the 2015 season, he played in the Arizona Fall League.
Brinson was back to the Texas Rangers in 2016 for spring training. He started the season with Frisco.
Entry Into Major Leagues
On August 1, 2016, the Rangers traded Brinson for the Milwaukee Brewers. Later, the Brewers assigned Brinson to the Colorado Springs Sky Sox of the PCL. He ended the 2016 season with 0.268 batting, 15 homers, and 61 RBI.
On January 25, 2018, the Brewers exchanged Brinson for the Miami Marlins. MLB ranked him the top prospect going into the 2018 season. On March 25, 2018, Brinson played his first game for the Marlins.
A year later, on April 30, 2019, Brinson was demoted to AAA by the team. However, he was promoted back to the major leagues on August 5.
In the 2020 MLB season, Brinson made his career-high hit of over .200 with three home runs and 12 RBIs in 47 games. He was also a part of the postseason.
Controversy
In August 2021, Brinson claimed he was the victim of racial abuse against him at Coors Field. MLB did a detailed investigation to find more details on the matter.
Later the research led to the results that the fan had done the act to attract the attention of the team's dinosaur mascot, "Dinger."
Brinson insisted that he had been called a racial slur and demanded the Rockies' mascot name be changed.
After the incident, Brinson was designated by the Marlins for the 2021 season. He was released from the contract on November 30.
On March 12, 2022, Brinson signed with the Houston Astros, which is in a minor league. He hit excellent scores with 22 home runs for the Sugar Land Space Cowboys of the PCL.
Later Brinson was exchanged to the San Fransisco Giants by the Astros.
Lewis Brinson | Net Worth
The baseball outfielder has an estimated net worth between $1million-$5 million. His eight-year career in the Major Basketball League(MLB) contributes to his fortunes.
Brinson signed a year / $700,000 contract with Houston Astros in 2022, including $700,000 guaranteed and an annual average salary of $700,000.
Additionally, Lewis also generates money from various sponsorships and endorsement deals.
Lewis Brinson | Early Life, Family & Education
Lewis Brinson was born on May 8, 1994, in Fort Lauderdale, Florida, to Lewis Brinson Jr. and Susie Brinson.
Brinson lost his father at the very young age of 10. His father was diagnosed with liver cancer and could not recover from it.
Losing a father at such a young age was very painful for Brinson, so to cope with the situation, his mother stood up and took responsibility for the family.
Brinson shares a very close bond with his mother, Susie, who brought him up alone and dedicated her life to him. She inspired and motivated him to become a professional baseball player.
Lewis went to Coral Springs High School in Coral Springs, Florida. Later, he enrolled at the University of Florida.
Read More: Max Muncy Bio: Early Life, Career, MLB, Wife & Net Worth>>
Lewis Brinson | Wife
Brinson is dating Noelle Marissa, a fitness model and makeup artist. Lewis and Noelle were best friends before taking their relationship to the next level.
Lewis proposed to Noella on February 6, 2022, by kneeling knee and a 24-carat diamond ring. The couple's news of getting engaged was confirmed as the baseball player shared pictures on Instagram.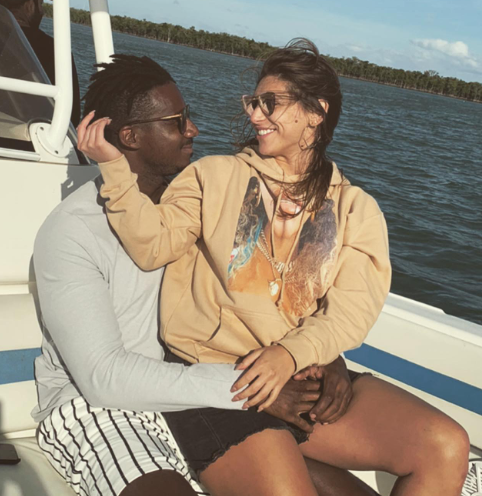 The couple seems happy together and often shares posts related to each other on social media platforms. They don't have children, as both are busy with their careers.
Lewis Brinson | Social Media Presence
Brinson is available on various social media platforms like Instagram and Twitter. Thanks to his fantastic baseball career, he has a huge fan following.
Instagram: 16.8k followers
Twitter: 8.7k followers
View this post on Instagram
His Instagram post shows that he loves to travel with her partner. Besides, Lewis regularly shares pictures and clips from his games.
People from all over the world follow him and cherish the dynamics of the game. Brinson has won many hearts through his skills and techniques in the game.
Also, Read Darrin Jackson's Bio: Wife, MLB, Broadcasting & Net Worth>>
Lewis Brinson | Popularity
Brinson's google swing points seem to be rising by small margins at the beginning. Later, it increases by even more points and continues to decline.
His search trends reached their highest on August 21, 2022, and continued to decline after a while.
Frequently Asked Questions (FAQs)
Can Brinson break out?
In 2022, the Astros exchanged Lewis Brinson for the San Fransisco Giants. The Giants have selected Brinson for the major league roster in September 2022. So, Brinson is out of contract at the moment.
Is Lewis the worst player in MLB?
Brinson could not perform well in the field opposite the right-handed pitcher as the bowling was fast. But he has improved over the years and is now in a more stable phase.
How many children does he have?
Lewis and his partner Noelle don't have any children. They are focused and busy in their respective careers.
You May Also Like: Barry Bonds Bio: Early Life, Career, Net Worth & MLB>>