Winning two Olympic Gold medals is a significant achievement. Widely regarded as the best badminton player of all time, Lin Dan hails from Fujian, China.
Furthermore, Dan has two Olympic gold medals and five world championships to his name. Dan is a former professional Chinese badminton player who retired in July 2020.
Not to mention, he and Lee Chong Wei created the most significant era of badminton. The Lee-Lin rivalry is the biggest in badminton.
Moreover, Peter Gade gave him the nickname 'Super Dan', which immediately caught his fans.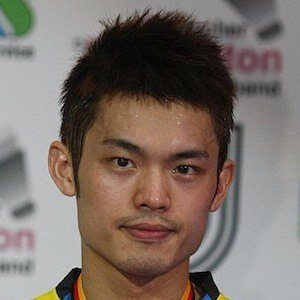 In his personal life, Lin married his beautiful wife, badminton player, and partner, Xie Xingfang.
As we explore Super Dan's life in detail, let's look at some quick facts about him.
Lin Dan | Quick Facts
Full Name
Lin Dan (林丹)
Birth Date
14 October 1983
Birth Place
Longyan, Fujian, China
Age
39 years old
Nickname
Super Dan
Religion
Unknown
Nationality
Chinese
Education
People's Liberation Army Sports Team
Horoscope
Libra
Father's Name
Lin Jianbin
Mother's Name
Gao Xiuyu
Siblings
Unknown
Height
5'10″(178cm)
Weight
70 kg (154 lb)
Build
Lean & Athletic
Shoe Size
Unknown
Eye Color
Black
Hair Color
Black
Marital Status
Married
Spouse
Xie Xingfang
Children
One
Profession
Professional Badminton Player
Playing Style
Left-Handed Player
Coach
Xie Xuan ze
Highest Ranking
1st
Net Worth
$30 million
Awards and Achievements

Two Times Olympic Gold Medalist
Five Times World Champion
Badminton World Cup Winner
Thomas Cup Winner
Sudirman Cup Winner
Asian Championship Winner

Social Media
Instagram, Weibo
Merch
Yonex Voltric Badminton Racket
Last Update
November, 2022
Lin Dan | Early Life, Childhood & Family Background
Lin Dan was born on 14 October 19,83, in Longyan, Fujian, China. He was born to his parents, Gao Xiuyu and Lin Jiabin.
Likewise, Lin's family was a Hakka family in Shanghang County.
The Hakka or Hakka Han is a Chinese subgroup located in the Hakka-speaking provinces of Guangdong, Fujian, Jiangxi, Guangxi, etc.
Furthermore, growing up, Lin's parents wanted him to learn and play the piano. His parents desired Lin to become a pianist in the future.
However, despite their strong interest, Lin had other things in his heart.
From a very young age, Lin was interested in playing badminton. Likewise, the People's Liberation Army Sports Team had scouted Lin at the age of 5.
So, Lin started his journey with badminton at the mere age of 5.
As a result, Lin also became a part of the Chinese army. In addition, Lin began a strict training regimen with the Chinese national team that required immense hard work and dedication.
How old is Lin Dan? | Age, Height & Physical Appearance
Dan, the Olympic Champion, was born on 14 October 1983. Currently, he is 39 years old. Likewise, Lin will turn 40 on 14 October 2022.
As Lin was born on the 21st of October, his zodiac sign is Libra. Thus, they are those individuals who are more alive in a social setting.
So, how tall is the former world number one and Olympic gold medalist? Lin stands tall with an outstanding height of 5 feet and 10 inches.
Furthermore, Lin weighs 70 kg. Besides, with black-colored hair and black-colored eyes, Dan stands as one of the most handsome badminton players.
His handsome appearance has earned his popularity on and off the badminton court.
Workout Routine
To maintain his shape and strength, Lin Dan performs numerous sets of exercises. His exercise routine starts early in the morning, and he takes a short afternoon nap to fuel up his energy.
He commences his exercise plan with a short jog and stretches. It is usually followed by push-ups, planks, weight lifting, pushdowns, biceps, and wrist curls.
Also, read about Andres Gomes: Career, Girlfriend, Net Worth & Injury >>
Lin Dan
Lin Dan | Professional Accomplishments
Lin's badminton journey began at the young age of five. As mentioned, the People's Liberation Army Sports Team scouted and selected Lin as a potential candidate.
Furthermore, Lin began to train with the Chinese army team. His first win came in his junior year.
Also, Lin was successful in winning the National Junior Championships at the young age of 12.
The Chinese National Badminton Team selected Lin as their badminton player in 2001. Moreover, Lin was 18 years old at that time.
Hence, there began the historical and monumental career of Lin Dan. In fact, Former Chinese badminton player Xia Xuanze coached Lin Dan.
Senior Chinese Career
Lin's first-ever event was the Asian Badminton Championships in 2001. Lin was 18 years old and was heavily thrashed by fellow Chinesemen, Xia Xuan ze.
Furthermore, Lin's first career victory came at the Korean Open in 2002. Lin became victorious by defeating Korean badminton player Shon Seung-mo.
Moving forward, Lin played in several tournaments in the singles and team format for China. He participated in the 2002 Thomas Cup and helped his team reach the semi-finals of the tournament.
Furthermore, Lin went on to lose on several occasions in the Indonesia Open, Denmark Open, China Open, and Singapore Open. Thus, the year 2002 didn't prove to have become much good for Lin Dan.
However, despite defeats and failures, Lin continued persevering and worked hard in 2004. In 2004, he ranked as the number one Badminton World Federation player.
Olympic winnings
The 2004 Olympics were a major setback for Lin Dan. He crashed out in the early rounds of the 2004 Olympics, as he lost to Singapore's Ronald Susilo.
Furthermore, the 2004 Olympics defeat would only rejuvenate Lin and help him improve.
His next appearance in the Olympics saw him winning his first-ever Olympic Gold Medal. Next, Lin reached the men's singles finals by defeating Ng Wei, Park Sung-Hwan, Peter Gade, and Chen Jin.
The Chinese player perfectly set up a dream tie against Lee Chong Wei, a prolific badminton player from Malaysia.
He defeated Lee Chong Wei in a dominating fashion and became the gold medalist. Likewise, the match between Lee and Lin sparked the greatest badminton rivalry ever, the Lee-Lin rivalry.
Furthermore, Lin also went on to win the gold medal in the 2012 Olympics. The gold medal was his second gold medal in a row.
Furthermore, he successfully beat Scott Evans, Taufik Hidayat, Sho Sasaki, and Lee Hyun-il to reach the finals. Once again, he faced the tough challenge of beating his rival, Lee Chong Wei.
However, this time, the match was much closer than before. After losing the first set to Lee, Lin came back strongly, winning two sets. As a result, Lin became a two-time Olympic gold medalist.
Lee-Lin Rivalry
Lin Dan has a historical rivalry with Malaysian badminton player Lee Chong Wei. Likewise, both players were in their prime years between the years 2006 and 2016.
Furthermore, Lee and Lin are credited for resurrecting the audience's interest in badminton. In total, they have met 40 times.
Similarly, Lin has stood victorious on 28 occasions, while Lee holds 12 victories to his name.
Furthermore, they met twice in the final of the Olympic Games. Lin has stood victorious twice in the finals, securing the gold position.
Lee and Lin are incredibly successful badminton players. Lee has won an astonishing 47 Super Series titles from the year 2007 to 2017.
Moreover, he ranked as the number one badminton player for a total of 349 weeks.
Then Lin became the winner of the "Super Grand Slam" at the age of 28 by winning nine premier titles. For those unknown, Lin and Lee are military position holders in their home countries.
Awards, Highlights, and Accolades
Lin is hailed as the greatest badminton player ever. With 666 career wins and 66 career title wins, he holds one of the best BWF records.
Besides his Olympic winnings, Lin has won the World Championship five times.
His victories have come during the 2006 Madrid World Championships, 2007 Kuala Lumpur World Championships, 2009 World Championships, 2011 London World Championships, and 2013 Guangzhou World Championships.
Likewise, Lin has won the Badminton World Cup twice. In addition, he has bagged gold in the 2005 Yiyang World Cup and 2006 World Cup.
Furthermore, Lin has stood victorious five times in the Sudirman Cup. His victories come in the years 2005, 2007, 2009, 2011, and 2015.
Besides, Lin has also bagged the gold medal in the Thomas Cup in the men's team competition. Moreover, Lin has four Asian Championship singles wins to his name.
Not to mention, Lin has won several junior championships. Overall, he has had one of the best badminton careers in the world.
Lin Dan has been awarded the Eddie Choong Player of the Year in 2006 and 2007.
Furthermore, Super Dan was also awarded the BWF Best Male Player of the Year in 2008. This came after his gold medal win at the 2008 Olympics.
Likewise, Dan has also been voted the Most Valuable Player (MVP) for the 2010 Asian Games.
Not to mention, he was named China's best male athlete of the year in 2010. He was awarded this due to his commanding badminton title wins.
Retirement
After playing in several tournaments and events, Lin Dan decided to retire on 4 July 2020. His retirement came due to his increasing age and physical limitations.
Furthermore, Lin expressed that he didn't feel as comfortable and swift as before. His retirement came before the 2020 Tokyo Olympics.
You might be interested in Roger Federer: Early Life, Family, Wife, Children & Net Worth >>
Lin Dan Badminton Racket
Lin Dan used the Yonex Voltric LD Force (Matte Edition) racket. Furthermore, he has also used the Yonex Voltric Z Force 2 racket.
Who is Lin Dan's wife? | Wife & Children
So, who is the special player married to? Lin Dan is married to his long-time partner and beautiful wife, Xie Xingfang. Furthermore, Xie Xingfang is a badminton player herself and a former world champion.
Likewise, Xie also was the number one ranked female badminton player. Xie Xingfan was born on January 8, 1981, in Guangzhou, Guangdong, China.
Also, she stands tall with an exceptional height of 5 feet and 10 inches. Xie plays as a right-handed player and is one of the most exceptional female badminton players.
Moreover, Xie is a beauty queen with an exceptional figure and appearance.
Lin and Xie had dated for a long time. Moreover, they have been in a relationship since 2003.
Lin and Xie had engaged in a close ceremony. However, Xie had revealed their relationship to the public. Similarly, this upset Lin as he wanted their relationship to be a private one.
Furthermore, Lin and Xie married on 23 September 2012. They amazingly tied the know at the Beijing University of Technology.
Xie and Lin have a child together, who was born on 5 November 2016. Furthermore, the child's name is Xiao Yu, which means 'Little Feather.'
Lin Dan | Personal Life
Affair with Model Zhao Yaqi
Despite having a super-star status, a Weibo user caught Lin Dan cheating with Chinese model Zhao Yaqi. The Weibo user first shared the news about the affair on the Chinese micro-blogging website Weibo.
Furthermore, the news of the affair was broken by a user named 'Detective Zhao.'
The user shared intimate pictures of Lin Dan and Zhao Yaqi. Likewise, Detective Zhao shared this news a few days after Lin's wife Xie gave birth to their first child.
Furthermore, Lin admitted to the affair and didn't make any excuses. Also, he apologized by using a statement on Weibo. The statement read in the following way.
"As a man, I won't make any more excuse for what I have done. But my behavior has already hurt my family and I would like to apologize to them. Sorry."
Furthermore, Zhao Yaqi also apologized in a press conference. Likewise, Xie has forgiven her husband for cheating on her.
Christian Cross Tattoo
Lin Dan is a man with several tattoos. Likewise, his tattoos hold multiple stories.
The five stars on his left arm symbolize his one Olympic winning and four world championship win that he accumulated in one year.
Furthermore, he has a tattoo on his upper right arm that reads "Until the end of the world," which is the theme song of Lin's favorite anime Slam Dunk.
Likewise, Lin has a tattoo of a cross on his left shoulder. The tattoo of the cross has stirred a lot of confusion on the internet. Many fans believe the cross symbolizes Lin's Chrisitan beliefs.
However, Lin has revealed that the cross tattoo arises for his Christian grandmother, who visited him a lot.
Similarly, Lin has the initials 'L.D' and 'F' tattooed on his neck. Despite his world fame and contribution to Chinese Sports, he has received much criticism for his tattoos.
Master's Degree
Alongside being a World and Olympic Champion, Lin is also an amazing student. Lin received a Master's degree on 17 October 2012.
Furthermore, he became the first active Chinese badminton player to receive a master's degree.
Likewise, Lin was presented with a master's degree at Huaqiao University.
Autobiography 'Until the End of the World'
Noting down his life in words, Lin Dan has written an autobiography. Furthermore, the autobiography is titled 'Until the End of the World.'
The autobiography was published after he successfully won the 2012 Olympic title at the 2012 London Olympics.
Lin Dan meets Lionel Messi.
Dan has also met the greatest player in world football. Lin met Lionel Messi in a sporting facility. A fan posted their picture online.
#Messi trending.
Gives us reason to repost this awesome 📷 of the best sportsman on the planet…. and Lionel Messi#LinDan🇨🇳 #badminton pic.twitter.com/hmmTZbneTt

— 🏆 Yonex All England Badminton Championships 🏆 (@YonexAllEngland) May 1, 2019
Likewise, Lin and Leo's picture received comments such as 'GOAT meets GOAT' and 'Two Legends in one single picture.'
Graphic Nover 'Super Dan'
Furthermore, Lin has also released a graphic novel, Super Dan. The graphic novel covers Lin's journey in badminton as a junior player.
Furthermore, it also touches upon the rivalry between Lee Chong Wei and Lin Dan.
What is Lin Dan's net worth? | Net Worth & Salary
Furthermore, he has accumulated his net worth through various winnings in badminton events. He is a two-time Olympic Champion and a five-time World Champion.
Lin Dan is the second-richest badminton player in the world. He ranks behind Thai Princess Sirivannavari in the list of richest badminton players ever.
Furthermore, Lin Dan is also sponsored by the Japanese sports equipment manufacturing company Yonex.
In the meantime, he has brand deals with Oakley, Yonex, Montblanc, Pepsi, Gillette, Red Bull, Citroen, L'Oreal, Tsingtao, KFC, and other handfuls of many Chinese and western brands.
According to various online sources, Lin Dan has a net worth of $30 million.
Today, Lin Dan's car is a Ferrari 458, a properly luxurious supercar worth about 4.5 million yuan. Additionally, he also has luxury models such as BMW Z4 and Porsche 911.
Likewise, he is involved in charitable activities as well. Any leisure time he gets or any moment he celebrates, he makes sure to share his happiness.
In May 2013, Lin Dan partook in a charity badminton game.
During his tenure, he helps a group of 41 students from ten mountainous schools in Sichuan and Guangxi provinces.
Here is more detailed information on Lin Dan's net worth. Lin Dan Net Worth: Endorsements, Wedding & Cars >>
Does Lin Dan use social media? | Social Media Presence
What social media platforms does Lin Dan use? Lin Dan is available on Instagram and the Chinese social media platform Weibo.
Furthermore, he has an Instagram account with over 35k followers. Likewise, Lin loves posting pictures of him playing badminton. Likewise, Lin also promotes various brands on his Instagram page.
Lin has a huge following on Weibo. He has over 4.6 million followers on his Weibo profile. Furthermore, he uses the social media platform to communicate with his fans.
You can follow Lin through the following handles.
@thereallindan: Instagram
林丹: Weibo
You might want to read about Samantha Bricio Bio: Early Life, Career, Boyfriend & Net Worth >>
Frequently Asked Questions
Who is Lin Dan's wife?
Lin Dan is married to former female world number one badminton player Xie Xingfang.
Who is the best badminton player in China?
Lin, the former professional badminton player from China, is considered one of the greatest single players.
What is Lin Dan's Career record like?
Lin Dan's career record depicts 666 wins and 128 losses in men's singles.
What happened to Lin Dan?
On 4 July 2020, Lin Dan announced his retirement, saying, "at 37, pain and injuries no longer allow me to fight with my teammates. I have gratitude, a heavy heart, and unwillingness."
Is Lin Dan becoming a coach?
After retirement, many expected Lin Dan to be a coach; however, he stated that he wouldn't be involved in coaching.
(Make sure to comment down below if any information regarding Lin Dan is missing.)