A journalist's voice is as powerful as any politician's. These individuals repeatedly challenge their positions and speak for what's right.
Lisa Boothe is a journalist and a political commentator who is renowned for such actions.
The 37-year-old is a contributor at FOX News Channel and is most notable for her involvement in programs like Outnumbered and The Five.
Added to that, she is one of the regular faces on the Special Report airing throughout the week and a guest on The Story.
Born and raised in a political family, Lisa holds Republican influence and is politically more seasoned than her colleagues in the news studio.
Apart from that, Boothe serves as a senior fellow of Independent Women's Voices and is the Founder and President of High Noon Strategies.
In this article, we will dive a little deeper into the life of this extraordinary woman. Along the way, we will discuss her early life, education, measurements, net worth, journalism career, and relationship status!
Quick Facts
| | |
| --- | --- |
| Full Name | Lisa Marie Boothe |
| Birth Date | February 3, 1985 |
| Birth Place | West Virginia, U.S. |
| Nick Name | Lisa |
| Religion | Undefined |
| Nationality | American |
| Ethnicity | White |
| Education | University of Tennessee |
| Horoscope | Aquarius |
| Father's Name | Jeffrey Ferris Boothe |
| Mother's Name | Dianne Marie |
| Siblings | Yes (3 Brothers) |
| Age | 37 years old |
| Height | 5'2″ (1.58 m) |
| Weight | 55 kg (121 lb) |
| Hair Color | Brunette |
| Eye Color | Light Brown |
| Body Measurement | 35-25-35 inches |
| Figure | Hourglass |
| Married | No |
| Boyfriend | John Bourbonia Cummins (Rumored) |
| Children | None |
| Profession | News Commentator |
| Net Worth | $10 million |
| Salary | $1.5 million |
| Affiliations | CNN, FOX, |
| Active Since | 2005 |
| Social Media | Instagram, Twitter, Facebook |
| Last Update | June, 2022 |
Lisa Boothe Wiki-Bio | Early Life, Education, & Parents | Where Did Lisa Boothe Grow Up?
Lisa Marie Boothe is a native of West Virginia, the United States of America. Besides, she was born on February 3, 1985, to parents Jeffrey Ferris Boothe and Dianne Marie and is the only daughter in the family with three brothers.
Even though she was born in West Virginia, her family moved to Washington D.C. due to Jeffrey's work as a political analyst and an aide to a U.S. senator at Capitol Hill.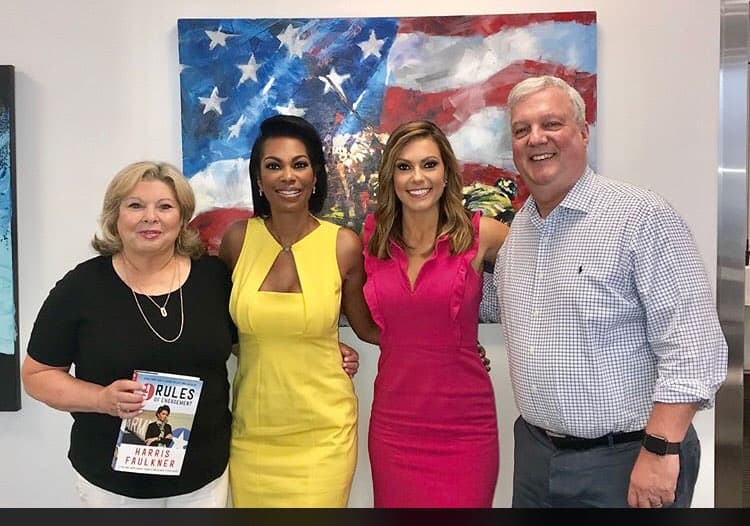 At the same time, her mother worked as a homemaker.
Moreover, as a young girl, Lisa keenly played hockey with her three brothers and grew fond of the sports with passing age.
So, when in high school, Boothe became a part of the hockey team. Not only that, but she was also a member of the lacrosse team.
Similarly, the American clinched two state championship rings with the field hockey team and would have gone on to be a professional.
But, after tearing her cruciate anterior ligament, the dream had to be permanently abandoned.
Active as childhood
Aside from sports, the soon-to-be news commentator practiced a form of dance as well.
Growing in the capital of one of the greatest countries, Boothe became engrossed in politics, and its influence from a young age had a significant impact on political perceptions.
Although her father was a political figure at one point, it doesn't actually start with him.
Lisa's grandfather, Carl Wilkinson, served in the army and had a profound knowledge of the field. He has now passed away after losing the battle against diabetes.
Hence, taking inspiration from father and grandfather, Boothe did her predecessors proud by graduating from the University of Tennesse with a degree in Political Science and Development.
Initially, Jeffrey would take time to guide his daughter and, as reported, had regular discussions regarding the ongoing political scenery.
Lisa Boothe | Age, Height, & Body Measurements | How Old Is Lisa Boothe Fox News?
As of now, Lisa is 37 years old and an established personality in politics and journalism.
She probably comes on the list of the few commentators who made a name for themselves in such a short period.
Moving on, it is no doubt that the Washington native is an attractive woman. As such, the beautiful anchor stands at the height of 5'2″ (1.58 m) and weighs 55 kg (121 lbs).
Despite being short compared to her colleagues, she might be the most vocal person of the bunch.
Lisa Boothe is 5'2″ (1.58 m) tall and weighs 55 kg (121 lbs)
Additionally, Boothe has an alluring body figure that measures 35-inches of the breast, 25-inches of the waist, and 35-inches of hips. Other than that, the news anchor has brunette hair, light brown eye, and a charming presence.
Lisa Boothe | Career: News Commentator
Prior to landing a job in broadcasting, Lisa followed her passion for politics by applying for a staff assistant position in the U.S. House of representatives. At the same time, she had a collaboration with The Washington Times.
Likewise, in 2010, Boothe served in the National Republican Congressional Committee while volunteering as a spokesperson for Sandy Adams and Tommy Thompson in the Congress Election and Senator campaign in 2012.
Besides, Lisa remained adept in her political ventures and had the opportunity to construct communication strategies.
Some of those distinguished personalities were Rep. Sandy Adams(R-FL), Shelley Moore Capito (R-WV), and Mark Meadows (R-NC).
The strategies were formulated in partnership with the Black Rock Group, where she undertook the role of director. Currently, with the firm, Boothe provides solutions for over 500 companies.
If you are interested in buying Mic, click here.>>
During her political ventures, Lisa founded and heads, to this day, the High Noon Strategies, a public affairs and communications firm.
FNN & Other Venutres
In the same way, Political Polling and Public Affairs appointed her as the VP and market researcher and a member of the WPA research to handle executive decisions.
In like manner, the American published two articles titled "President Obama Has Left the Middle-Class Behind" and "Hillary Clinton and the wealth factor: Is she 2016's, Mitt Romney?. Clearly, her adoration towards the current POTUS, Donal Trump, is well-known.
Talking about her broadcasting career, Lisa initially joined FNN as a political analyst in 2016. Similarly, Boothe received an offer from FNC to contribute to the political discourse in several of its segment.
Mostly, her participation would be at daytime and primetime slots that comprise duties at CNN as well.
Additionally, the commentator found herself appearing as a co-host or guest host on shows like Outnumbered, The Five, and The Fox News Specialists.
Lisa Boothe Net Worth | Salary & Income
To begin with, Lisa has accrued an impressive $10 million net worth as of 2020. Having a strong and dominant position in the workplace comes with its rewards.
However, carving out such a successful career was no easy task, even with the status she has.
Lisa has accrued an impressive $10 million net worth as of 2020
Further, Boothe makes an average annual salary of $600 thousand from FOX Network. It is no secret that FOX pays high wages to its star employees.
On top of that, the news commentator also makes $121 thousand from her affiliations with The Washington Times.
Relationship Status: Is Lisa Boothe Married?
In particular, as famous as Lisa is, her romantic life was always a puzzle to a larger audience.
In fact, no such rumors were floating around concerning her private life. Nonetheless, one day, Boothe was caught sharing a loving comment on Instagram.
If you are interested in buying a Camera, click here.>>
A guy named John Bourbonia Cummins commented: "Thanks for cropping me out," to which she replied subtly: " Love you. Mean it : )". Well, it was not subtle to the public's eyes and thus fueled the unconfirmed romance.
At present, the image has been taken down from her account, and the details regarding her current status are pretty much a mystery again.
Who is John Bourbonia Cummins?
Well. Lisa Boothe's rumored boyfriend, John Bourbonia Cummins, is pretty much a private face. Surfing throughout the whole internet, there are no updates and verifications regarding John and Lisa's current relationship status.
We shall be waiting unless the special moment arrives in her life, and Lisa will officially confirming on her hook-ups. Until then, Lisa has all the right to lay back and live her life the way she wants.
After all, it's not a necessity to disclose everything if you are a public figure.
But yes, It seems the Republican is just going about with her private life as any other day, occasionally posting pictures with her beautiful dog named Bella.
Social Media Presence
Instagram: 129,000 followers
Twitter: 269,400 followers
Facebook: 20,993 followers
Frequently Asked Question
Is Lisa Boothe Engaged?
Well, her relationship status is still in a muted status to date.