Lisa Guerrero is one of the most well-known faces when it comes to sportscasting and investigative journalism. She has been working for the American syndicated magazine Inside Edition since 2006.
Before getting involved with Inside Edition, Lisa worked with Fox Sports, CBS, and ABC working in Sports Geniuses, The Best Damn Sports Show Period, and Monday Night Football.
Other than her journalism and anchoring career, she also used to do acting jobs. She has 17 credits in the acting section on her IMDb page. However, she has not been doing professional acting since 2013, as it was then when she received her last acting credit.
Here, we take a look at Lisa's career and her personal life in a little more detail and provide you with information that you maybe didn't know about her.
Lisa Guerrero | Quick Facts
| | |
| --- | --- |
| Full Name | Lisa Guerrero |
| Birth Date | 9 April 1964 |
| Birth Place | Chicago, Illinois, US |
| Nick Name | Not Available |
| Religion | Christianity |
| Nationality | American |
| Ethnicity | Mixed (Hispanic and English) |
| Education | Not Available |
| Horoscope | Aries |
| Father's Name | Walter Coles |
| Mother's Name | Lucy Guerrero |
| Siblings | None |
| Age | 59 Years Old |
| Height | 5 feet 8 inches (1.73 meters) |
| Weight | Not Available |
| Shoe Size | Not Available |
| Hair Color | Brunette |
| Eye Color | Brown |
| Body Measurement | 36-29-35 inches |
| Build | Slim |
| Marital Status | Divorced |
| Boyfriends | Not Available |
| Spouse | Scott Erickson (married on 3 February 2004) Divorced (date not available) |
| Profession | Sportscaster, Investigative Journalist, Model, Host |
| Position | Investigative Correspondent |
| Net Worth | $30 million |
| Social Media | Twitter, Instagram, YouTube |
| Merch of Scott Erickson | Art, Paperback |
| Last Update | May, 2023 |
Lisa Guerrero Wiki-Bio | Early Life, Parents, & Education
Lisa Guerrero was born on 9 April 1964 in Chicago, Illinois, the United States. According to her Wikipedia page, her mother's name is Lucy Guerrero, and her father's name is Walter Coles.
The exact page also claims that her father was an American of English descent, and her mother was from Chile. This effectively means that Lisa is of mixed ethnicity, English from her father's side and Hispanic from her mother's side.
Her family presumably moved from Chicago to San Diego, California, as it was there where she spent most of her childhood. She also spent a little time in Huntington Beach, California.
Early in her childhood, she had to lose her mother. Lisa was just eight years old when she lost her mother, Lucy, to lymphoma cancer. Her mother was 29 years old at the time.
To cope with the loss of her mother, her father decided to enroll her in theater therapy. Maybe this was where she gained interest in performative arts and honed her acting and performing skills in front of an audience.
As for her education, there is no official information about her academic qualifications and the college she attended.
However, one can assume that she might have gotten some education in the journalism field because she is an investigative journalist and has been for most of her professional career.
Lisa Guerrero's Age, Height, & Body Measurements
Lisa Guerrero, going by her age, is 59 years old as of 2023. She was born under the sun-sign Aries.
The correspondent stands at the height of 5 feet 8 inches or 1.73 meters. That is presumably a decent height for a former cheerleader and model as she has appeared on the covers of various magazines, even the likes of Playboy.
Her body, too, must have helped her modeling career as she has an impressive figure of 36-29-35 inches, according to Celebsfacts.com.
Lisa Guerrero's Career
Lisa's career has taken her to different places. She started as a cheerleader, then got into acting, and then got into journalism and sportscasting, with a bit of modeling in between all those works.
Here, we delve a bit deeper into each of her different jobs at different points in time.
Cheerleading And Work As Entertainment Director
Lisa worked as a cheerleader in the 1980s. She was a cheerleader for the Los Angeles Rams.
However, her talent made her able to jump from being a cheerleader to becoming an entertainment director. She worked as an Entertainment Director for the Atlanta Falcons and the New England Patriots.
Acting Career
After working as an Entertainment Director for those two teams for a while, Lisa decided to try her hand at acting.
She began her acting career with a guest appearance in The George Lopez Show and The Heat of the Night. She portrayed Maria Cystak in the 1990 episode of the show titled Night of The Killing.
After that, she had appearances in Matlock (TV series – 1991) and Batman Returns (Movie – 1992), in which she portrayed a Volunteer Bimbo. This was the first role that got her significant recognition.
Then, she starred in Love Potion No. 9 (1992) and even had an appearance on the famous TV show Seinfeld, in 1994.
However, her most prominent acting job was yet to arrive. In 1998, she was cast as the voice for Francesca Vargas in the TV show Sunset Beach.
Although it was just a voice acting role and worked for just a year (from 1998 to 1999), she voiced Francesca for 127 episodes.
According to IMDb, she has 17 credits in the acting department, the last of which came in 2013 in the TV mini-series Revenge of the Goblins.
Lisa has worked as a producer, too. In 2007, she produced an independent film titled A Plumm Summer alongside her partner Scott Erikson.
Sportscasting Career
Even before she got her part in Sunset Beach, she had already moved on to sports anchoring. In 1997, Lisa started working as a sports anchor on Los Angeles' KCBS-TV and later transferred to KTTV.
Then, in 1999, Fox Network hired her for another anchoring job. She worked on various shows such as Sports Geniuses, Fox Overtime, Fox Extra Innings, and the Toughman competition shows during her time there.
In addition to this, she also starred in the San Diego Chargers' magazine-style television show. Lisa also co-hosted The Best Damn Sports Show Period for a single episode in 2001.
Lisa also got to travel to Egypt and engage in non-sports journalism. There, she took part in the taping of the special Opening the Tombs of the Golden Mummies.
Another Fox Sportscaster You Should Know About:- Sarah Walsh Bio- Age, Measurements, Sportscaster, ESPN, Husband, Net Worth
From 2000 to 2003, Lisa hosted Southern California Sports Report. She appeared in 210 episodes of the sports news show.
Following her time at Fox Network, she started hosting ABC's NFL Monday Night Football. However, she lasted only one season there, from 2003 to 2004, and appeared in 17 episodes as a sideline reporter.
She was also the host for eight episodes of the VH1 game show World Series of Pop Culture in 2006.
On 15 July 2006, Lisa joined CBS to become a part of Inside Edition, a TV news magazine. She worked there first as a correspondent and later became the show's Chief Investigative Correspondent.
Since joining Inside Edition, she has appeared in 102 episodes of the show, according to IMDb, with one more appearance on Inside Edition Weekend in 2019.
Awards In Journalism
In 2011, she won the National Headliner Award for Best Investigative Report for her undercover expose on air duct cleaning scams.
She has also been nominated for a Prism Award for her story on the dangers of alcoholism and boating and a Genesis Award for her investigation into horse slaughter farms in Florida.
Modeling Career
Lisa isn't a professional model and never was during her career in the past. However, being THAT beautiful has some perks, one of them being that you don't have to be a professional model or learn modeling to get on the cover of magazines.
This was precisely the case, as Lisa got to be a model just on her looks and fame as a reporter and a Playboy model no less. She appeared topless in the January 2006 issue of Playboy Magazine.
And, maybe as a tribute to her or just as a play on words from her The Best Damn Sports Show Period in 2001, the cover called her The Best Damn Sports Beauty.
In addition to this highlighting feature, she has appeared in a few other Playboy magazine editions and other magazines.
Author
Writing a book is a footnote in the long list of things she has done in her career. Her only book, Jewelry For Your Table, was published in 2016. It's a book about creating handmade artwork for the dining table.
Lisa Guerrero's Net Worth | Salary & Income
Lisa Guerrero has been active in the entertainment industry for more than 30 years now. She has built expertise and authority over the years in the field of journalism and sportscasting.
This reputation indeed comes with a heft paycheck. However, neither Lisa nor her employers have released any details about her annual income or financial information of that sort.
Lisa's net worth falls somewhere around $30 million.
Searching the internet, nevertheless, reveals some information about her net worth, according to Wikinetworth. On the site, Lisa's net worth falls somewhere around $30 million. Another site, Net Worth List, claims that Lisa's financial worth is about $18 million.
Keep in mind that these are not the official figures for her net worth, and we will have to wait for Lisa herself to disclose her net worth before jumping to conclusions.
Net Worth of Lisa Guerrero in Different Currencies
Below is the net worth of Lisa Guerrero in different currencies, including the Euro and Dollar
Currency
Net Worth
Euro
€

26,162,550

Pound Sterling
£

22,372,500

Australian Dollar
A$

41,046,000

Canadian Dollar
C$

37,720,350

Indian Rupee
₹

2,231,902,500

BitCoin
฿

463
Who is Lisa Guerrero married to?
Lisa Guerrero married an athlete, which isn't that surprising considering her interest and involvement in sports broadcasting. She married Scott Erickson, a former MLB pitcher. They tied the knot on 3 February 2004.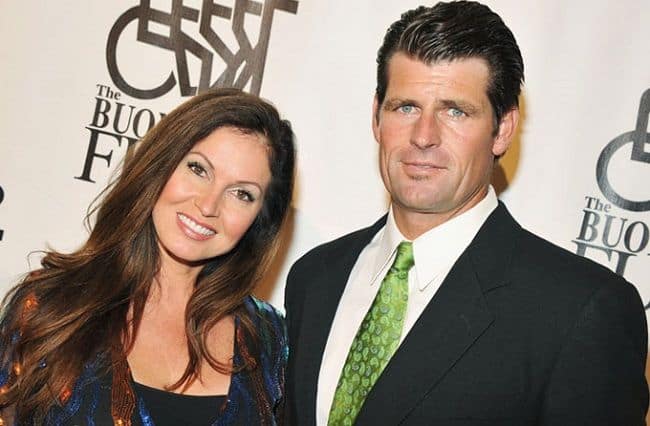 Scott (full name – Scott Gavin Erickson) played in Major League Baseball from 1990 to 2006. During his playing career, he played for the Minnesota twins from 1990 to 1995. Then, in 1995, he was traded to the Baltimore Orioles.
It was during his time with the Orioles that his career started taking a turn for the worse. After spending multiple seasons on the sidelines due to elbow and shoulder injuries, in 2004, Scott signed a minor league deal with the New York Mets.
However, just after two starts, the Mets traded him to the Texas Rangers. Then, in 2005, he ended up being in the starting rotation for the Los Angeles Dodgers.
On 16 February 2006, Scott again signed a deal with the New York Yankees but was released from his contract on 19 June. He retired from professional baseball at the beginning of the 2007 season.
Back on the topic of their relationship, it is not clear whether they are together or separated. The bio on her IMDb page says that they are separated.
Similarly, his Wikipedia page, too, says that they have gotten divorced. Again, however, we could not find any official divorce date.
Lisa Guerrero's Social Media Presence
Twitter – 83.8k Followers
Instagram – 24.2k Followers
YouTube – 31.5k Followers
Common Queries about Lisa Guerrero
When did Lisa Guerrero do playboy?
Lisa Guerrero had a shoot with playboy in January 2006.
What Happened to Lisa Guerrero and Dave Ramsey?
In a hotel, in Dallas, the sportscaster Lisa ambushed Ramsey to get some answers. With this behavior of Lisa, Dave is not happy and is going mad at Lisa.
What Happened to the Interview with Kenneth Copeland?
The interview, which Lisa took with Kenneth Copeland, went down on the internet.
Has Guerrero Ever Done Plastic Surgery? What happened to her eyebrows?
Yes, she has done plastic Surgery. Well, Lisa Guerrero tested her hands on microblading and recorded the entire process from start to finish to share on her YouTube channel. Although the whole process was done in a sterilized form, things went really wrong for her.
What is between Dennis Rodman and Lisa Guerrero?
Back in the day, Dennis Rodman called every reporter without a specific purpose to only check if they would turn up or not. Well, Lisa Guerrero of KCBS-TV was one of the reporters who turned up, and hence, seeing him pull out a trick, she asked him a question.
Lisa: Don't you think you are being a distraction, causing this whole circus and prolonging your signing? Don't you think that's kind of selfish for someone trying to be a team player?
Dennis: Are you kidding me, honey? You're calling me selfish? I've been a team player, honey. I've been a team player for 13 years. I've got ten charities here that I'm going to give to $10,000. You tell me if that's selfish.