Lleton Hewitt is living a fruitful marital life with his wife Bec Hewitt. The couple have been married for almost two decades and share three adorable kids.
Lleyton and Bec are currently the talk of the town due to the rumours of their divorce. Let's unveil how true the news is.
Lleyton Glynn Hewitt, born on the 24th of February 1981, is a retired Australian professional tennis player who was one of the most successful and well-known tennis players of his era.
Hailing from Australia, Lleyton played Australian Football until the age of 13 and later decided to pursue a career in tennis.
He started his tennis journey at the Seaside Tennis Club in Henley Beach. Similarly, he also learned and sharpened his skills from the coach, Peter Smith, at Denman Tennis Club in Mitcham.
Turning professional in 1998, Hewitt quickly rose through the ranks of men's tennis. He won his first Grand Slam singles with his first major victory at the US Open in 2001, defeating Pete Sampras in the final.
Moreover, the tennis player also achieved the world No. 1 ranking in men's singles tennis in November 2001. He held this position for a total of 80 weeks during his career.
Twice Grand Slam winner also played an important role in Australia's Davis Cup team, helping them win the Davis Cup in 1999 and 2003.
Throughout his career, Hewitt won numerous ATP Tour titles and consistently competed at a high level in major tournaments.
After retiring from professional tennis in 2016, Lleyton Hewitt has served as Australia's Davis Cup captain, working to develop young talent and lead the national team in the prestigious competition.
On July 16, 2023, Hewitt was honoured with induction into the International Tennis Hall of Fame.
Lleyton Hewitt Wife: Bec Hewitt Is An Actress
Bec Hewitt was born Rebecca June Cartwright on July 23, 1983, in Sydney, New South Wales. She is a famous Australian actress, presenter, and singer.
Discussing her professional career, Bec was only 5 years old when she started her showbiz journey and appeared in television commercials.
Hewitt is immensely popular for portraying the role of Hayley Smith Lawson on the soap opera Home and Away.
Besides acting, she is also popular for releasing an eponymous pop music album in 2002.
Lleyton Hewitt Wife: Is Still Married To Bec Hewitt?
Lleyton Hewitt is happily married to his wife, Bec Hewitt. The couple has been together for almost almost two decades.
Lleyton and Bec met for the first time at a charity tennis game when they were both teenagers.
The couple again crossed paths after six years, and that was when they began their relationship.
When Bec was on the Kyle and Jackie O Show, she disclosed that Lleyton used to know her from Home and Away, but she, not being interested in sports, didn't know who he was or what he had done.
Hewitt's wife did not even pay any heed when he told her about a TV project he was working on in Australia.
Shortly after that, the couple started dating, and since then, they have been inseparable. Finally, Lleyton Hewitt married the love of his life, Bec Hewitt, on July 21, 2005.
They had a grand wedding ceremony at the Sydney Opera House, and their reception took place at Taronga Zoo.
Proud Parents Of Three Kids
Lleyton and Bec have been married for 18 years and have already started their family.
Together, they share three kids: two daughters, Mia and Ava Hewitt, and a son, Cruz Hewitt.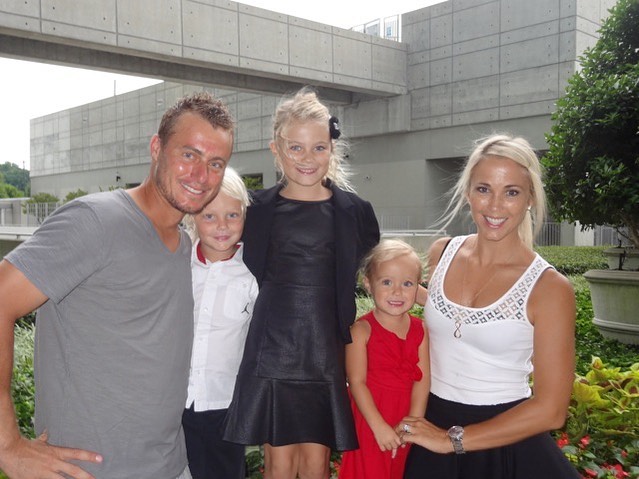 While their eldest daughter, Mia, has shown her interest in modelling, the younger one, Ava, is an avid dancer.
On the other hand, the pair's only son, Cruz, is following his dad's footprints, developing an interest in tennis.
Representing Victoria in the Australian under-12 boys clay court championship in Canberra, he won both the national singles and doubles.