Pam Shriver, a tennis veteran and a mother of three, had her glory days on the tennis court. However, she is enjoying her life as a busy mother these days.
The former professional tennis player is widely recognized as a double specialist. She had successful games as a single-player as well.
Pamela Shriver still has direct ties with tennis but as a media person this time. She works as a tennis broadcaster for ESPN.
Similarly, she is hired as a pundit/expertise for the BBC tennis coverage.
Shriver was a big name in the tennis universe during the 1980s and 1990s.
In fact, she has a record of winning 133 titles, which can be broken down as 21 women's singles titles, 111 women's doubles titles, and one mixed doubles title.
Today, we'll be talking about the personal and professional life of incredible Pam Shriver, including everything from her marriages and early life to her career and net worth.
Quick Facts About Pam Shriver
Full Name

Pamela Howard Shriver

Known as

Pam Shriver

Nickname

Pam

Birth Date

July 4, 1962

Birth Place

Baltimore, Maryland, United States

Residence

Los Angeles, United States

Religion

Christian

Nationality

American

Ethnicity

White

Education

McDonogh School, Owings, Maryland

Horoscope

Cancer

Father's Name

Sam Shriver

Mother's Name

Margot Shriver

Siblings

2 (Eleanor Shriver and Marion Shriver)

Age
60 Years Old
Height

6 feet and 0.44 inches (184 cm)

Weight

72 kg (158.73 lbs.)

Eye Color

Brown

Hair Color

Dark brown

Body type

Athletic

Profession

Tennis Player

Marital Status

Married

Spouse

Joseph Shapiro (deceased)

George Lazenby (m. 2002-div. 2008)

Children

3

Name of Children

George Lazenby Jr.

Twins (Kate Lazenby and Sam Lazenby)

Beginning of Professional Career

1979

Retirement

1997

Playing style

Right-handed (one-handed backhand)

Sports team

The United States Fed Cup team

United States Wightman Cup team

Coach

Don Candy

Honors

Sarah Palfrey Danzig Award in 1986

International Tennis Hall of Fame in 2002

Victory

133 titles (21 women's singles, 11 women's doubles, and one mixed doubles title)

Net Worth

$10 million

Prize Money

$5,460,566

Social Media
Facebook, Instagram, Twitter
Merch
Autographed photo
Last Update
January, 2023
Pam Shriver – Early life and family
Pamela Howard Shriver was born on July 4, 1962, in Baltimore, Maryland, United States. She was born to proud parents Sam Shriver and Margot Shriver.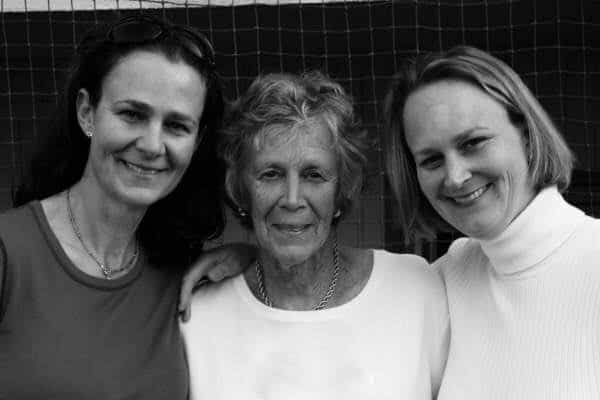 Pamela is their middle child. She has two sisters: Eleanor Shriver and Marion Shriver. However, Marion Shriver succumbed to cancer.
Shriver studied at McDonogh School, Owings, Maryland. She graduated in 1979.
She watched her parents and grandparents play and enjoy tennis as a little girl. Shriver first held a tennis racquet at the age of 3.
Along with tennis, Pam was also associated with the girls' varsity basketball team at McDonogh School.
You might be interested in reading: Venus Williams Bio: Age, Career, Net Worth, Tennis, Boyfriends, IG Wiki
Pam Shiver – Career as a Tennis Player
Beginning and Singles
Pam Shiver earned a place for herself in the women's singles finals of the 1978 U.S. Open as a 16 years old amateur.
On this day in 1962 #PamShriver tennis star was born in Baltimore, Maryland. #OlympicGold #WTA pic.twitter.com/7wqHKOeNpg

— Random Sports History (@randosportshist) July 4, 2020
She secured that position by defeating the reigning Wimbledon champion Martina Navratilova in the semifinals. However, Pam lost to Chris Evert in the finals.
Nonetheless, Shriver was billed "the legend of Lutherville" in the tournament.
The first triumph in the singles paved Pam Shriver's path to achieving more success in the singles. In fact, she won her first career singles title in 1978 in Columbus, Ohio.
Also, she won 21 singles titles in her career span of 19 years, between 1978 and 1997.
However, Pam Shriver faced the Grand Slam Singles final only once in her career, i.e., in the 1978 U.S. Open final.
She got defeated in the next eight Grand Slam singles semifinals. She faced Martina Navratilova in four of those semifinals, Steffi Graf in two, and Chris Evert and Hana Mandlikova in one each.
Besides, Pam Shriver built history by becoming the youngest U.S. Open finalist – Nine months younger than Maureen Conwho previously reached the final in 1951.
You might also be interested in reading: Nadia Kassem Bio: Mixed Martial Arts, Family, career, & Wiki
Doubles
Pam Shriver gained a lot of success in doubles tournaments. She partnered with her opponent at the singles, Martina Navratilova.
The duo succeeded in winning 79 women's doubles titles. Further, Pam Shriver won 112 career doubles titles in her life.
Moreover, she is one of the six female players in the open era to have achieved more than 100 career titles.
🇬🇧🌱🎾 35 years ago, @Martina 🇺🇸🇨🇿 and #pamshriver 🇺🇲 lost the @Wimbledon final against #kathyjordan 🇺🇲 and #elisabethsmylie 🇦🇺.

The tennis player from Prague and the American saw their spectacular streak of 109 consecutive victories ended. pic.twitter.com/fr1stcVEum

— Tennis All Time (@tennisalltime) July 8, 2020
Martina Navratilova and Pam Shriver together were astounding on the tennis court. In fact, they are still termed as one of the most successful women's doubles teams in tennis history.
The duo secured seven Australian Open, five Wimbledon, five U.S. Open, and four French Open titles.
Moreover, Martina and Pam captured all four major women's doubles titles, i.e., the "Calendar Grand Slam" in 1984.
This victory by the girls became the record-making 109-match winning streak between 1983 and 1985.
The duo was named the WTA Tour's "Doubles Team of the Year" eight consecutive times from 1981 through 1988.
Further, they won the WTA Tour Championships title ten times between 1981 and 1992.
Additionally, Pam Shriver and Martina Navratilova stood up as the first female doubles partners to win the Grand Slam.
The duo's 109-match winning streak became the longest doubles winning streak in the Open Era. The record is maintained, still.
You can read the quotes by Pam Shriver's long-time partner Martina Navratilova at Top 72 Martina Navratilova Quotes.
Other partnerships of Pam Shriver
Then, Pam Shriver got a victory in another women's doubles Grand Slam title at the U.S. Open in 1991. This time she partnered with Natasha Zvereva.
Similarly, Pam won the 1987 French Open mixed doubles partnering with Emilio Sanchez.
Further, she achieved gold medals in all three tournaments (singles, women's doubles, and mixed doubles) at the 1991 Pan American Games in Havana, Cuba.
Pam Shriver then got listed in the world's no. 1 doubles ranking in 1985. Later, she had to lose this title to her long-time playing partner, Martina Navratilova.
You might want to read: Top 72 Martina Navratilova Quotes
Federation Career
Shriver got a victory in the 5 out of 5 singles matches and 14 of 15 doubles matches in the Federation Cup, representing the United States. Further, she played in 17 Federation Cup ties from 1986 to 1992.
Pam Shriver reached the finals thrice with her compatriots.
In fact, she won twice in the finals: first in the tournament where the United States defeated Czechoslovakia (3-0) in 1986, and then in the match where the U.S. defeated Spain (3-0) in 1989.
The finals that she lost was the one where the United States lost to Germany (1-2) in 1987.
Visit Pam Shriver – Wikipedia to see scores recorded by her.
Johanna Konta Bio: Age, Career, Net Worth, WTA, Boyfriend, IG Wiki>>
2010 James Blake and Pam Shriver
James Blake has always been a cool player and a graceful winner. However, he lost everything back when in Wimbledon, England.
Beck then, Pam commented "You might not be match-tough. You might miss a lot of shots but mentally you're not burned out."
Well, with just it, Blake yelled at Pam and lost her cool. While yelling, he stated "Amazing you used to play tennis. I can still hear you."
In the end, Pam had stated that she regretted making any comments on him.
Pam Shriver's letter to USTA regarding Naomi Osaka
It's really been the talk of the town as Osaka withdrew from the French Open. The USTA officials fined her $15,000 and threatened for " code of conduct" as she denied a post-game interview.
"Part of the statement was appropriate but I thought bringing in fines and code of conduct and the possibility of default was wrong. Until you know all the facts about someone's health, I didn't like it.
I was thinking Osaka played well with everything going on. I thought maybe she realized she could find a way to go back holding press conferences and return to the more normal major routine to de-escalate the situation." -Pam Shriver
Pam Shriver – Playing Style and Equipment
Pamela Shriver's variety distinguished her from the rest. She often demonstrated her sharp volleys and all-around solid technique at the net.
Further, she had a strong slice forehand and underspin approach. It made her unique from the rest of the women in tennis. However, Pam Shriver had a comparatively weak chip backhand.
She was profoundly known for being a serve-and-volleyer.
Pam Shriver was the first professional player to play with an oversized racquet, manufactured by Prince. Pamela's scores gave a lot of exposure to Prince's oversize racquet.
Consequently, the Prince oversize became the player's favorite. It turned out to be a game-changer for recreational players, who enjoyed its larger head size. Henceforth, it was used in the public courts across the states.
Caroline Wozniacki Bio: Career, WTA, Net Worth, Husband, Wiki>>
Pam Shriver – Honors and recognitions
Shriver was ranked among the world's top 10 in women's singles in all of the 1980s. In fact, she gained a seat at the world's no. 3.
Further, Pam Shriver was recruited as the WTA Tour Players Association president from 1991 to 1994.
She then worked as the president of the USA Tennis Foundation. Further, she was elected to the board of directors of the United States Tennis Association.
Pamela Shriver was inducted into the International Tennis Hall of Fame in 2002.
Furthermore, she was honored with the Ambassador Award of Excellence by the L.A. Sports & Entertainment Commission in 2002.
You can watch Pam Shriver's career statistics on the website of tennis abstract.
Pam Shriver – Career as a Broadcaster
Pam Shriver has worked as the television commentator for ABC, CBS, and ESPN. Similarly, she has provided commentary to the BBC in the United Kingdom and the Seven Network in Australia.
When @ESPNtenis @espn came to @WimbledonVil to do a short story with @PHShriver #pamshriver and #wimbledonvillagewindows The first stop was the lovely @dentalrooms – its their first time partaking in the window competition in #Wimbledon village. pic.twitter.com/3E9GCGo16D

— WVEvents (@W_V_Events) July 8, 2018
In fact, she has been giving coverage of various events on television since her retirement.
Pam Shriver – Family (Former Husbands and Children)
Pam Shriver first got married to Joseph Shapiro, a former attorney at the Walt Disney Company. Joseph Shapiro died on September 23, 1999, at the age of 52. He succumbed to a type of cancer known as non-Hodgkin's lymphoma.
My statement about my late husband, Joe Shapiro. @CNN @MSNBC @washingtonpost @nytimes @latimes @Santucci @ABC pic.twitter.com/tAlCF1VANn

— Pam Shriver (@PHShriver) July 8, 2020
Pam and Joe were married for nine months when Joe died. The cancer was in abatement when they started dating. Nevertheless, Joseph had to leave, breaking Pam's heart.
Pam Shriver then got married to an actor, George Lazenby, in 2002. George Lazenby is 22/23 years older than Pam Shiver.
Their marriage had a tragic end. Pam blamed Lazenby for assault and drunkenness. Likewise, George Lazenby blamed Pam for several other things.
They got divorced in August 2008, after six years of marriage.
However, the couple has three children together. The elder one, George Junior Lazenby, was born on July 12, 2004. Pam then gave birth to twins, Kate and Sam Lazenby, on October 1, 2005.
The family used to live together in Brentwood, California.
Pam Shriver – Net worth
Pam Shriver's net worth is estimated to be around $10 million.
Further, she received prize money worth $5,460,566 in her tennis career. She lives a decent life with her three kids.
Similarly, her former husband, George Lazenby's net worth is estimated to be around $20 million.
Pam Shriver – Social Media Presence
Common Queries About Pam Shriver
Is Pam Shriver related to John F. Kennedy?
Yes, Pam Shriver is the niece of President John F. Kennedy of the United States. Further, she is also the fourth cousin of Maria Shriver, the former first lady of California.
Is Pam Shriver still married?
Pam Shriver is happily single now. She got divorced from George Lazenby in 2008. She lives with her three children these days. Before George, she was married to Joe Shapiro for a year from 1998 to 1999.
What is Pam Shriver's tennis record?
Pam Shriver depicts 22 Grand Slam Tournament titles and among them, he has 21 in doubles and a single in mixed double.