Lonnie Walker is a professional basketball player for the Los Angeles Lakers of the National Basketball Association (NBA).
Athletic since childhood, he had always wanted to be a professional sportsman from his high school days.
Previously before entering the NBA, Walker played college basketball for the Miami Hurricanes men's basketball team.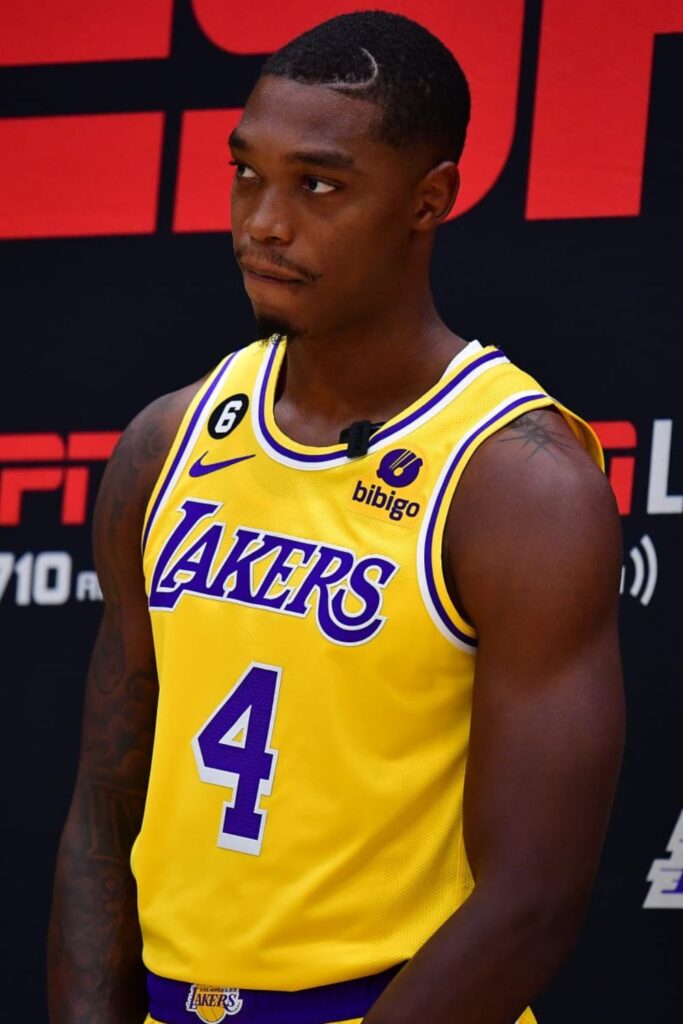 The Lakers shooting guard is an avid reader and is mainly found reading books in his locker room before every match. He says reading has helped him be active, focus more on his game, and deliver on the court.
Moreover, he can effectively play in a small forward position. The Lakers fans' favorite is currently the talk of the town because of his late heroics lifting the Lakers over the Warriors.
On Monday, the Lakers secured an impressive 104-101 victory over the Warriors in the Western Conference semifinals, thanks to standout performances from LeBron and Lonnie.
James led the charge with 27 points. Meanwhile, Walker proved a vital asset for the Lakers in the fourth quarter, scoring all 15 points to help his team build a commanding lead.
Let's explore!!
Quick Facts
Full Name
Lonnie Walker IV
Date of Birth
December 14, 1998
Birth Place
Reading, Pennsylvania, the USA
Nick Name
None
Religion
Christianity
Nationality
American
Zodiac Sign
Sagittarius
Age

24

Years Old
Height
1.93 m/6 feet 4 inches/193 cm
Weight
204 lb/93 kg
Hair Color
Black
Eye Color
Black
Build
Athletic
Father's Name
Lonnie Walker III
Mother's Name
Tamica Wall
Siblings
None
Food habit
Non-vegetarian
Education

Reading Senior High School (Reading, Pennsylvania)
University of Miami (Coral Gables, Florida)

Marital Status
Unmarried
Sexual Orientation
Straight
Girlfriend's Name
Emily Miller
Kid
None
Profession
Professional Basketball Player
NBA Draft
2018
Position
Shooting guard/ Small forward
League
National Basketball Association (NBA)
Active Years
(2018–present)
Net Worth
$1- $5 million
Currently Plays For
Los Angeles Lakers
Jersey Number
1
Career Highlights & Awards

Mr. Pennsylvania Basketball (2017)
ACC All-Freshman Team (2018)
McDonald's All-American (2017)

Social Media
Instagram, Twitter
Last Update

December 2023
Early Life, Family & Education
Lonnie Walker was born and raised in Reading, Pennsylvania, on December 14, 1998. He is the only son of Lonnie Walker III and Tamica Wall.
Lonnie's parents were very young when he was born. His father was just in his sophomore year when he became a dad. Consequently, he dropped out of work and took care of his son.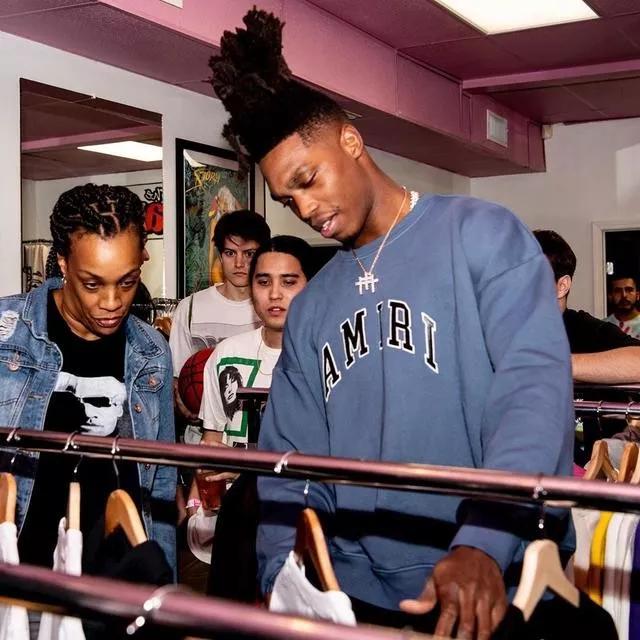 However, his parents never legally married. Instead, they co-parented Walker with him staying in his dad's house. He grew up in Reading and attended Reading Senior High School.
As a child, he became interested in athletic activities.
He played basketball with his friends and local boys in high school. He soon made it to the high school's first team and led his team to many inter-school tournaments.
However, his parents did not allow him to spend all his free time in basketball. They had high regard for education, so they had a routine specifying his playtime and reading time.
His dad, Lonnie Sr., was a basketball player in his college days. So he was well aware that his son could make a promising professional career in basketball.
However, he wanted young Walker to become a good person, well-versed in every human quality possible.
More importantly, he wanted his son to remain aloof from the gang culture of Reading. Their hometown was quite infamous for drugs and gang fights at that time. Fortunately, he avoided bad influences and did well in sports and his studies.
After high school, he joined the University of Miami to play college basketball and continue his studies.
Career
High School Career
Lonnie Walker enrolled in Reading Senior High School as a kid in Reading, Pennsylvania. He was lean and athletic since childhood, so he quickly secured his place on the varsity team.
He played around 27 games as a freshman and averaged 8 points per game. Additionally, he did very well and impressed the coaches, who recognized him as one of the school's best athletes.
Moving onto the second year, he played some matches before missing out on the whole season due to an injury. After that, he took a long rest and eventually returned to court for his third year.
He averaged 17.1 points per game as a junior, playing 29 matches. But then, he kept improving his performance and grew much better year after year. He finished his senior year with a career-best average of 18.4 points per game.
In addition to his records, he led his team to win their first-ever state championships in 2017.
After finishing his high school career with the best results, he joined the Miami Hurricanes for his college career.
College Career
Lonnie played for the Miami Hurricanes as a freshman. He made his college debut against Gardner-Webb University on November 10, 2017. In his debut match, he recorded season-high five assists along with 10 points.
Similarly, he scored 12 points and five rebounds for an 80-52 win against Princeton University on December 2, 2017. He broke his previous career-high points record after scoring 26 points in a single match against Boston University in the same month.
Moreover, he recorded seven rebounds in the exact match to win with a score of 69-54.
However, he had a very brief college career. After the first season, he decided to forgo the rest of his college career and go for the 2018 NBA Draft.
He played 32 matches for the Miami Hurricanes and averaged 11.5 points and 2.6 rebounds per game.
Professional Career
Even though most people thought he did wrong going for the draft so early, he shocked everyone when the San Antonio Spurs selected him. The team picked the young college kid as the draft's first-round 18th pick.
Following his selection, they included him in the 2018 NBA Summer League squad.
Soon after, he officially signed a contract with the Spurs on July 11, 2018. However, he did not play in the NBA regular season match for the Spurs until the beginning of 2019.
Meanwhile, he suffered a meniscus tear on October 6, 2018, and did not appear in any games until the next month. After his recovery, the shooting guard was assigned to the Austin Spurs, an affiliate team of the Spurs, for some time.
He finally made his NBA debut on January 3, 2021, against the Toronto Raptors, scoring 3 points and one rebound, playing for just five minutes.
He improved slightly more than in his previous season but could not perform as expected.
Walker scored a career-high 28 points, including 19 in the 4th quarter, in a 135–133 double overtime win over the Houston Rockets on December 3, 2019.
He signed a one-year contract with the Los Angeles Lakers on July 6, 2022.
On 8 May 2019, he scored 15 points in the fourth quarter as the Lakers built a commanding lead in the Western Conference semifinals with a 104-101 victory over the visiting Warriors.
LeBron led the charge with 27 points. Meanwhile, Walker proved a vital asset for the Lakers in the fourth quarter, scoring all 15 points to help his team build a commanding lead.
Injuries & Health Update
Lonnie first experienced his significant injury while he was in high school. Due to that injury, the youngster missed almost the entire second season.
Walker was listed on the Covid Reserve list on January 1, 2022. Even though his result came negative during the test, he rested for some days. He came out clear from Covid-19 protocols and finally became fit to join the team on January 6, 2022.
Similarly, in early February 2022, he suffered a knee injury forcing him to remain off-court for some days.
However, he returned after the first week of the same month against Cleveland.
Awards & Achievements
Some of his awards & achievements include:
Mr. Pennsylvania Basketball (2017)
ACC All-Freshman Team (2018)
McDonald's All-American (2017)
Age, Weight & Height
As of 2023, the Lakers shooting guard is 24 years of age. He celebrates his birthday every December 14.
Walker stands 1.93 meters (6 feet 4 inches) tall and weighs around 204 lb (93 kg).
As mentioned earlier, Lonnie has always been lean and athletic. His small but agile body helps him dodge his opponents and move forward for more points during the games.
Moving onto his facial features, he has black eyes and black-colored hair. Previously, he had long hair, and when asked about it, the player remarked that he kept long hair as a coping mechanism for the trauma he endured as a child.
He was a frequent victim of sexual harassment from one of his family members. He even recounted being raped when he was just a 5th grader.
However, he later cut his hair short, saying that now he has grown emotionally more potent and has already moved on from past traumatic incidents.
Net Worth, Salary & Career Earnings
According to sources, Lonnie Walker has an estimated net worth of $9 million as of December 2023. His primary source of earnings is the NBA league games.
He has only appeared in around five seasons of the NBA. The San Antonio Spurs paid him over $2 million in his rookie season alone.
The team offered him around $5.5 million for his next two seasons. Moreover, the Spurs increased Walker's salary to $4.4 million for the 2021-22 season.
The player has already amassed around $18.76 million throughout his NBA career.
On July 6, 2022, Lonnie signed a 1 year $6.48 million contract with Los Angeles Lakers.
The deal includes $6,479,000 guaranteed and an annual average salary of $6,479,000.
Personal Life
Lonnie Walker is currently in a relationship with Emily Miller. They got engaged in November 2021.
The two met in around 2017, and it was Walker who saw her first. However, he did not dare to go and talk to her in the beginning. Fortunately, it later turned out that Emily had a dog.
As Walker is a dog person, he thought of a plan. So, he got his first date when he approached her, pretending he was there to see her dog. Soon, they became friends and eventually turned into lovers. He, too, has a dog named Zola.
On the other hand, Emily loves her fiancee very much and feels proud that he is hers. She remarked on an Insta post of her engagement, saying he had taught her to be happier and more confident.
They have not married as of yet. But Emily and Walker are planning to arrange a wedding very soon.
Frequently Asked Questions (FAQS)
How long has Lonnie Walker been in the NBA?
Lonnie Walker has been in the NBA for around five years. He debuted in 2019, although he was drafted in 2018.
What position does Lonnie Walker play?
Lonnie Walker mostly plays in the shooting guard position. The athlete can play as a small forward as well. However, he has performed better in his usual place, i.e., the shooting guard position.
Is Lonnie Walker good?
Yes, Lonnie Walker is excellent on the court. Even though he started steady and had bad stats on board at the beginning of his NBA career, he has now pulled himself up. He is a good shooter with excellent speed.