Lourdes Gurriel Jr. is a versatile Cuban professional baseball left fielder playing for the Arizona Diamondbacks of Major League Baseball (MLB).
He is one of the Gurriels to make a name in sports, especially in baseball.
Lourdes previously played as a left fielder, a second baseman, and a shortstop for the Toronto Blue Jays.
Before joining the big league, Lourdes Junior played for the Cuban National Series with the Sancti Spíritus and the Industriales.
After he departed from Cuba, he became one of the top international prospects for MLB, and soon enough, he emerged as a free agent before joining the Toronto Blue Jays.
Not to mention, he is the son of Lourdes Gurriel Sr., a Cuban legend who took home a gold medal in 1992.
Also, both his brothers are baseball players, one of whom competed in the Olympics and the World Cup as well.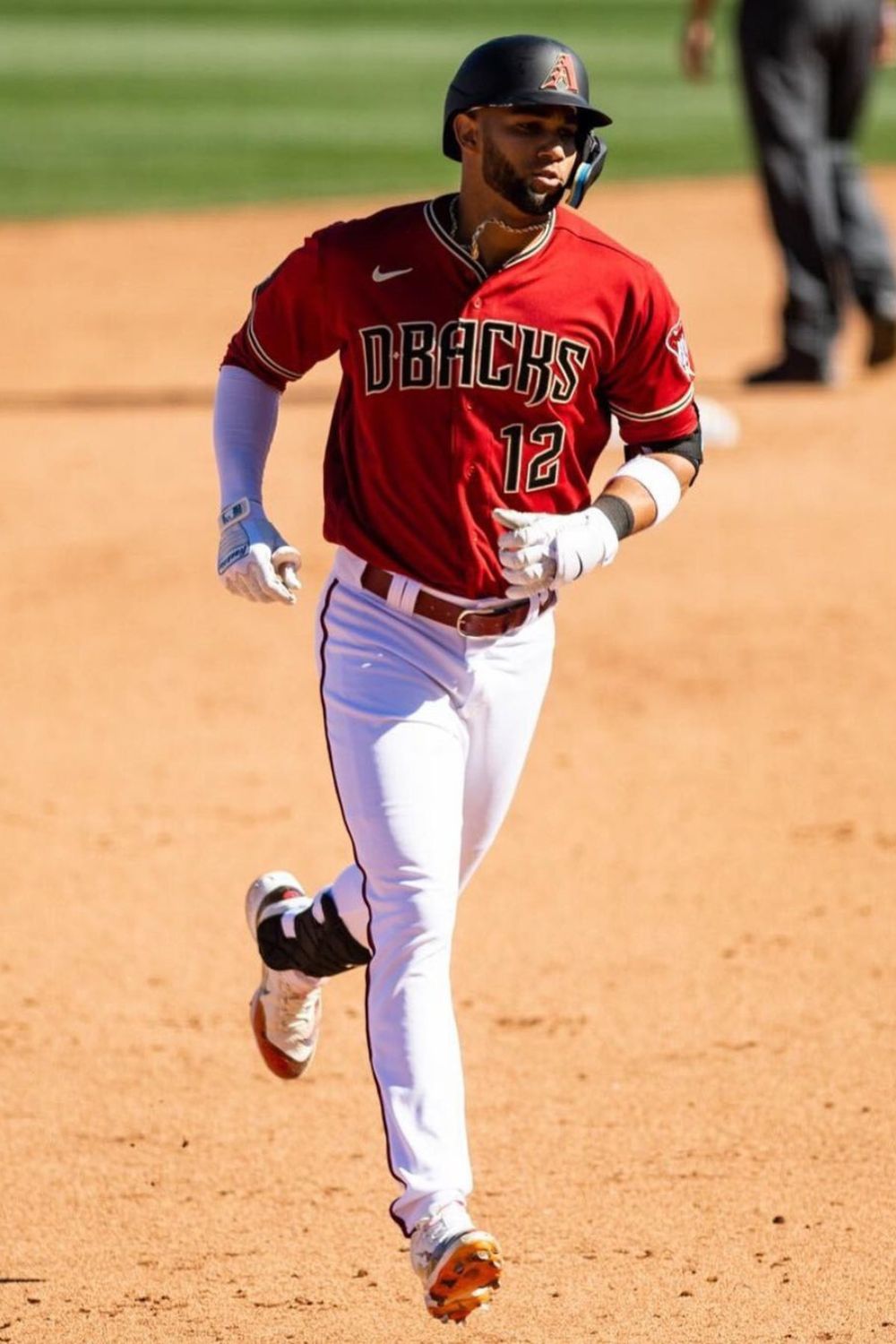 In 2023, he is playing for Arizona Diamondbacks after being traded to the team on December 23, 2022. He is excited to have a fresh start in Arizona and is open to new opportunities.
Let's briefly look at the table below before we go further to learn about the life of Lourdes Gurriel Jr.
Quick Facts
Full Name
Lourdes Yunielki Gourriel Castillo Jr.
Date of Birth
October 10, 1993
Birth Place
Sancti Spíritus, Cuba
Known As
Lourdes Gurriel
Nickname
Pinapower Jr.
Religion
Unknown
Nationality
Cuban
Ethnicity
Mixed-Cuban
Zodiac Sign
Libra
Age
29 Years Old
Height
6 feet 4 inches/1.93 m/193 cm
Weight
97 kg/215 lbs
Hair Color
Brown
Eye Color
Dark Brown
Build
Athletic
Father's Name
Lourdes Gurriel Sr.
Mother's Name
Olga Castillo
Siblings
Two Brother, Yulieski Gourriel Castillo and Yuniesky Gurriel
Education
Sancti Spiritus, Cuba
Marital Status
Married
Wife
Jennifer Álvarez
Kids
Three Sons
Profession
Professional Baseball Player
Position
Second Baseman, Left Fielder, Shortstop
Team

Toronto Blue Jays (2018–2022)
Arizona Diamondbacks (2022-Present)

Active Years
2016-Present
Net Worth
Over $1 Million
Social Media
Instagram, Twitter
Merch
Signed Bat, Rookie Card
Last Updated
March 2023
Early Life, Family, & Education
Lourdes Gurriel was born on October 10, 1993, to parents Lourdes Gourriel and Olga Castillo.
His birth name is Lourdes Yunielki Gourriel Castillo Jr., with both his paternal and maternal names in it.
He was born and raised in Sancti Spíritus, Cuba, with his two brothers, Yulieski Gourriel Castillo and Yuniesky Gurriel.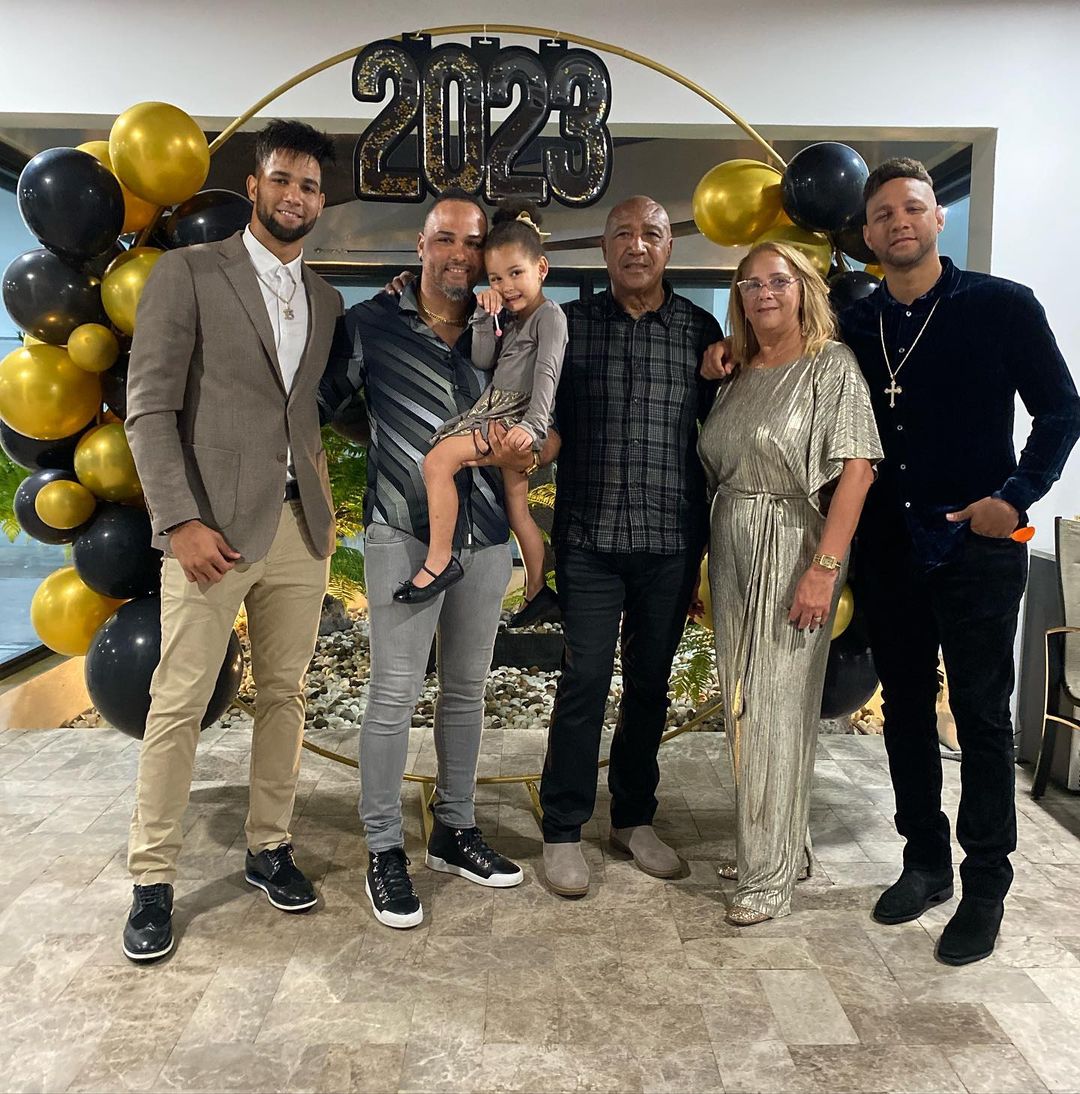 Not to mention, his father is also a former baseball player who represented Cuba in the Olympic Games, Baseball World Cup, and a few other international games.
Even more, Lourdes Gurriel Senior is regarded as a legend in Cuba who bagged a gold medal in the Olympics.
Most importantly, the Gurriels are known to be the first family of Cuban baseball.
His brother, Yulieska, played for the Houston Astros (2016-2022) of MLB, but he is a free agent right now.
He is most commonly known as Yuli or "La Piña" among his friends. In 2006, Yuli received the Best Player in Cuba title.
Following in his father's footsteps, Yuli represented Cuba in the 2004 Summer Olympics and the Baseball World Cup in 2003 and 2005.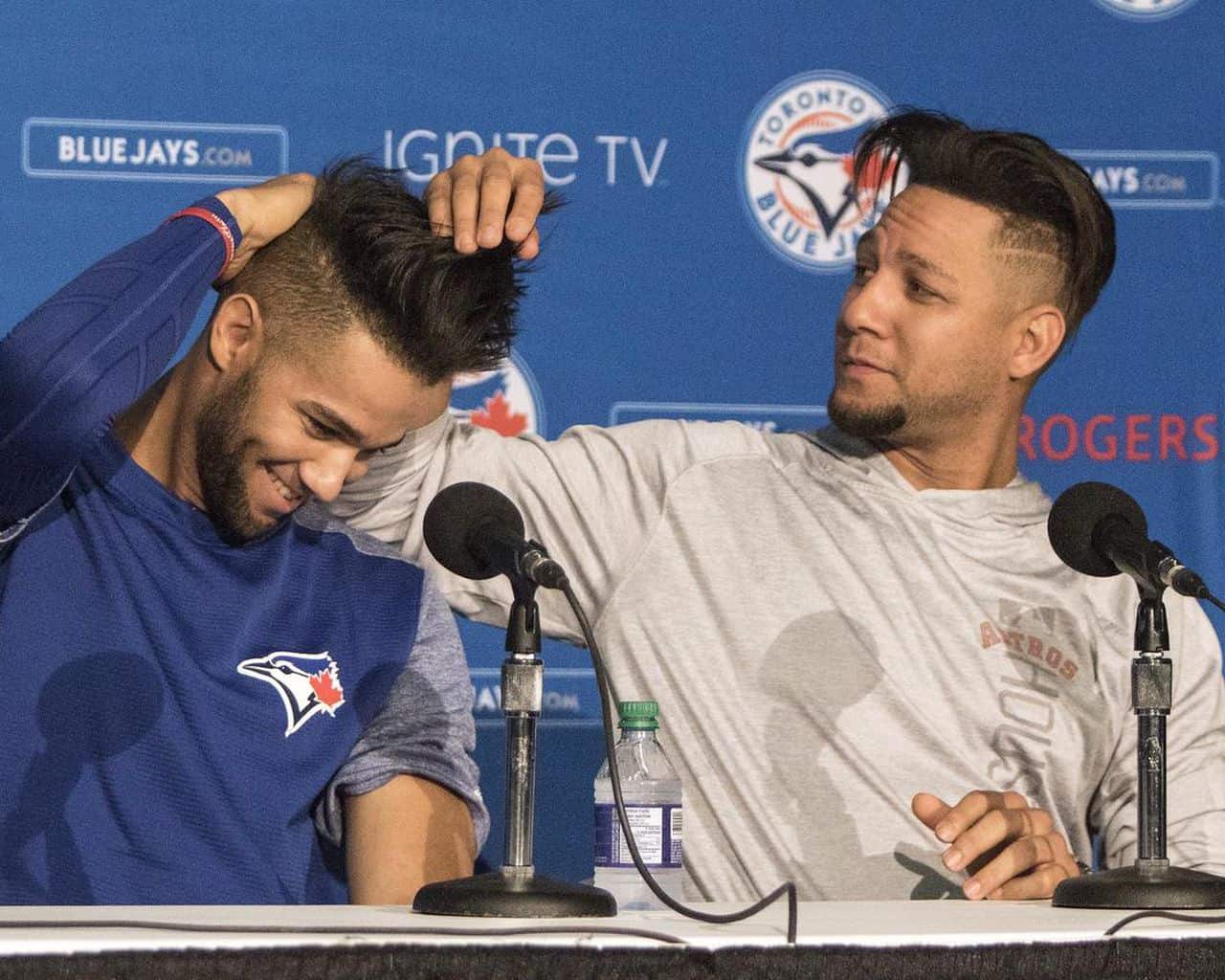 Also, his eldest brother, Yuniesky, is a baseball player but not as renowned as the younger brothers.
However, he greatly supports both Yuli and Lourdes Jr., who played for the Sancti Spíritus and are the first brothers in MLB history to record multiple home runs on the same day.
Both of them started their baseball career at a young age. Lourdes was only 16 when he entered the Cuban Baseball Series; hence whether or not he completed his studies is a mystery.
Height, Weight, & Physical Appearance
The popular MLB player is 6 feet and 4 inches (1.93 m) tall and weighs 97 kg (215 lbs).
Lourdes has dark brown eyes and is incredibly serious about his hair and hairstyle.
According to some sources, he takes up to 15 to 20 minutes each morning for his hair and often goes for hair treatments in order to maintain his hairstyle.
His hair is naturally curly, so he straightens his locks and applies some gel for styling.
In fact, his hairstyle resonated with the top of a pineapple; hence, it is known as Piña, which is a pineapple in Spanish.
Professional Career
Cuban National Series
Sancti Spíritus
As a 16-year-old boy, Lourdes Gurriel made his professional debut in the Cuban National Series with Sancti Spíritus in 2010.
He played as a pinch hitter, also called a substitute batter, and batted .200 in 15 at-bats (AB) in 16 games.
Similarly, in the following season, Gurriel made appearances in 55 games and recorded .227 hits with three home runs and 16 runs batted ins (RBIs).
Lourdes recorded .253 hits in his final season, including four home runs and 32 RBI in 67 games.
Industriales
Lourdes joined the Industriales of the Cuban National Series in 2013. He played 45 games, recording .218 hits with one home run and 17 RBIs.
Likewise, he also represented Cuba at the 2014 Central American and Caribbean Games before the start of the 2014 season, where he earned the gold medal.
In 2014, Lourdes had 63 game appearances and recorded .308 hits with eight home runs and 42 RBIs.
Additionally, he recorded .344 hits with ten home runs and 53 RBIs with the Industriales in 2015.
After the Cuban League Series season, Gurriel signed a contract with the Yokohama DeNA BayStars of Nippon Professional Baseball (NPB).
However, Lourdes did not appear in any of the games with Yokohama. Consequently, he was placed on the restricted list.
In February 2016, he and his brother, Yulieski, left Cuba after competing in the Caribbean Series to follow their dreams of joining Major League Baseball.
Toronto Blue Jays
2016-2017
MLB declared Lourdes Gurriel Junior a free agent in August 2016, and he was ranked as the sixth-best internationally then available prospect.
60 MLB scouts attended a showcase of Gurriels' skills at Rod Carew Stadium in September.
Not to mention, he signed a seven-year contract worth $22 million with the Toronto Blue Jays on November 12, 2016.
Gurriel participated in spring training with the Blue Jays; he was assigned to the Advanced-A affiliated team named Dunedin Blue Jays of the Florida State League on March 17, 2017.
But unfavorably, the baseball player started the season on the disabled list because of a leg injury.
Then on April 18, he made his minor league debut but unfortunately left the game with a fresh outbreak of the same leg injury.
After appearing in 18 games with Dunedin, the Blue Jays subsequently promoted Gurriel to the Double-A affiliate team called New Hampshire Fisher Cats of the Eastern League.
Overall, Gurriel made his appearance in 64 games in 2017 and recorded .229 hits, including five home runs and 36 RBI.
Additionally, he played for the Peoria Javelinas of the Arizona Fall League (AFL) during the off-season.
2018
In the 2018 season, he started with New Hampshire Fisher Cats and recorded .347 hits in 12 games.
The Blue Jays eventually promoted him to the major leagues on April 20, where he scored two singles and three RBI.
Gurriel hit his first professional home run on April 28 against Bartolo Colón of the Texas Rangers. Likewise, he hit his first double home runs on July 27 in a 10-5 win over the Chicago White Sox.
Not to mention, he became the first rookie in baseball's modern era to have ten consecutive multi-hit games by collecting a pair of singles in Toronto's game against the White Sox.
To top that off, the last rookie who received the title was Shoeless Joe Jackson in 1911. On July 29, Gurriel broke Jackson's record with by 11th consecutive multi-hit game.
Besides, Jackson also had the overall American League record with an 11-game multi-hit streak in 1912. However, Gurriel tied Jackson's all-time AL record while breaking the rookie record.
Unfortunately, Lourdes was kept on the disabled list after suffering an injury during his third hit of the game on July 29.
Moreover, he sadly ended the remaining season on September 25 with a sore left hamstring.
2019-Present
Lourdes started the 2019 season with a record of .175 hits in 13 games.
However, he struggled with throws from second base, so the Blue Jays assigned Gurriel to the Triple-A affiliate team, Buffalo Bisons of the International League as an outfielder.
In 2019, he rejoined the Blue Jays in the major league and led all major league left fielders with nine defense assists.
Similarly, on offense, he recorded .277 hits with 20 home runs in a total of 84 games. Even more, he received the team's player of the year award and the most improved player for 2019.
Gurriel had a record of .308 hits, including eleven home runs and 33 RBIs in 57 games total in the 2020 Toronto Blue Jays season.
Not to forget, he was also nominated as one of the finalists for the Gold Globe award in 2020.
Even though he didn't win, he was again named a finalist in 2021 for the second consecutive year.
The Blue Jays traded him to the Arizona Diamondbacks in exchange for Daulton Varsho on December 23, 2022.
Career Statistics
| | | | | | | | | | |
| --- | --- | --- | --- | --- | --- | --- | --- | --- | --- |
| Season | Team | LG | Games | At Bats | Runs | Hits | Total Bases | Home Runs | Runs Batted In |
| 2018 | TOR | AL | 65 | 249 | 30 | 70 | 111 | 11 | 35 |
| 2019 | TOR | AL | 84 | 314 | 52 | 87 | 170 | 20 | 50 |
| 2020 | TOR | AL | 57 | 208 | 28 | 64 | 111 | 11 | 33 |
| 2021 | TOR | AL | 141 | 500 | 62 | 138 | 233 | 21 | 84 |
| 2022 | TOR | AL | 121 | 453 | 52 | 132 | 181 | 5 | 52 |
| MLB Career | – | – | 468 | 1724 | 224 | 491 | 806 | 68 | 254 |
Jersey
Gurriel Jr. wore jersey number 13 for the Toronto Blue Jays.
But right now, he is wearing jersey number 12 after being traded to Arizona Diamondbacks.
Personal Life & Relationship
The Cuban native is married to his long-time girlfriend, Jennifer Álvarez. The couple got hitched in 2019 and has two beautiful sons together.
Their names are a mystery to us as it is not yet available online, but we know that Jennifer is a real estate agent who is busy buying, selling, and leasing properties.
Lourdes Jr. keeps posting pictures of his wife and sons to appreciate and show his love toward them.
On November 25, 2021, the couple gave birth to another son, Jordan Logan.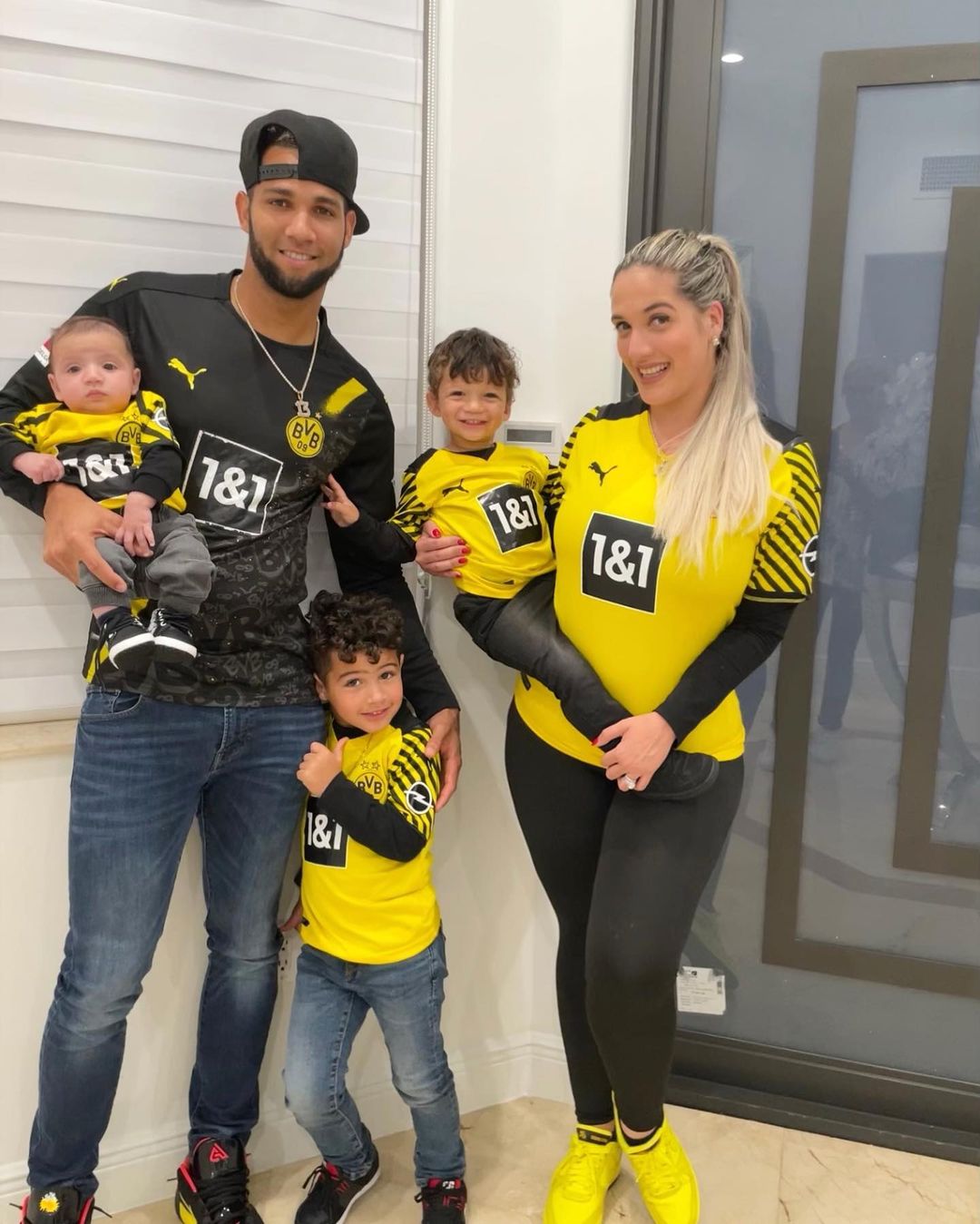 Besides being a husband, father, son, and brother, he is also one of the Gurriel Store founders (Piña Power).
Lourdes is not very fluent in speaking English but has the necessary skills. Both the Gurriel brothers often have a translator with them in the interviews.
Pina Power
Piña Power is mainly focused on athletic clothing and accessories and got its name from the famous hairstyles of the Gurriel brothers.
His pina power shirt is an officially licensed Major League Baseball Players Association product.
It is unisex and available in yellow, light brown, and black and white print on super-comfortable royal tees.
Moreover, you can purchase his pina power shirt on the website of the Gurriel store.
Salary & Net Worth
Lourdes Gurriel Jr.'s net worth is estimated at over $1 million as of March 2023.
In 2016, he signed a seven-year $22 million contract with Toronto Blue Jays, with a $3 million signing bonus.
As a result, Lourdes Gurriel earns around $3.14 million per year and ranks in the 253rd position among all the MLB players.
Apart from his baseball earnings, his secondary income source is from his clothing brand and other endorsements.
Autograph
Here's a picture of Lourdes Gurriel Jr.'s autograph:
Social Media Presence
The MLB star is active on social media, posting pictures of his family, games, and lifestyle.
You can follow him on Instagram and Twitter to get daily updates on the player.
Instagram: 142K Followers
Twitter: 34.9K Followers
Popularity Graph
The famous baseball player's popularity has always been at its peak. Millions of his fans and followers are curious to know him and often search for him on the internet.
The graph illustrates his 12 months of search interest on Google.
Frequently Asked Questions (FAQS)
Did Lourdes Gurriel Jr. win the Gold Glove award?
Lourdes Gurriel Jr. was nominated for the Gold Glove award in October 2020 against Alex Gorden of the Kansas City Royals and Kyle Tucker of the Houston Astros. However, Gurriel Jr. could not win the award in 2020. He was again named a finalist for the award in 2021 but didn't win.
How tall is Lourdes Gurriel Jr. in feet?
Lourdes Gurriel Jr. is 6 feet and 4 inches tall.