Lucas Herbert is a single man and doesn't have a wife. In fact, the Australian recently broke up with his girlfriend of two years, Maggie O'Shea.
The couple looked to have been going strong in their relationship. Maggie even caddied for Lucas in the Masters' Tournament.
But since early this year, they started to experience some cracks in their relationship.
Unlike other ex-couple who seem to delete the photos and videos of their exes, Maggie and Lucas have chosen to handle their breakup maturely.
Their romantic and fun times are still available on Maggie's TikTok and Instagram handles.
In April, the Australian won the ISPS Handa Championship, making it his first victory of the 2023 season.
We will see the Australian in action at the US Open, competing against Si Woo Kim and Hank Lebioda.
Lucas Herbert Wife: Is He Married?
Lucas Herbert doesn't have a wife but was previously in a relationship with Maggie O'Shea.
The Australian golfer had mostly remained tight-lipped regarding his private life, especially his dating life.
But last year, Herbert, 27, mentioned Maggie once during his interview with Golf Digest.
During the conversation with the website, Herbert talked about his Master's debut and said his then-girlfriend, Maggie O'Shea caddied for him in the Par 3 Contest.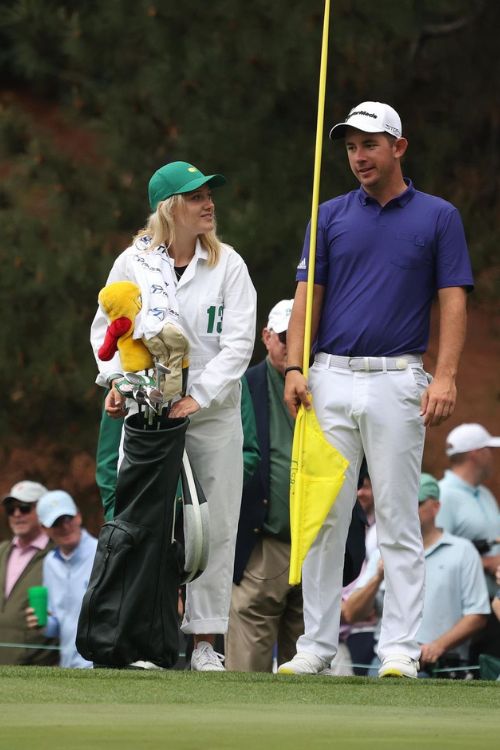 O'Shea also shared the moment on her Instagram handle. She shared a series of pictures, including one sealed with a kiss between the two.
She captioned the post, "Grateful to experience life & moments like this with you."
Later that year, Maggie was seen at PGA and BMW Championship.
Despite their breakup, the couple hasn't deleted any posts featuring one another. So, it must have been an amicable breakup, respecting each other's feelings.
Or there might be a possibility of them being on a break and resume their relationship after rekindling their love.
Who Is Maggie O'Shea?
Maggie O'Shea, the then-girlfriend of Lucas Herbert, is a graduate of Loyola University Chicago.
She graduated in 2021 with a degree in marketing with double minors in Management and Sports Management.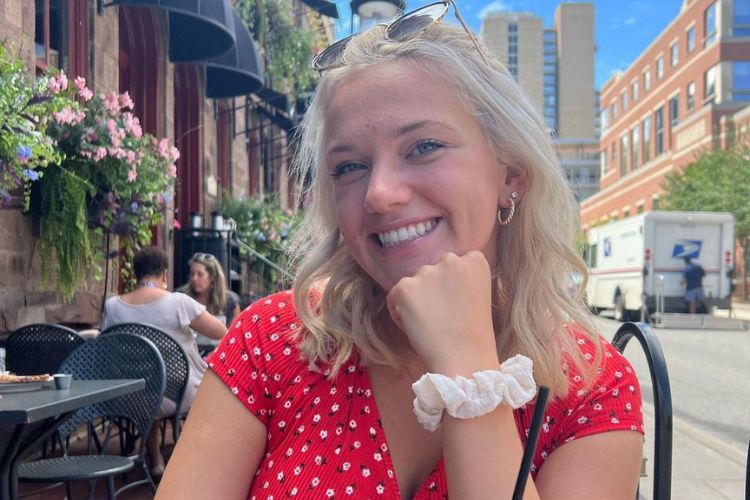 Born on December 28, 1998, Maggie has been a lifelong Bulls and Cubs fan. While at Harold L. Richards High School, Maggie was a multi-sport athlete, playing volleyball, basketball, and soccer.
In college, she put a hold on her athletic side and chose to become the manager of Loyola's Women's Volleyball team.
Maggie is the VP of Membership of the organization CHAARG and also worked as a director of marketing intern in HCMC Legal.
Lucas Herbert Broke Up With Maggie O'Shea In 2023
After dating each other for two years, Lucas and Maggie called it quits earlier this year.
Maggie, who was previously seen as Lucas's caddie in Masters Tournament, has talked about her break up with the Australian golfer in her TikTok handle.
On March 3, 2023, Maggie shared a video titled "Back on my bs. Breakup thoughts with Mags."
In the video, Maggie talked about her mental health struggle and how far she had come while also trying to heal her past traumas.
But because of the breakup, Maggie admitted she was feeling lost and was struggling. In April, she added another video to her breakup edition, talking about how nostalgia and dramatic behaviors make it hard to forget about her breakup.
But Maggie is trying her best to recover from her breakup and has opened a book club in Chicago. She also shared in her TikTok video that she is trying her best to enjoy solo quality time.