Makur Maker, a South Sudanese-Australian professional basketball player, is a center for the NBA G League team Capital City Go-Go.
Earlier, he played for the Australian NBL team Sydney Kings from 2021 to 2022 & even led them to the 2022 NBL Championship title.
In the 2022 NBA draft, Makur went undrafted, yet his ambition to play in the NBA was not off the path.
Through his impressive summer league games, he managed to get an Exhibit 10 contract before being assigned to the G League.
Youth is the best time to build your foundation and prove yourself, and there is no denying Maker, who is in his early 20s, aligns with that phrase.
From his collegiate basketball at Howard University to his NBA journey, he's been consistently working on himself.
A consensus five-star recruit from his high school days, Makur's potential & dedication, without a doubt, would make him a notable NBA figure in the coming days.
Stick through this article to know all about Makur Maker.
Quick Facts
| | |
| --- | --- |
| Full Name | Makur Maker |
| Birth Date | November 4, 2000 |
| Birth Place | Nairobi, Kenya |
| Nick Name | Makur |
| Religion | Not known |
| Nationality | Australian |
| Ethnicity | African heritage |
| Education | St. Andrews Catholic Primary School, Chaminade College Prep, Prolific Prep North, Orange Lutheran, Pacific Academy, Hillcrest Prep Academy, Howard University |
| Horoscope | Scorpio |
| Father's Name | Not Known |
| Mother's Name | Not Known |
| Siblings | Six Brothers & A Sister |
| Age | 22 Years Old |
| Height | 6'11/2.11 m/211 cm |
| Weight | 235 lb./107 kg |
| Cousin | Thon Maker, Matur Maker |
| Hair Color | Black |
| Eye Color | Dark Brown |
| Jersey No | 4 |
| Build | Athlete |
| Marital Status | Single |
| Girlfriend | Not Known |
| Profession | Basketball player |
| Position | Center |
| Net Worth | Under Review |
| Average Salary | Around $40K |
| Current Team | Capital City Go-Go (2022- now) |
| League | NBA G League |
| Active Since | 2020-Present |
| Social Media | Twitter, Instagram |
| Last Update | March 2023 |
Early Life & Family
Makur was born to South Sudanese parents on 4 November 2000 in Nairobi, Kenya.
His family moved to Perth, Australia, when he was one year old. There, he grew up with his six brothers & a sister.
Though further detail on his parents and siblings are under wraps.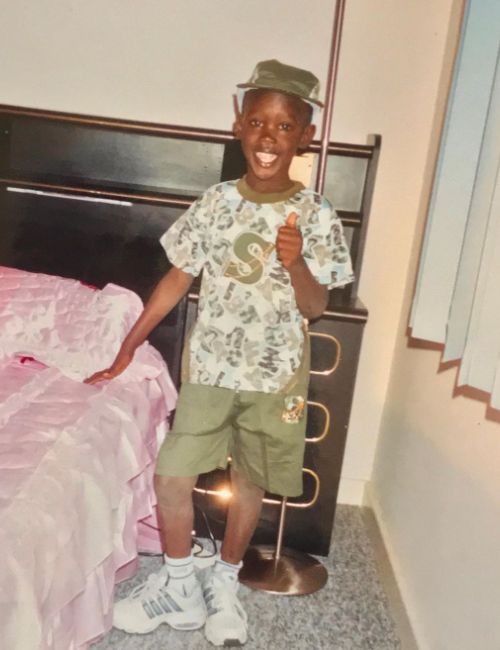 Before he pursued basketball as his passion, Maker tried out his hands in football as a striker & also in beach soccer. Even more, he enrolled in Quinns Football club with his elder brothers to play football.
Later, he would also play football at St. Andrews Catholic Primary School and Irene McCormack Catholic College.
But eventually, Makur was extracted into basketball because of his height.
Age & Height Of Makur Maker
As of 2023, Makur Maker is 22 years old. He is 2.08 m tall and weighs 235 lbs.
Maker has a wing span of 7 feet 1 inch (2.15 m) and a standing reach of 9 feet 4 inches (2.84 m).
Makur has a subtle personality and has remained considerate about fitness, and he hits the gym as much as possible.
High School Career
When he was fifteen, Maker moved to the United States and enrolled at Chaminade College Preparatory School to begin his freshman year in West Hills, Los Angeles.
The sole reason made kept him away from his whole family for many years.
Makur scored 9.5 points, 8.2 rebounds, and 2.5 blocks per game for his freshman year at high school.
The following year, he switched to a college-preparatory school named The Tech Academy in Sault Ste. Marie, Ontario. His cousins, Thon and Matur Maker, inspired him to The Techs.
Also, through his cousin's help, he came under Ed Smith, the basketball coach, and was guided for life.
Makur accompanied his brother Matur and played in the National Preparatory Association and The Grind Session. The Tech Academy got closed the following year, and he sat for home-schooling.
Makur went through a year of loss as he got sidelined because of a foot injury for the 2017-18 season.
After recovering from the foot injury, he continued his high school journey with Orange Lutheran High School in Orange, California.
As a junior, he received All-Trinity League first team and earned All-County second-team honors in a paid daily newspaper, Orange Country Register.
Makur had a question mark on his eligibility as he missed out for a year and drained his eight semesters of eligibility.
He again switched to another preparatory high school, Pacific Academy, in Irvine, California, where he planned to enter the NBA Drafts in 2020.
Makur joined Hillcrest Preparatory High School to finish the rest of his season.
Declaration For NBA Draft 2020
It was heard that Makur submitted all the paperwork to determine his eligibility for the NBA drafts 2020 in October 2019. He decided to enter the NBA Draft and later declared too.
Although Makur fell two credits short of high school graduation, the NBA allowed his eligibility. However, in the end, he opted to play for the college rather than in the NBA league.
There was a different purpose to committing to HBCU as he wanted to bring positive societal changes despite being the highest-ranked player.
He wanted to set an example for black people, probably to get more active in HBCU programs.
You can find the NBA Draft scouting report and mock draft ranking of Makur Maker on the NBADraftRoom website.
Recruiting
As mentioned above in the article, he remained a consensus five-star recruit.
As per the significant recruiting agencies such as Rivals, 247 Sports, and ESPN, he was ranked one of the best centers in the 2020 recruiting class.
Well, He played his game, and hard work played it. He tweeted to inspire youths to take up the HBCU program, proving it no less than the other universities.
Makur received offers from high-level Universities like UCLA, Kentucky, and Memphis. But ended up choosing Howard.
He initiated two games for Howard. Eventually, Makur got benched out on November 20, 2020, as he faced a groin injury during a preseason practice.
National Team Career
He intended to represent Australia internationally once, and he indeed did so.
Makur made an input to represent Australia at the 2019 FIBA Under-19 Basketball World Cup but unfortunately got unselected in the final squad.
Howard Stats
Per Game
Team
G
GS
MPG
PPG
RPG
APG
SPG
BPG
TOPG
PFPG
FG%
3P%
FT%
20-21
Howard
2
2
23.5
11.5
6.0
2.0
0.0
1.0
4.5
3.5
.500
.000
.900
Career
2
2
23.5
11.5
6.0
2.0
0.0
1.0
4.5
3.5
.500
.000
.900
Personal Life
Coming to his aspects of life, many people who have seen him playing, evolving, and growing would surely like to know about his relationship status.
And we rogered that and ended up surveying all over the internet sites, but we could not get a hint on his relationship.
There are no rumors about his love affairs, hook-ups, or patch-ups. Well, the precise assumption says that Makur is single. He is not into the lovemaking phase of life.
All he thinks of is his game and career. He wants to be an early entrant to the NFL draft after accomplishing his collegiate career as soon as possible.
Makur also wants to be a proper Master's Graduate soon. His education has its well-set priority in life.
Besides his friends and family, Makur is close to his cousins Thon and Matur.
These three cousins have always undergone what their basketball and life coach Ed Smith said. They take Ed as a guardian.
A fast fact, Matur is an NBL player for Canterbury Rams, and Thon serves as a power forward for Fujian Sturgeons (CBA).
Makur misses his family after he got moved to the United States. It's been three years that he has not seen his father. Makur currently lives in a house with Thon and Matur in Los Angeles.
Documentary
It is a "The Long Game: Bigger Than Basketball" documentary featuring Makur Maker's brief tenure at Howard.
The chronicled experience of Maker during his stay at Howard and his attempts to realize his NBA dreams is a 2022 released five-part series on Apple TV+.
When Makur's path to the NBA gets derailed due to COVID, he enrolls at Howard University to send a powerful message.
Net Worth & Salary
He came into the limelight at the Pangos All-American Camp and Adidas Nations in the summer of 2017. Aligning with some online sources,
Makur is calculated to have a net worth between $100k to $200k as of 2023.
Not to mention, Makur falls on the no.75 prospect in the ESPN top 100. These details about him showcased his eligibility for the NBA Draft.
Wizards signed Makur Maker to exhibit 10 contract fully non-guaranteed $1.02M and joined the G-League affiliate Capital City Go-Go, where he gets $40k annually.
Nonetheless, Makur's salary, if he gets drafted, then it would probably be in a million for a year.
Social Media Presence
Here is a glad thing to hear about; we can surely catch Makur on Instagram and Twitter. Makur does not keep frequently posting on his Instagram handle, but yes, he at least keeps retweeting on Twitter.
Going through his Instagram posts, a proper analogy that can be extracted is, Makur is entirely devoted to sports. Most of his posts are related to basketball, court, and gym.
You can check out his social media handles if you do not believe them. Also, do not forget to give this young, big man a follow. He is worth it.
Instagram: 139k followers
Twitter: 11.3k followers
Search Graph
Makur is a rising star and seeks opportunities as it comes his way.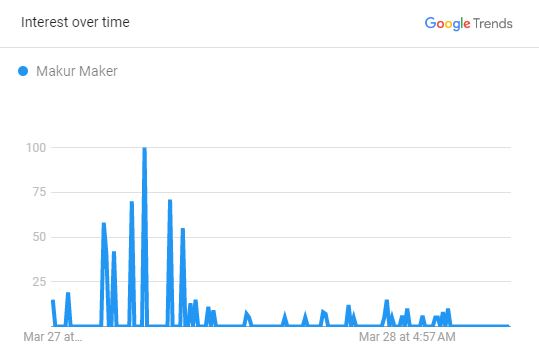 The search rate of Makur Maker is highly fluctuating as its illustrated in the graph.
FAQs
Who is Makur Maker's coach?
Makur Maker is currently under the head coach, Mike Williams of NBA G League's Capital City Go-Go.
What position does Makur Maker play?
Makur Maker plays in center, point guard, and shooting guard positions.
What rank is Makur Maker?
Makur Maker is ranked #75 in ESPN's NBA Draft rankings.
Is Makur Maker related to Thon Maker?
Makur Maker is the cousin of Thon Maker. Thon is a professional basketball player for the Fujian Sturgeons of the CBA.
Did Makur Maker make it to the 2021 NBA draft?
Makur Mayer withdrew from the 2021 NBA Draft and after going undrafted in the 2022 NBA Draft, he joined the Chicago Bulls for the 2022 NBA Summer League.