Thon Marial Maker is a South Sudanese-Australian professional basketball player who plays for the Fujian Sturgeons of the Chinese Basketball Association.
Maker also played in the NBA after he was drafted as the 10th overall pick in the 2016 NBA draft. He played for teams like Milwaukee Bucks, Detroit Pistons, and Cleveland Cavaliers during his NBA career.
In 2022, he signed with the Long Island Nets, the NBA G League affiliate team of the Brooklyn Nets.
Thon attended high school in Canada and the USA, even though Thon was an immigrant in Australia from South Sudan.
Quite oddly, he declared for the NBA draft without joining the college. His performance throughout high school was extraordinary, and most basketball recruiting services considered him a five-star recruit.
Consequently, the Milwaukee Bucks picked him in the 2016 NBA draft.
NBA fans and enthusiasts had high expectations when he entered the NBA. However, Thon could not maintain his reputation when he started playing in the world's toughest basketball league.
His performance during his time in the NBA was very miserable and there was not a single season in which he showboated a praiseworthy game.
He last played for the Cleveland Cavaliers in 2020 and the Long Island Nets of the G League in 2022; his fans have high hopes for him, and they still believe that he can redeem himself and make a comeback in the NBA.
Today, we will explore Maker's early life, his NBA career, his net worth, and almost everything about him that matters.
But before moving into the details, here are some quick facts about Thon Maker.
Quick Facts
Full Name
Thon Marial Maker
Full Name
Thon Maker
Date of Birth
February 25, 1997
Birth Place
Wau, South Sudan
Nick Name
Not available
Religion
Unknown
Nationality
South Sudanese/Australian
Tribe
Dinka
Zodiac Sign
Pisces
Age

26

Years Old
Height
7'0″/2.13 m/213 cm
Weight
100 kg/221 lb.
Hair Color
Black
Eye Color
Black
Build
Athletic
Father's Name
Not available
Mother's Name
Not available
Siblings
Two brothers and a sister
Siblings' Name
Matur Maker, Maker Maker, and Ajak Maker
Education

Orangeville District Secondary School (Orangeville, Ontario)
Metairie Park Country Day school (Metairie, Louisiana)
Carlisle School (Martinsville, Virginia)

Marital Status
Unmarried
Girlfriend
None
Sexual Orientation
straight
Food Habit
Non-vegetarian
Profession
Professional basketball player
NBA Draft
2016
Position
Center/Power forward
League

NBA
Israeli Basketball Premier League
NBA G League
Chinese Basketball Association

Active Years
(2016–present)
Net Worth
$1-$5 million
Currently Plays For
Fujian Sturgeons
Jersey Number (Recent)
2
Career Highlights & Awards

Gatorade Virginia Player of The Year (2014)
National Basketball Player's Association Top 100 camp MVP (2015)

Social Media
Instagram, Twitter, Facebook
Merch
Cards
Last Update

June 2023
Early Life, Family & Career
On February 25, 1997, Thon Maker was born in Wau, South Sudan. His parents' details are currently unavailable, but what's known is that they belonged to the Dinka community.
A violent civil war was going on in his country when Thon was born and it was very tough even to survive.
Eventually, his government employee uncle arranged for him and his family to escape to Uganda.
After briefly staying in Uganda, Thon and his family members migrated to Australia. He attended a local school in Perth.
The professional basketball player grew up playing with his brothers and cousins. He mainly played soccer as a kid.
Thon and his brothers were taller than the average children, giving them more advantage in all the sports they played.
Fortunately, Edward Smith, a basketball coach and talent hunter noticed young Thon when he was playing with local kids in Perth.
Smith offered his aunt to take Maker to Sydney to practice basketball. After getting approval from his aunt, Thon began playing St. John Basketball Association in Sydney.
In 2011, both Smith and Maker went to the USA to attend a basketball camp in Texas.
Thon was already a skillful player when he first visited the USA. With Edward's persuasion, he decided to enroll in the Carlisle High School in Virginia and continue his studies alongside his basketball career.
Besides, his brother, Matur, and cousin, Makur, are also professional basketball players, while his other brother, Maker, is a soccer player.
Moreover, the power forward also has a sister named Ajak.
Career
High School Career
Maker never dreamt of attending high school in the USA but realized it would benefit his basketball career.
Playing basketball for the high school team in the USA would provide him the exposure and make it easier for him to get into the NBA.
Thon attended two different schools in Louisiana before enrolling at Carlisle school in Virginia. His mentor, Edward Smith, greatly contributed to getting admission there.
He played for only two years for the Carlisle school's team, but he had remarkable records in both seasons. He was great in every aspect, most notably in scoring, rebounding, and blocking.
In his two seasons with the Carlisle basketball team, he averaged 22.2 points, 13.1 rebounds, and 4.5 blocks per game. Thon even secured the Gatorade Virginia Best Player of the Year.
However, he decided to abandon the rest of the seasons at Carlisle and joined the Athlete Institute in Ontario, Canada, where Edward Smith was serving as the assistant coach.
He continued his impressive performance and participated in the 2015 Nike Hoop Summit in Portland Oregon, after he decided to reclassify into the 2015 class.
However, Thon remained in the Class of 2016 and got offers from Arizona State, Florida State, Indiana, Kansas, Kentucky, Notre Dame, St. John's, and UNLV.
After bagging the MVP honor at the National Basketball Player's Association Top 100 camp, Maker declared his intentions to enter the 2016 NBA draft on April 3, 2016.
Professional Career
The Milwaukee Bucks picked him with the 10th pick overall in the 2016 NBA draft. With this, Maker became the first player to get drafted into the NBA after the 2005 Collective Bargaining Agreement was issued.
He initially made a good impression on spectators by playing exceptionally for the Bucks in the NBA Summer League. However, it all watered down when he began playing regular NBA season.
Although he performed better in some matches, his overall performance in the rookie season was a disaster. He averaged just 4.0 points per game in his first season and was allowed very little playtime.
The power forward played one and a half seasons with the Bucks after his rookie season but showed no sign of improvement. Even though the team management allowed him more minutes in the second season, he failed.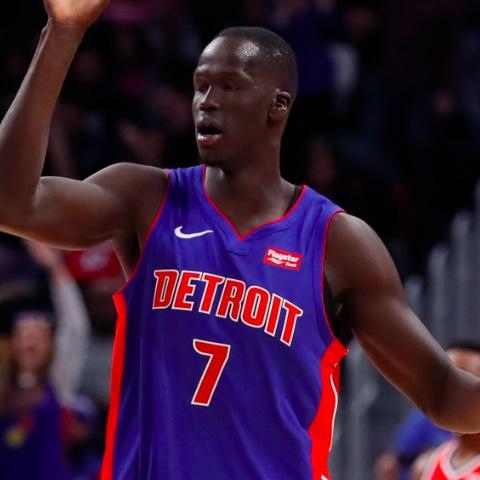 The Bucks traded him to the Detroit Pistons mid-way through the 2018-19 season. He played around 29 matches for the Pistons that season. Even though he gave his career-best performance, it was hardly impressive.
He played two more seasons in the NBA with Pistons and Cavaliers one season each, before joining the Israeli Basketball Premier League.
Further
On August 25, 2021, Maker signed a deal with Hapoel Jerusalem. However, he parted ways with the team on December 12, averaging 2.8 points and 3.5 rebounds per game.
The Long Island Nets, the Brooklyn Nets G League affiliate team, acquired him via available player pool on January 21, 2022.
Later, on July 28, 2022, the power forward joined the Fujian Sturgeons of the Chinese Basketball Association.
Apart from the league games, Thon has appeared in a few international tournaments for the Australian national basketball team.
He made his debut for the Australian national team in the FIBA World Cup qualifier against Japan on June 29, 2018.
He even got suspended for three games after his involvement in the Philippines-Australia basketball brawl during the 2019 FIBA Basketball World Cup Asian qualification.
Maker was able to bag gold with his national team in the FIBA Asia Cup in 2022.
Awards & Achievements
Thon had a great start when he started his basketball career. He won some significant awards during his high school year. However, he could not perform well in the best basketball league in the world.
Some of his very few achievements are:
Gatorade Virginia Player of The Year (2014)
National Basketball Player's Association Top 100 camp MVP (2015)
Net Worth, Salary & Career Earnings
According to various sources on the internet, Thon Maker has a net worth of around $1-$5 million.
Maker's main source of earnings is his professional basketball career. However, he could not earn as much as he had initially hoped for, as his NBA career was not a success.
He received a good amount in his rookie season when he joined the Milwaukee Bucks for the 2016-17 season. The club had paid him around $2.5 million that season. For his second season with the Bucks, he received somewhat similar sum.
The power forward received around $4.3 million for his one-and-a-half seasons with the Detroit Pistons.
Throughout his NBA career, he garnered a total of around $11 million.
Currently, he is not playing in the NBA and is affiliated with Fujian Sturgeons, but he is earning a decent amount with his current team.
Personal Life
The tall and charming young athlete is not in a relationship with any woman. Moreover, he is never known to be in a relationship in his life.
Thon is trying his best to regain his form back and wishes to have less distraction. His main focus at present is improving his game and bouncing back to the NBA.
Anyways, Maker has always been a mysterious guy. Coming from a small tribal community in South Sudan, he has not even disclosed his parents' names.
So, it may take some time before we get to know more about his personal life. We will surely let you know once we find out the related details.
Age, Weight & Height
As of 2023, Thon is 26 years of age and celebrates his birthday every year on February 25.
He stands 7 feet (2.13 meters) tall and weighs around 100 kg (221 pounds).
Both his parents are reportedly over 6 feet in height, so he may have inherited his tall stature from his parents.
He has black hair and gleaming black eyes.
Social Media Presence
Thon Maker is found using different social media platforms. He regularly posts pictures of him during his games, vacations, and sometimes he just posts casual pictures.
Likewise, he updates his fans about team announcements and some important league notices through his tweets on Twitter.
Maker also has a Facebook account but has not uploaded anything since September last year.
Instagram: 139k followers (@thonmaker)
Twitter: 45.3k followers (@ThonMaker14)
Facebook: 85k followers (@Thon Maker)
Popularity
Despite failing to perform in the NBA, he has gained few fans from all around the world.
The above graph gives brief information about the popularity of Thon Maker based on Google searches in the United States over the year.
Frequently Asked Questions (FAQs)
Is Thon Maker still in the NBA?
No, Thon Maker no in the NBA. But, in 2022, he was affiliated with the NBA G League team Long Island Nets. He previously played in the NBA for the Cleveland Cavaliers.
Is Makur Maker Thon Maker's brother?
Yes, Makur Maker is Thon Maker's brother but not his own brother. Actually, they are cousins and were both trained by the same coach, Edward Smith. Thon's cousin, Makur, has six brothers and a sister.