Malcolm Rodriguez was born to his parents, Roman Rodriguez and Shanna Rodriguez.
Born to mixed heritage parents, he values the significant blend of cultures in his heritage.
His father is of Mexican descent, while his American Indian mother is a member of the Cherokee tribe.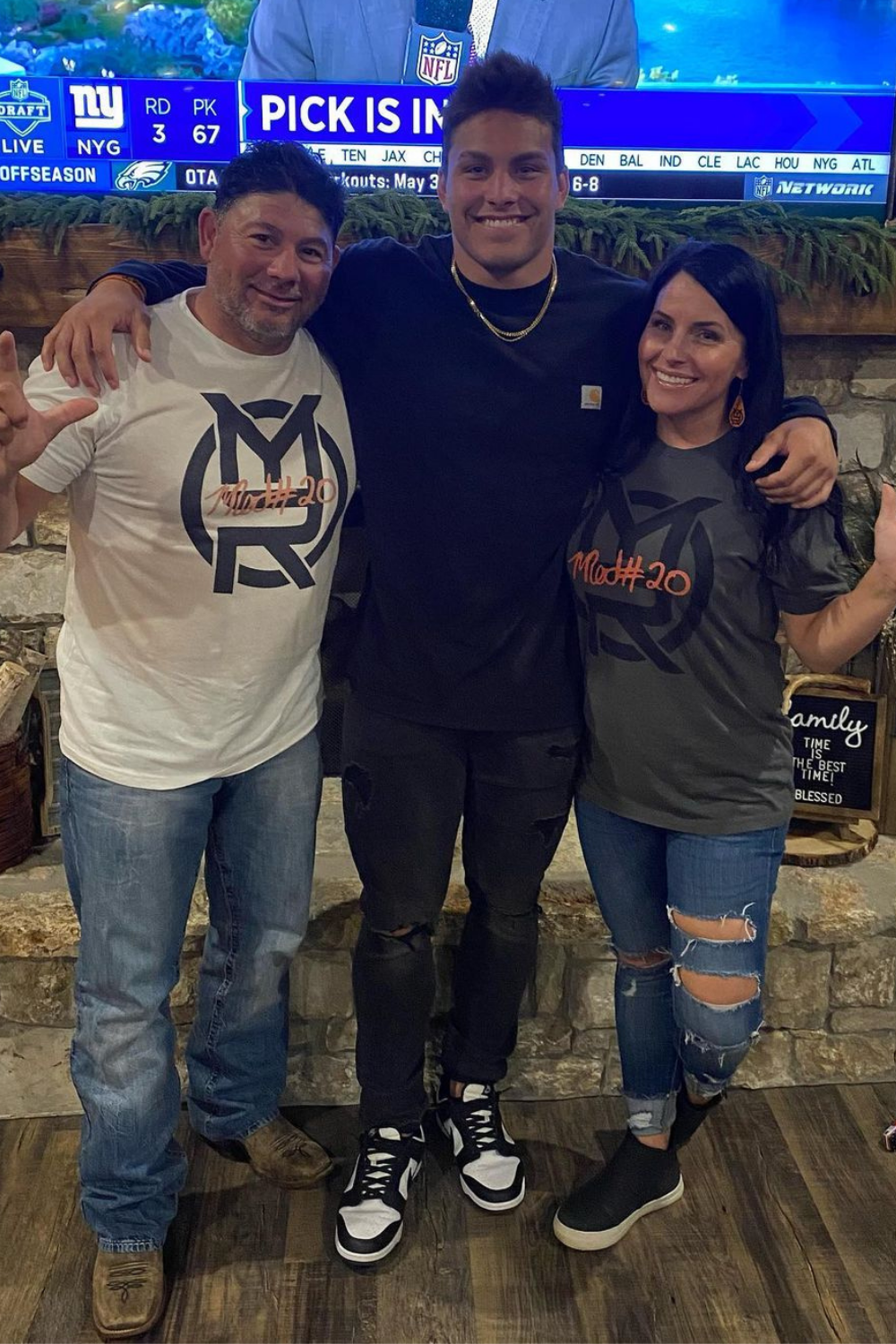 Rodriguez is an American footballer who plays for the Detroit Lions of the National Football League (NFL).
The linebacker's journey in football began when he attended Wagoner High School in Wagoner, Oklahoma.
Later, in 2017, he joined Oklahoma State and played for the college team until 2021.
Furthermore, he was named to the first-team All-Big 12 in 2021 and second-team All-Big 12 in 2020.
Not only that, Rodriguez was also the MVP of the 2022 Fiesta Bowl in his final college game.
The Detroit Lions then drafted him in the sixth round of the 2022 NFL Draft.
Malcolm Rodriguez Parents
Malcolm Rodriguez was born on March 29, 1999, in Tahlequah, Oklahoma, US, to his parents, Roman Rodriguez and Shanna Rodriguez.
His Native ancestry plays a significant role in his life. He explains that his family celebrates their heritage through food – enjoying Indian tacos on his mom's side and Mexican cuisine on his dad's side.
Furthermore, Malcolm shares a strong bond with his parents, who reciprocate his love by supporting him in every phase of his life.
Moreover, Roman and Shanna also attend his matches, cheering him on from the sidelines like any supportive parents.
Father, Roman Rodriguez
Malcolm Rodriguez's father, Roman Rodriguez, has maintained a private life.
You can find the proud father on Instagram under the handle @paparod5, which he has set to a private account.
However, it's undeniable that Roman is a loving and supportive husband and father.
He frequently appears in Instagram posts that his children and wife share on their social media accounts.
Roman's wife posted a family picture on Father's Day this year to celebrate his fatherhood.
Mother, Shanna Rodriguez
Malcolm Rodriguez's mother, Shanna Rodriguez, is a loving and supportive family member.
According to her Instagram bio, Shanna is interested in fitness and sports, much like her children. Additionally, she holds deep religious beliefs and has a strong affection for her family.
The loving couple recently celebrated their 27th marriage anniversary and commemorated the occasion with an Instagram post, the caption of which read,
"All because two people fell in love! Cheers to 27 years of matrimony and 29 of togetherness! 🥂♥️".
Moreover, Mrs. Rodriguez takes immense pride in her role as a mother, and her Instagram username is @momma_s_rod.
She maintains an active presence on her social media accounts and has shared numerous family photos.
Grew Up With Two Brothers
Malcolm is the middle of three brothers, with older brother Roman and younger brother Gabriel.
The eldest sibling, Roman, is nearly two years older than Malcolm. He attended Northeastern State University and was a member of the football team.
Presently, he works as a customer service technician at Oklahoma Natural Gas Company.
Talking about his personal life, he exchanged wedding vows with Hannah Rodriguez. They share two kids from their marriage.
On the other hand, the youngest sibling, Gabriel, is also a footballer.
He attended Wagoner High School and was named the defensive MVP of his district following his senior season.
Additionally, Gabriel was a talented wrestler and baseball player. Currently, he plays for the University of Central Oklahoma.