Malik Ahmad Monk is an American professional basketball player who currently plays as a shooting guard for the Sacramento Kings of the NBA.
Although relatively young and new in the game, Malik Monk has been able to make quite an impression on people through his play.
NBA being the top level for a basketball player to flourish, Malik has been able to stand out from the other players through his impressive defensive plays.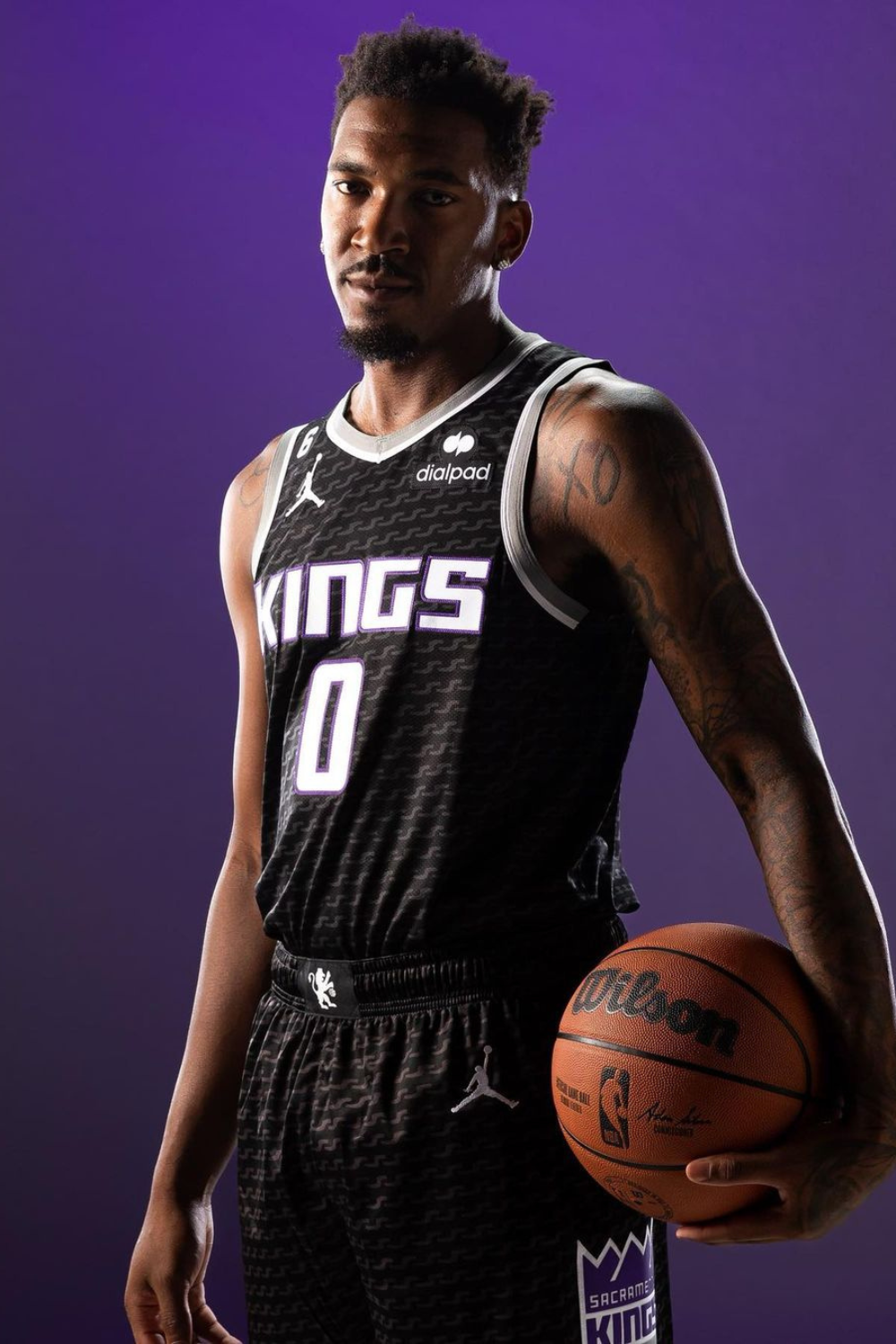 A kid from Arkansas is seemingly following his dream and is, undoubtedly, working hard to be one of the best basketball players in the biggest basketball league.
After being drafted by Charlotte Hornets in the 2017 NBA Draft, he played four seasons with the Hornets. Later, has played for Los Angeles Lakers for a season and signed a two-year deal with the Kings on July 6, 2022.
Malik suffered from an ankle injury in a game against the Mavericks on February 11, 2023.
In this article, you will be able to learn more about the Hornet, from his early life to his studies and his current career stats. Let us know in detail about this young talent.
Quick Facts
| | |
| --- | --- |
| Name | Malik Monk |
| Full Name | Malik Ahmad Monk |
| Birth Date | February 04, 1998 |
| Age | 25 Years Old |
| Height | 6'3″/1.91 m/191 cm |
| Weight | 91 kg/200 lb. |
| Gender | Male |
| Profession | Basketball Player |
| Nationality | American |
| Birth Place | Jonesboro, Arkansas, USA |
| Ethnicity | Afro-American |
| Horoscope | Aquarius |
| Religion | Christianity |
| Education | University of Kentucky, Bentonville, East Poinsett |
| Father's Name | Michael Scales |
| Mother's Name | Jacaynlene Monk |
| Sibling | 1 |
| Sibling's Name | Marcus Monk |
| Eye Color | Brown |
| Team (Former) | Charlotte Hornet, Greensboro Swarm, Los Angeles Lakers |
| Current Team | Sacramento Kings |
| Salary | $9,709,025 |
| Net Worth | $3 Million |
| Social Media | Instagram, Twitter |
| Merch | Rookie Card, Autographed Photo |
| Last Update | June 2023 |
Family, Early Life, & Education
Family & Early Life
Malik Monk was born in Jonesboro, Arkansas, on the 4th of February 1998, to his parents, Michael Scales and Jacaynlene Monk.
His parents most probably got separated when he was young. Besides, not much is known about his parents.
The shooting guard also has an older half-brother, Marcus Monk, 37, who is a former NFL player.
Malik's brother played as a wide receiver for the University of Arkansas. He played football throughout high school and college before being drafted in the 2008 NFL Draft.
However, he did not make it beyond the practice squads. It has been reported that Marcus has been a big influence in Malik's life.
It is through Marcus that Malik got into sports and took basketball seriously. This is quite a lovely story about brothers, to be honest.
Education
Malik first attended East Poinsett County High School and started playing basketball in his freshman year and was selected for the high school team.
Later he transferred to Bentonville High School in Bentonville, Arkansas. He completed high school in Bentonville and immediately enrolled at the University of Kentucky.
Although he was suggested to study at the University of Arkansas by his family, he followed his heart and joined Kentucky.
He took his basketball career along with his studies for his freshman year. However, after his freshman year, he announced that he would not go through his final three years of collegiate eligibility.
Age, Body Measurement, & Nationality
Malik Monk was born on February 4, 1998, making him 25 years old as of 2023. However, he looks quite more mature than he is due to his beard and hair.
As for his body measurement, he is a tall guy with a height of 6 feet 3 inches (1.91 meters). However, this height is quite average in the NBA, as players are often quite tall.
Similarly, his last reported weight was 91 kg (200 pounds).
Career
Early Career
Malik Monk started playing basketball at an early age and also played for his high school team.
As a freshman at East Poinsett County High School, Malik averaged 22.8 points, 4.6 rebounds, and 2.7 assists per game. He also led his high school team to the Class 2A state championship game.
As for his junior year in Bentonville High School, he averaged 26.6 points per game. As a senior, Malik averaged 28.6 points, 7.6 rebounds, and 4.4 assists per game.
Apart from his high school games, he also competed for the Amateur Wings Elite and the 2015 Nike Global Challenge, where he earned tournament MVP honors.
Monk joined the University of Kentucky instead of the University of Arkansas for his further studies. During his freshman year, he set a scoring record with 47 points in a win over the University of North Carolina.
That year, Malik also played against Ole Miss, South Carolina, Georgia Bulldogs, Florida, and Vanderbilt.
Due to his impressive performance with the college team, he was named SEC Player and Freshman of the Year and consequently named to both First-team All-SEC and the SEC All-Freshman teams.
However, he announced that he would not go through his final three years of college and decided to enter the 2017 NBA Draft, where he was projected as a first-round selection.
College Stats
| | | | | | | |
| --- | --- | --- | --- | --- | --- | --- |
| Season | Team | GP | FG% | FT% | PPG | RPG |
| 2016-17 | Kentucky | 38 | .450 | .822 | 19.8 | 2.5 |
Professional Career
Malik was selected as the eleventh overall pick by the Charlotte Hornets in the 2017 NBA Draft on June 22, 2017. Monk signed his rookie contract with the Hornets worth $15.7 million in July 2017.
However, the shooting guard missed the entire 2017 NBA Summer League due to an ankle injury.
Later, in his fourth game against the Nuggets on October 25, 2017, he recorded 17 points, two steals, and two assists, which was quite significant for him.
Monk was assigned to Hornets' NBA G League affiliate, Greensboro Swarm, for one game, during his rookie season.
On February 26, 2020, he was suspended indefinitely for violating the NBA's substance use policy. He averaged 10.3 points and 2.9 rebounds per game before his suspension.
Monk was reinstated on June 8 after it was reported that he complied with the anti-drug program.
The Arkansas native can potentially be a great player, but he should surely not be involved in any activities that could violate the NBA rules and regulations and cause his dreams to collapse.
Los Angeles Lakers & Sacramento Kings
The former Hornets signed with the Lakers on a trade exception salary deal on August 6, 2021. He registered a career-high 41 points in a 146-11 win over the Nuggets.
The shooting guard signed a two-year/$19.42 million deal with the Kings and got reunited with his former college teammate De'Aaron Fox.
NBA Career Stats
| | | | | | | | | | |
| --- | --- | --- | --- | --- | --- | --- | --- | --- | --- |
| Season | Team | GP | FG% | FT% | PPG | RPG | AST | STP | BLK |
| 2022-23 | SAC | 54 | .443 | .913 | 13.4 | 2.6 | 3.9 | 0.7 | 0.2 |
| Career | | 363 | .428 | .850 | 10.7 | 2.4 | 2.3 | 0.5 | 0.2 |
Jersey Number
Malik Monk currently wears 0 numbered jersey for the Kings.
However, with the Lakers, he wore jersey number 11, and with the Hornets, he was seen wearing number 1.
Salary & Net worth
NBA provides a lot of money to their star players, and Malik is no exception.
Much of his earnings come from his professional basketball. Malik signed a four-year rookie contract, including $15,726,047 guaranteed, with the Hornets.
Later, he bagged $1,789,256 for his one-year deal with the Lakers. After signing with the Kings on a 2-year deal worth $19,418,049, he earns a base salary of $9,472,219 while carrying a cap hit and dead cap value of $9,472,219.
Monk's projected annual salary for the 2023-24 season is $9,945,830 per spotrac.
Besides, he stacks some extra from sponsorship, advertisements, and investments.
As for his net worth, no reliable resources have disclosed the exact figure. However, we can safely assume his net worth is well above $3 million as of 2023.
Social Media Presence
Malik is very active on social media. The Kings shooting guard keeps his profile updated by posting pictures of him during the games.
He is available on Instagram under the handle @ahmad_monk, on Twitter as @AhmadMonk, and on Facebook as @Malik Monk.
Instagram: 548k followers
View this post on Instagram
Twitter: 169.4k followers
Facebook: 87k followers
Popularity
Debuting with the Hornets in the NBA, Malik is making a name for himself because of his defensive game plays and is continuously gaining popularity.
The above image shows the popularity of Malik Monk based on Google searches in the United States over a year.
Frequently Asked Questions (FAQS)
Did Malik Monk win any dunk contests?
Malik Monk won his first-ever dunk contest at the Bass Pro Tournament of Champions with ease in Springfield, Missouri.
Who is Malik Monk dating right now?
Malik Monk is single at the moment. There is no news or rumors that suggest him being in a relationship right now. However, he was seen with Iggy Azalea enjoying a Valentine's Day double date with Anthony Davis and his wife, Marlen P.
How much is Malik Monk's vertical jump?
Malik Monk has a 42-inch (1.06m) vertical leap.
Did Malik Monk ever play for Miami Heat?
No, Malik Monk has not played for Miami Heat as of now.
What did Malik Monk say about Bam Adebayo?
When Malik Monk was asked about Bam Adebayo, he answered that Adebayo does not like to run in practice, and when Adebayo doesn't rebound, the team has to run.