Manchester City still on the road for the quadruple as IIkay Gundogan and Kevin de Bryune's late scores in the second-half win over Everton at Goodison Park on 20 March
Everton put up a strong defense against Man City. Italian coach Carlo Ancelotti knew who they were up against.
Seventh in the Premier League table, they have brought up their act in working hard to gain a trophy that has eluded them since 1995. At the time, they beat Man United in the FA Cup Final.
In yesterday's match, IIKay Gundogan and Kevin De Bryune shone again.
Previously, they had scored for Man City on 16 March, securing the Citizen's place in the Champions League quarter-finals.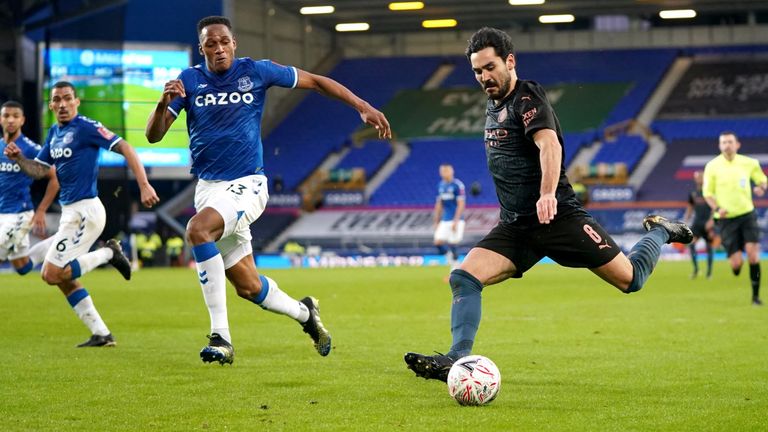 They outshone this time too. Within six minutes of the second half, both players made two goals propelling City into the FA semi-finals.
This indicates that the Citizens can achieve the quadruple, i.e. if they continue to win consecutive games.
The FA semi-finals draw to be carried out on Sunday at 5.45 pm.
Man City in Possession in the First-Half Despite No Goals from Either Team
Due to Everton's tactical play maintaining a water-proof stronghold for the overpowering Citizens, the first half was goalless.
Still, Man City dominated the game with 209 passes compared to Everton's 17 during 25 minutes at one point.
Ancelotti's game plan worked during the first half, as the Citizens were challenged when they try to break pass through the Blues' defense.
The coach hoped their impenetrable defense and patient stance with City would build a favorable climate.
A strategy that has been succeeding for Everton, it focuses on set pieces.
Although their overall performance in the Premier League is not par with the top contenders, they did quite well in the FA cup especially winning over reputable Tottenham with a 5-4 score.
The chance did come and quite close. But Yerry Mina's header got cleared off by Oleksandr Zinchenko to the disappointment of Ancelotti.
Dominic Calvert-Lewin's attempt also did not materialize.
Although Joao Virginia was Everton's third-choice goalkeeper with less experience, he managed to maintain his performance. Due to Jordan Pickford and Robin Olsen being injured, the 21-year-old Portuguese, who has qualitative traits, replaced them.
Carlo Ancelotti spoke to Sky Sports:
"I think my players have improved a lot this season, and the game today showed there is a different quality, but with strong concentration, good defensive organization, we can compete. Man City is not a normal team at this moment; they are the best."
"We played the game we wanted to play. We didn't concede space, but they are the best team and have the best bench in the world," as told to BT Sport.
The Second-Half Brings Two Winning Goals for City
Man City brought up their play in the second half.
Fernandinho found Sterling free after ferociously edging through Everton's defense; however, his shot got diverted by Virginia with a tap of his fingers.
Phil Foden gave it a go, too, from the box's edge but was tackled by Mason Holgate. His shot came just a few inches wide of the post.
Gundogan was able to catch on with a quick reaction and low stoop to Laporte's kick that Virginia had blocked initially.
The German midfielder scored his 16th goal for the season, making it his second over the week.
Pep Guardiola kept his ace strikers and players for the last. It was this crucial move of substitution that made the winning second goal for City.
Rodri, De Bruyne, and Riyad Mahrez were on board, and the trio's explosive passing tied up the score for that day.
At the 90th minute, De Bruyne drove a clean shot past Virginia, who received a pass from Rodri via Mahrez.
Everton's Richarlison and Andre Gomes tried to score but didn't bring any goals for their team.
Pep Guardiola told Sky Sports: "Honestly, since the last international break, we played 39, won 34, draw two, lost three, one of them was Porto away when we'd already qualified.
I don't have any words to express that, and in this period, after one game, we cannot even enjoy because three days later, there is another."
Is the Quadruple in Sight for Man City?
City has embarked on an impressive and promising journey towards winning all four trophies. However, the battles still have to be played out, that too, against formidable forces.
Pep's tactic of rotating his squad and retaining key players for key moments can be but wholly admired as a brilliantly orchestrated set-back-proof approach.
They were intent on the silverware despite their victory yesterday.
And as the topmost contender for the Premier League, they play against Leicester early next month in the hope to bring their dream closer and find assurance they're able to achieve the unachievable: the quadruple.