Marcus Mariota is an American football player playing for The Atlanta Falcons in 2022. He emerged in the 2015 NFL draft as one of the top picks for the month of November 2016. Marcus Mariota net worth is $12 million.
Starting from his college days, this Hawaii-born athlete, Marcus, has been killing it in the NFL. He won the Heisman Trophy, becoming the first Oregon player.
After completing the 40-yard dash in 4.48 seconds at the 2010 National Underclassman Combine, Marcus won the Fastest Man and Combined King awards.
Likewise, Mariota was honored with the Team's Most Outstanding Player title in 2012. Also, in 2013, Marcus won CFPA Quarterback Trophy.
Within time, Marcus was named the AFC Offensive Player of the Month in November 2016. He also earned the title of NUC All-World Game.
The Atlanta Falcons offered Marcus Mariota a contract worth $18,750,000 for two years on March 21, 2022.
Before jumping directly to the delightful net worth of Marcus Mariota, here are some quick facts about him.
Quick Facts | Marcus Mariota
| | |
| --- | --- |
| Full Name | Marcus Ardel Taulauniu Mariota |
| Known As | Marcus Mariota |
| Nickname | Saint Marcus, The Flyin' Hawaiian |
| Birth Date | October 30 1993 |
| Birth Place | Honolulu, Hawaii |
| Residence | Oregon, Nashville, Honolulu |
| Religion | Christian |
| Nationality | Hawaiian |
| Ethnicity | Mix |
| Education | University Of Oregon, Saint Louis School |
| Horoscope | Libra |
| Father's Name | Toa Mariota |
| Mother's Name | Alana Deppe-Mariota |
| Siblings | 1 (Matt Mariota) |
| Age | 29 Years Old |
| Height | 6'4″(193 cm) (1.93 m) |
| Weight | 101 kg (222 lb) |
| Eye Color | Dark Brown |
| Hair Color | Black |
| Body Type | Athletic |
| Profession | Football Player |
| Marital Status | Dating (Kiyomi Cook) |
| Girlfriend | Kiyomi Cook |
| Children | N/A |
| Name Of Children | N/A |
| Beginning Of Professional Career | 2015 |
| Retirement | Active (Atlanta Falcons) |
| Playing Style | Pocket Play |
| Sports Team | Tennessee Titans (2015-2019), Las Vegas Raiders (Present) |
| Coach | Arthur Smith |
| Honors | Offensive Freshman Of The Year (2012), Unanimous All-American (2014), AP Player Of The Year (2014), Manning Award (2014), Davey O'Brien Award (2014), Maxwell Award (2014), Heisman Trophy (2014) |
| Victory | N/A |
| Net Worth | $12 million |
| Social Media | Instagram |
| Merch | Autographed Mini Helmet, Autographed Green Nike Jersey |
| Last Update | June, 2023 |
Marcus Mariota | Net Worth & Income
Maintaining proper status, Marcus Mariota has earnings, and their net worth is estimated to be $12 million as of 2023.
From earning honorable awards and fame during college, Marcus marked his net worth above average from a very young age.
Considering Marcus's estimated net worth, he had earned over $24.24 million in his 4-year career.
Just from the contract with the Titans, he could earn an annual salary of $6,053,494, earning around $4,402,541 in the first season.
For 2018, Marcus became the 8th highest-paid football player on the Titans Roster as he got paid $7.7 million. Meanwhile, in the case of quarterbacks, he ranked 26th on the highest-earning list.
Likewise, Marcus also has major brand endorsements and shares from some renowned brands, which has added value to him.
So, he is expected to raise a high amount becoming the highest-paid NFL player, all along with Garoppolo and Stafford.
The Atlanta Falcons offered Marcus Mariota a contract worth $18,750,000 for two years. Including a signing bonus of $5 million, a guaranteed salary of $6,750,000, and an average annual salary of $9,375,000.
In 2022, Mariota will have a base salary of $1,750,000, a $5,000,000 signing bonus, a $4,250,000 cap hit, and a dead cap value.
Mariota has left the team; after being benched for rookie Desmond Ridder due to performance reasons, Mariota has left the team.
Coach Arthur announced that Marcus would be placed on injured reserve, and the team didn't know if he would be back.
Net Worth Of Marcus Mariota In Different Currencies
Have a look at Marcus Mariota's net worth in different currencies.
| | |
| --- | --- |
| Currency | Net Worth |
| Euro | €10,272,300 |
| Pound Sterling | £8,861,460 |
| Australian Dollar | $16,573,788 |
| Canadian Dollar | $15,230,820 |
| Indian Rupee | ₹890,634,600 |
| BitCoin | ฿288 |
Marcus Mariota | House, Cars & Wife
This wizard player is currently at an early stage of his career. Despite the abundant wealth, Mariota is not the one to flex his assets, but we have an eye on them.
House
The former Titan, Mariota, owns a four-bedroom house having a swimming pool in his peaceful homeland Hawaii, Kailua Beach.
Other than that, in 2015, Marcus owned a penthouse worth $1.05 million in the heart of Nashville. Likewise, the 1,890 sq foot penthouse was located in downtown Nashville.
Moreover, it featured two bedrooms, 15-foot ceilings, a custom-made neutral-toned bathroom, and modern flair tiling, which gave oh-so-luxurious vibes.
Then in August 2017, Marcus sold the gorgeous penthouse for $1.375 million.
Plus, just last year, the QB sold his modern Nash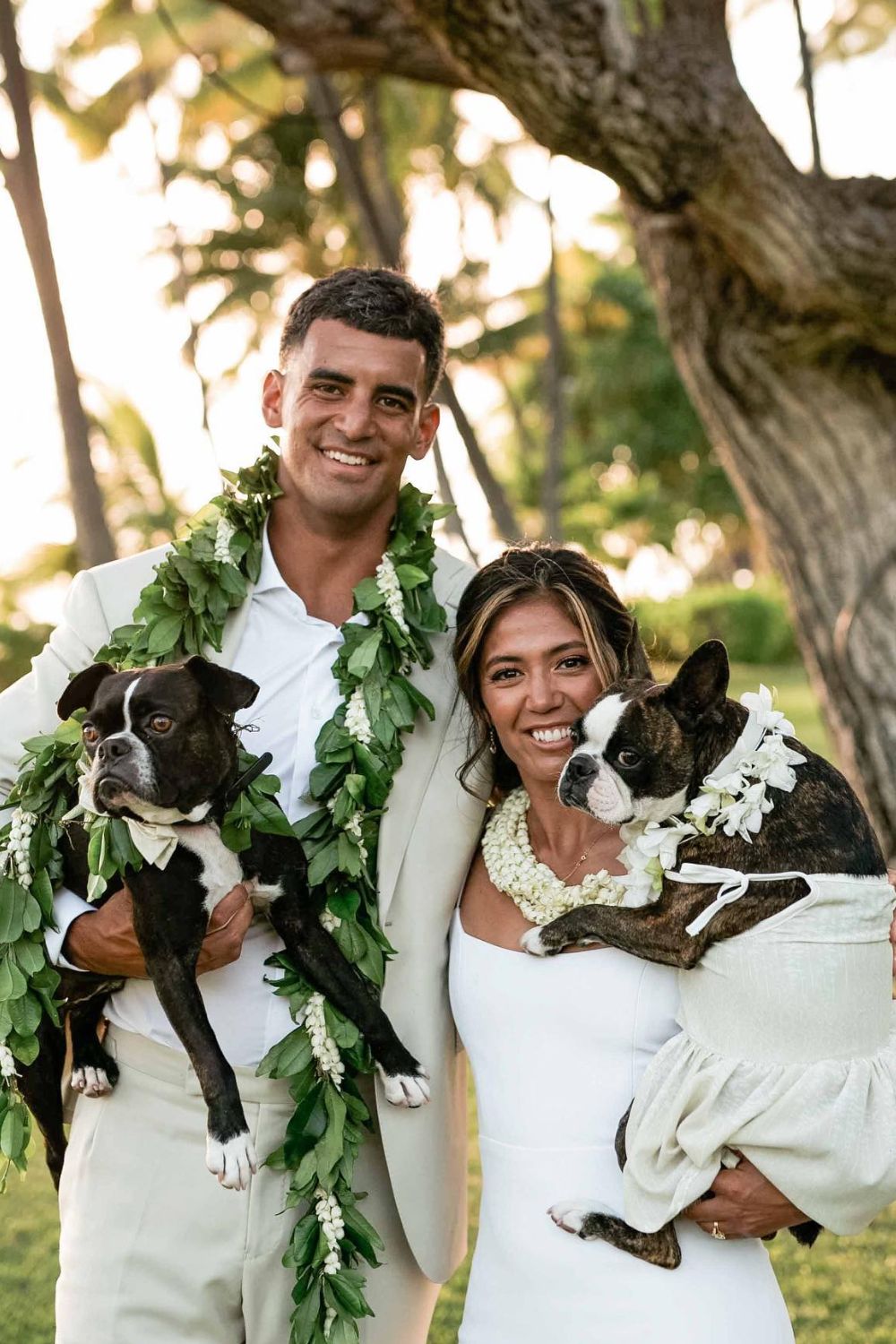 Ville home for $790,000, slightly under his initial asking of $799,9000.
Built in 2017, the sleek house covers 3,000 sq feet and is three-storeyed, equipped with an open concept living room, kitchen, dining room, and an oversized primary suite.
Marcus lives in the house with his wife, Kiyomi Cook; they married in 2021.
Kiyomi Cook is a Soccer coach at University School of Nashville.
Car
As a Nissan car company's brand endorsement, he owns an Armada SUV gifted by Nissan.
The company partnered with the former Titan and marketed Armada's range of cars through short clip videos, college tours, and even a social media campaign.
Additionally, Marcus also owns a black Range Rover.
Marcus Mariota | Lifestyle & Vacation
Lifestyle
Despite earning fame and wealth at such a young age, this young footballer has never touched alcohol.
Even after winning a long match, his teammates cheered with a glass of beer, but Marcus always avoided these functions.
It's because Marcus prefers to live a caffeine-free lifestyle. He has never taken even a sip of coffee before.
As for nutrition, in 2016, Marcus was focusing on gaining weight. Despite having some donuts, he was not able to gain any pounds.
Likewise, for his attire, Marcus often wears Olive Mohammadi's and Sarah Turcic's designs.
Back in the day, as part of the NFL's "My Cause, My Cleats" program, he chose to wear cleats with a local flare designed by King's way Christian students.
Later, the cleats were auctioned off after the game and proceeded toward Habitat for Humanity.
The Vancouver students paid much attention to all of Mariota's roots.
Moreover, the Hawaiian footballer appeared on the ground with a facemask having bars spelled out '808'.
Designed by himself, code 808 is Hawaii's area code representing the place from where he came.
Vacation
During his leisure days, Mariota usually splits his time visiting Nashville, Hawaii, and Oregon.
More than having fun, Marcus likes having family time on vacation, returning to his home in Hawaii, and whatnot.
Marcus Mariota | Charity
For helping and charity purposes, Marcus owns a club name Motiv8 Foundation.
In February 2021, he and his company provided a gift of a lifeline with broad smiles as 11-year-old Joshua, and 8-year-old Jacob Harmon had a terrible car accident in 2020.
The Motiv8 Foundation focuses on Mariota's three hometowns: Honolulu, Eugene, and Las Vegas.
Likewise, it has provided at least 8,000 meals as a charity, managed shelters for 24 homeless people, and provided 700 backpacks with school supplies.
Partnering with a Local Orthodontist, the foundation offered complete orthodontic care for all ages in Las Vegas native.
As for fundraising for the foundation, Marcus hosted a golf tournament to raise money. This helped to motivate young people to dream big via education and athletics.
Endorsement And Investments
Endorsement Deals
With several ratings, Marcus also has endorsements earning a considerable sum of money.
Meanwhile, Marcus's significant endorsement shares come from the famous sportswear brand 'Nike.' Marcus signed his contract with Nike just in 2015.
Besides that, Marcus endorses financial brands like Island Insurance and Hawaii's largest locally-owned P&C insurer. He also made a deal with the Aloha Spirit as the ambassador.
Besides that, he has worked with brands like Nissan, having gifted cars by the company.
Similarly, his other deals include First Hawaiian Bank, Subway, and Beats by Dre headphones.
Investments
Everyone once paid so much attention when Marcus signed in as a free agent for the Las Vegas Raiders.
Here, he invested his $17.6 million in raiders making two years of the deal, which was more seemingly necessary than a deal with the raiders.
Marcus Mariota | Career
Considering Marcus Mariota's net worth, his career graph is still moving upward.
In the first round by the Tennesse Titans, Marcus was chosen with the second overall pick in the 2015 NFL Draft.
Since his debut, Marcus was the first Quarterback in NFL history to throw 4 touchdown passes.
He was also counted as the youngest Quarterback to reach the perfect passer rating, as he threw over 300 yards in a game.
Not to mention, Mariota made a record with the best-selling NFL jersey in the league in May 2015.
In his second career win over the New Orleans Saints, he threw for a career-high 371 yards and four touchdowns.
They were recorded as the first Quarterback to catch a touchdown reception in franchise history. After 1983, they counted as a player to pass for a touchdown and rush for a touchdown pass of a minimum of 40 yards.
In 2016, he was named AFC Offensive Player of the November since he could pass 1,124 yards with 11 touchdowns.
Comparably, Marcus had been on the field for a short period but had won many prestigious and honorable awards and achievements.
Career Stats
| | | | | | |
| --- | --- | --- | --- | --- | --- |
| Games Played | Passing Yards | Passing Touchdowns | Rushing Yards | Rushing Touchdowns | Fumbles |
| 87 | 15,656 | 92 | 2,012 | 17 | 40 |
Awards & Achievements
Pac-12 Offensive Freshman of the Year (2012)
2012-2014:First Team All-Pac-12 (2012-2014)
Unanimous All-American (2014)
Pac-12 Offensive Player of the Year (2014)
Sporting News Player of the Year (2014)
AP Player of the Year (2014)
Johnny Unitas Golden Arm Award (2014)
Davey O'Brien Award (2014)
Walter Camp Award (2014)
Manning Award (2014)
Maxwell Award (2014)
Heisman Trophy (2014)
Marcus Mariota Quotes
"I've learned that my faith will guide me no matter what." ~Leadership, Humility
"I'm looking forward to this challenge. Pressure to me is when you're not prepared. For me, I've prepared myself for this moment." ~Concerning big moments in life
"For me, it is a dream come true. It is an opportunity to fulfill a lifetime dream, and I look forward to it." ~On being drafted
"If one is successful, the entire state is successful." ~On his love for Hawaii
Trivia
Mariota holds an excellent passer rating of 158.3.

No rookie had ever completed the first half with four touchdown passes. Since the start of the 2010 season, it has only occurred ten times overall for any quarterback.
In the history of the NFL, only one rookie ever threw for more than four touchdowns in a game: Matthew Stafford, who scored five points in a game in 2009.
By more than a year, Mariota is the youngest player to throw for four touchdowns in a single game.
His father began his career in the Department of Homeland Security before moving on to the Custom and Immigration Enforcement division.
Marcus describes his father Toa, as his "biggest critic and inspiration" and identifies him as his greatest source of inspiration.
Social Media
Marcus is immensely popular, as seen in his Instagram following, which is 29.1k Followers. His last post is about signing Falcon's alert, which he already signs in 2022.
View this post on Instagram
We did not find his Twitter account, but we can see his news on Twitter via #Marcus Mariota hashtags.
Popularity Graph
Marcus Mariota is in his active years, which is evident in his graph illustration.
It shows Marcus is immensely popular in 2022.
FAQs | Marcus Mariota
How's Marcus Mariota now?
Considering his same old knee injuries and surgeries, Marcus won't perform back infield as he used to in 2022.
Is Marcus Mariota the next Patriots Quarterback?
No, it is not reported clearly about Marcus coming to the Patriots as of now; he is still playing for the Falcons.
Who Will Marcus Mariota play for in 2021?
Marcus Mariota will play for the professional football team Las Vegas Raiders of the National Football League (NFL) in the 2021 season.
What is Marcus Mariota Jersey number?
Marcus Mariota currently wears jersey number #8 as the football quarterback for the Las Vegas Raiders.
Did Marcus Mariota and Justin Herbert play for the same team?
Marcus Mariota plays for the Falcons, whereas Justin Herbert plays for the professional football team Los Angeles Chargers of the National Football League.
However, Marcus and Justin became the second pair of University of Oregon alumni since 1948 to face off in an NFL game, and each led their team in passing yards.
How much does Marcus Mariota's Kailua house worth?
According to sources, it is reported that Marcus Mariota has paid $2.45 million for his home in Kailua, Hawaii.
Is Marcus Mariota engaged?
Yes, Marcus Mariota is happily engaged to Kiyomi Cook. Marcus proposed to his long-time college beloved at the back of the campus of the University of Oregon in the presence of friends and family.
Likewise, their engagement picture also became quite popular on social media. The picture showed Mariota and Kiyomi smiling, surrounded by friends and family, with an engagement ring on Kiyomi's finger.