The 2004 Men's Ice hockey World Cup winner Mario Lemieux has a net worth of $200 Million.
Mario Lemieux is a professional ice hockey player from Canada who played with 17 National Hockey League seasons.
Ice hockey is an immensely skilled sport that requires a quick, smart, and strong person. Mario had all the qualities of puck handling, making risky plays pay off, and good decision making.
As a result, he led Pittsburgh Penguins to the top of the NHL, winning two Stanley Cups on the way.
Similarly, his most significant career achievements include the gold medal in the 2004 World Cup and 2002 Salt Lake City. Not to mention, he was awarded Knight of the National Order of Quebec in 2009.
Furthermore, he is famously known for saving his team from bankruptcy. Mario is now the principal owner of the team he used to play for his strong investments.
Therefore, Super Mario is one of the most respected figures in hockey and adored by fans who love the game.
Also, here are some quick facts about the player before we head any further into the details.
Quick Facts
Name
Mario Lemieux
Full Name
Mario Lemieux OC CQ
Nick Name
The Comeback Kid, The Magnificent One, Super Mario, Le Magnifique
Birthdate
October 5, 1965
Birthplace
Montreal, Quebec, Canada
Age
57 years old
Sexual Orientation
Straight
Zodiac sign
Libra
Chinese Zodiac
Snake
Nationality
Canadian
Religion
Christianity
Body type
Athletic
Hair Color
Black
Eye color
Dark Brown
Height
6'4″ (193 cm)
Weight
230 lb (104 kg)
Profession
Professional Ice Hockey Player
Position
Centre
Shot
Right
Played for
Pittsburgh Penguins
National Team
Canada
NHL Draft
1st overall, 1984
Drafted by
Pittsburgh Penguins
Playing Career
1984–1997
2000–2005
Medal Record
2004 World Cup (Gold),
2002 Salt Lake City (Gold),
1987 Canada Cup (Gold)
Parents
Jean-Guy Lemieux (Father),
Pierrette Lemieux (Mother)
Siblings
Alain Lemieux (Brother),
Richard Lemieux (Brother)
Relationship status
Married
Married Year
June 26, 1993
Wife
Nathalie Asselin
Children
Austin Nicholas Lemieux (Son)
Stephanie Lemieux (Daughter)
Alexa Lemieux (Daughter)
Lauren Lemieux (Daughter)
Net Worth
$200 Million
Social Media
Twitter, Instagram
Merch
Hockey Card, Jersey, Signed Items
Last Update
June, 2023
Mario Lemieux Net Worth and Income
Mario Lemieux made this tremendous net worth of $200 million from his professional hockey career and investments. Similarly, he's had his fair share of involvement in sponsorships and endorsements.
Mario was drafted in 1984 by Pittsburgh Penguins on first overall. Per sources, he signed a two-year contract for $750,000, including his first signing bonus. His salary at that time was $241,666.
Throughout, he stayed with the Penguins and rose to the top of the NHL. Then, in 1986, he signed his first contract extension with the Penguins. The deal was speculated to be worth $3.5 million.
Similarly, Mario signed a five-year contract with the team again in 1989. Again, the deal was worth $10 million, and his base salary was $2,000,000.
However, his most notable deal came in 1992 after inking a $42 million contract with the Penguins for seven years.
But, despite the hefty base salaries, it was clear the team was being mismanaged. The Penguins were $90 million in credit and owed Mario $32.5 million alone.
Nonetheless, Mario stepped up and used his credit to buy shares of his team. As a result, he took the team from a $16 million loss to $47,000 profit in his first year as owner.
Over time, he turned the team around, and this decision contributed to more than half of the net worth of Mario Lemieux now.
Furthermore, he had a huge deal with Nike. Per sources, it was worth $500,000 (US) a season in a lifetime deal.
You might like to know about Evgeny Svechnikov Bio: Ice Hockey Career & Net Worth >>
Mario Lemieux | House
Mario is one of the only ones to win the Stanley cup as a player and an owner. He has risen through the top of the division on his sheer determination. Hence, he prefers living a luxurious lifestyle.
The houses owned by Mario Lemieux reflect his net worth. One of his most favorite properties is in Mont-Tremblant. Mario purchased this property with his wife in 2007. However, they didn't move in till 2012.
This mansion was built in château-style and covered a huge area of 7,000 square feet. Also, it featured 17 fireplaces and a home theater.
Similarly, the property was built to fulfill his post-recovery needs. It is comprised of a spa, a pool, a dedicated gym, and a tennis court. Also, it was located in a serene environment and overlooked a lake.
Yet, they listed up this house for sale in 2020 for 22million CAD. It has already been on the market for more than 18 months, and the exact asking price is CAD 21,999,066.
Currently, Mario resides in a well-heeled neighborhood of Sewickley Heights. The hockey champ lives there with his wife and four children. However, a lot is unknown about this real estate.
Mario Lemieux | Lifestyle
Mario Lemieux is one of the richest hockey players in the world, with a huge net worth of a hundred million. Yet, everyone close to him recalls Mario as a wonderful person both on and off his game.
The new debut players for Penguin have many stories of his warm personality. He is known to have given shelter to new players trying to settle in the new town.
During the early part of his career, Mario had been addicted to smoking. His family recalls Mario smoking half a pack of cigarettes every day. Similarly, a reporter asked about his diet in 1985.
Mario revealed he loved Hamburgers, French fries, pizza while dipping a chicken wing in the sauce. However, he has changed his lifestyle a lot after being diagnosed with cancer.
In an interview, he revealed that his nonchalant attitude towards training ending his career early.
Over time he changed his diet to 75 percent fat and protein and 25 percent carb. Likewise, he realized the importance of different pre-game meals.
While talking about hobbies, he loves golfing with his friends as a getaway. Additionally, he loves decompressing with his family in his mansion and sometimes watching his old games.
Mario Lemieux | Charity
Mario Lemieux has always tried to use his fame and status to support numerous charities. Hence, he is an active face when it comes to giving back to the community.
Notably, when he established a charity foundation in 1993 after he was diagnosed with Hodgkin's lymphoma. The basic premise of the foundation is to fund research projects relating to the disease.
Similarly, the foundation plays an active role in supporting the families. Accordingly, the foundation has donated $31 million in Cancer Research and Patient Care alone.
Likewise, the ML Foundation supports the University of Pittsburgh Cancer Institute and the Leukemia Society.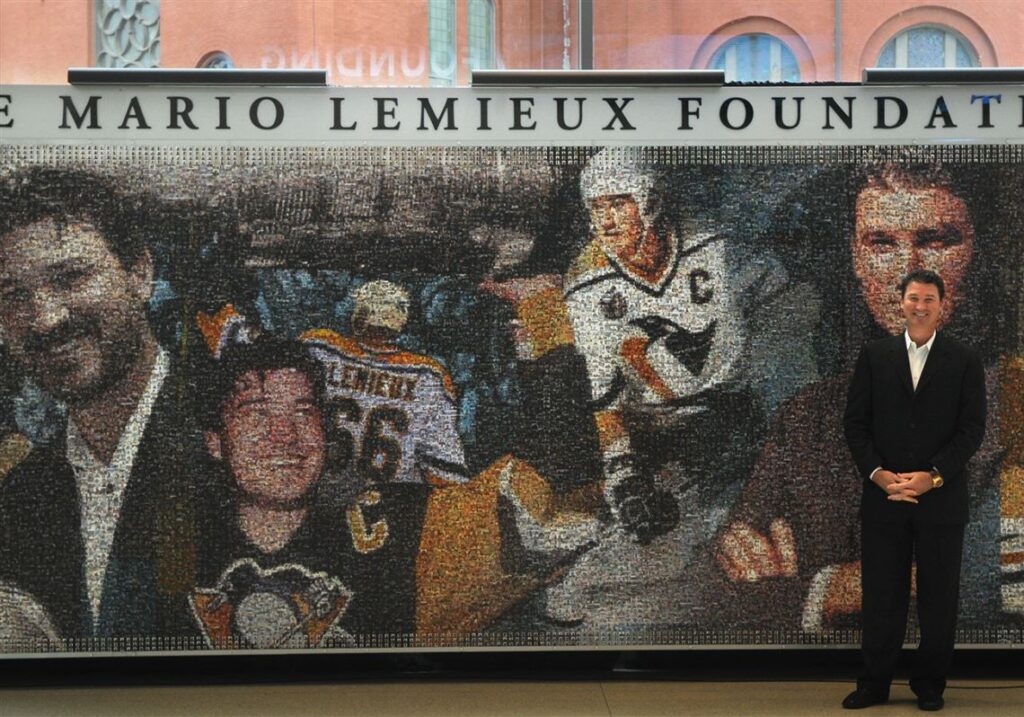 Mario has also ventured with other well-known athletes. In 2007, he was a major part of "Athletes for Hope." The org uses the voice of notable athletes to carry out fundraisers and call for volunteers.
Life has always thrown challenges at Mario and his family. Yet, he always learns from them and tries to make sure others don't go through the same.
In 1996, his son Austin was born prematurely before the regular time. Thus, the family had to stay in the hospital. Then they realized the hospitals didn't have places to play for older children,
Over time, they devised a program by the name "Austin's Playrooms." As a result, the foundation now has built playing areas in many hospitals. Recently, the foundation raised almost $150,000 for Austin's Playrooms.
You might like to know about Curtis McElhinney: Ice Hockey, NHL, Family & Net Worth >>
Mario Lemieux | Movies, Endorsements, And Book Publications
Movies and Media
Mario Lemieux is a staple name when it comes to National Hockey League. Fans adore him all over the world for his team-based playstyle. Thus, he has a fair share of appearances in movies and visual media.
In 2005, Pittsburgh Penguins put together a real emotional interview to honor Mario. It was named "Mario Lemieux – The Best. Ever" and is one of the best documentaries.
Similarly, Mario is part of several NHL DVD collections. In 2006, his matches and interviews were made exclusive in NHL Vintage Collection. The same year mane of his brilliance plays was a feature in NHL Greatest Moments.
It is a 90 min long DVD including the best plays and moments in NHL history. Also, he has been featured in NHL 2000: A Millennium of Memories too.
Likewise, he has been part of several celebrity tournaments. Some of the matches have been televised on NBC.
At a glance, it looks as if most of his time on screen is usually a function of his career. But, additionally, he has featured in many videogames too.
In 1991, Sega Genesis named a videogame after him to honor his achievements. The name of the game was "Mario Lemieux Hockey."
Also, he has been on the cover athlete for EA Sports' popular NHL series, which was released in 2002. Furthermore, he was part of the "Be A Legend' mode" from NHL2K12 to NHL2K15.
Mario is featured in one of the rarest trading cards in history, which costs nearly $14,000.
Endorsements
Mario Lemieux has a straightforward way of working around ventures. He likes investing rather than being endorsed and sponsored. Hence, sponsors don't make up a major part of Mario Lemieux's net worth.
Yet, he had major sponsors from big labels like Nike during his early career. Per ESPN, Nike and Mario inked a lifetime deal in the late 200.
This was the time when Mario was making a comeback to the sport after medical leave.
According to the deal, he would endorse Nike by wearing their equipment on and office. I would include not only footwear but also the golf equipment made by Nike. However, three years later, the duo parted ways in 2003.
Mario is also remembered for one of the hilarious commercials he did in the 1980s. The commercial features Mario promoting Colussy Chevrolet.
Investments
Mario Lemieux accounts for much of his net worth from his faithful and dedicated investments. He is often called a valued investor for his wise investments.
Per Forbes, he makes around $100 million in net worth from his investments alone. His most notable would be when he bought the Pittsburgh Penguins.
The Pittsburgh Steelers were in financial trouble in 1999 and risked bankruptcy. Mario stepped in to buy the franchise since the team owed millions in deferred compensation. Throughout, the team has redefined itself into a strong contender.
Recently in 2021, news started circulating that he had invested in a cocktail mixer company. He was one of the lead investors in the $7.5M funding round.
Other famous people in his venture were Lee Brice, Ryan Hurd, and many more.
Apart from these, Mario is a front runner in philanthropic investments. In 2019, Mario and his foundation invested $2 million in heart health as a research fund.
Book Publications
Mario debuted in a team that was going through financial and internal turmoil. Yet, he rose to it as a challenge and became one of the best in the NHL.
Hence, there have been several books written about him. "Mario Lemieux: The Final Period" is once such a book written about Mario. He authored the book himself with Tom McMillan and Marc Serota.
This book is Mario's life story, said to a writer in his own words illustrated with beautiful photographs. It contains a wealth of information about Mario's career and demonstrates what a gentleman he is.
It's not only well-detailed but talks about how he achieved so much despite the medical setbacks. "Hockey Heroes: Mario Lemieux" is another piece written about him.
Sean Rossiter authored this book in 2001 followed by Chrys Goyens' "Mario Lemieux: Over Time." The book is famous for capturing his moments of life during his rehab on his medical leave.
Other books written about him are "Mario Lemieux: The Best There Was," "Mario Lemieux: Beating the Odds," and many more.
Mario Lemieux | Career
The Pittsburgh Penguins selected Mario in the 1984 Entry Draft. Because they needed a natural goal scorer after struggling in the previous seasons.
Things changed for the team completely once he joined. As a result, he was selected in the NHL All-Star Game and was named the game's Most Valuable Player for the first time.
Also, he earned the Calder Memorial Trophy as the best rookie.
During his injury-plagued 1991–92 season, he only played 64 games. However, despite missing numerous games, he contributed 78 play-off points to the Penguins' Stanley Cup Final.
But, his career faced a huge challenge a year later. Mario revealed that he had been diagnosed with Hodgkin's lymphoma in January 1993.
Thus, he was forced to miss two months of play due to energy-draining radiation treatments.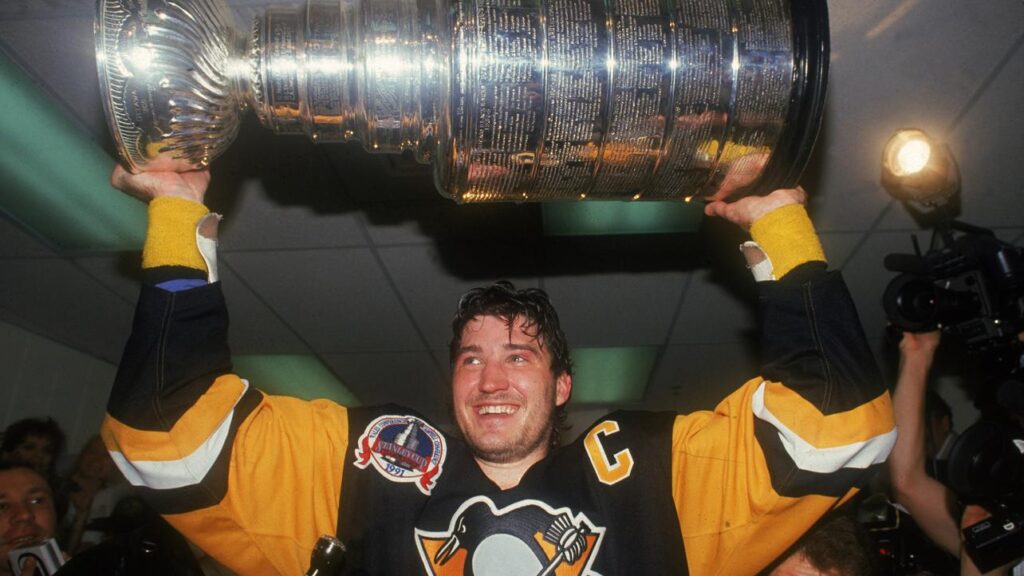 Mario traveled to Philadelphia to play against the Flyers on the day of his final radiation treatment. Eventually, he scored a 5-4 defeat goal but received a standing ovation from the fans.
Mario decided to retire for the first time in 1997. Moreover, he became the only player in franchise history to average more than 2 points per game
He returned to the NHL in 2000, playing against the Toronto Maple Leafs. Despite only appearing in 43 games, he scored 76 points, giving him the greatest points-per-game average in the League that season.
Yet, injuries and sickness were haunting his career. And, there were financial pressures on the Penguins. Hence, he retired completely on January 24, 2006.
3 Facts About Mario Lemieux
Despite being born in Canada, English wasn't his first language. His ancestral roots were from France. Hence, he spoke French and later started working on his English.
Mario met his wife Natalie at a wedding for the first time.
Mario was the youngest among his siblings, and his father was a construction worker.
You might like to know about Mika Zibanejad Bio: Ice Hockey, NHL, Family & Net Worth >>
Social Media Presence
Quotes
"When I'm able to see the ice ahead of time when I get the puck, I'm able to make some pretty good plays."
"We, as a league, must do a better job of protecting the integrity of the game and the safety of our players."
"Hockey is a tough, physical game, and it always should be."
FAQs
Has Mario Lemieux ever been part of celebrity golf?
Yes, he actually competed in the American Century Championship. It is an annual tournament that determines the greatest golfers among American athletes and entertainers.