Mark Calaway is an American retired professional wrestler. He is better known as The Undertaker. The Undertaker, a well-known and loved wrestling figure is regarded as one of the most tremendous successes in WWE of all time.
Mark Calaway was just the right person with the right personality to give this figure an identity.
The seven-time world heavyweight champion inwrestler is the most known and loved character of all time. The horror-themed fight with scary tactics was one of the best entertainment of the time.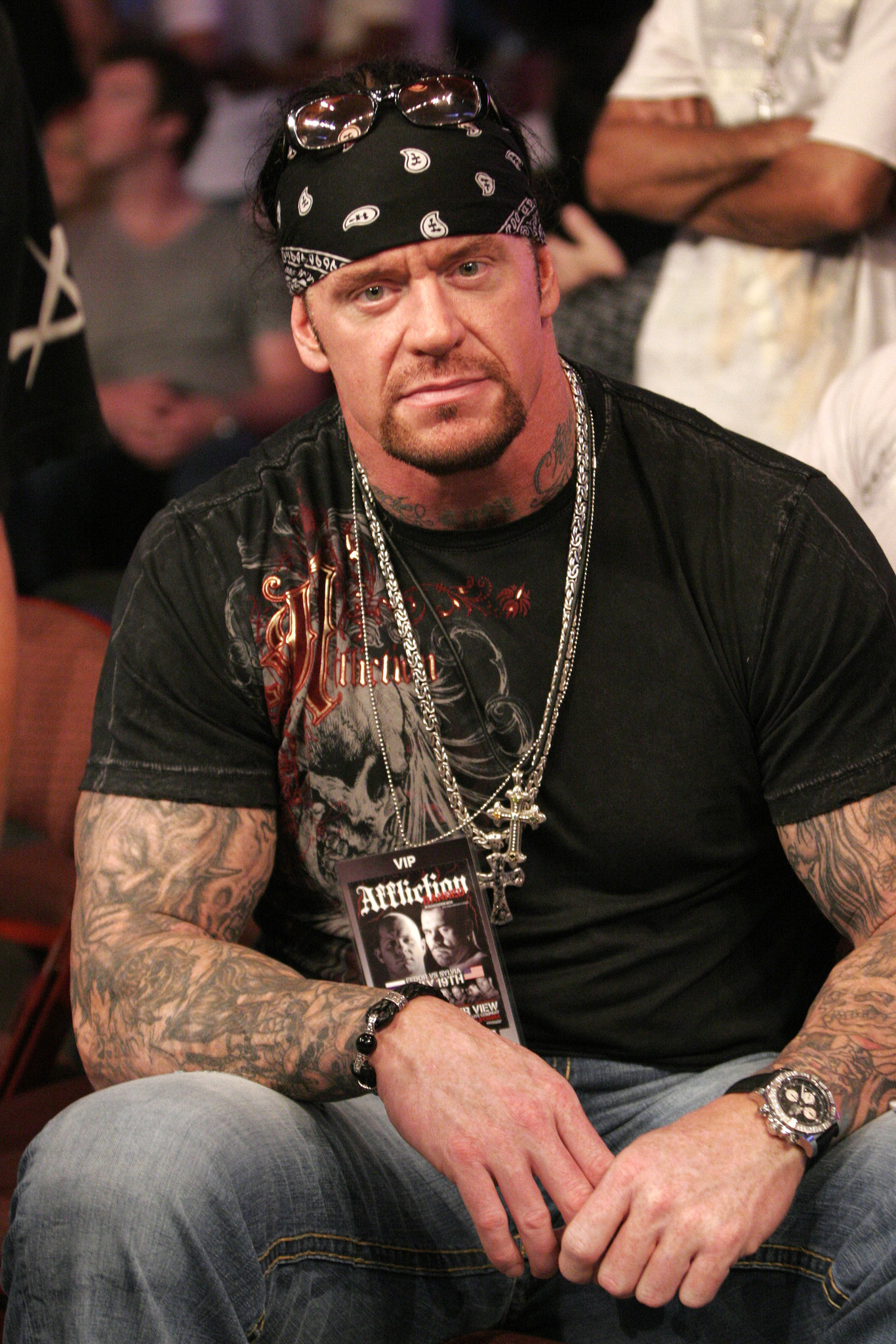 So, without any further waiting, let us get started on his journey of becoming one of the most well-known and beloved figures in the wrestling industry. Let us know the real person behind the dead man.
Mark Calaway | Quick Facts
Here are some quick facts about Mark Calaway.
Name
Mark Calaway
Full Name
Mark William Calaway
Date of Birth
March 24, 1965
Birth Place
Houston, Texas, USA
Horoscope
Aries
Father's Name
Frank Compton Calaway
Mother's Name
Betty Catherine Truby
Siblings
David, Paul, Michael, and Timothy
Education
Texas Wesleyan University
Degree
N/A
Ethnicity
White
Profession
Wrestler (retired)
Salary
$3 million annually
Net Worth
$17 Million
Wife
Michelle McCool
Children
Kaia Faith Calaway, Gunner Calaway, and two daughters
Nationality
American
Social Media
Instagram, Twitter
Age
58 Years Old
Stage Name
The Undertaker
Cain the Undertaker
The Master of Pai
Commando
Record
7x World Heavyweight Champion In WWE
Retirement
2020
Web Pages
WWE
Last Update
June, 2023
Mark Calaway | Early Life, Family, And Education
Early Life And Family
Mark was born on March 24, 1965, as Mark William Calaway. He was born in Houston, Texas, to Frank Compton Calaway and Betty Catherine Truby. As for his siblings, he has four older brothers named David, Paul, Michael, and Timothy.
Unfortunately, his father, Frank, and brother Timothy have already passed away. However, he still has his other brothers and his mom with him.
Education
Mark attended Waltrip High School, where he was a member of the basketball and football teams. He used to play with the school's team in inter-school sports competitions.
After graduating high school in 1983, he began studying on a basketball scholarship at Angelina College in Texas.
However, his stay at Angelina College was over when he enrolled at Texas Wesleyan University. Here, he majored in sports management and played for the Rams for one season.
But he dropped out of college in 1986, thinking of pursuing a career in basketball. He was really passionate about the sport and could have been known differently today.
We know he started focusing on professional wrestling, and now he has become a legend in the wrestling world.
Learn about the legend Hulk Hogan's Bio – Early Life, Family, Net Worth, Scandals
Mark Calaway | Body Measurement, Age And Nationality
Mark is a huge guy. He is big and has a very tall height and a body like that of a heavily built wrestler. Talking about his height, he has a very tall height of 2.08 m. This height might have helped him a lot in basketball too.
Similarly, his last recorded body weight was 308 lb, which is primarily ideal for his height. So, you can imagine how he is built just through these presented numbers.
Mark is originally from Texas. He was born and raised there. Hence, he is an American from birth and by certification, too, as he is bound to have American citizenship.
Mark Calaway | Career
Early Career
Mark began his career in the late 80s. He used to train under Buzz Sawyer, but that did not go as he wanted.
So, after joining the wrestling industry, Mark started learning more through his job. He wrestled his first match on June 29, 1987, for the World Class Championship Wrestling.
Hence, his long and empowering journey of becoming the World Heavy Weight Champion began.
Near the end of the 80s, he joined the World Championship Wrestling as a villain named Mean Mark Callous. Portraying as a morbid character, he was surprisingly good at bringing the persona to life.
He was the best candidate to play such a horrifying character as he would wrestle with similar characters for the rest of his career. However, he doubted his future career in WCW as the show had lost its audience significantly.
Thus, he played his final match on the 7th of September 1989 at the Worldwide taping in Amarillo, Texas. He defeated Dave Johnson in his last match.
Later it was revealed that the WWE officials were watching Mark, and he expressed deep interest in wrestling for WWE as it was a growing show.
Calaway also got to wrestle in New Japan Pro Wrestling (NJPW) as Dice Morgan. But that did not matter anymore as the WWE signed him in late 1990.
World Wrestling Entertainment (WWE)
Mark made his debut on WWE as the Undertaker on November 22, 1990. The audience, with much praise, received his death-themed character.
The Undertaker had his ending move to put the body of the defeated opponent in the body bag and take them backstage.
This gothic-themed persona was well received and added a whole lot of entertainment to the WWE industry. His first Royal Rumble was in 1991, which was won by the legendary Hulk Hogan.
Later in 1991, the Undertaker defeated Hulk Hogan to win his first WWF Championship at Survivor Series. Thus Mark became the youngest WWF Champion in history. However, that record was broken when Yokozuna won the same title in 1993.
In January of 1994, The Undertaker was defeated by Yokozuna after he was sealed in the casket.
However, he appeared from inside the casket in a video warning his return for revenge. He would not play for the next seven months as he was given time off to heal his back injury.
Interview with Jimmy Kimmel>>
Mark would continue his career in the industry, taking the role of The Undertaker. The theme has categorized the career he undertook to support his character. The original Deadman Era was from 1994 to 1996.
Similarly, his most gothic theme, Lord of Darkness and Ministry of Darkness, went on from 1996 to 1999.
This was his most iconic period as he was winning matches everywhere, and his established persona was becoming very successful in building a strong fan base.
His gothic theme made a return in 2004 as the return of the Deadman. However, the Undertaker was inclined toward a patriotic-themed wrestler between 2000 and 2003.
Later Career
His persona as the dead man grew to the peak. As he was said to have been put in a casket during one of his matches, his return sparked the "Deadman" persona. It was well-received as his fans grew exponentially after his return.
He won his first Royal Rumble match in early 2007.
In 2008, he defeated Edge to grab the title of World Heavyweight Champion for the second time. His matches went on for a few years until he took a break in 2010.
Mark returned as the Undertaker in 2011 in style and fought against Triple H. He won the fight by submission but got injured during the match and was taken away from the ring on a stretcher. His fight on WWE went on for nine more years.
Mark brought life to 'the Undertaker' for nine more years before retiring on June 21, 2020.
When we look at his matches against other wrestlers, we can see the persona come to life.
There were times when the wrestlers and the audience would be scared to death upon his arrival on the stage.
During his time, Mark fought against some well-known and much-loved wrestlers like Hulk Hogan, Rey Mysterio, Edge, Randy Orton, Triple H, Batista, and Khali, to name a few.
His signature moves, Chokeslam and Tombstone Piledriver, is still used as finisher move and are considered fatal.
Read about another great wrestler Randy Orton Bio: WWE, Net Worth, Movies, Wife, IG Wiki.
WWE SummerSlam 2015
Back in 2015, Mark Callaway faced Brock Lesnar in the main event of WWE SummerSlam. The rivalries between the two have been known for a long time. During the fight, Brock Lesnar yelled, "I'm gonna kill you!"
Right after it, Callaway manically laughed back at his opponent. However, it was later revealed that he was not scripted to laugh back at Lesnar in that fashion.
Retirement
Mark confirmed his retirement from the industry through an interview he gave in November 2020. Many wrestlers paid tribute to him on their social media. He was also paid tribute in the most important venue for professional wrestlers, Madison Square Garden.
The final bell tolls… #ThankYou pic.twitter.com/4TXao9floB

— Undertaker (@undertaker) November 23, 2020
His last speech as the Undertaker was phenomenal, which ended his time as the Undertaker in typical Undertaker fashion.
The speech ended chillingly: "My time has come to let The Undertaker Rest in Peace."
As he did his traditional kneeling pose, a ten-bell salute was given to the Undertaker after his last speech.
You can learn a lot more about his career and his life through his Wikipedia page.
Netflix Documentary And The Hall Of Fame
Netflix released Undertaker's documentary in the year 2021.
Escape The Undertaker, a brief interactive film starring The Deadman, Kofi Kingston, Big E, and Xavier Woods, was released on Netflix. Although this may be WWE's first effort into interactive storytelling.
One may think of WWE's actions as an experiment. If the movie does successful, we might see more Superstar-starring ventures in the future.
The four-time WWE champion is the class's front-runner for the Hall of Fame.
The Undertaker has been inducted into the WWE Hall of Fame in 2022 after a legendary professional wrestling career that lasted three decades. He is probably one of the greatest wrestlers in WWE history.
Mark Calaway | Net Worth
Mark Calaway has been able to earn a lot of fame through his appearance as The Undertaker.
And with fame comes money too. His horror-themed personality has been able to make him quite a lot of money.
As reported by many media outlets, his earnings as The Undertaker were more than $3 Million annually. This was the salary he got from the wrestling organization.
His merchandise sales, advertisements, and sponsorships would add a lot more numbers to his salary.
Besides that, he might have his investments too. But we do not have any concrete report for that source of income. However, he had earned his fair share amount through WWE.
As he retired in 2021, his net worth at the time of his retirement was around $20 million.
But now in 2022 net worth is $17 million and in addition to that, he earned a huge amount in WrestleMania 23 breaking the previous record of $3.9 million set by WrestleMania X8 with ticket sales of $5.38 million.
Mark Calaway | Wife
Mark has been married to different women in his life, hinting he does not have a stable relationship with women. He got married to Jodi Lynn Calaway in the 80s. They even had a boy in 1993 baby while they were together named Gunner Vincent Calaway.
But, they separated in the late 90s through a divorce. After that, he married Sara in 2000 and was blessed with two daughters before separating in 2007.
During their time together, the couple was even seen on stage in many wrestling matches, which was quite entertaining.
After his separation from Sara, he was seen with Michelle McCool, former WWE Divas' Champion. They got married in the year 2010 and have been together ever since.
This relationship seems to be working quite nicely for both of them as there has not been a report of any disputes between them.
And to top it off, they were blessed with a daughter named Kaia Faith Calaway after two years of their marriage. We can see their photos on Mark's Instagram, and they seem to be having a good time with each other.
Likes
Furthermore, the duo is both avid dog lovers, and together, they established The Zeus Compton Calaway Save the Animals Fund. Apparently, it was held at the Texas A&M College of Veterinary Medicine & Biomedical Sciences.
Additionally, it helps in treating large-breed dogs. In the meantime, he loves hunting and often goes on the turkey hunt. Not to mention, he also posts his updates on social media sites.
However, at times, his hunting uploads do get loads of negativity criticizing him for hunting animals.
Politics
As we all know, WWF is just an entertainment show, and political beliefs and learning aren't included. However, many had commented on his political views.
It all happened after his appearance in the documentary series, and his fans talked about clothing and caps that showed his political leanings. Most of the comments on his political beliefs came from fans who are liberals.
The popularity Graph
The undertaker is now retired and still gets searched by people as he keeps appearing as a host and does a lot of shows.
Mark Calaway | Social Media
The Undertaker is quite active on social media. Mark has an Instagram account with the name undertaker, where he has 4.4 million followers, which is quite a lot.
We can see a variety of posts on his Instagram. It can be quite nostalgic for some WWE fans.
He is also available on Twitter, where he has 492.4 K followers. Mark also had an official Facebook page. But, sadly, it was taken down for some unknown reasons. You can visit his social media pages from the links below.
Instagram: @undertaker
People Also Ask
Are Kane And Undertaker brothers in real life?
WWE has established that The Undertaker and Kane are actual half-brothers. They have had their fights with each other a few times, but their team-up as "The Brothers of Destruction" was the best entertainment for the audience. However, in actual life. Glenn and Mark are not related by blood.
Why did Undertaker wear a mask?
Undertaker suffered from an orbital bone injury in his face during one of his matches. For this reason, he was advised to wear a mask to protect himself.
What are Undertaker's body measurements?
Undertaker depicts a chest measurement of 50 inches, a waist size of 36 inches, and a biceps size of 17 inches. Likewise, he also has a shoe size of 16 (US).
Where does Mark Calaway live?
Mark Calaway is a famous personality and for the current moment lives in the beautiful Austin, Texas mansion.
Is Mark Calaway related to Brian Lee?
As we speak of his lineage According to the information from WWE fans, Brian Lee was Mark Calaway's cousin.
Like the work of the writer? Read more from him, Trent Green – Early Life, Family, Career, Net Worth & Wife.