Marquez Valdes-Scantling was born to parents Tahisia and Marcellus Scantling, who have been very supportive of his career.
Apart from Marquez, Tahisia and Marcellus have two other children.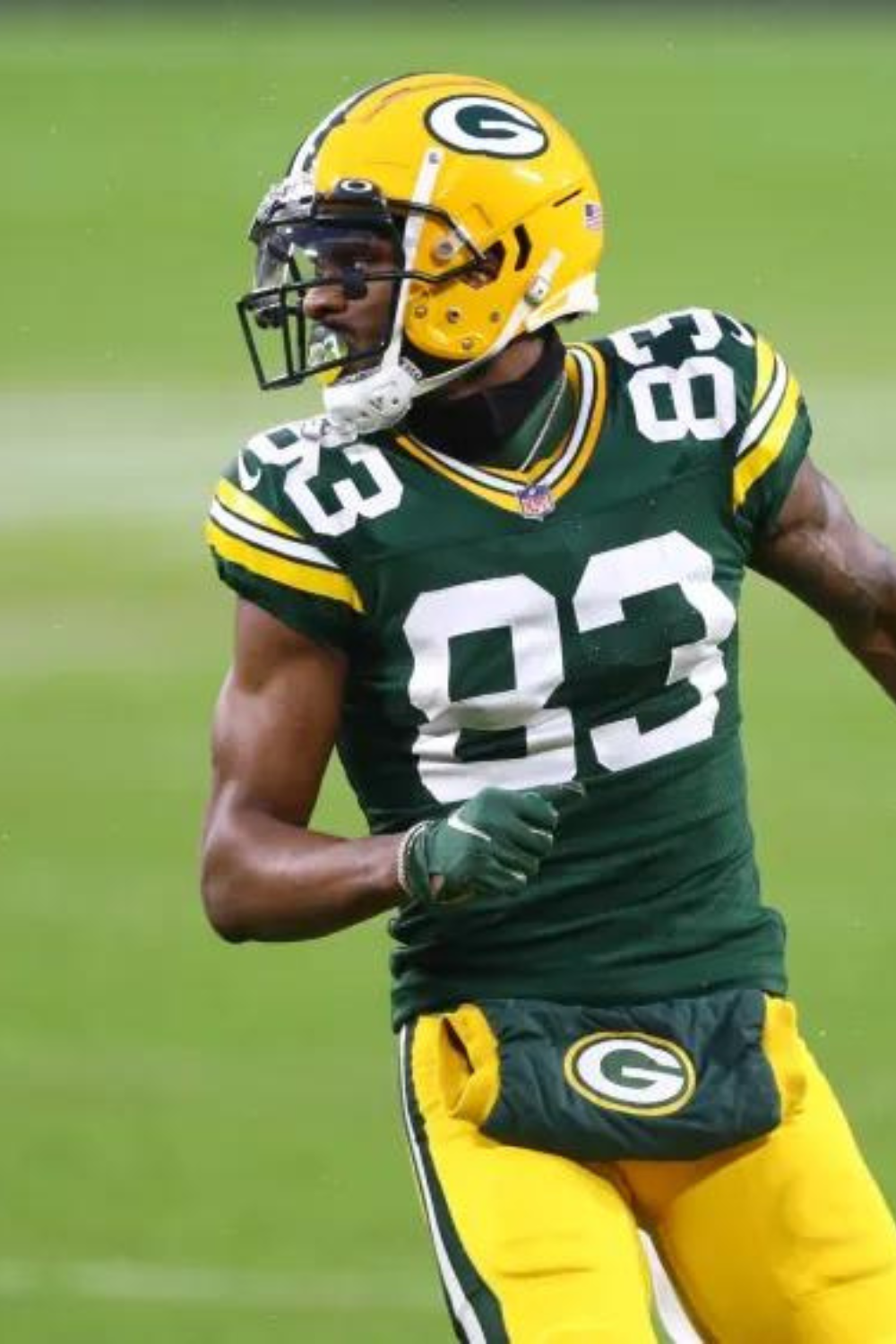 Marquez Reshard Valdes-Scantling is an American football wide receiver for the Kansas City Chiefs, showcasing his talents in the NFL.
Born and bred in Florida, he went to Lakewood High School.
He then played collegiate football at NC State but transferred to South Florida Bulls in 2015.
Moreover, Marquez turned professional in 2018 after the Green Bay Packers drafted him as the 174th overall pick in the fifth round.
After four years at Packers, Marquez inked a contract with NFL giants Kansas City Chiefs.
On March 24, 2022, he signed a three-year deal worth a whopping $30 million.
The wide receiver won his first Super Bowl Championship in 2022 after defeating the Philadelphia Eagles in Super Bowl LVII, achieving the pinnacle of success.
Marquez Valdes-Scantling Parents, Tahisia & Marcellus Scantling
The Chiefs wide receiver was born on October 10, 1994, to his parents, Tahisia and Merceullus Scantling.
Marquez has received the utmost support from his parents throughout his amateur and professional career.
His father, Marcellus, is a senior electronic engineer by profession. He earned a Bachelor of Arts in Engineering from Tampa College and a degree in business from the University of Phoenix.
Moreover, he worked in a program at the Kennedy Space Center that engineered the space shuttle and upgraded it from analog to digital.
Likewise, Marquez's mother, Tahisia Scantling, is a commercial real estate broker.
She has been in the financial world for over two decades and launched Right Turn Reality in 2019.
Furthermore, Tahisia adds she is lucky enough to have been serving her life's passion as a real estate broker and instructor.
Per her LinkedIn, she is an MBE & SBE Real Estate Broker specializing in leasing and selling commercial and residential properties.
Marquez Valdes-Scantling Grew Up With Two Siblings
Tahisia Scantling and Marcellus Scantling have birthed three children.
Marquez was raised alongside his two siblings, Antuan Butler, the eldest, and Aiyden, the youngest.
Moreover, Antuan Butler goes by the name TJ Scantling. As per reports, TJ is involved in fashion and styling, evident in his mother's social handles.
Tahisia took to social media and shared a status, "Styled by none other than My TJ."
Similarly, the youngest kid, Aiyden, is currently relishing his childhood life, which can also be seen on Tahisia's Facebook.
A Family Tradition
As fame followed Marquez, he initiated the family tradition of giving back to the unprivileged.
In 2021, Marquez and his parents held conference calls every few days, meeting with city officials in St. Petersburg.
However, that year, Marquez wanted something more significant and impactful, so he believed his platform with the Packers could expand his reach, which was ultimately successful.
They had a goal of stuffing 200 duffel bags filled with blankets, clothing, toiletries, bottled water, and other necessary items to distribute to the homeless people of their hometown.
Likewise, Marquez's philanthropist nature has been passed down to the family.
He learned the importance of volunteering from his mother and father, who have been involved in charity most of their life.
Frequently Asked Questions (FAQs)
1. Who Are The Parents Of Marquez Valdes-Scantling?
The Kansas City Chiefs wide receiver Marquez Valdes-Scantling was born to parents Tahisia and Marcellus Scantling.