The Australian soccer player, Mary, comes from a diverse cultural background, with her father being of Irish descent and her mother hailing from Papua New Guinea.
Both of her parents, along with her siblings, have been incredibly supportive of her soccer career.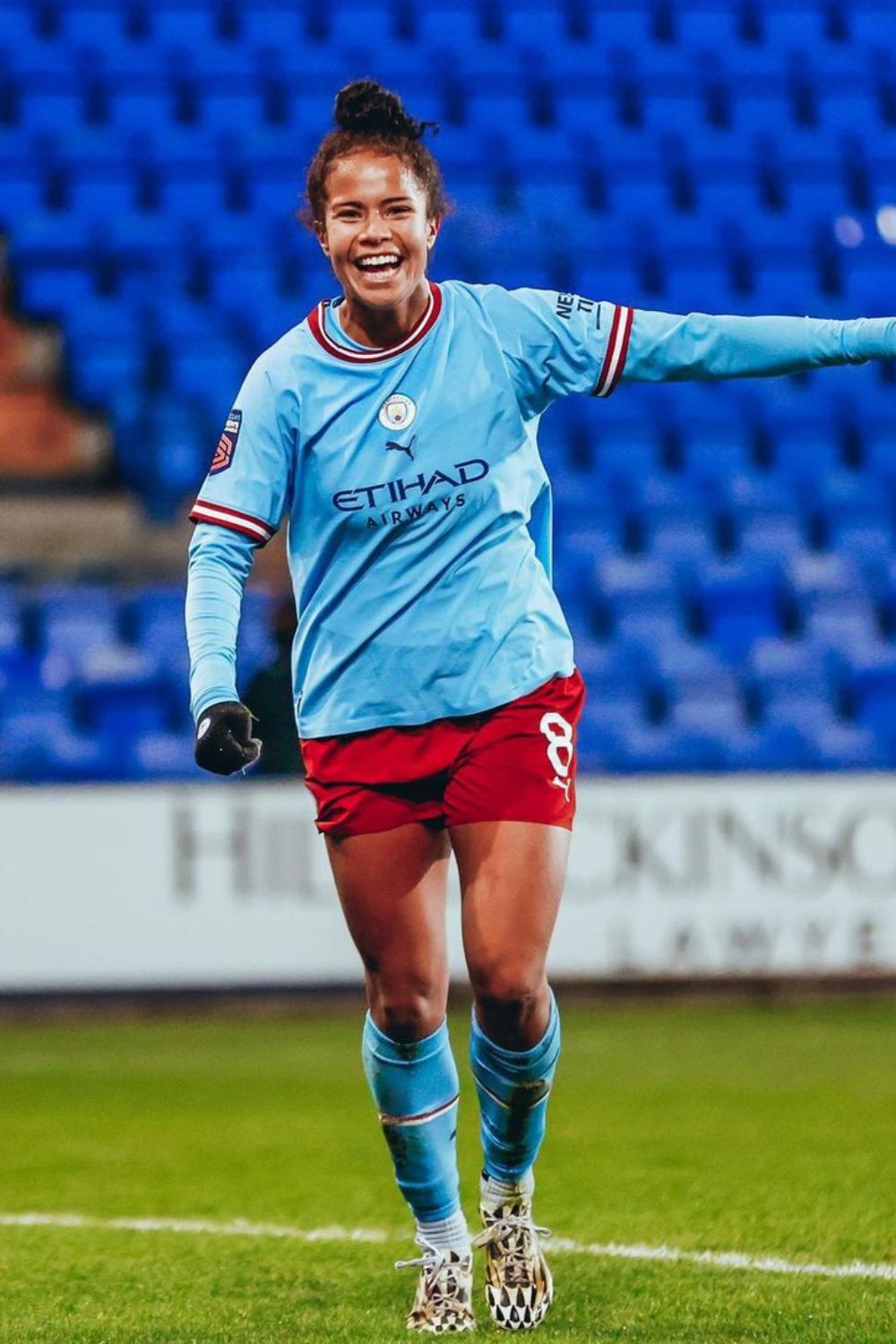 Mary Fowler, born on February 14, 2003, plays as a striker for Manchester City in the English WSL.
Prior to her move to the French club Montpellier HSC in January 2020, she played for teams like Illawarra Stingrays, Bankstown City, and Adelaide United.
During her time with the French club, she played in 40 matches, netting a total of 10 goals.
In June 2022, she inked a four-year deal with English FA WSL club Manchester City.
In addition to that, at just 20 years old, she has already made over 35 appearances for her national team.
Mary Fowler Parents & Family Tree
Mary Fowler was born in Cairns, Queensland, Australia, to her Irish father, Kevin Fowler Jr., and her mother, Nido, from Papua New Guinea.
Her father, Kevin, had an adventurous spirit and a passion for both running and soccer.
He traveled to Papua New Guinea as a backpacker and ended up living there as an aid worker for the Irish government, deeply immersing himself in the local culture.
There Kevin met his future wife, Nido, on a blind date that was set up by a mutual friend.
They hit it off instantly, got married and returned to Ireland. However, later on, the parents made the decision to move to Australia.
In September 2021, during a match against Ireland, she scored twice despite Australia's 3-2 loss.
This game provided an emotional reunion with her grandfather, Kevin Fowler, to whom she gave her match jersey.
She stated that she feels very connected to her Irish heritage, just as she does to her Papuan heritage.
Grew Up Alongside Four Siblings
Mary Fowler is the third eldest sibling in the family, as she grew up alongside four siblings: Louise, Caoimhin, Ciara, and Seamus. Caoimhin is the eldest sibling, while Seamus is the youngest.
Growing up in Australia with her siblings, they all shared a love for soccer, often playing on the beaches and organizing their own beach Olympics with medals.
Like Mary, her brother Caoimhin and sister Ciara are soccer players who played for Ireland's youth teams.
The Football Association of Ireland attempted to secure Mary's allegiance, but the Australian Football Federation acted swiftly to cap Fowler when she was only 15.
Mary's journey in professional soccer began alongside her sister Ciara when Adelaide United signed both of them in the same year.
Their debut together occurred during the 2019-20 season, with Ciara coming on as a substitute in the 85th minute.