"People said that boxing is for men, and I thought of showing them someday, and I proved myself"– Mary Kom.
As stated, Mary Kom proved to everyone by being the only female to become the World Amateur Boxing Champion six times and the only boxer in both male and female categories to win eight World Championship medals.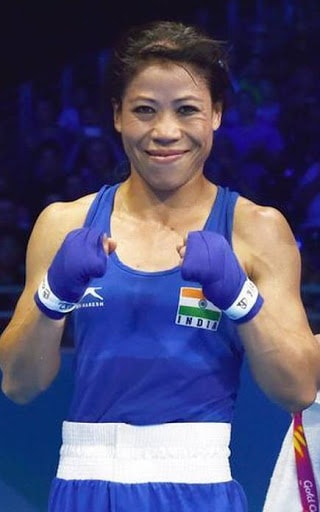 Mary Kom, aka Magnificient Mary, is an Indian Amateur Boxer and incumbent Member of the Parliament. Moreover, Mary is the first Indian female boxer to win a gold medal in the Asian Games and the 2018 Commonwealth Games.
Hence, let's learn more about the Indian boxing legend Mary Kom. First, check out some of the quick facts about the Magnificent Mary.
Mary Kom | Quick Facts
Full Name
Mangte Chungneijang Mary Kom
Birth Date
1st March 1983
Age
40 years old
Birth Place
Kangathei, Manipur, India
Nickname
Magnificent Mary
Religion
Christianity
Nationality
Indian
Education
Loktak Christian Model High School,
St. Xavier Catholic School,
Adimjati High School,
Manipur University
Horoscope
Pisces
Father's Name
Tonpa Kom
Mother's Name
Akham Kom
Siblings
Chung Kom, Nei Kom, Jang Kom
Height
5'2" (1.58 m)
Weight
51 kgs
Build
Athletic
Shoe Size
Not Available
Eye Color
Black
Hair Color
Brown
Marital Status
Married
Spouse
Karung Onkholer aka Onler
Children
Prince Chungthanglen Kom, Rechungvar Kom, Khupneivar Kom
Profession
Amateur Boxer, Politician,
Weight Class
Atomweight
Flyweight
Net Worth
₹3.32 crore
Awards and Achievements
Padma Vibhushan- 2020
Arjuna Award: Boxing- 2003
Padma Shri- 2006
Social Media
Instagram, Twitter, Facebook
Last Update

March, 2023
Where was Mary Kom born? Early Life, Family & Education
Mary Kom was born in Kangathei, Manipur, India, on 1st March 1983, to her parents, Tonpa Kom and Akham Kom. Kom was from a very low-income family, and her parents worked as tenant farmers in Jhum fields.
Moreover, Kom grew up helping her parents on the farm and gradually learned sports in school. Mary's Father was an enthusiastic wrestler during his younger days. Later, Kom started learning boxing as well.
Also, Mary has three siblings: Chung Kom, Nei Kom, and Jang Kom. According to Mary's birthdate, she falls under the sun sign of Pisces. People with Pisces as their sun sign are known for their Generous and Empathetic nature.
How old is Mary Kom? Age, Height, and Body Measurements
Mary Kom turned 38 years old as of writing, and she stands at the height of 5'2" (1.58 m) and weighs around 51 kgs. Other body measurements are unknown at the moment.
Education
Initially, Mary attended the Loktak Christian Model High School located in Moirang until grade six.
She later participated in another school in Moirang called St. Xavier Catholic School until grade eight. While attending St. Xavier, she was interested in 400-meter running and Javelin.
Moreover, during the 1998 Bangkok Asian games, a fellow boxer from Manipur, Dingko Singh, won the gold medal. This achievement of hers inspired many youngsters in Manipur to try boxing, and Mary was also one of them.
Furthermore, Mary started attending Adimjati High School, located in Imphal, for her studies after grade eight. However, she couldn't complete the matriculation exam and chose to quit school. Later, she gave her exams in NIOS, Imphal.
While Kom was in school, she was active and played several sports.
Diet
Mostly, Mary Kom's diet dishes are primarily vegan. Her balanced and nutritious diet consists of boiled rice, green vegetables, fruits, meat, and bread.
According to the sources, Mary prefers nonspicy foods more and regularly takes supplements. She eats her breakfast between 8-9 in the morning, 1-2 in lunch, and 8-9 in the morning.
Well, breakfast consists of a light snack like a shake, green vegetables, fruit juice, eggs, and bread. Moving on, her lunch is usually bread, rice, and lentils.
Likewise, she has meat, lentils, vegetables, and roti for dinner.
Mary Kom | Career and Profession
Early Career
Mary began her training with her first coach K. Kosana Meitei in Imphal. When she was 15, she decided to leave her hometown and study at the Sports Academy in the state capital Imphal.
During an interview with the BBC, her coach Meitei stated that she remembered Kom as a hardworking and dedicated girl with solid willpower who quickly learned the basics of boxing.
Later, Mary trained with M. Narjit Singh, the Manipur State Boxing Coach, at Khuman Lampak, Imphal. She kept her interest in pursuing boxing a secret from her Father, who was an ex-wrestler.
Her Father was concerned about her boxing journey as he didn't want Mary to hurt her face, which would ruin her marriage chances.
However, her Father quickly learned about her as he saw Mary's picture in a newspaper showcasing her winning the 2000 State Boxing Championship. Three years later, Kom's Father started supporting her love for boxing.
You might also like <<WWE Carmella- Early Life, Career, Real Name & Net Worth>>
After Hiatus
Following her marriage, Mary took a small hiatus from boxing, and after she had her eldest twins, Kom started her training again.
At the 2008 Asian Women's Boxing Championship held in India, Mary won a silver medal and her fourth continuous gold medal during the 2008 AIBA Women's World Boxing Championships held in China. Additionally, she won a gold medal at the 2009 Asian Indoor Games held in Vietnam.
8th anniversary of Olympic medal and 11th years of Olympic Gold Quest support. Thank you so very much @OGQ_India for always been with me in my quest for gold. Thank you @IndiaSports @Media_SAI @BFI_official pic.twitter.com/iS5dpVrB2m

— M C Mary Kom OLY (@MangteC) August 8, 2020
Moreover, In 2010, Mary won a gold medal in the 2010 AIBA Women's World Boxing Championships held in Barbados and Asian Women's Boxing Championship held in Kazakhstan. This marked her fifth continuous gold during championships.
Also, check out:<<Rose Namajunas Bio: Pat Barry, Career, Net Worth & Thug Rose>>
Likewise, she participated in Barbados in 48 kg as AIBA stopped using the 46 kg class. During the 2010 Asian Games, Kom competed in the 51 kg class and gained a bronze medal.
The following year, Mary won gold in the 48 kg category during the Asian Women's Cup held in China.
Furthermore, Mary and two other athletes were honored to bear the Queen's Baton during the 2010 Commonwealth Games' opening ceremony run in Delhi. Kom didn't compete as women's boxing was not part of the Commonwealth Games.
World Championships
Maru won her career-first gold medal on 1st October 2014 during the 2014 Asian Games in Incheon, South Korea, where she defeated Zhaina Shekerbekova of Kazakhstan.
Moreover, Kom earned her fifth gold medal on 8th November 2017, during the Asian Boxing Confederation women's boxing championships held in Vietnam.
Likewise, the only major international event where Kom has not won a medal was the Commonwealth Games, as her participation category was not included in the championship.
However, in the 2018 Commonwealth Games, the Light flyweight was included, and she won the gold medal on 14th April 2018 in the women's light flyweight 48 kg category.
Mary recorded one of her significant achievements by becoming the first-ever woman to record six championships win, and she achieved this milestone during the 10th AIBA Women's World Boxing Championships.
Furthermore, the International Olympic Committee (IOC) named Mary Kom as the boxing's athlete ambassadors group female representative for the Summer Olympics held in Tokyo.
Olympic Games
During the 2012 AIBA Women's World Boxing Championship, Mary also competed for a place at the 2012 Summer Olympics held in London.
Furthermore, Mary was accompanied to London by her mother. Her coach Charles Atkinson could not join her at the Olympic Village because he didn't hold an International Boxing Association 3 Star Certification, which was mandatory for accreditation.
During the first Olympic round held on 5th August 2012, Mary defeated Karolina Michalczuk from Poland in the third women's boxing match. The following day in the quarter-finals, Kom defeated Maroua Rahali from Tunisia.
Likewise, for the semi-finals, Kom faced Nicola Adams from the UK on 8th August 2012. However, she lost the semi-finals, stood third in the competition, and earned an Olympic bronze medal.
Because of her achievement, the Manipur Government awarded Mary Rs 50 lakhs and two acres of land during a cabinet meeting held on 9th August 2012.
2020 Olympics
The 2020 Olympics is the second-ever Olympics that the Indian boxing legend will ever experience. During an interview, she stated-
"Experience allows me to control the movement of bouts. I encounter a lot of aggressive and fast girls now, but they don't have the experience, and I guarantee that it becomes my greatest weapon, You can be the most qualified and the quickest boxer around, but I will always have the experience to formulate how the bout goes. This will become my biggest advantage at the Olympics".
The 2020 Olympics will also be her final appearance, and she exclaims that it would be very emotional and essential for her.
Happy #OlympicDay. Wishing everyone a very healthy and prosperous life with the power to excel and celebrate #OlympicDay2020 in the true values of sportsmanship. @worldolympians @iocmedia @IndianOlympians pic.twitter.com/hqb4A9tjsf

— M C Mary Kom OLY (@MangteC) June 23, 2020
Super Fight League
Moreover, Mary appeared during the final episode of the mixed martial arts reality show, the Super Fight League- SFL Challengers. Reportedly, she was discussing becoming part of the show apart from being a fighter with the owners, Sanjay Dutt and Raj Kundra.
Thus, the Super Fight League announced on 24th September 2012 that Mary Kom would become the brand ambassador of the SFL.
You might also be interested in reading: <<Jaylen Nowell- Early Life, Career, Net Worth, NBA & Social Media >>
On 24th September 2012, the Super Fight League announced that Kom would serve as the SFL's brand ambassador.
Mary Kom | Awards and Achievements
National Awards
Padma Vibhushan: Sports- 2020
Rajiv Gandhi Khel Ratna award- 2009
Padma Shri: Sports- 2006
Arjuna Award: Boxing- 2003
Padma Bhushan: Sports- 2013
Other Awards
Promising Boxing Career by AIBA
People of the Year- 2007
CNN-IBN & Reliance Industries Real Heroes Award
Pepsi MTV Youth Icon- 2008
Magnificent Mary by AIBA- 2008
Sportswoman of the year- 2010
For Bronze Medal in Olympics 2012
Manipur Government- $70,000 and two acres of land
Rajasthan Government- $35,000
Assam Government- $28,000
Ministry of Tribal Affairs: India- $14,000
Arunachal Pradesh Government- $14,000
North Eastern Council- $56,000
Mary Kom | Net Worth
The Indian Boxing Legend Mary Kom has achieved various honors throughout her career.
Thus, the presumable net worth of Mary Kom falls around ₹3.32 crore, which is approximately $45 thousand.
With her honors, she has also won several attractive cash prizes. Her monthly salary is approximately ₹1 lakh, around $14,000. Moreover, she holds endorsement deals with various companies.
Mary Kom |
Media and Popular Culture
Mary has written an autobiography called Unbreakable, which Dina Serto co-authored. Her book was published in late 2013 by Harper Collins.
Moreover, Kom has a Bollywood movie based on her life, where famous actress Priyanka Chopra portrays her character. Likewise, Mary also features in a 2016 documentary called With This Ring.
How many kids does Mary Kom have? Husband and Children
Mary Kom is married to Karung Onkholer, aka, Onler. Karung and Mary met after Kom's luggage was stolen while traveling by train towards Banglore, India.
At the time, Mary's husband was attending Delhi University as a Law student. Moreover, Karung was also the North East student body president. After helping Kom with her situation, they soon became friends and started dating.
Likewise, Mary and Karung got married in 2005 and have three children together. Their oldest children are twins born in 2007, and they are named- Rechungvar Kom and Khupneivar Kom.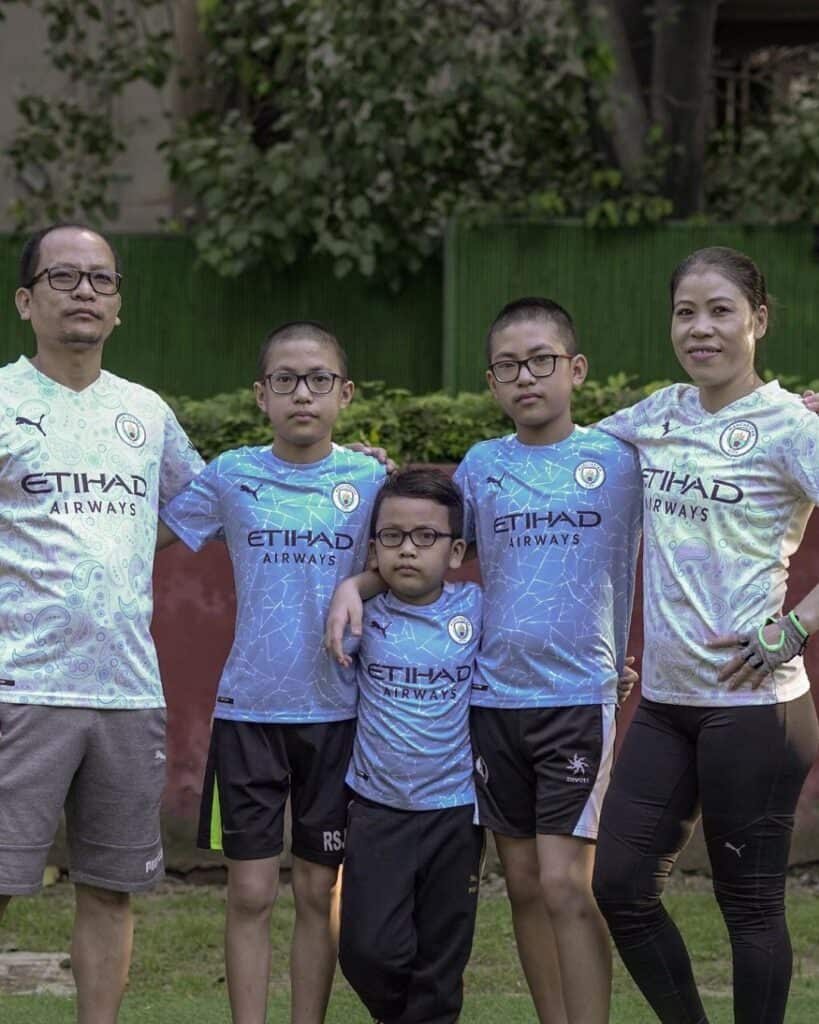 Similarly, they have another son born in 2013 named Prince Chungthanglen Kom. Furthermore, in 2018, they adopted their daughter, Merilyn.
Mary Kom | Social Media Presence:
Facebook account: 3.5 million followers
Twitter account: 1.4 million followers
Instagram account: 546 thousand followers
Some FAQs:
At what age did Mary Kom start boxing?
Mary Kom started boxing in her childhood; she was got by Indian boxer Dingko Singh. However, at age 15, Mary decided to pursue boxing as a career.
What inspired Mary Kom to take up boxing as a sport? Who is her coach?
Legendary boxer Muhammad Ali inspired Mary Kom. In one of her interviews, Mary mentioned that she was inspired to join boxing after watching Muhammad Ali's fight on television.
Well, her coach is Chhote Lal Yadav.
Has Mary Kom sustained an injury?
Recently, the boxer sustained a back injury and underwent extensive physiotherapy to overcome the pain.
Is Mary Kom Chinese?
No, Mary Kom is not Chinese; she is Indian.
How many Olympic medals has Mary Kom won?
Kom won one Olympic medal in the 2012 London Olympic games. She won a bronze medal.
What is the name of the autobiography of Mary Kom?
Unbreakable is an Autobiography book by Mary Kom.
When did Mary Kom make her professional debut?
The athlete made her professional debut in 2000 and even won the state championship that year.
Where does Mary Kom live currently?
Mary Kom currently resides in Imphal West district, Manipur.
What is the name of the Mary Kom-based movie? When was her last fight?
The movie's name is "Mary Kom," in which actress Priyanka Chopra portrayed the sports icon.
Mary Kom's last fight was at the Tokyo Olympics when she lost by a split decision against her Colombian.
Why did Mary Kom change her jersey?
"The boxers are allowed to wear their last names or the given name on the vests, so if it were just Kom at the back, there would not have been a problem, or just Mangte would have been fine too. She was not allowed to wear Mary Kom. Same with Lovlina. She needed to have Borgohain on the back."
-Indian Boxing's High-Performance Director Santiago Nieva
Where is Mary Kom Regional Boxing Foundation located?
Mary Kom Regional Boxing Foundation is located in Zone III, Type A/40, MaryKom, Road, Lamphelpat, Imphal, Manipur 795004, India.