Leah Van Dale, aka "WWE Carmella," is an American professional wrestler who has been fighting for WWE since 2013.
Initially, Carmella started her journey as a manager of fellow WWE wrestlers Colin Cassady and Enzo Amore.
Since her debut in the WWE, Carmella has achieved various notable achievements under her name.
One of the significant achievements under her name was winning the Money in the Bank ladder women's match.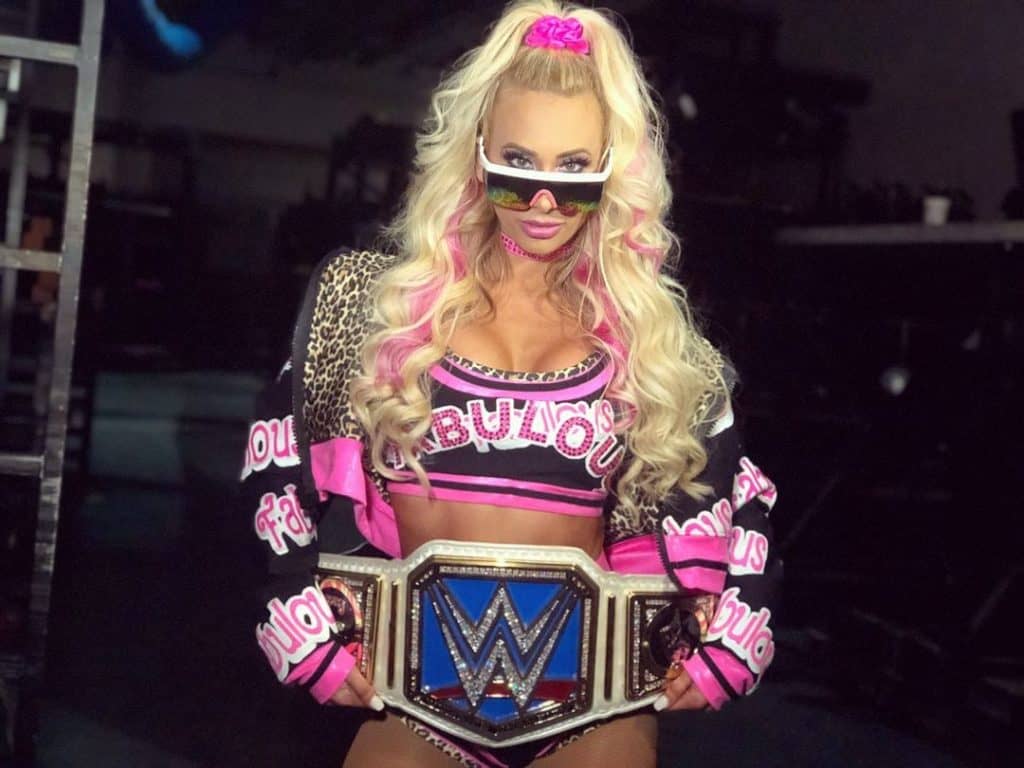 Moreover, she has also won the WWE SmackDown Women's Championship, including 2019's WWE 24/7 Championship and WrestleMania Women's Battle Royal.
Furthermore, let's get to know more about the life of one of the most famous female wrestlers that the world has known.
First, we have presented you with some of Carmella's quick facts.
Quick Facts
Full Name
Leah Van Dale
Birth Date
October 23rd, 1987
Birth Place
Spencer, Massachusetts
Age
35 Years Old
Nickname
Carmella
Religion
Not Available
Nationality
American
Education
David Prouty High School, University of Massachusetts Dartmouth
Horoscope
Scorpio
Father's Name
Paul Van Dale
Mother's Name
Not Disclosed
Siblings
One sister
Height
5'5″ (1.65 m)
Weight
110 lbs (50 kgs)
Build
Athletic
Shoe Size
Not Available
Hair Color
Blonde
Eye Color
Green
Debut
June 2013
Ring Name
Carmella
Marital Status
Unmarried
Past Lovers
Matthew Polinsky (Corey Graves.)
Children
None
Profession
Professional Wrestler, Dancer, Model
Trained by
Sara Amato- WWE Performance Center
Career Highlights and Awards
Ranked No. 7 of the top 100 female singles wrestlers in the PWI Female 50 in 2018
Ranked No. 23 in the top 30 female wrestlers in 2018
WWE 24/7 Championship (2 times)
Net Worth
$2 million
Social Media
Instagram, Twitter
Last Update
June, 2023
WWE Carmella | Early Life, Family, & Education
Leah Van Dale, known by her ring name Carmella was born on October 23rd, 1987, in Spencer, Massachusetts.
Her Father's name is Paul Van Dale, a former professional wrestler and mixed martial artist.
Her Father worked for the World Wrestling Federation as a jobber. She has one sibling named Breanna Jean. Besides, the information regarding her mother is unknown.
Moreover, Van Dale has loved professional wrestling since she was a child. She idolized Miss Elizabeth, an American experienced wrestling manager, wrestler, and TV announcer.
According to her birth date, Carmella falls under the sun sign of Scorpio. Scorpios are known for their Secretive, loyal, and determined nature.
Age, Height, and Body Measurements
Furthermore, Carmella turned 33 years old, and her listed height is 5'5″ (1.65 m), and she weighs around 110 lbs (50 kgs). Also, she possesses an athletic build with blonde hair and beautiful green eyes.
Education
Moreover, Carmella attended David Prouty High School in her hometown, Spencer. She graduated in 2006.
Afterward, she attended the University of Massachusetts Dartmouth and graduated with her bachelor's degree in 2010.
WWE Carmella | Career and Profession
WWE
Van Dale or Carmella initially registered to become a part of the WWE Tough Enough 2010, a professional wrestling reality television series where the contestants undergo professional wrestling training and compete against each other for the WWE contract.
However, Carmella withdrew from the decision. Later, she signed a contract with WWE in June 2013 and made her debut on the WWE NXT in a segment with Colin Cassady and Enzo Amore during the September 4th, 2014 episode.
At the time, she worked as Cassady's and Amore's manager.
Moreover, on the October 16th episode of NXT, Carmella had her debut fight with an unnamed opponent called the Blue Pants.
She defeated her opponent twice but eventually lost to her on the January 1st, 2015, NXT episode because of an accidental distraction caused by Amore.
Carmella loves making an entrance and is usually well known for it as they're very spectacular.
Feud with Eva Marie
Carmella began having a feud with a professional wrestler Eva Marie while still working as Amore's and Cassay's managers.
The two wrestlers had their match on WWE's NXT August 26th episode. However, Carmella lost the fight.
WWE Main Roster
Moreover, Carmella's first appearance on WWE's main roster was on March 12th at Roadblock.
She was accompanied by Amore and Cassady for their match in the NXT Tag Team Championship against The Revival.
On the NXT's May 25th episode, Carmella competed against Alexa Bliss and Nia Jax in a triple threat match to decide the number one contender to Asuka's NXT Women's Championship. However, Nia Jax pinned Carmella.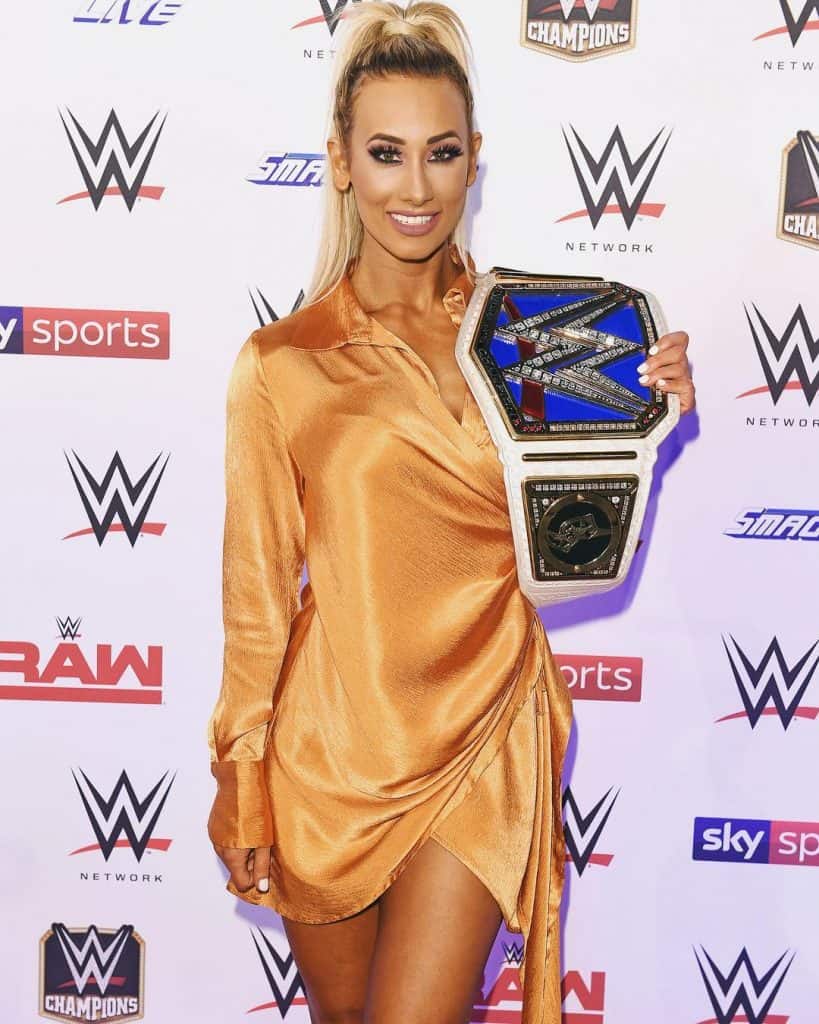 Feud with Nikki Bella
On July 19th, Carmella was drafted by SmackDown during the 2016 WWE draft. She made her debut for the main brand roster after a week.
Moreover, Carmella had her first victory while defeating Natalya during SmackDown Live's August 9th episode.
During one of SmackDown Live's episodes, Carmella became the heel by attacking Nikki Bella during her fights.
That particular incident started the storyline feud between Nikki Bella and Carmella.
Likewise, the feud between the wrestlers ended during a TLC: Tables, Ladders & Chairs on December 4th, where Carmella lost to Nikki Bella.
Money in the Bank Winner
One of the significant highlights in Carmella's career was becoming the Money in the Bank Ladder Match winner.
She won the inaugural women's Money in the Bank Ladder Match on June 18th.
However, she was stripped of her briefcase, and Daniel Bryan, SmackDown's General Manager, set another match.
Similarly, on June 27th, she regained the title and officially became the Money in the Bank champion.
On June 27th, Carmella regained the Money in the Bank briefcase after winning the second match.
SmackDown Women's Championship
After cashing her contract officially on April 10th, Carmella defeated Charlotte Flair and won her career's first SmackDown Women's Championship.
After her victory with Flair, Carmella began her feud with Asuka, leading to a title match.
Both contenders had a rematch in which Carmella again earned a victory, retaining her title.
However, two weeks after a triple-threat match with Charlotte Flair and Becky Lynch, Carmella lost against Flair and lost her title to Flair.
SmackDown's Mystery Woman
After winning her first two Money in the Bank ladder victory, Carmella participated in more Money in the bank tournaments. However, she failed to win the match.
Moreover, during the Smackdown episode aired on October 2nd, she returned and declared herself SmackDown's mystery woman.
Her debut was teased by the WWE multiple times. But, unfortunately, she went with a new mantra called "Untouchable" and became a heel of the show once again.
Alliances in the Show
Carmella had many alliances in the show. Some of her famous associations were with James Ellsworth, who helped her win the Money in the Bank victory.
Likewise, in December 2020, Carmella got herself a new assistant. She debuted her assistance on SmackDown at the WWE TLC pay-per-view.
Initially, people were confused about who he was, and later, they found out NXT's Akeem Young (real name Sidney Bateman) was her associate.
As Reginald was fired, he was the one who would be assisting Carmella in the ringside.
As a backstory, Reginald's firing from the position was quite dramatic.
Before the announcement, Carmella first knocked a bottle of wine out of his hands. Following it, he was also slapped by Sasha Banks.
Back then, he again gained backstabber from Sasha Banks. Not to mention, Carmella needs a sommelier now.
In addition to that, she announced a vacancy for that position on her social media platforms.
Recently, WWE SmackDown Superstar Billie Kay has expressed her interest in being Carmella's sommelier. Not to mention, Kay has also expressed her happiness to work as a wine waiter for Carmella.
Another famous alliance of Carmella was with R-Truth. They were tag team partners and were known as "The Fabulous Truth."
Their alliance ended when the WWE's RAW drafted R-Truth, and Carmella stayed with the WWE's SmackDown.
Royal Rumble Mishap
In February 2021, fans saw Carmella in a new mood who fought over Sasha Banks during her SmackDown Women's title match at Royal Rumble.
During the match, Banks was outside the ring at one point.
Right then, Carmella jumped to launch at her opponent, which ended in a suicide dive for both. Indeed, they fell awkwardly to the ground, nearly injuring themselves badly.
What concerned everyone the most was Carmella's position during the fall. First, she landed in an awkward position while her legs were all curled up.
Almost everyone assumed to need an ambulance for Carmella, as she first landed with her face, followed by her curled legs.
As it ended, everyone breathed a sigh of relief as she was miraculously unharmed.
Additionally, Sasha Banks quickly checked up on her opponent in that situation.
WWE Carmella | Other Media Features
Carmella has been featured in various media other than the WWE Smackdown episodes.
One of her notable features is her video game playable character in a professional wrestling video game called WWE 2K17.
After her debut in WWE 2K17, Carmella's character has been part of WWE 2K18, 2K19, and 2K20.
Moreover, she has also been a main cast of the American reality television series, "Total Divas," for season seven.
Likewise, she was a guest during the eighth season and returned to the show as a regular cast during the ninth season.
Furthermore, Carmella was also part of the American reality television series "Total Bellas."
Similarly, she starred in the American stoner comedy movie "The Beach Bum" as Samantha.
WWE Carmella | Championships and Accomplishments
No. 7 in the top 100 female singles wrestlers Female- 2018
Ranked 24 in the top 100 female singles wrestlers- in 2019
WWE 24/7 Championship x2
Ranked 23 in the top 30 female wrestlers- in 2018
Mixed Match Challenge- R-Truth
WWE SmackDown Women's Championship
Money in the Bank -Women's 2017
WrestleMania Women's Battle Royal- 2019
WWE Carmella | Business Interests
Apart from her career in WWE, Carmella has started her venture with her line of wine called "Capo Cagna."
She stated-
"I knew…. something with my creativity. Also, I love drinking wine. So I started networking and researching. As I'm busy with my WWE schedule, we are still in the initial stages, but it is all fascinating."
Moreover, her wine includes Chardonnay and Cabernet Sauvignon. The name of her wine line means Boss Bitch in Italian.
She stated-
"It is very important to embrace your inner Boss Bitch. I want women and girls to see that, and empowering them to follow their dreams is very important. I'm an outcome of that, so it's necessary to spread that message."
WWE Carmella | Net Worth
Carmella has been in WWE for a long time and has been doing well in her career ever since. The famous wrestler has made a name for herself in the WWE.
Additionally, she also owns a wine line.
Not much information about her net worth is available from any sources.
Thus, the presumable net worth of Leah Van Dale, aka Carmella, falls around $2 million.
WWE Carmella | Boyfriend
Carmella was involved in a romantic relationship with William Morrissey in the past. Morrissey, aka Big Cass, is an American professional wrestler.
The couple began dating in one of the Total Divas seasons and separated for undisclosed reasons.
Moreover, she began dating Matthew Polinsky, and Corey Graves, in 2019. Graves is an American wrestling commentator and retired professional wrestler.
The two had a hard time initially, as Graves was still married to his wife, Amy Polinsky when the couple got together.
People didn't accept their relationship, and the couple received a lot of backlash from their fans. Carmella was referred to as a "homewrecker."
She stated-
"I was getting death threats, and all these awful things said about me… Finally, my grandmother calls me and goes, What is this? You are on the New York Post about wrecking a home! And I'm here like, No!"
Furthermore, Carmella shared her side of the story in Total Divas, and Graves also revealed that he was separated from his wife at the time, and soon, the fans started accepting their relationship.
The two became one of the most famous couples in WWE.
WWE Carmella | Podcast
One of the most famous WWE couples, Carmella and Graves, started their podcast, "Bare With Us."
The podcast gives insights into their relationship and cover-up topics that couples usually feel uncomfortable addressing in public.
In an interview with Digital Spy, they stated-
"We were bored and had nothing to do to fill our time. It came across as a half-joking idea, and we began doing the Instagram Lives to occupy the time we didn't have aspirations or goals. It was just something to keep ourselves busy, and it soon evolved over several weeks and months into this podcast."
Both claim this podcast allows them to do something more exciting and fun outside of WWE.
WWE Carmella | Social Media Presence
Instagram handle (@carmellawwe)- 2.8 million Followers
Twitter handle (@CarmellaWWE)- 1 million Followers
TikTok handle (@wweleahvandale)- 673 Followers
Website (WWECarmella)
Furthermore, if you wish to learn more quotes from the WWE superstar, Carmella, follow the link>>>
Interesting Facts about WWE Carmella
Before Carmella's career in WWE, she was a cheerleader for the NFL team New England Patriots for about three seasons. Also, Carmella successfully auditioned for the NBA's Los Angeles Lakers dance team, known as the Laker Girls, and appeared as a Laker Girl in the 2010–2011 season.
Wrestler Carmella is a certified fitness instructor and a personal trainer.
WWE Carmella | FAQs
What is Carmella's Snapchat id?
The fighter's Snapchat id is Princess-Mella.
Did Carmella recently have a wardrobe malfunction?
In a recent match against Bianca Belair, Carmella's top completely opened from the back, leaving her almost exposed to a room full of audience and cameras. However, she managed to keep her top on and tweeted, "Y'all wish" after her wardrobe malfunction.
Is Carmella's last name DeCesare?
No, the surname belongs to another Carmella, a model, and wife of Jeff Garcia.