Crossfit is a lifestyle that follows safe and effective exercise with sound nutrition. Crossfit promotes physical exercise philosophy.
Among all CrossFit athletes, Mathew Fraser is one of the renowned athletes known for winning five CrossFit Games titles.
Mathew Fraser (Mat Fraser) is a Canadian-American professional athlete in CrossFit. He started his career in CrossFit in 2014 to 2020.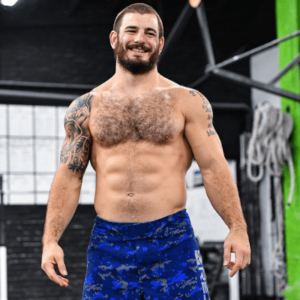 He consecutively won the 2016, 2017, 2018, 2019, and 2020 CrossFit Games. He is considered the most dominant athlete ever in CrossFit's sports area with such outstanding records.
Before diving into his life and career journey, here are some interesting quick facts.
Mat Fraser: Quick Facts
Full name
Mathew Fraser
Nickname
Mat Fraser
Birthdate
25 January 1990
Birthplace
Kingston, Ontario, Canada
Nationality
Canadian-American
Ethnicity
Not Mentioned
Religion
Catholic
Zodiac Sign
Aquarius
Age
32 years old
Father's name
Don Fraser
Mother's name
Candace Fraser
Sibling
Not Mentioned
Sibling Name
Not Mentioned
College
The University of Vermont, Northern Michigan University's Olympic Education Center
Marital status
In a relationship
Girlfriend's Name
Sammy Moniz
Ex-Girlfriends
Not Mentioned
Children
None
Weight
In Kilograms – 88
In Pounds – 195
Height
In Centimetres – 168
In Feet and Inches – 5′6″
Eye Color
Dark Brown
Hair Color
Dark Brown
Occupation
Professional CrossFit Athlete
Sport
CrossFit
Net Worth
$2.5 million
Social Media
Instagram, Twitter
Merch
HWPO: Hard Work Pays OFF(Book), Wall Print
Last Update
December, 2022
Childhood and Early Life
The CrossFit athlete was born in Kingston, Ontario, Canada, on January 25, 1990. He was born to the former Canadian Olympic figure skaters Don Fraser and Candace Jones.
Fraser spent most of his childhood in Sharbot Lake, where his mother worked as a doctor, whereas his father stayed at home.
Later, the family moved to the United States in Colchester, Vermont. Fraser attended most of his schooling in the United States.
Athletic from a young age, he learned different sports like swimming, water-skiing, downhill, and even going up the stairs in a handstand at just five.
At the age of twelve, Mat Fraser started gaining interest in weightlifting when he saw his coach trying to lift weights to compete with a friend.
Later, he was introduced to a weightlifting coach who helped him understand how to lift weights properly.
Education
Mat Fraser graduated from Colchester High School. After his graduation, he began his training full-time in Olympic weightlifting at the Olympic Training Center in Colorado Springs on scholarship.
While doing a clean pull, he injured his back, and later, when performing a squat, he further damaged his back.
Later, after his injury, he enrolled in the Olympic Education Center at Northern Michigan University. There, he focused on subjects such as maths and physics while recovering from his operation.
Mat Fraser did a double major course in mechanical engineering and engineering management in Vermont.
Similarly, he also did a double minor in Maths and Business at the University of Vermont in Burlington.
At the age of twenty-two, Fraser started his CrossFit training and competed in the CrossFit training in 2013.
Despite intending to pursue an engineering career, he changed his decision after working as an intern in an aerospace company to focus on CrossFit.
While graduating with degrees in business and engineering, Fraser had also established himself as a CrossFit athlete.
Career & Crossfit Program
At the age of 13, Mat Fraser earned his first national title in weightlifting.
Likewise, he also was the school champion in 2003, 2005, and 2007, leading him to become the junior national champion.
Coming from a background in Olympic weightlifting and a junior national champion, Mat Fraser made his debut at the 2014 CrossFit Games.
While looking for a better environment to practice Olympic lifts, Fraser got involved in CrossFit.
Although he showed no interest in CrossFit, he utilized the CrossFit gym due to various equipment types used by the Olympic lifters in town.
Fraser first came across CrossFit while studying in Vermont and training at the CrossFit gym (Champlain Valley CrossFit).
He got encouraged to compete in the CrossFit events and began competing in 2013, starting with local competitions.
Despite having a few months of CrossFit experience, Fraser could finish fifth in the CrossFit North East Regionals. However, such a record was still insufficient to qualify for the CrossFit Games.
Thus, for the time being, he competed as a member of the team, the New York Rhinos, in the NPGL in 2014, whereas in 2015, he became a member of the Built By Bergeron team.
Click here to learn about Mariusz Pudzianowski and his career journey >>
Runner-Up
With his hard work and effort, Mat Fraser won the North East Regionals in 2014; this victory earned him public attention.
At his debut in the CrossFit Games, he became a runner-up to Rich Froning. At the 2014's event, in total, he had seven top 10 finishes.
Similarly, along with Froning, he was tied for first place in the Overhead second. He also finished the position second in Midline March and Thick 'N' Quick.
With such an outstanding record in a few months, he won the Rookie of the Year award.
After his opponent's retirement, Rich Froning, Mat Fraser was expected to have victory over the 2015 CrossFit Games.
Although he started his CrossFit career with an outstanding performance, it was followed by several bad performances on the third day of the competition.
He declared his loss to Ben Smith and came second place as his biggest failure and devastating loss. He stated that the position was a lesson he would reflect on for the rest of his life.
Rise as a Champion
Reflecting and learning from his mistakes and failures, Mat Fraser performed consistently well at the 2016 CrossFit Games events.
Fraser started his campaign with a 7k Ranch Trail Run victory despite not having much interest in the running field.
Although that was the only event he won, he did come in second place in seven other events and top 10 in almost all events.
His all-rounded performance in the events gave him the chance to dominate the field and rise as the winner.
With a 197-point lead, he was able to pass Ben Smith, making it the biggest margin of victory in the history of the CrossFit Games.
Like the previous year, he dominated the 2017 CrossFit Games, winning four of the ending eight events.
His victory was the first time to win more than one event in a single Game.
Similarly, in 2018 as well Mat Fraser defended his title in the 2018 CrossFit Games.
He won two events in the third and top 4 ends in 10 out of 14 events. In total, he won with a record number of 1,162 points and lead points of 220.
After winning the first-ever sanctioned event, Fraser became qualified for the 2019 CrossFit Games. But unfortunately, he faced a strong opponent, Noah Ohlsen, in the CrossFit Games.
Despite starting with two wins, he stumbled on day 2 of the competition.
Although he faced such hurdles and challenges, at the final event, he brought the victory, making him the champion for the fourth time.
Stephen Curry's 9th straight game with 30+ points and GSW's 4th straight win >>
Training and Diet
During his rookie years in CrossFit, Fraser dedicated only a few hours of training a week and no diet plan.
However, after coming second in the 2015 CrossFit Games, he realized his faults and shifted to a better diet by excluding junk foods and soda and dropping ten pounds.
When training, Mat Fraser tends to eat big meals four to five times a day, focusing mainly on meat and vegetables with sticky white rice.
He makes sure to take various supplements such as whey protein, amino acids, and cannabidiol during his training.
He is lenient with his meals during the off-season as he consumes only one or two meals a day.
Not to mention, Fraser is also a coffee fanatic, espresso, to be specific.
Along with focusing on his diet and training, he also emphasizes his sleep for recovery after training. Fraser makes sure to get 9-10 hours of sleep regularly.
Although he does not have a fixed set training routine, he follows some structure. He focuses on warm-up and cools down before and after his training.
During a CrossFit season, he trains a minimum of two sessions a day, four times a week.
His training includes three track sessions, three or four weightlifting sessions, along with a couple of sessions on swimming and one on-road bike.
The next day's training is connected to the previous one; for example, a day focusing on conditioning may accompany strength work the next day.
For his growth, he also focuses on his weak points.
Mat Fraser mainly prepares for the competition over a set time period of 12 to 16 weeks; however, when the competition is near, he cuts down on training slightly while avoiding heavy workouts, which could cause an adverse effect.
Mat Fraser: Net Worth
The American professional CrossFit Champion, Mat Fraser, has a net worth of 2.5 million dollars. Most of his earnings are through his primary career as an athlete, whereas his other is through open event wins.
With an apparent knee injury, Victor Oladipo leaves the Lakers-Heat game >>
Each of the CrossFit Games titles is worth $300,000, and among all, Fraser has gained victory over the five titles.
With major achievements and honors, he has a decent amount of wage.
Net Worth of Matt Frase in Different Currencies
Here is the net worth of Matt Frase in different currencies, including the cryptocurrency and BitCoin.
Currency
Net Worth
Euro
€

1770410

Pound Sterling
£

1,487,790

Australian Dollar
A$

2,761,344

Canadian Dollar
C$

2,559,700

Indian Rupee
₹

149,390,400

BitCoin
฿

41
Mat Fraser and His Relationship
Fraser has been dating Sammy Moniz for many years and lives with her. The couple is not married; however, they are engaged to one another.
Sammy Moniz created a website, "Feeding The Frasers," which is dedicated to the food she cooks for the CrossFit athlete, Mat Fraser.
Moniz posts pictures of meals and even recipes she prepares for her fiance.
The couple owns a house in Cookeville, Tenessee, and through their social media, one can see that they are very much in love.
Social Media Presence
Mat Fraser is seen active on social media sites like Instagram and Twitter. He has a roaring amount of followers, and one can follow him below to learn about his lifestyle and events.
Instagram: 2.4M followers
Twitter: 69.7K followers
Frequent Asked Questions (FAQ)
How much does Mat Fraser eat?
Matt Fraser can consume up to 7,000 calories per day when engaging in the CrossFit Games training seasons.
Is Mat Fraser married to Sammy Moniz?
The CrossFit athlete is engaged to his long-term girlfriend, Sammy Moniz, who live together in Cookeville, Tenessee.
What Size of Shoes Does Fraser Wear?
Frase wears a shoe size of 12.
Does Mat Have Tattoo on his Body?
Most of Matt's Body Part is covered by Tattoo.
What Happened to Fraser?
Fraser suffered from a back injury at the age of 19 when he was training for the Junior World Weightlifting Championship in Romania.
What is the Bench Press Record of Mat? What grips does Matt Fraser use?
Matt has a bench press record of 535 pounds (247.2 kilograms). Well, he uses Rogue gymnastics grips that are durable and do not restrict any of his movements.