South American is the land of many talented players. Players from Uruguay, Argentina, Brazil, and Colombia are especially exceptional with their ball control ability. Matheus Uribe, who at present plays for FC Porto, is one such player.
Notwithstanding only ball control, as a midfielder, you are inherently a supplier from defense and to the attack.
The midfielder job is generally very tough; one missed pass, and the opponent can turn the game on its toe.
Hence, Porto sought Uribe's services because of the Colombian's quality in the said part of the field. The article discusses the Porto midfielder.
Quick Facts
| | |
| --- | --- |
| Full Name | Andrés Mateus Uribe Villa |
| Birth Date | 21 March 1991 |
| Birth Place | Medellín, Colombia |
| Nick Name | Uribe |
| Religion | Christian |
| Nationality | Colombian |
| Ethnicity | Colombian |
| Education | Not Available |
| Horoscope | Aries |
| Father's Name | Not Available |
| Mother's Name | Adriana Villa |
| Siblings | Not Available |
| Age | 32 years old |
| Height | 6 feet |
| Weight | 156.528 lbs |
| Hair Color | Black |
| Eye Color | Brown |
| Build | Athletic |
| Profession | Football Player |
| Current Team | Porto |
| Position | Midfielder |
| Merch | Jersey, Boots |
| Merchandise | All Cards |
| Wife | Cindy Álvarez García |
| Kids | Two; Antonia and Esteban |
| Net Worth | €1.88 million |
| Social Media | Instagram, Twitter |
| Last Update | December, 2023 |
Matheus Uribe | Early Career & Life
Coming from the second-largest city in Colombia, Medellin, Uribe was born on March 21, 1991. The whereabouts of her parents remain unknown to the public. The Colombian started playing at a relatively young age.
Also, the midfielder faced a playing time crisis. After starting from Envigado FC, Uribe transferred to a regional league of the Antioquia.
Thereafter, with promising skill development, Deportivo Espanol of the Primera B Metropolitana scouted him.
Moreover, Matheus spent significant time in the third and the second league to get more playing time and learn about the competition at a professional level.
With his final outing as a Bueno Aires player, the Colombian finally became a first-tier player with Envigado, Deportes Tolima, and Atletico Nacional.
Matheus Uribe | Age, Height, & Body Measurements
Born in 1991, the Colombian-born is almost 29 years old in a few months. Considered as a prime age for many footballers, Matheus is an important man for the Portuguese side, FC Porto. The midfielder isn't very bulky, which is advantageous for him.
Standing at 6'0″ (1.82 m) and possessing an athletic body, Uribe is an asset to his current team. Regardless of his lean physique, the Porto midfielder is powerful in duels and has a proper ball distribution technique.
A team requires passing ability, ball control, agility, dribbling, and awareness in a midfielder. Hence, we can wonder why the Portuguese-based club maintains its active status to qualify for the Champions League.
Yes, it is not all due to a single player, but we can't undermine the critical role of a midfielder.
Besides, the team has essential players like Telles, Marega, Ze Luis, etc., and also getting a starting role in the presence of outstanding is difficult.
Matheus Uribe | Career: Club & International Level
At 28 years old and at the peak of his career, Matheus is the heart of his current club. Contrarily, the Colombian was essential to any club he played. We suggest you check the YouTube link below to know why Uribe is highly underrated.
At midfield, Uribe is a boss. In particular, the most crucial weapon of the Colombian is his interception skill.
Apart from that, the Porto man is very agile, has impeccable well-timed tackling ability, stupendous dribbling ability, and just too strong to dispossess.
Have you checked the video out? Well, if not, what are you waiting for? You will understand what I mean. But, let's talk about his career. Starting with his stepping stone at Envigado FC, which fundamentally shaped him.
Due to limited first-team opportunities, Uribe had determinations to make the Starting XI cur. Hence, to gain some playing time, the Columbian moved to a regional league of Antioquia.
If you are interested in buying soccer jerseys, click here.>>
After this, a few laters, Matheus, signed with Deportivo Espanol of the second division in Argentine football. While in Bueno Aires, the midfielder registered two goals that aided in his confidence boost.
Return To Columbia
Eventually, he returned to Columbia and played initially for Envigado and then moved onto Deportes Tolima and Atletico Nacional.
With a summer transfer to Club America in 2017, the Columbian marked his impression in the Mexican League.
By the time Uribe's career at Club America came to an end, he netted 14 times and even made it into the 2018 Clausura Best XI. At that time, FC Porto was struggling in the midfield, and what better addition would Matheus be, right?
Hence, on August 4, 2019, the South American officially signed onto becoming Porto's midfielder. The deal kept him at the club for four years. In four years, Uribe would earn €10 million wages and an annual salary of €3 million.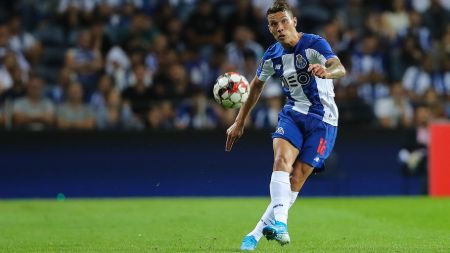 Pretty sweet deal, right? Likely so, Matheus lives to the expectation, although the Colombian has yet to net a goal. We can assure ourselves that a man of his talents will surely shine for the dragons.
International Career
Uribe made the Colombian national team roster for the first time in 2017. Added to that, the Porto midfielder officially debuted against Brazil on January 25 that year. Granted that the Colombians lost to a stronger Brazil side, Uribe played a full 90 minutes.
Reaching the World Cup is every footballer's dream, and in 2018, Matheus made it to the final 23 man roster for World Cup 2018, held in Russia. Unluckily, against England, the Colombian missed the penalty and ultimately lost.
He was consoled by England coach, Gareth Southgate who was praised a lot for his outstanding sporting conduct.
If you are interested in buying soccer boots, click here>>
Despite the defeat, Uribe keeps on improving. The Porto man hopes to change the situation in the upcoming international tourneys.
Ahead of the Copa America competition, Matheus netted the goals two times in a 3-0 friendly win against Peru.
Career Achievements And Highlights
In Columbia,
2016 – Copa Colombia, Copa Libertadores
2017 – Categoria Primera A: Torneo Apertura, Recopa Sudamericana
In Mexico,
2018 – Liga MX: Apertura
2019 – Copa MX: Clausura, Campeon de Campeones
His individual achievements include; CONCACAF Champions League Best XI in 2015 and Liga MX Best XI in 2018.
Matheus Uribe | Stats
| | | | | | | | | | |
| --- | --- | --- | --- | --- | --- | --- | --- | --- | --- |
| Tournament | Apps | Mins | Goals | Assists | Yel | Red | SpG | PS% | MotM |
| Total | 30 | 1983 | 3 | 2 | 4 | 2 | 0.9 | 8.52 | 2 |
Matheus Uribe | Net worth & Transfer Market Value
Matheus Uribe may not be a sought-after name in football, and since he plays in a Portuguese league, football fans may not be aware of his statistics. It simply doesn't mean that his work should go unnoticed.
In like manner, the Porto midfield amassed a significant net worth of €1.88 million in the last decade. While at Envigado, Matheus used to pocket £265,000, which is an excellent salary for a football player.
In the summer transfer window of 2016, the Colombian accepted a loan deal to the second division team Deportes Tolima. The transfer is under wraps; however, Uribe had a market value of $715k.
After spending one season at the second-tier, the midfielder was ready for some first-team action. As a result, the Colombian moved to Atletico Nacional.
Although Uribe's stay was quite short, the Colombian found success in Club America, which submitted a transfer fee of $5.56 mil.
At Club America, Matheus earned a whopping £400,000 annual salary. With a two-season success, FC Porto bought him for an impressive $9.9 million.
Even though his goalscoring record is not visible, the Colombians performance is still laudable. His transfer market value rose to a career-high $11 million.
Matheus Uribe | Marriage & Kids
In late September 2014, the Porto midfielder married his longtime girlfriend, Cindy Alvarez Garcia. The general public does not know the details of the ceremony. However, the couple looked wonderful at one of the happiest moments of their lives.
On top of that, the couple received the blessing of two healthy children, a son and a daughter.
Their son Yesteban is the oldest, whereas young Antonia was born in late 2015. Matheus is undoubtedly an inspirational figure to his children and hopes to keep making his family proud of him.
Matheus Uribe | Social Media Presence
The athlete is quite active on social media platforms. Hence, he has an Instagram account with 743 thousand followers.
The footballer mainly shares football-related news, events, and highlights through his Instagram account. Besides that, he has also shared adorable pictures of his family and kids.
Likewise, he also has a Twitter handle with 162.7 thousand followers. The player is more active on Instagram rather than Twitter.
Common Queries:
Is Matheus Uribe injured?
In July of 2020, Uribe was seriously injured while playing. He had scored a goal just six minutes into the game. However, due to the seriousness of the injury, he was carried out on a stretcher.
Did Mateus Uribe qualify for seleccion Colombia in 2018?
Yes, the player qualified and played for Colombia in 2018 World Cup.
Who is Matheus Uribe married to?
The athlete is married to Cindy Álvarez García. Besides that, the couple has two kids.
Donde Juega Mateus Uribe?
The player plays for Futebol Clube do Porto.