As we see a Mixed Martial Artist, Matt Hume sees himself as a warrior and off the octagon.

Indeed, Matt never gave up on his career and himself, no matter other people like it or not.
Instead, Matt proved to everyone that fame could be table-turned with determination, hard work, and passion.
Matt Hume is the mixed martial artist, parent, referee, fighter, and ambassador of mixed martial arts for the ones unknown.
Similarly, Matt is not celebrated only in the Northwest but throughout the world.
Often known as "The Wizard," Matt Hume is a soft-spoken man who happens to be, let's say, one of the best coaches or trainers on the planet today.
The best thing always about Matt Hume is that he is always available for his students. Undoubtedly, he is the walking encyclopedia of knowledge with zero pride and arrogance inside him.
Today, we dive into the life of Matt Hume. Here, we discuss his early life, career, personal life, and so on. But first, let's take a look at the quick facts.
Quick Facts
Name
Matt Hume
Birthdate
July 14, 1966
Birthplace
Kirkland, Washington, United States

Age
56 Years Old
Nationality

American

Ethnicity

White
Father's Name
Richard Hume
Mother's Name
Unknown

Siblings

1
Education

Lake Washington High School
Central Washington University

Profession
Mixed Martial Artist
Total Fights
10
Win-loss-Record
5-5
Nickname
The Wizard
Height
5 ft. 10 inches / 178 cm
Weight

84kg
Fighting out of
Kirkland, Washington

Submission: Decision
40:60
Hair Color
Black
Eye Color
Grey
Shoe Size
Unknown

Zodiac Sign
Cancer
Net worth

$5 million

Achievement
MMA world champion

Salary
Unknown

Started Career

1994
Retired

2002
Rank
Black Belt in Brazilian Jiu-Jitsu
Black Pra Jiad in Muay Thai

Affiliation
MMA
Sexual Orientation

Straight

Marital status

Unmarried

Girlfriend

N.A
Children

Unknown

Currently Works as
Vice President of Operations at ONE
Head trainer at AMC Prankration
Siblings

1
Trainer(s)
Richard Hume
Bill Spurr
Terry Higbee
Doug Chappel
Haru Shimanishi
Maurice Smith
Social Media

Not active
Last Update

January, 2023
Matt Hume I Early life and Family
Matt Hume was born on July 14, 1966, under the Cancer sign in Kirkland, Washington.
Hume is the youngest son of his parents. His father, Richard Hume, is a retired police officer (Seattle Police).
Likewise, his mother stayed home with Richard and his sister one year older) until they were a teenager. After that, Matt's mother started working as a nurse.
Talking about his childhood, Matt had a stable childhood. Matt's parents were happy and still live in Matt's home, and his sister grew up.

Matt had a lot of friends close to his age in the neighborhood. Therefore, he had a happy, stable, and fantastic childhood.
Similarly, from a very early age, Matt was interested in sports. As a result, he participated in various sports like- soccer, basketball, baseball, wrestling, track, boxing, karate, etc.
Further, Matt's competitive nature and athletic behavior is the outcome of his neighborhood, the area he grew up in was very good in sports, with great athlete and coaches.
Surely, one who has always been interested in doing something big will be a big person someday.
As a kid, Matt was a fan of Bruce Lee. Even Matt's father was trained in Judo, boxing, and with Bruce Lee, when Matt's father was in the police, Lee trained the Seattle Police Department.
However, it won't be wrong to say that Matt's father was his first trainer. Likewise, Richard guided and trained Matt at the very beginning of his career.
While growing up, Matt loved watching Haru Shimanishi and Maurice Smith in Muay Thai. Similarly, Funaki, Suzuki, and Ken Shamrock in Pancrase were also his greatest inspirations.
Besides, The Gracie Family and John Lewis influenced Matt; their fighting and teaching techniques were his favorite.
Ugo Humbert Bio: Early Life, Tennis, Career & Net Worth >>
Matt Hume | Education
Matt went to Lake Washington High School for graduation. After his graduation, Matt joined Central Washington University the achievement of a business degree.

Before Matt started a Pantrahan gym, he used to work in finance. After CMU, Matt also competed in WKA kickboxing, and he has even won the North American Super Welterweight.
Previously, he used to compete in Collegiate style wrestling, boxing, and Karate.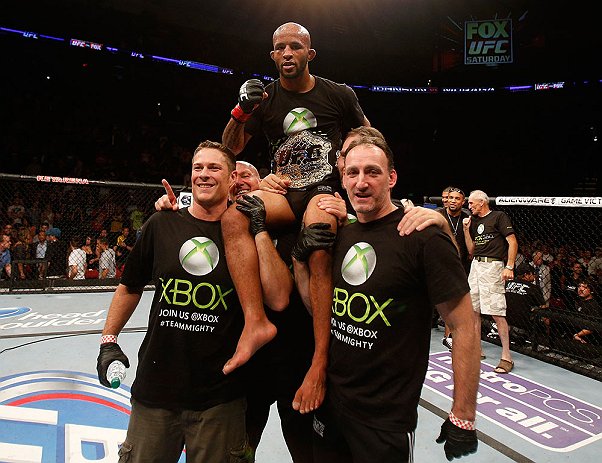 Apart from that, Matt has also competed in the Japanese organization Pancrase. Similarly, Matt has also participated in Battlecade Extreme Fighting, The Contenders, AFC, and the ADCC submission wrestling tournament.
Not to mention, Matt accomplished his studies without having to worry about his finances.
Matt Hume | Career
As we all know, Matt was interested in karate, boxing, and martial arts from a very early age. Apart from this, he even started his career early, when he was just 11 years old.
Therefore, when Matt turned 11, he outgrew his first pair of 4 oz boxing gloves and duct-taped them to his feet and the other team to his friend's feet.

Then, Matt puts on his new 4 oz fights gloves, goes into the backyard, and practices boxing with his friends.
Little did Matt know one day, he would be the biggest name in martial arts history. However, it is all because of Matt's hard work and practices as a child, which later helped mold his skills.
Fighting Career
Similarly, Matt debuted at Pancrash 3 against Katsuomi Lnagaki for the first shootfighting style. However, Matt couldn't win the match, and he loses by some points.
Matt loses the first three matches of his career continuously. During Matt's second match, he almost wins via Rear Naked chock against Pancrase veteran Scott Beasac, but at last, he again loses the game.
Again, in the same manner, Matt loses the match against Ken shamrock, Manabu Yamada, and Jason Delucia.
During his second and third matches, he almost wins but again loses by points in the final Pancrase fight.
He couldn't perform well, and his record in Pancrase is of 2 wins and five losses. However, the tables turned after his third loss.
Hume wasn't performing his best in Pancrase. However, outside of Pancrase, he holds over Erik Paulson, a former Shoot Champion.
Moreover, he has also defeated Pat Miletich, former UFC Welterweight champion.
Matt Hume grabs everyone's attention after winning a match against Kenny Monday, a former Olympic gold medalist.

Further
This topic became the talk of the town because Matt defeated a gold medalist
Kenny
in just
45 seconds. Later, Kenny defeated Matt in the main event of "The Contender."
Similarly, Prince Sheikh Tahnoun Bin Zayed Al Nayah of Abu Dhabi was highly impressed by Hume's submission grappling.

Additionally, Prince was so impressed with Matt that he requested Matt come to Abu Dhabi and personally train the prince and his combat team.
Accordingly, Matt trained the prince and decides to start the now famous ADCC Submission Wrestling World Champion. Similarly, Matt was also part of the inaugural event.
In addition to this, Matt wins all the matches in the event. However, after his semifinal victory, he withdraws from all his companions due to his anterior cruciate ligament injury.
His last fight was against Shawn Peters, which he eventually won. The match took place on December 13, 2002, at Hook n Shoot Absolute Fighting Championships 1.
Timea Babos Bio: Early Life, Tennis Doubles & Net Worth >>
Life after Retirement
After retirement, Matt Hume decides to open his institute to train the fighters. As he loves boxing, he couldn't stay away from boxing. That is why he chooses to be a part of it either way.
Along with this, he becomes a rule director and official trainer to both Pride Fighting Championship and Dream.
Similarly, in 2011, Matt was appointed by Singapore-based promotion One Championship as the head official.
Further, in the same year, Matt became a new Vice President of the One Championship.
Nonetheless, Matt is always available for his trainees, and he even gives them a lot of tips and guidelines to enhance their boxing skills.
The best thing about Matt is that he never stops exploring and learning. Even to date, he is still learning new stuff.
Likewise, Matt is a student of the game, and he brings that to his trainees.
Matt is the type of person who would not focus on money. Instead, he would focus on five trainees than twenty trainees. Likewise, Matt believes in quality rather than quantity of money.
Matt Hume | Age, Height, and Body Measurements
At the time of writing, Matt is 56 years old. He still looks athletic; undoubtedly, he still has a good physique and takes good care of himself.
Further, Matt is 5 ft. 10 inches tall which is a perfect height. Similarly, Matt weighs around 84 kg.
Matt has beautiful grey eyes and black hair. A lot of females adored his eyes in an early age.
Talking about his birth chart horoscope, he is a Cancer. People born with this sun sign are usually fierce, disciplined, and motivated.
Indeed, Matt is one aggressive and motivated person because if it weren't for his fierceness and passion, he wouldn't have been in the place where he is today.
Matt Hume | Net Worth
Matt has earned a good amount of money. However, the primary source of his income is his boxing career.
Matt Hume's net worth is expected to be $8 million.
Apart from that, he is a Vice President of the One Championship. Likewise, he has currently started to endorse brands that are adding to his fortune.
Matt Hume| Personal Life
However, there is no news of Matt getting married or having girlfriends or kids to date. There is nothing much information about Matt's personal life.
Even Matt has never discussed his personal life, and he has kept his personal life private.
However, in many interviews, Matt has been concerned about his parents, their roles in shaping his career, etc.
But Matt has never discussed his love life or anything apart from his parents.
Some more information about Matt Hume
Before any fight, Matt loves to sleep and visualize post-fight; he loves to be at home and spend time with his family.
Matt feels one of the most challenging matches he has ever had is with Eric Paulson in MMA.
Matt, on many occasions, has said his knees are fine, and he has not retired officially as he still loves to fight. But the thing is, Matt is too busy right now to consider fighting.
To see who the real Matt Hume is, one has to visit his gym because he is an entirely different person while fighting and in his gym.
Social Media Presence
Sadly, Matt Hume is not active on any social media platforms. However, if you want to know more about Matt Hume, you can find various pieces of information about him online.
Frequently Asked Questions (FAQs)
What is Matt's main mantra to keep himself calm, which holds in every situation?
Before every match, Matt says these lines to himself, "Don't let fear influence you; focus on what you want to achieve, and don't quit until you achieve it."